One of the most valuable skills we've gained as homesteaders is how to preserve food when food is abundant.
Summer and fall are prime harvest time, and there's sooo much more food than we can possibly eat...pounds and pounds of fresh produce from the garden pour into our home, filling counter space, shelves, and even the floor. As I write this, there's 8 boxes of apples on the floor (and 5 more stashed in our bedroom) waiting for us to process. And that's not including the fruits we wild harvested (blackberry, chokecherries, plums)!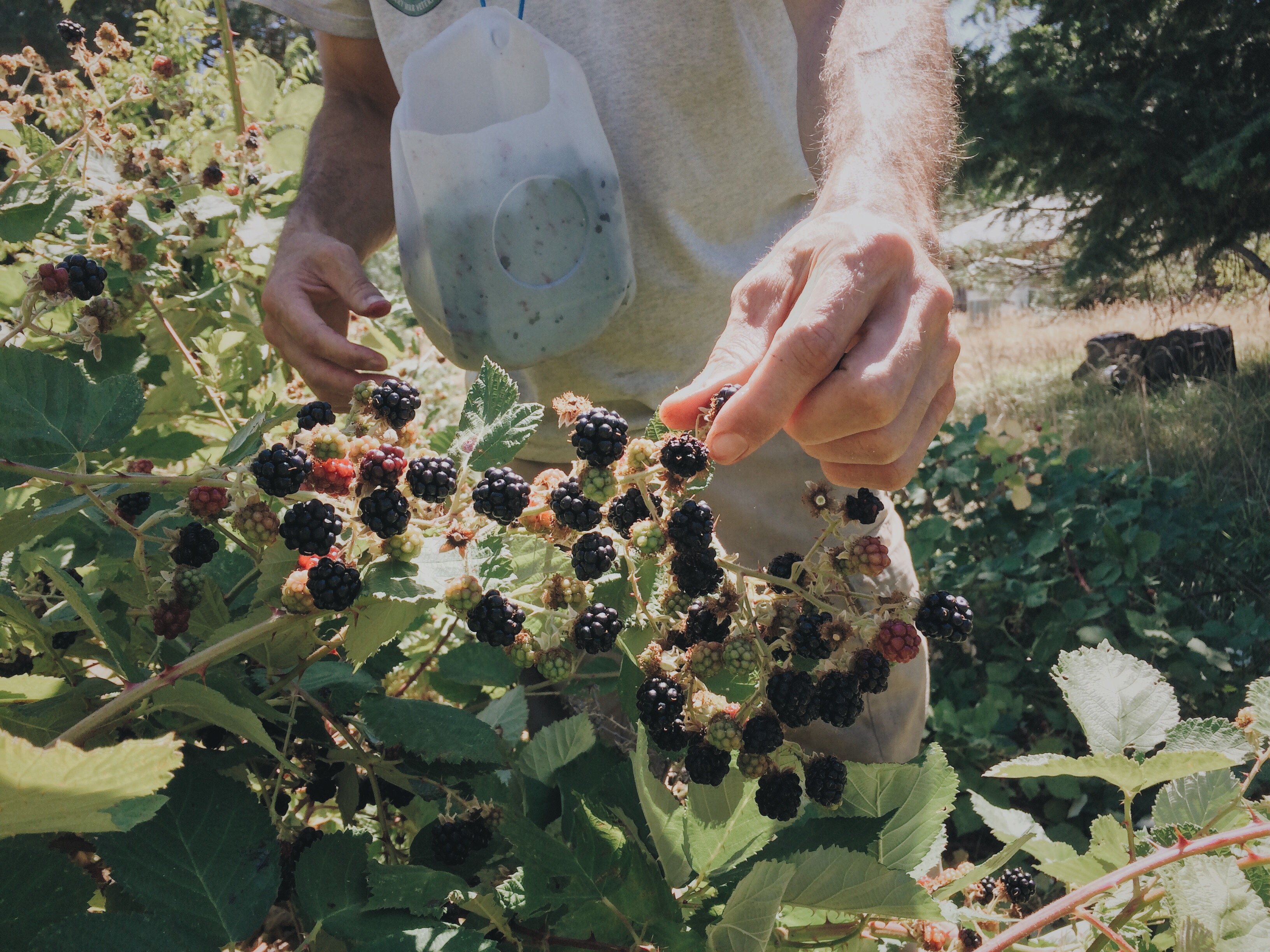 While this might seem like too much of a good thing, we remember that in the winter, all of this abundance will be gone. But not if we plan ahead and preserve the harvest!
We both love to eat jam with our homemade yogurt and granola every morning, so jamming is a must for us. But as you know, jams often have a lot of sugar, and we are not keen on that. So we researched and experimented with alternatives and the best jams we've made has no sugar and no pectin.
No sugar
The fruits we use are already very high in sugar content so it's not necessary to add more. Sugar does stabilize your jam after you've opened the jar, but if you keep your opened jar in the fridge, this would reduce spoilage. That's what we've been doing and it works great so we just skip all the sugar all together.
No pectin
We used to buy the powder pectin you get at the store to thicken our jam until we learned from an older and wiser homesteading couple who uses apples, which is a natural source of pectin! What do you know - nature already has all the answers. This wise couple would save apples from thinning, boil them down, strain out the pulp, and can the juice to use later as pectin. We're too lazy for all that, so we simply go out to the tree when we're ready to jam, pick a few apples and toss them right into the jam pot!
Steam canning
Typically, most people use a water bath canner, but when we were at Camp Joy Gardens, we learned how to use a steam canner and we swear by this method. It's sooo much easier, uses less water, takes less time and space, and uses less heat.
Now you know our tricks, ready to start jammin'?
First, gather your tools and materials. Our favorite tools are the steam canner, half gallon and quart jars (most of which we accumulated through garage sales and thrift stores), rings and lids (lids can't be reused as the seal degrades after the first use), ladle, funnel, magnetic lid lifter (this little thing is awesome, which you'll see later on in the post), and of course, apples (i.e. pectin):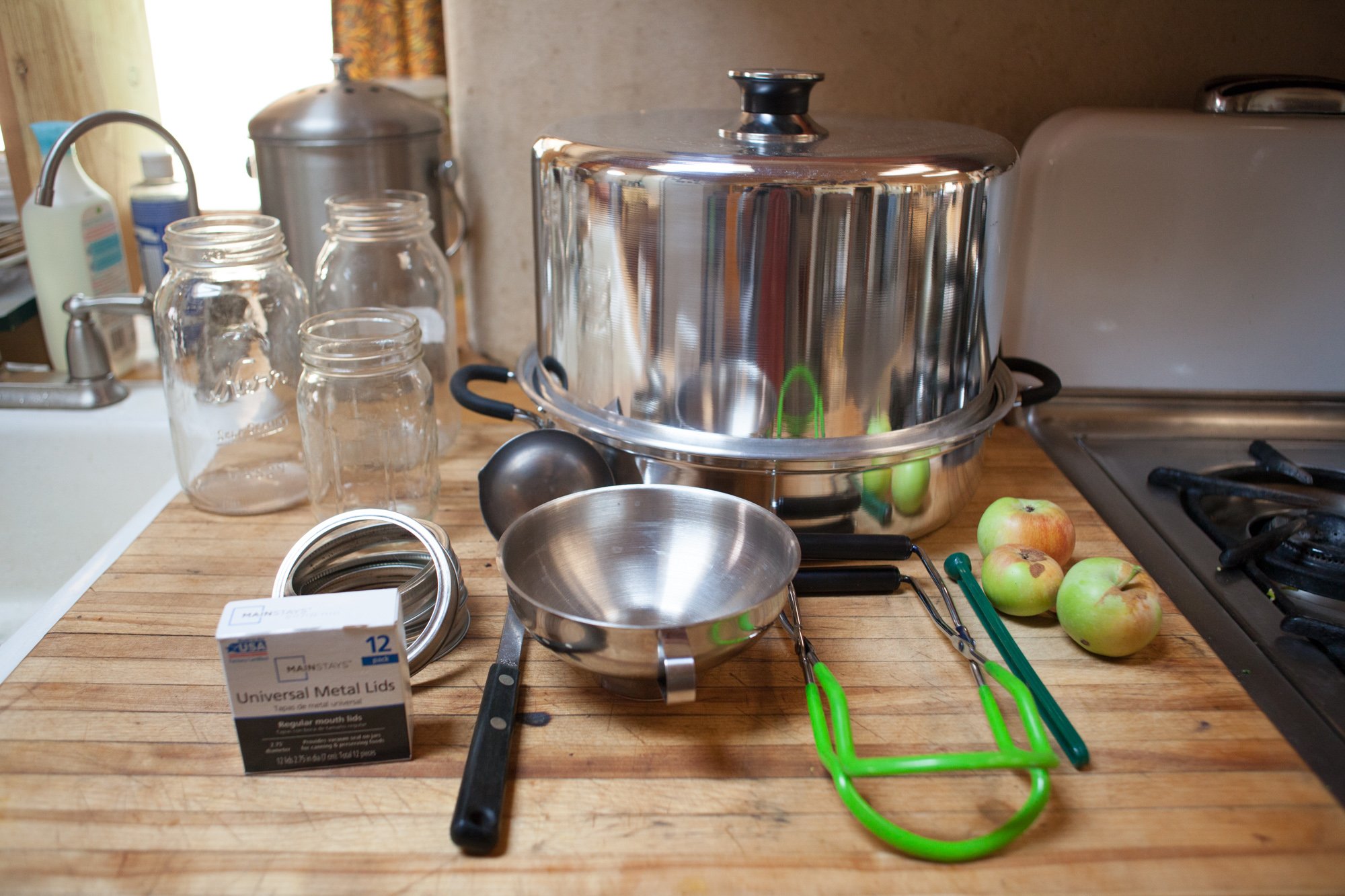 Sanitize all of your tools. To do this, we simply put the jars in the steam canner, pour water into the pot and turn on the heat. On the lid of the canner is a gauge that will show you when the heat has reached steaming temperature. Once it gets to that heat, set a timer for 10 minutes and let it run. Turn off the heat when the timer is done.
We put everything else - lids, funnel, ladle, etc, into a separate pot of water and bring it to boil for 5 minutes.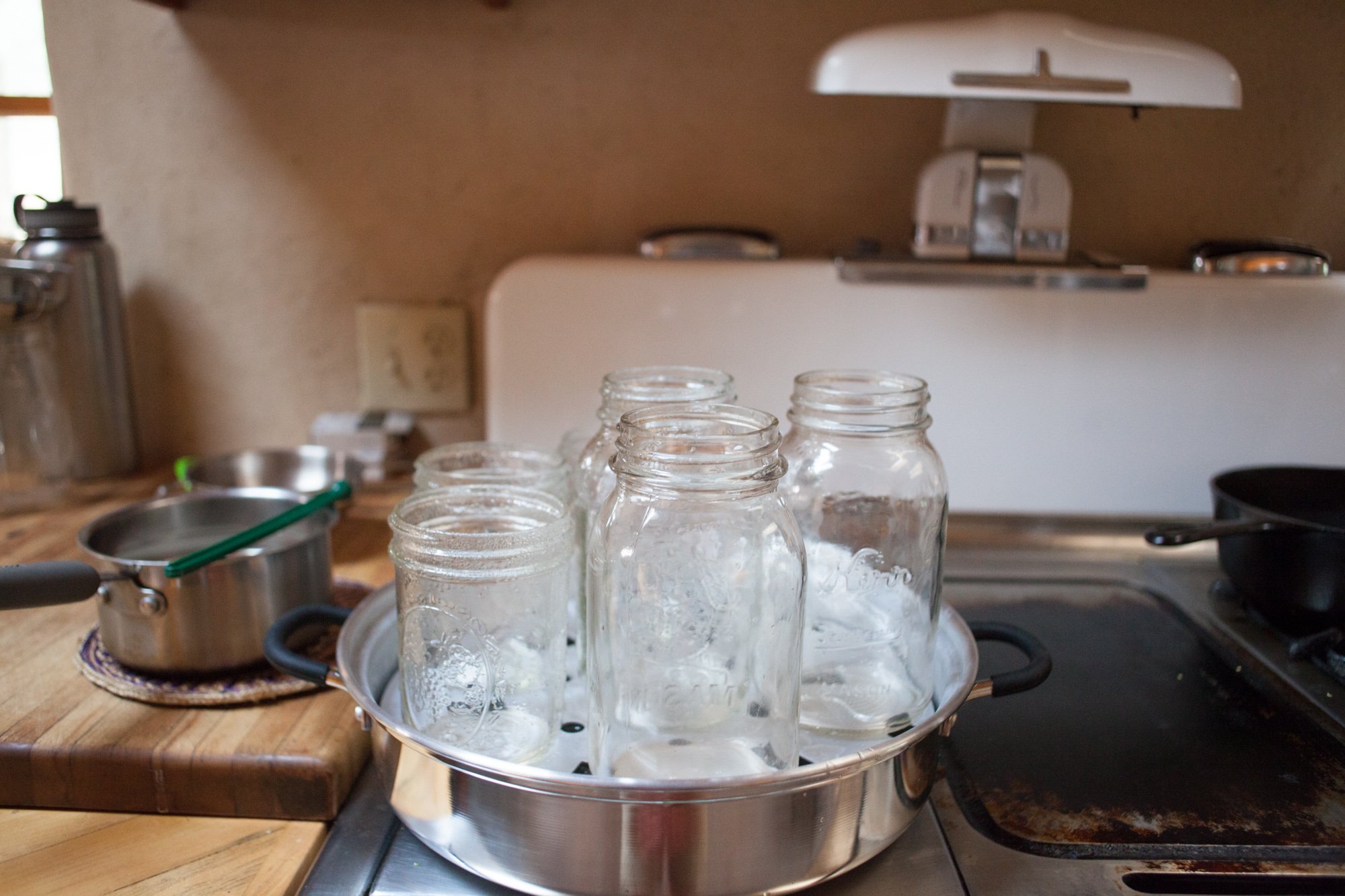 Meanwhile, cook your fruit down. As you can see, we added sliced apples right into the pot. We used about 5-6 apples to our giant pot of 5 gallon of blackberries.
Depending on how much fruit you have, waiting for the jam to thicken can take a long time. Ours took several hours. The trick is to use a heavy bottom pot, keep the heat very low, and stir every half hour so it doesn't burn on the bottom. This is a perfect task while you're making a Steem post or water the garden.
Once the pot has reduced to about half its volume and is thick like chili, it's ready to can. We used to do the "spoon test" method by sticking a spoonful of jam in the fridge for a few minutes to see if it'll set, but we've jammed so often that now we know it by feel. *Note - for fruits like plums, peaches, and tomatoes, we use an immersion blender to get a smoother consistency.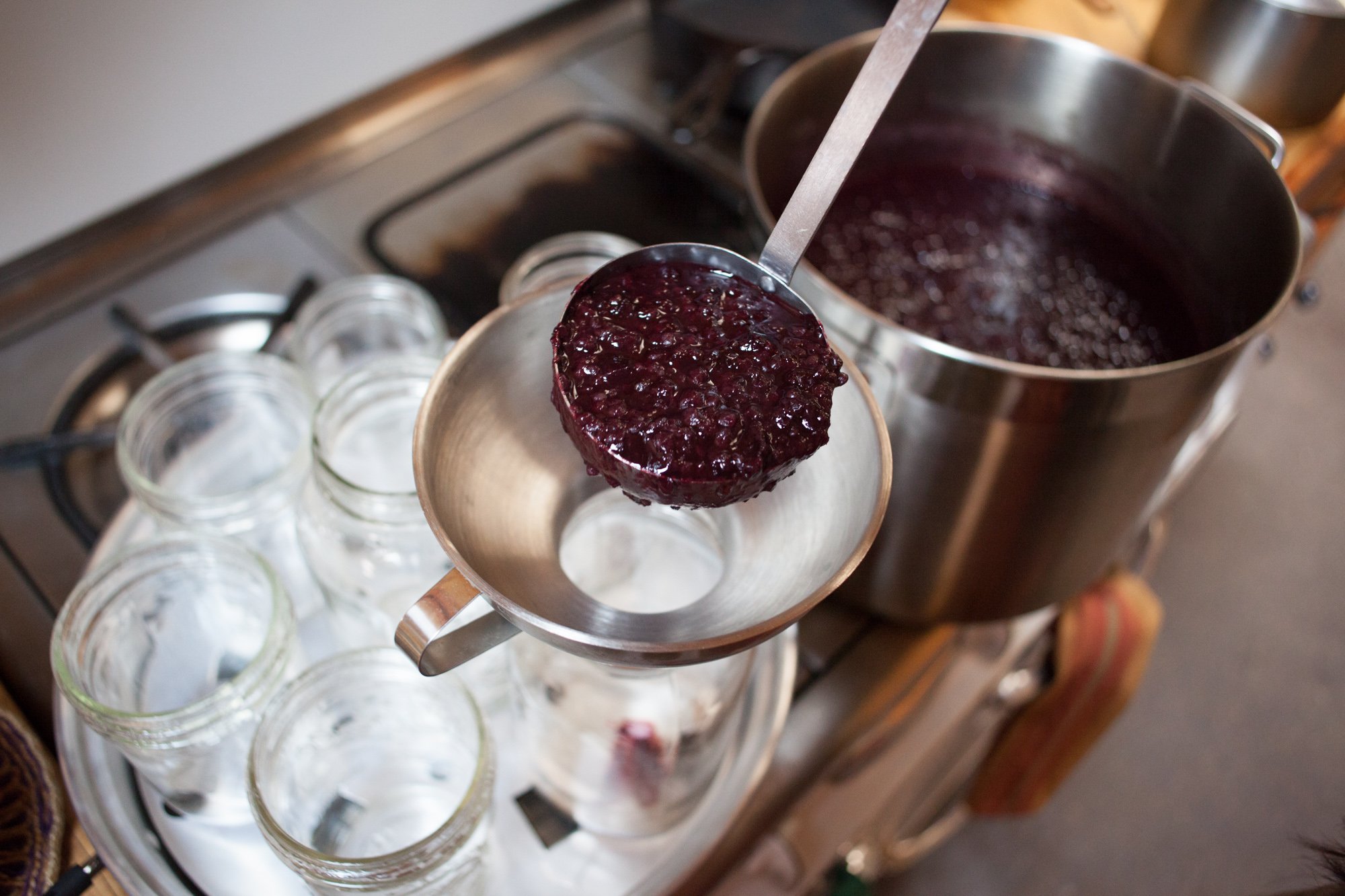 We ladle the hot jam right into the sanitized jars in the steam canner. This, right here, is why we love the steam canner. It's so much easier than filling a bunch of jars on your counter and then lowering them into a boiling pot of water hoping you don't get splashed.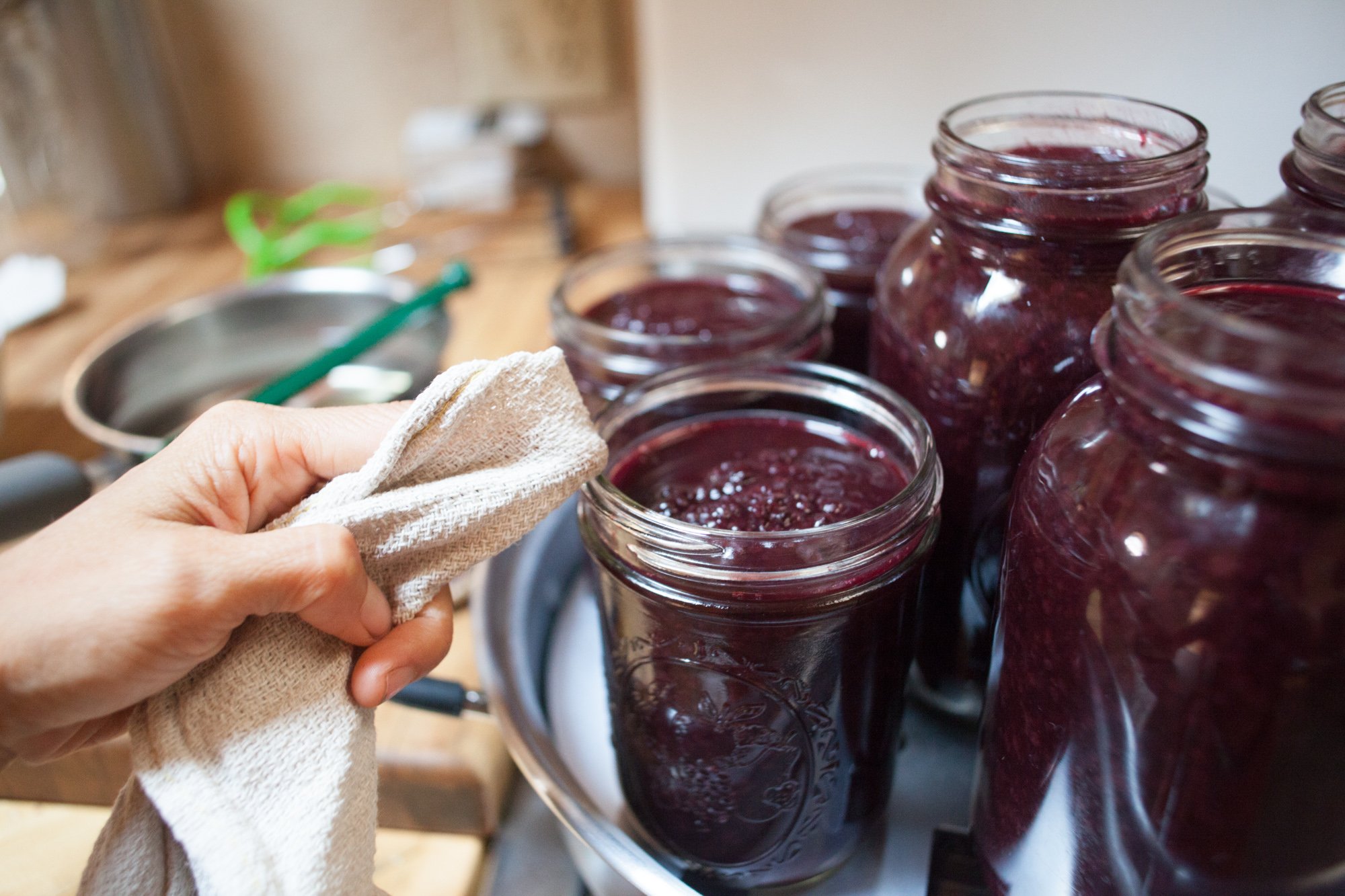 I like to use a clean towel to wipe the jar lip to make sure there's no fruit stuck on there, which would interfere with the seal.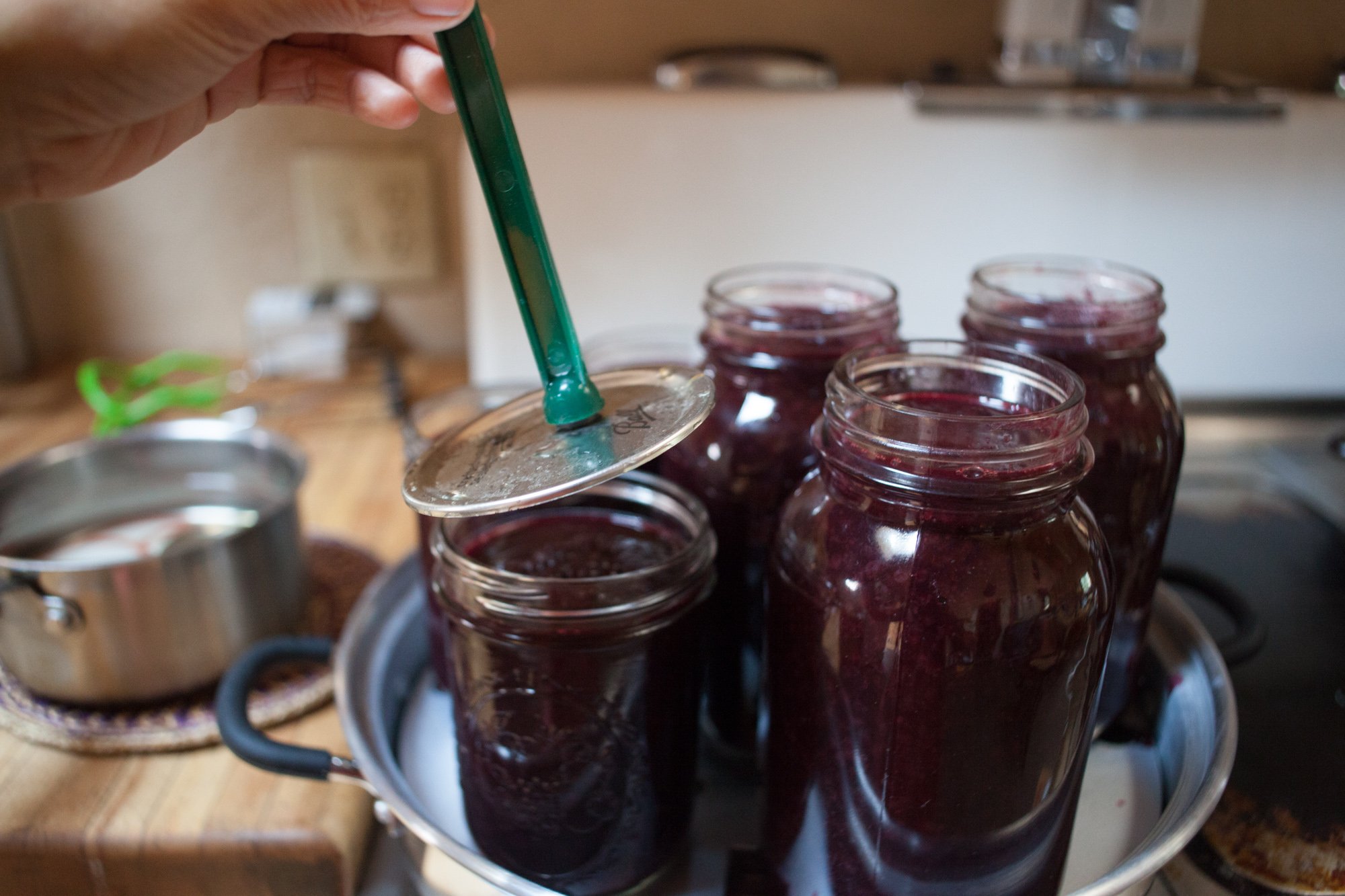 Now to that magic magnetic wand! It's just the right tool to lift the lids from your boiling hot water (that was used to sanitize everything) and placed on top of your jars. All that's left now is twisting on the rings. The ring's job is hold the lid in place so it seals during the steaming process, so you don't need to crank it on too tight. Just tighten it enough to hold. After that, the ring is really not needed.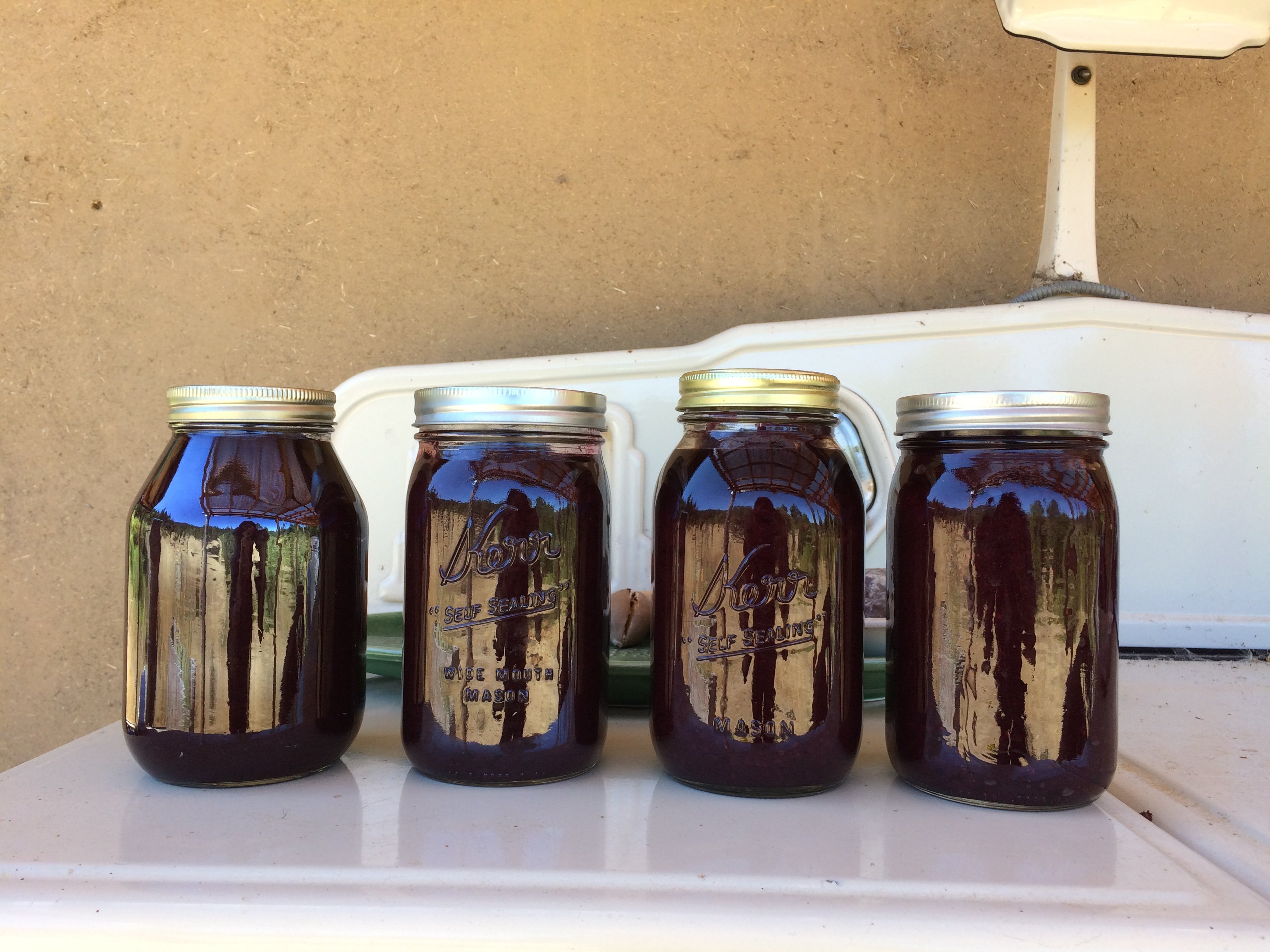 Voila! A batch of yummy blackberry jam ready for our winter enjoyment!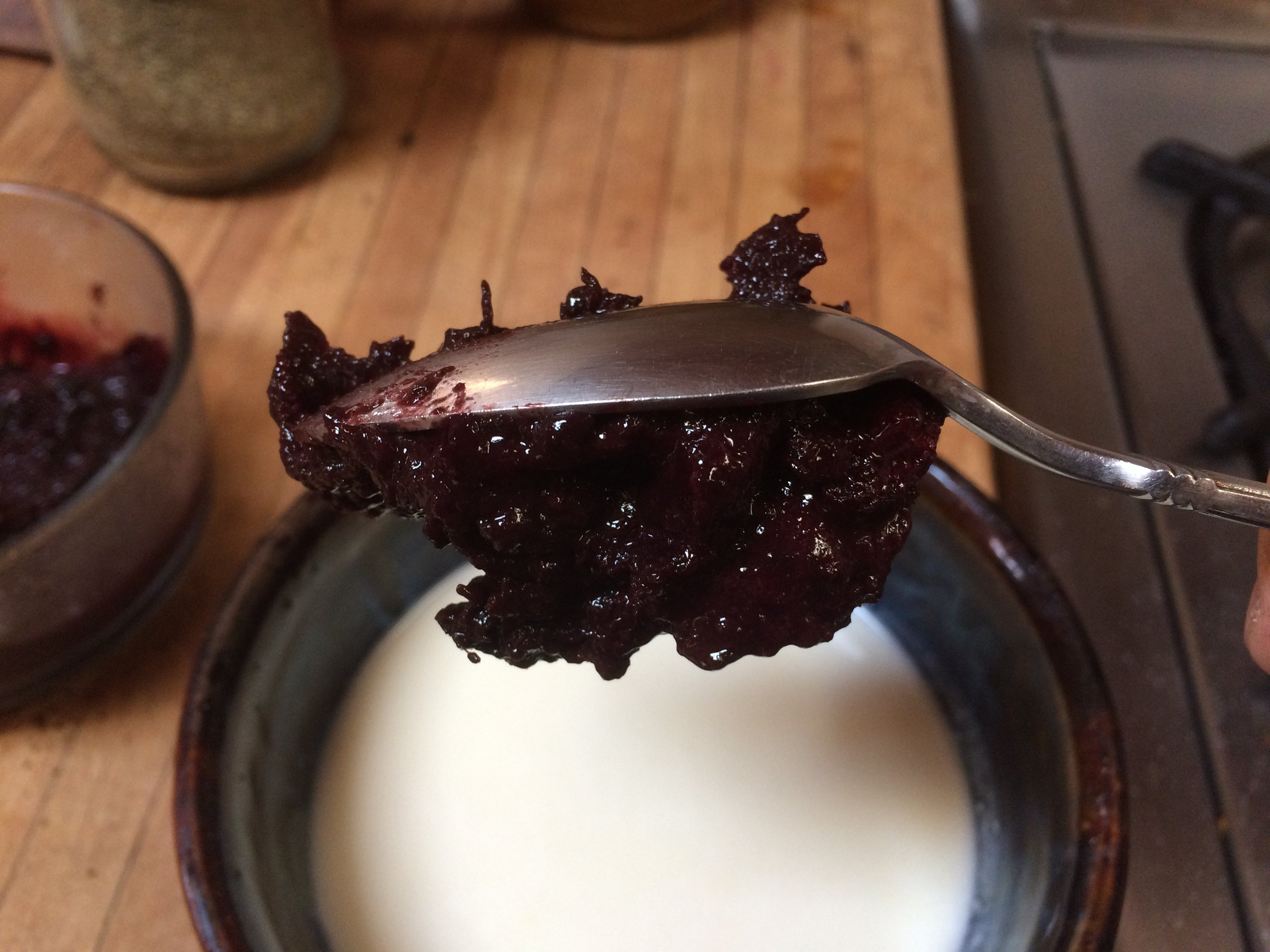 This last pic shows just how well apples work as a pectin substitute! We had extra jam that didn't fit in the jars (love it when that happens) so we had it with our yogurt the next morning. We spooned it out and it held like a champ.
There you have it - no sugar, no pectin, steam canned jam.
Hope you learned something new with our homesteading tips/tricks. Have fun preserving your harvest!