The Beetroot Risotto with Taleggio Fondue is a very colorful and very creamy first course. Absolutely to try!
---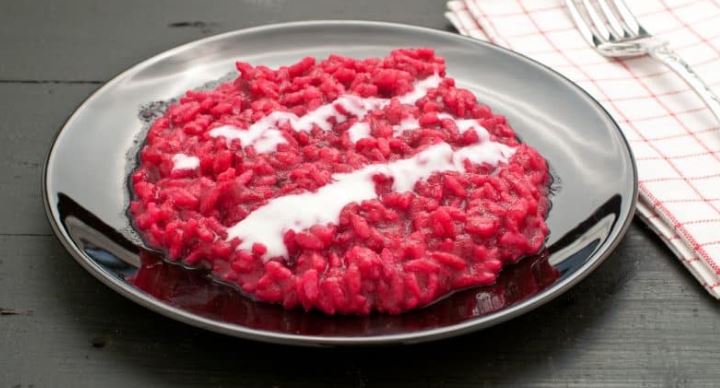 ---
Ingredients for 4 people
For Risotto
320 gr Rice Risotto
1 Beetroot
30 gr Extra virgin olive oil
2 Shallots
1 liter Vegetable broth
30 gr Butter
50 gr White wine
50 gr Grated cheese For Fondue
200 gr Taleggio
100 gr Fresh cream Liquid
Black pepper
Grated nutmeg
---
1To prepare the Beetroot Risotto with Taleggio Fondue start by heating the vegetable stock. Then take the beetroot and wash it, cut it into cubes and blend it with a little stock of broth, until it forms a cream.
2 Take a medium-sized frying pan and let the oil cook, in the meantime wash the shallots and chop finely with a crescent. Add it to the pan and brown it well, then add the rice and cook for a couple of minutes, stirring constantly. Add the white wine and continue cooking until it is completely evaporated. Continue to cook the rice for another 10 minutes, adding some broth as it dries, then add half of the beet cream. Continue to cook for another 10 minutes, always wetting with the stock, then add the other part of the cream.
---
3 Meanwhile the rice cooks the fondue. In a medium-sized saucepan heat the cream until it reaches 80 ° C. To control the temperature you will need a food thermometer. Meanwhile cut the taleggio into small pieces and add it to the pan, stirring to make it melt well. Add salt and pepper and stir until a smooth cream is obtained.
4 At this point turn off the heat and add the chopped butter and the grated cheese to cream. Mix well to mix all the ingredients and then cover with a lid for a couple of minutes. Take back the rice and let it fry in the pan forming the famous wave.
5 Put the risotto in serving dishes and decorate with cheese fondue threads. At this point your Beetroot Risotto with Taleggio Fondue is ready to be served!
---