Hello, my friends!
Today we will cook an interesting appetizer of salted herring and pumpkin rice.
If you do not have pumpkin or you hate it, you can replace it with beets or carrots.
The recipe is simple.
Let's Go!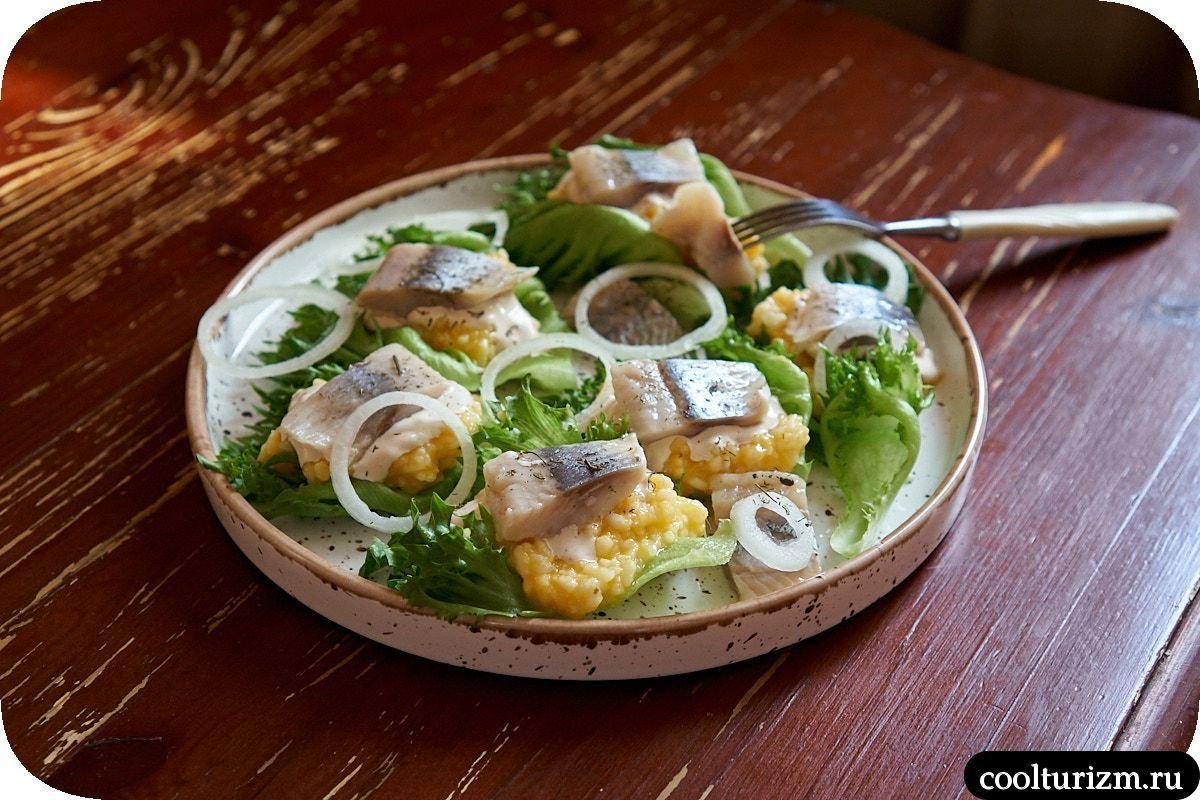 Ingredients:
● Salted herring -300-400 gr
● Round grain rice -1-1.5 cups
● Pumpkin - 400-500 gr
● Frillis salad or lettuce - 1 pack.
● Onions -1 pc
● Soy sauce or salt, mayonnaise, tomato paste, pepper, herbs, spices - to taste
1.We need a thick, glutinous rice mass. Cook short-grain rice until tender. Roughly speaking, we take 1 glass of rice for 1.5-2 glasses of water. Put the rice in boiling water, stir, reduce the heat to a minimum and cover the pan with a lid. Cooking time -15 minutes.
At this time, we should clean the pumpkin from the skin and seeds. Cut the pumpkin into medium or smaller pieces and cook until tender. This may take approximately 30 minutes + -.
Drain off excess water and puree the pumpkin with a blender. Add pumpkin puree to rice, mix it, It turns out an orangeish rice mass. Salt and pepper to taste. Let the pumpkin and rice cool.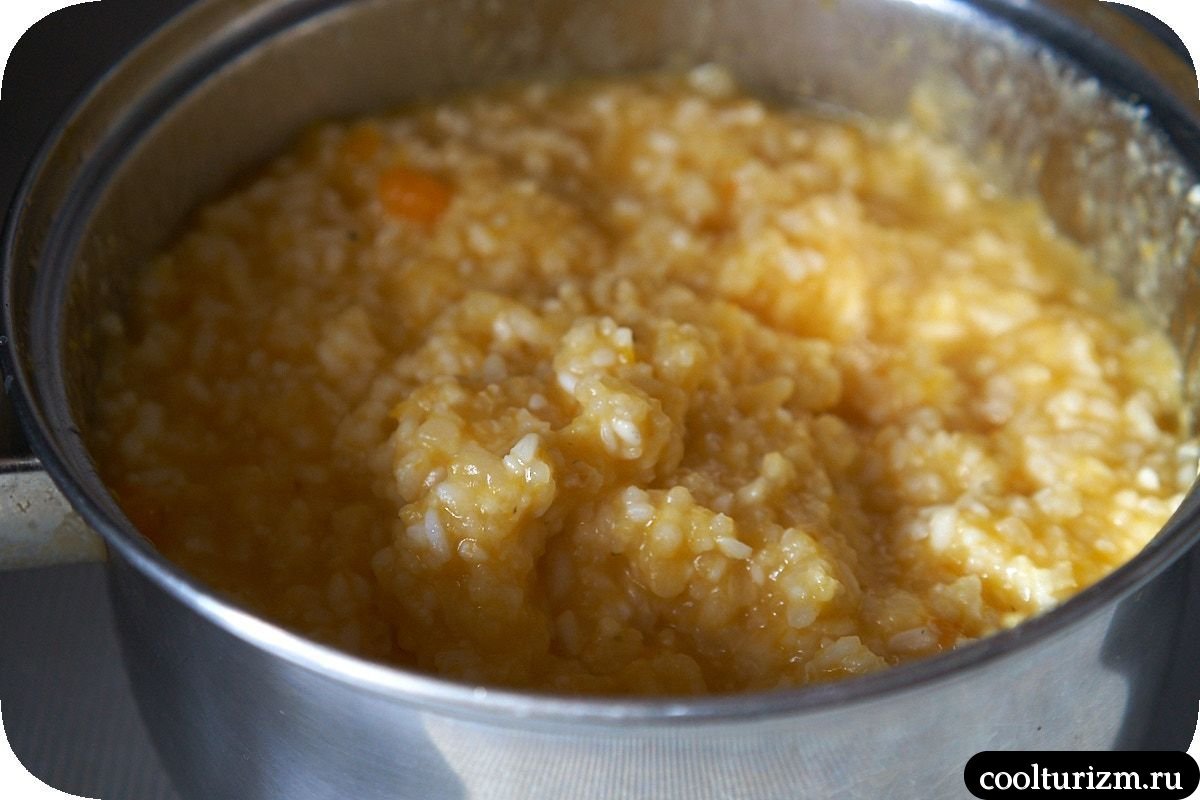 2.Wash the frillis salad and pick it up in chunks. Put the lettuce leaves on a plate. It is worth picking lettuce leaves in portions, in small pieces comparable to pieces of herring, so that your mouth does not break from large pieces. At the same time, open a jar of good herring and drain the oil. We dry the herring.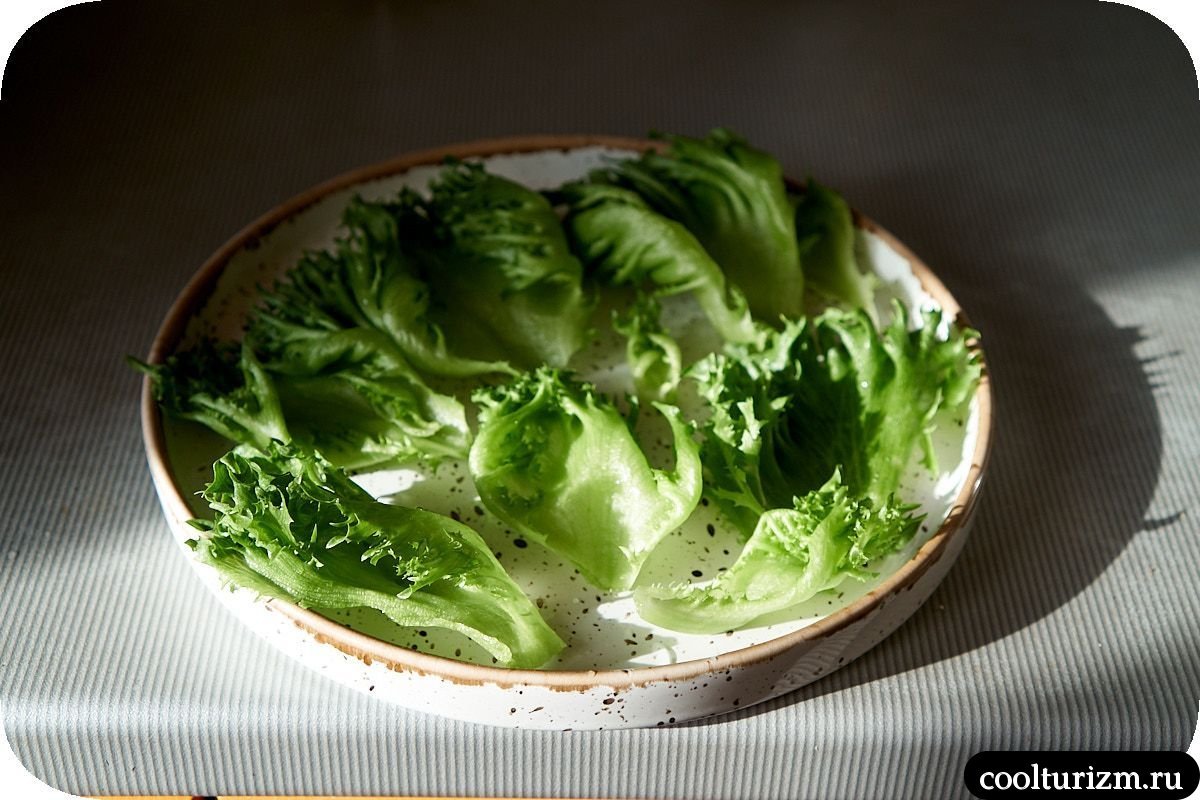 3.Prepare the sauce. Mix a spoonful of good tomato paste, 1 teaspoon of sugar, 100 grams of mayonnaise. Add chopped garlic, herbs, pepper and some soy sauce. Stir, the sauce is ready! You can make the sauce spicy, it will be interesting! Put the pumpkin rice on top of the lettuce leaves. We make "slaps" with a spoon. And coat the rice with sauce.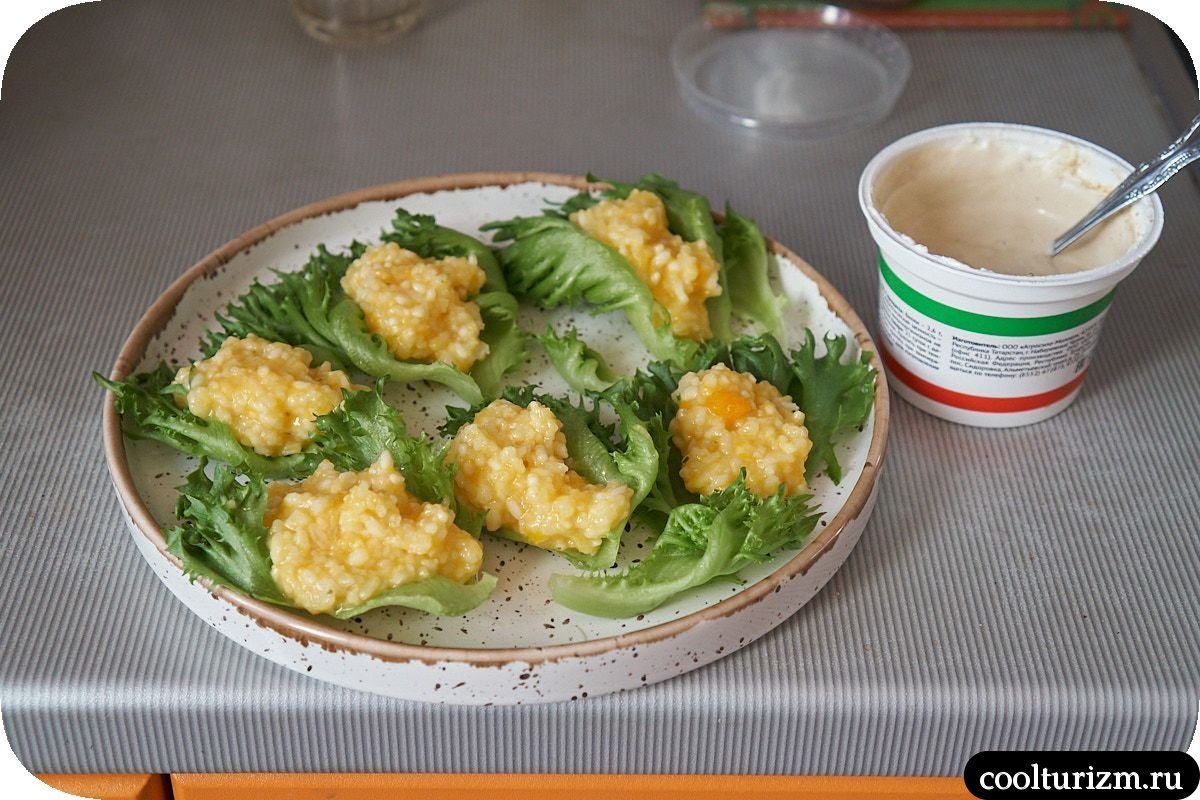 4.Now all that remains is to put pieces of salted herring on the sauce and cut the onion or red onion into thin rings.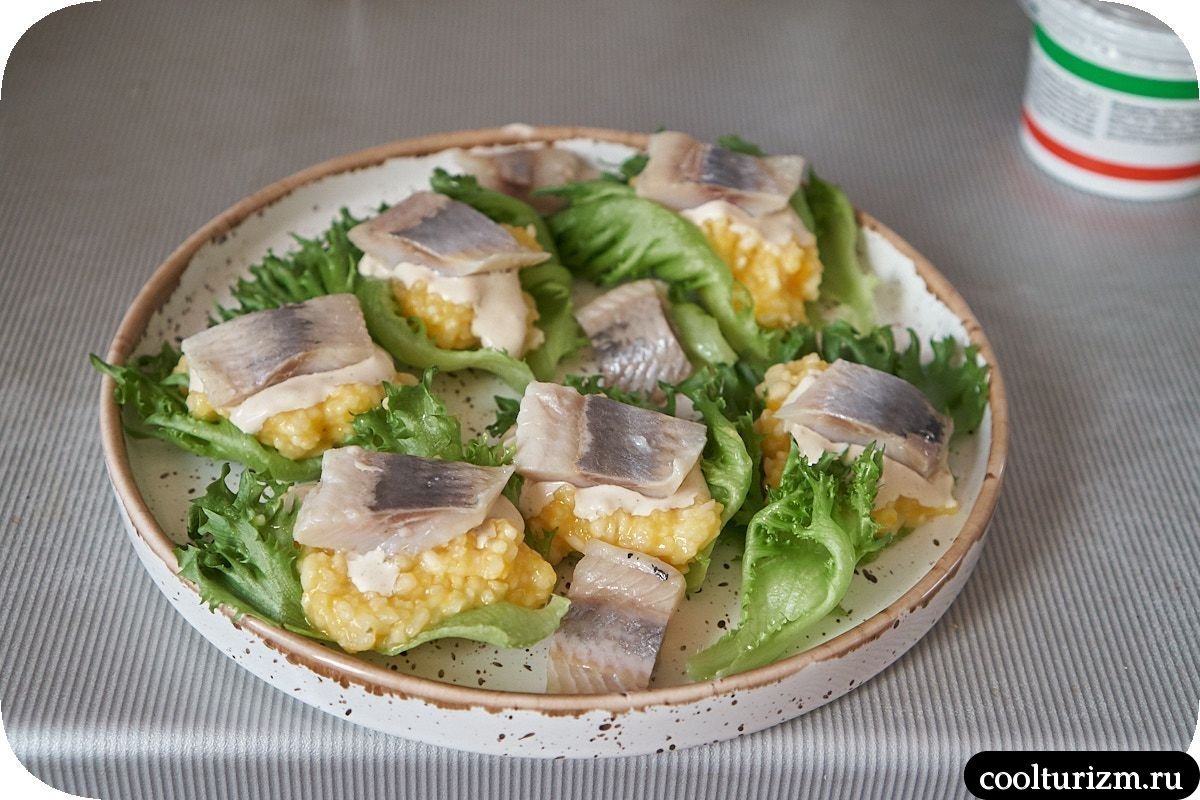 Greens will fit well here too! The herring and rice appetizer is ready! You can serve it on the table!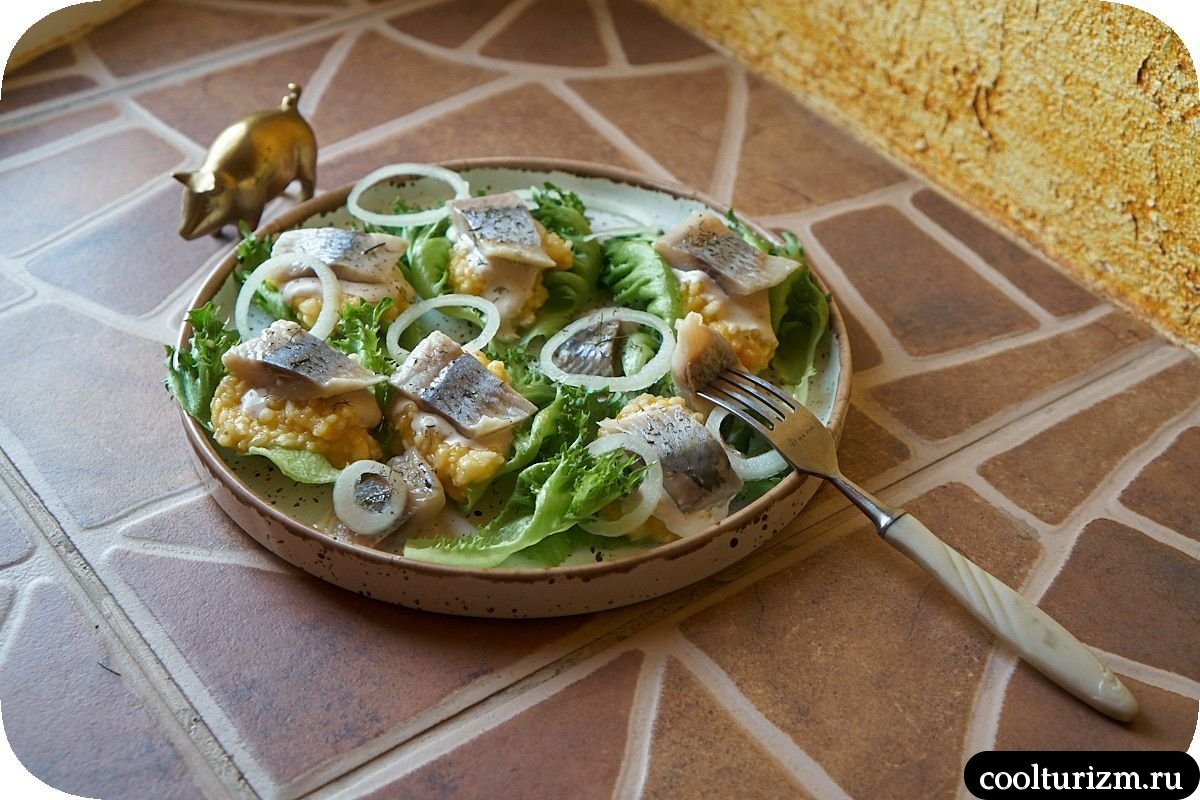 A very good snack!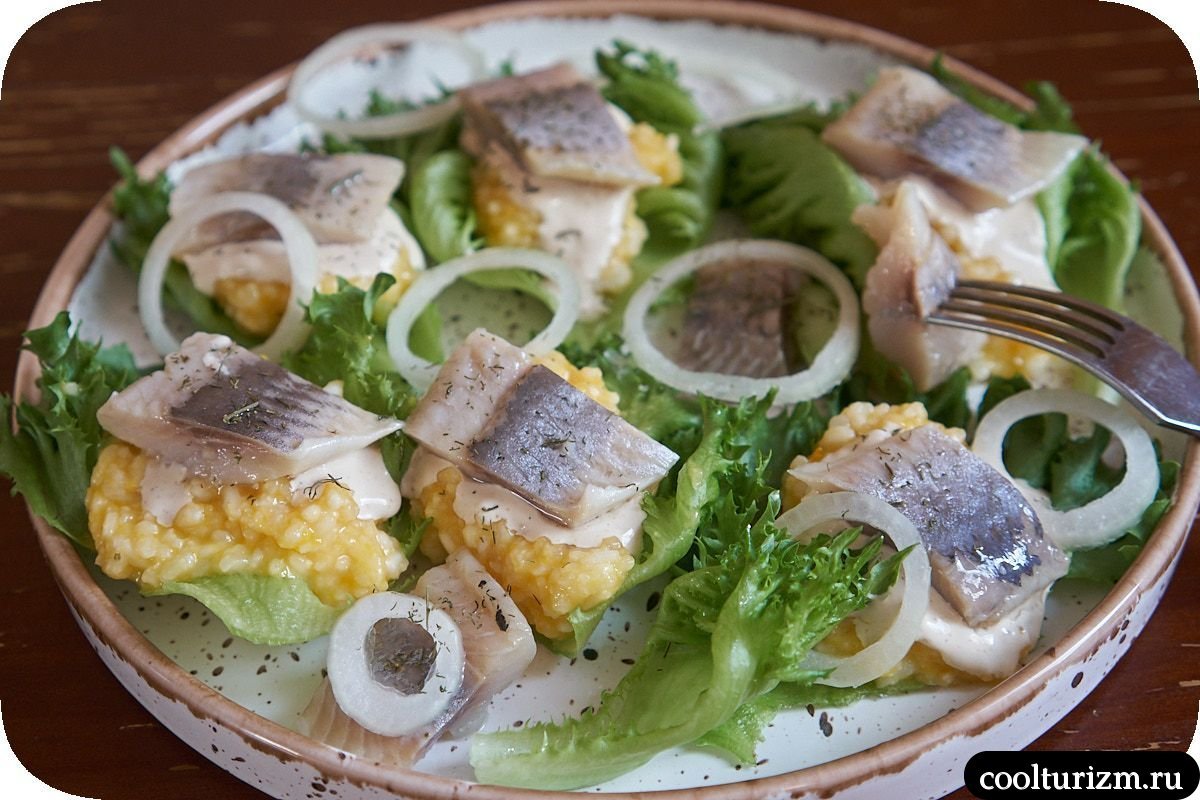 Will We Cook?

Heute kochen wir eine interessante Vorspeise aus gesalzenem Hering und Kürbisreis.
Wenn Sie keinen Kürbis haben oder ihn hassen, können Sie ihn durch Rote bete oder Karotten ersetzen.
Das Rezept ist einfach. Lass uns gehen!
Zutaten:
● Gesalzener Hering -300-400 gr
● Rundkornreis -1-1,5 Tassen
● Kürbis - 400-500 gr
● Frillis Salat oder Salat - 1 Packung.
● Zwiebeln -1 Stk
● Sojasauce oder Salz, Mayonnaise, Tomatenmark, Pfeffer, Kräuter, Gewürze - nach Geschmack
1.Wir brauchen eine dicke, klebrige Reismasse. Kurzkornreis kochen, bis er weich ist. Grob gesagt nehmen wir 1 Glas Reis für 1,5-2 Gläser Wasser. Den Reis in kochendes Wasser legen, umrühren, die Hitze auf ein Minimum reduzieren und die Pfanne mit einem Deckel abdecken. Garzeit -15 Minuten.
Zu diesem Zeitpunkt sollten wir den Kürbis von der Haut und den Kernen reinigen. Den Kürbis in mittlere oder kleinere Stücke schneiden und weich kochen. Dies kann ca. 30 Minuten dauern + -. Lassen Sie überschüssiges Wasser ab und pürieren Sie den Kürbis mit einem Mixer. Fügen Sie Kürbispüree Reis hinzu. Wir mischen. Es stellt sich eine orangefarbene Reismasse heraus. Salz und Pfeffer nach Geschmack. Kürbis und Reis abkühlen lassen.
2.Den Rüschensalat waschen und Stücke aufnehmen. Die Salatblätter auf einen Teller legen. Es lohnt sich, Salatblätter in Portionen zu pflücken, in kleinen Stücken, die mit Heringsstücken vergleichbar sind, damit Ihr Mund nicht von großen Stücken abbricht. Öffnen Sie gleichzeitig ein Glas guten Herings und lassen Sie das Öl ab. Wir trocknen den Hering.
3.Bereiten Sie die Sauce vor. Mischen Sie einen Löffel gute Tomatenmark, 1 Teelöffel Zucker und 100 Gramm Mayonnaise. Gehackten Knoblauch, Kräuter, Pfeffer und etwas Sojasauce hinzufügen. Rühren, die Sauce ist fertig! Sie können die Sauce scharf machen, es wird interessant! Den Kürbisreis auf die Salatblätter legen. Wir machen "Ohrfeigen" mit einem Löffel. Und den Reis mit Sauce bestreichen.
4.Jetzt müssen nur noch gesalzene Heringsstücke auf die Sauce gelegt und die Zwiebel oder rote Zwiebel in dünne Ringe geschnitten werden.
Auch hier passen die Grünen gut! Die Herings-Reis-Vorspeise ist fertig! Sie können es auf dem Tisch servieren!
Ein sehr guter Imbiss!
Werden wir kochen?