Hello, my friends!
Today we will cook delicious pea puree with onions and cracklings. This is a good side dish for meat dishes. But pea puree can also be served as an independent dish. Very bright taste, I like mashed peas more than mashed potatoes.
The taste is richer. The recipe is simple.
Let's Go!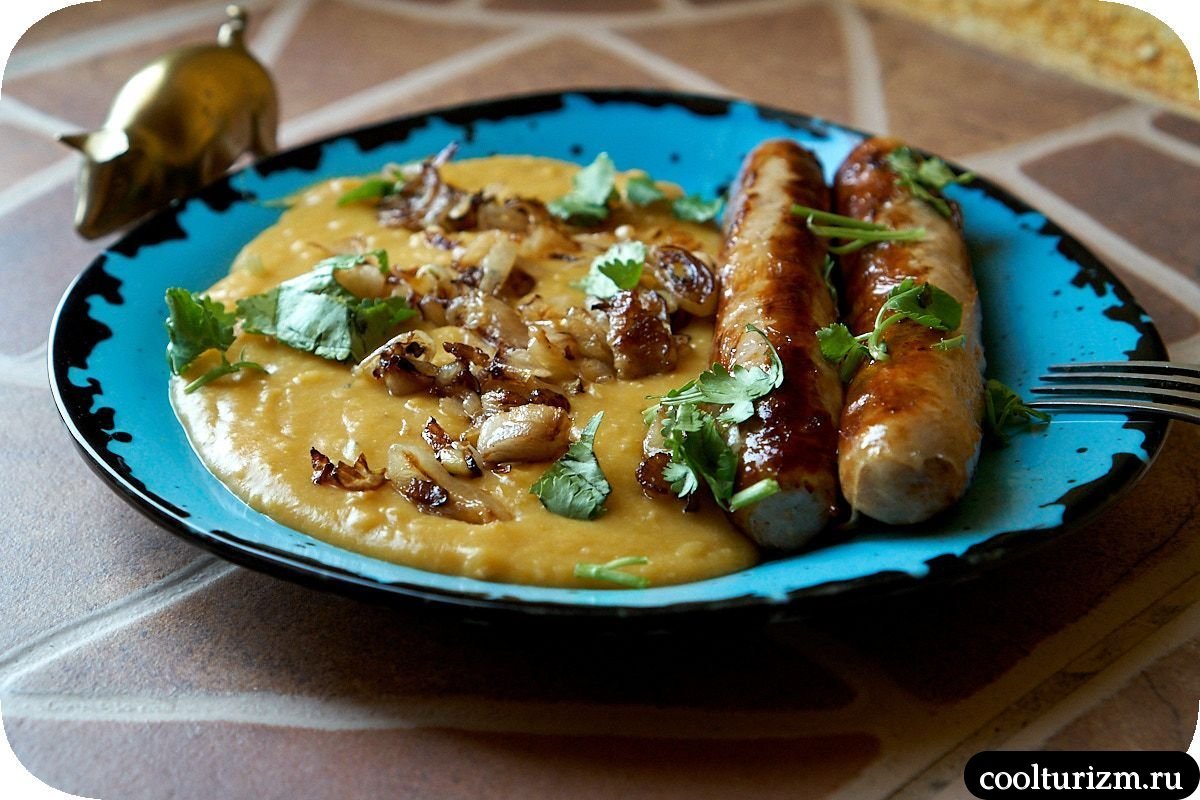 Ingredients:
● Dried Peas - 300 -400 gr
● Onions -1-2 pcs.
● Lard without skin - 2-3 pieces (100 g and more)
● Sausages -4-5 pcs (optional)
● Soy sauce or salt, pepper, herbs, spices - to taste
1.Previously, I soaked the peas in water overnight. It's not that it helps a lot, but let's think that the peas have become a little softer, and that incomprehensible chemistry and all other nonsense have gone into the water. Drain the water, fill the peas with fresh water (1.5 liters) and cook in a saucepan. We need a thick, good puree, although the thickness is at your discretion.
I cooked the pea puree for a little over an hour, the peas boil in different ways, but it's worth it. Add salt and pepper to taste. If you wish, you can add to the puree and cream. This will improve the taste of the puree. I got a medium-liquid consistency. But when the puree has stood and cooled down, it will become thicker. You can add some spices, zira would fit well.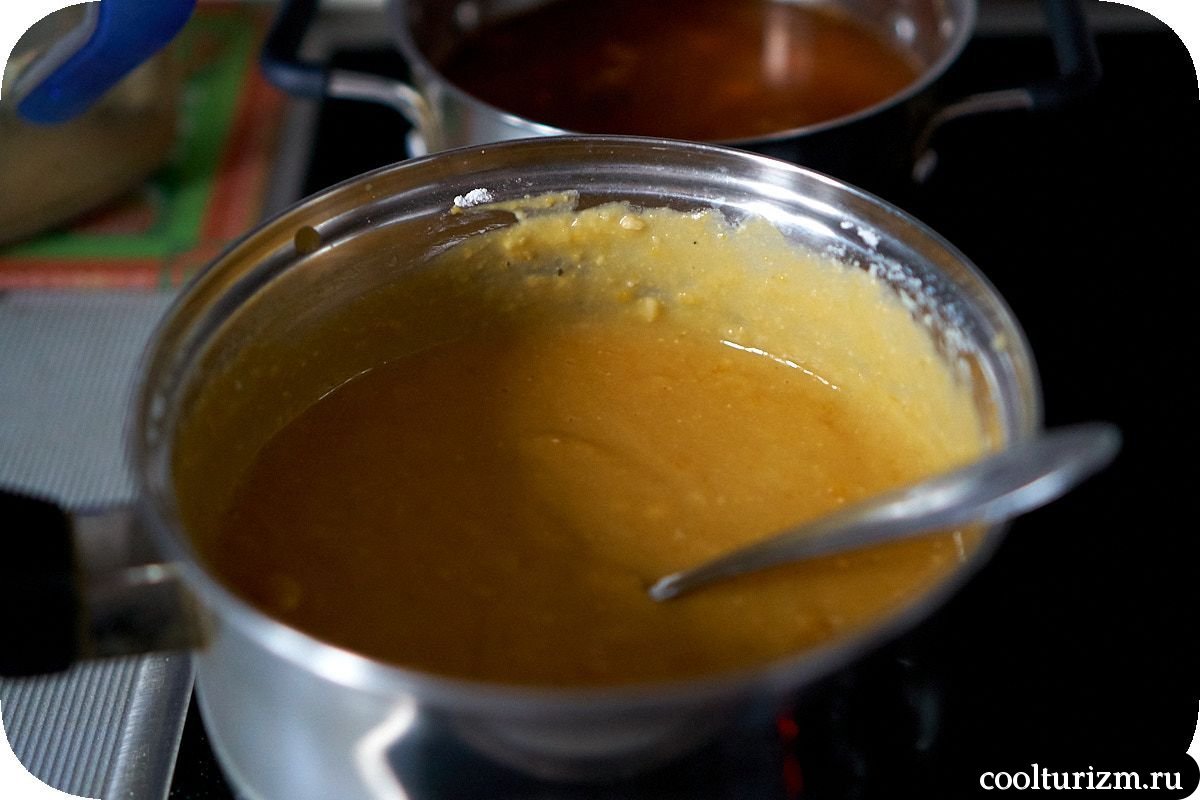 2.Cut the raw bacon into small pieces. Peel the onions and cut them into half rings. Fry bacon and onion. Stir. The bacon gradually turns into crispy cracklings, and the onions are pleasantly golden. Add salt and pepper to taste.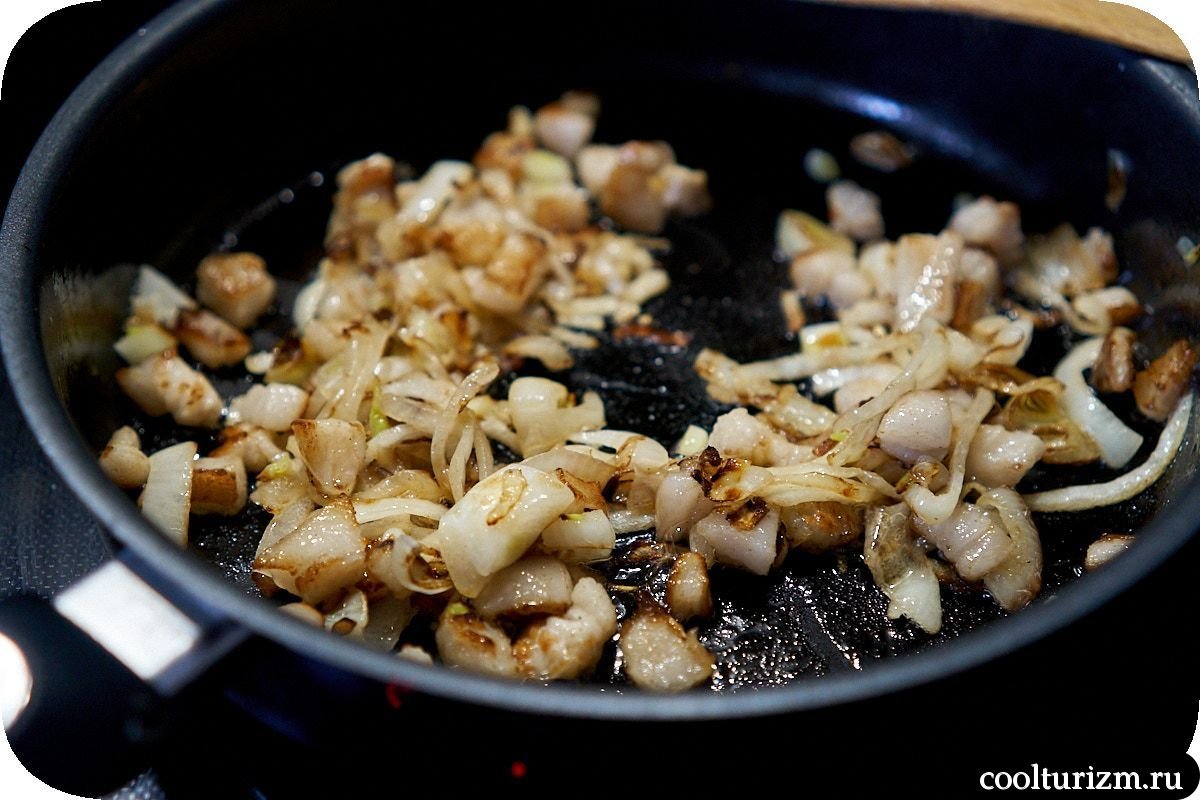 3.If you have any sausages, then fry them until tender. It's very simple and you shouldn't get hung up on it. Composing the dish. Put the pea puree on a plate. Sprinkle with cracklings and onions on top. Cilantro or parsley will perfectly complement this dish! And now all that remains is to lay out delicious sausages. Voila! Dinner is served!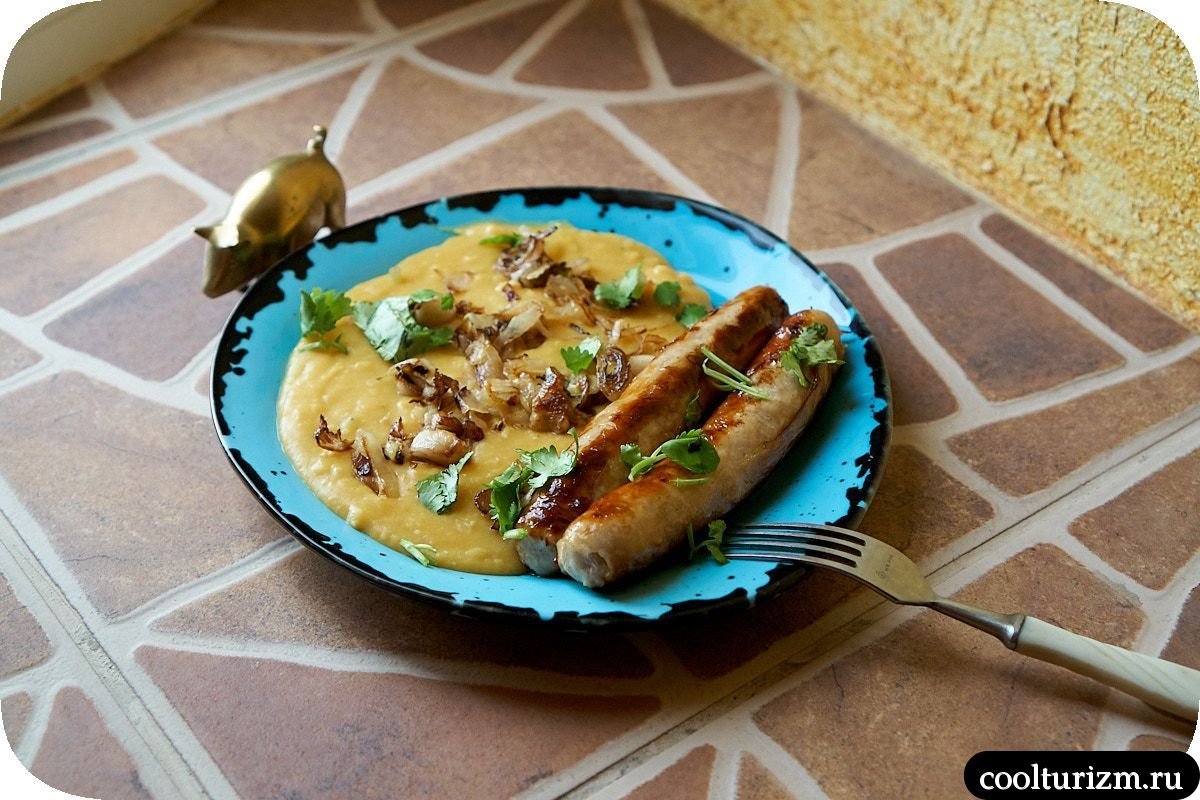 This is a delicious and simple dish! Recommend!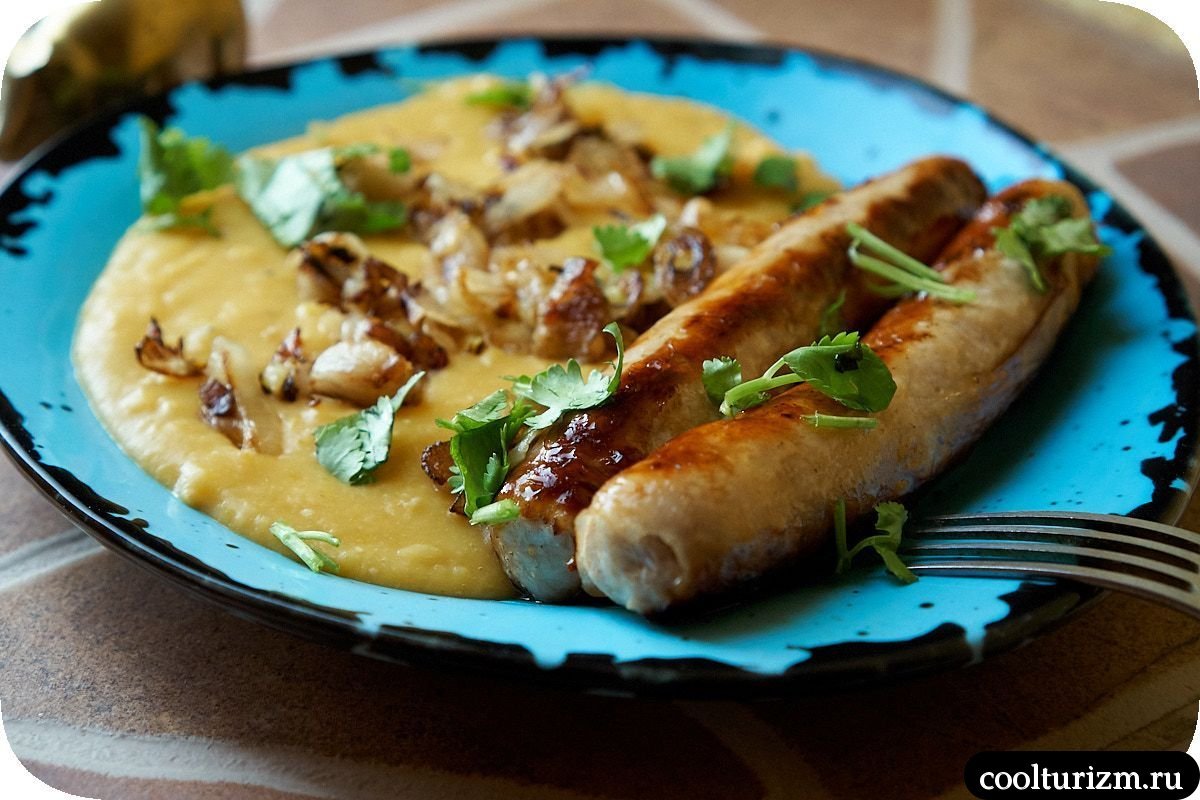 Greaves are not the healthiest thing, but they are so delicious! Sometimes you can afford it!
Will we cook it?

Heute kochen wir leckeres Erbsenpüree mit Zwiebeln und Knistern. Dies ist eine gute Beilage für Fleischgerichte. Erbsenpüree kann aber auch als eigenständiges Gericht serviert werden. Sehr heller Geschmack, ich mag Erbsenpüree mehr als Kartoffelpüree. Der Geschmack ist reicher. Das Rezept ist einfach.
Lass uns gehen!
Zutaten:
● Getrocknete Erbsen - 300 - 400 gr
● Zwiebeln -1-2 Stck.
● Schmalz ohne Haut - 2-3 Stück (100 g und mehr)
● Würste -4-5 Stk. (Optional)
● Sojasauce oder Salz, Pfeffer, Kräuter, Gewürze - nach Geschmack
1.Zuvor habe ich die Erbsen über Nacht in Wasser eingeweicht. Es ist nicht so, dass es viel hilft, aber denken wir, dass die Erbsen etwas weicher geworden sind und dass unverständliche Chemie und aller andere Unsinn ins Wasser gegangen sind. Lassen Sie das Wasser ab, füllen Sie die Erbsen mit frischem Wasser (1,5 Liter) und kochen Sie es in einem Topf. Wir brauchen ein dickes, gutes Püree, obwohl die Dicke in Ihrem Ermessen liegt. Ich habe das Erbsenpüree etwas mehr als eine Stunde lang gekocht, die Erbsen kochen auf unterschiedliche Weise, aber es lohnt sich. Nach Belieben Salz und Pfeffer hinzufügen. Wenn Sie möchten, können Sie das Püree und die Sahne hinzufügen. Dies verbessert den Geschmack des Pürees. Ich habe eine mittelflüssige Konsistenz. Aber wenn das Püree gestanden und abgekühlt ist, wird es dicker. Sie können einige Gewürze hinzufügen, Zira würde gut passen.
2.Schneiden Sie den rohen Speck in kleine Stücke. Zwiebeln schälen und in halbe Ringe schneiden. Speck und Zwiebel braten. Rühren. Der Speck verwandelt sich allmählich in knusprige Knistern und die Zwiebeln sind angenehm golden. Nach Belieben Salz und Pfeffer hinzufügen.
3.Wenn Sie Würste haben, braten Sie diese bis sie weich sind. Es ist sehr einfach und Sie sollten nicht daran hängen bleiben. Das Gericht zusammenstellen. Das Erbsenpüree auf einen Teller legen. Mit Knistern und Zwiebeln bestreuen. Koriander oder Petersilie ergänzen dieses Gericht perfekt! Und jetzt müssen Sie nur noch leckere Würste auslegen. Voila! Essen ist angerichtet!
Dies ist ein köstliches und einfaches Gericht! Empfehlen!
Beinschienen sind nicht die gesündeste Sache, aber sie sind so lecker! Manchmal kann man es sich leisten!