Dear Steemit Friends:
"You go to Señor Frog's when you're on vacation, if you want to get crazy and nobody knows you,"
These are the exact words from the Chief Executive, David Krouham to Forbes Magazine.
With picture perfect holiday resorts, and immaculate white sandy beaches stretching as far as the naked eye can see, the Bahamas is a really fantastic option for those wishing to get that true vacation experience. Particularly if you like the lounging around, being lazy, soaking up sun on the beach kind of vacation.
As I've mentioned before, it is actually quite difficult to find many examples of true Bahamian authentic food, in and around these massive resort complexes which are primarily built for tourists like myself from all over the world. As a result, there are actually more options for western food lovers than there are local Bahamian delicacies.
Having exhausted all the food options at Atlantis, I asked the hotel staff to recommend me a cool place to eat, their reply - Señor Frogs!
I must admit, I didn't even understand what they said at first, I only recognised the word"frogs". The word, Señor sounded like the word "senior" (close enough!), so I left the hotel reception and went straight to the taxi stand all the way repeating the words "senior frogs" so I wouldn't forget where it was I wanted to go!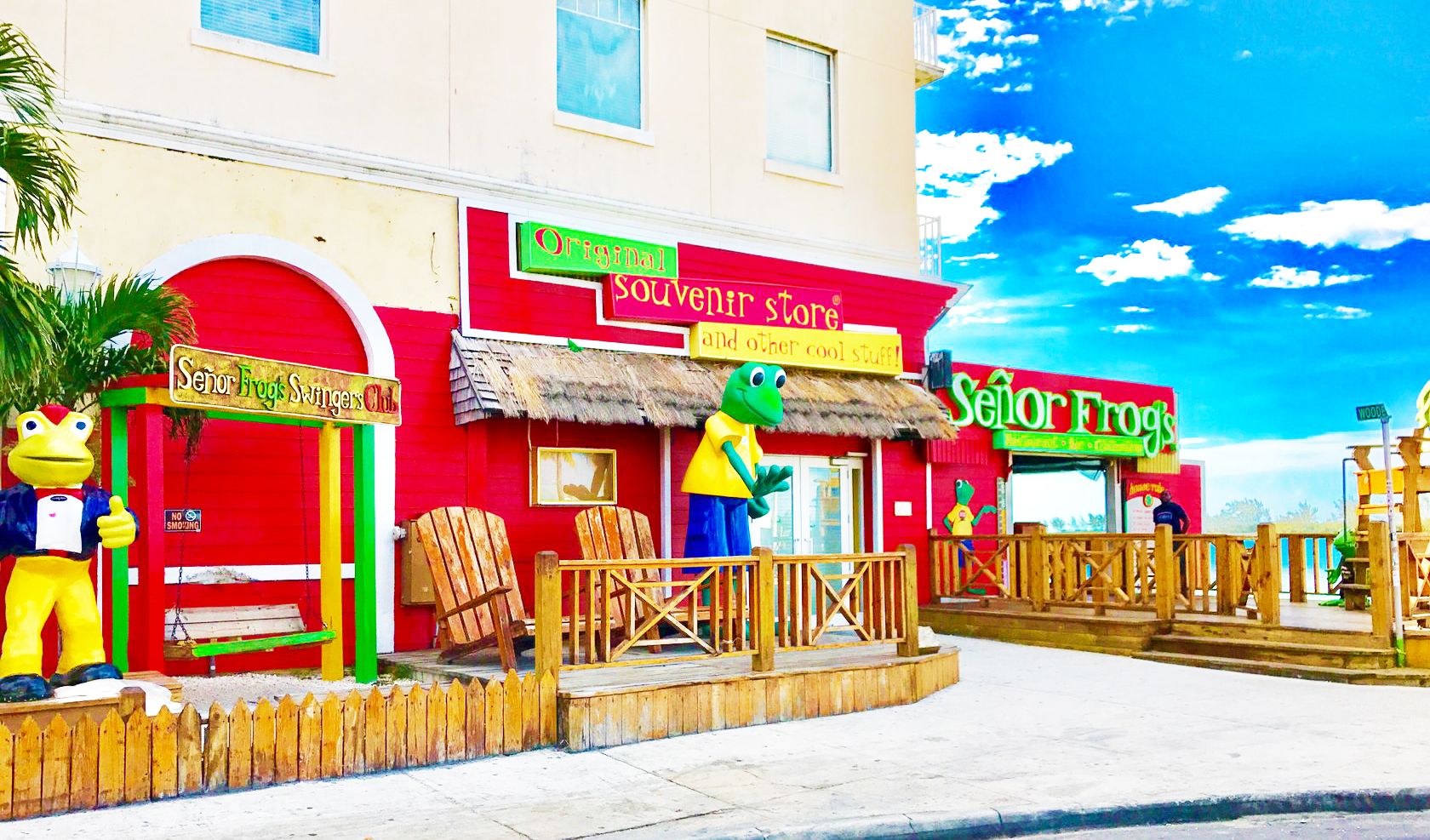 So, this is what Señor Frogs is like, I finally understood Señor to mean Mr. in Spanish. And what a cute name for a frog?
For those that are unfamiliar with the restaurant, Señor Frogsis a Mexican-themed franchise which opened in 1989 and today has 21 restaurants spread throughout Mexico, the Caribbean, South America and the United States. Even though they are considered a 'Quick service restaurant', Señor Frogs has grown it's reputation for being a place to drink a lot of alcohol, and party like no tomorrow!
I had absolutely no idea what to expect at Señor Frogs as this was my first ever visit. But I was really impressed with the easily recognisable frog(s) standing outside. They along with the beautiful sea view make for a really memorable location already!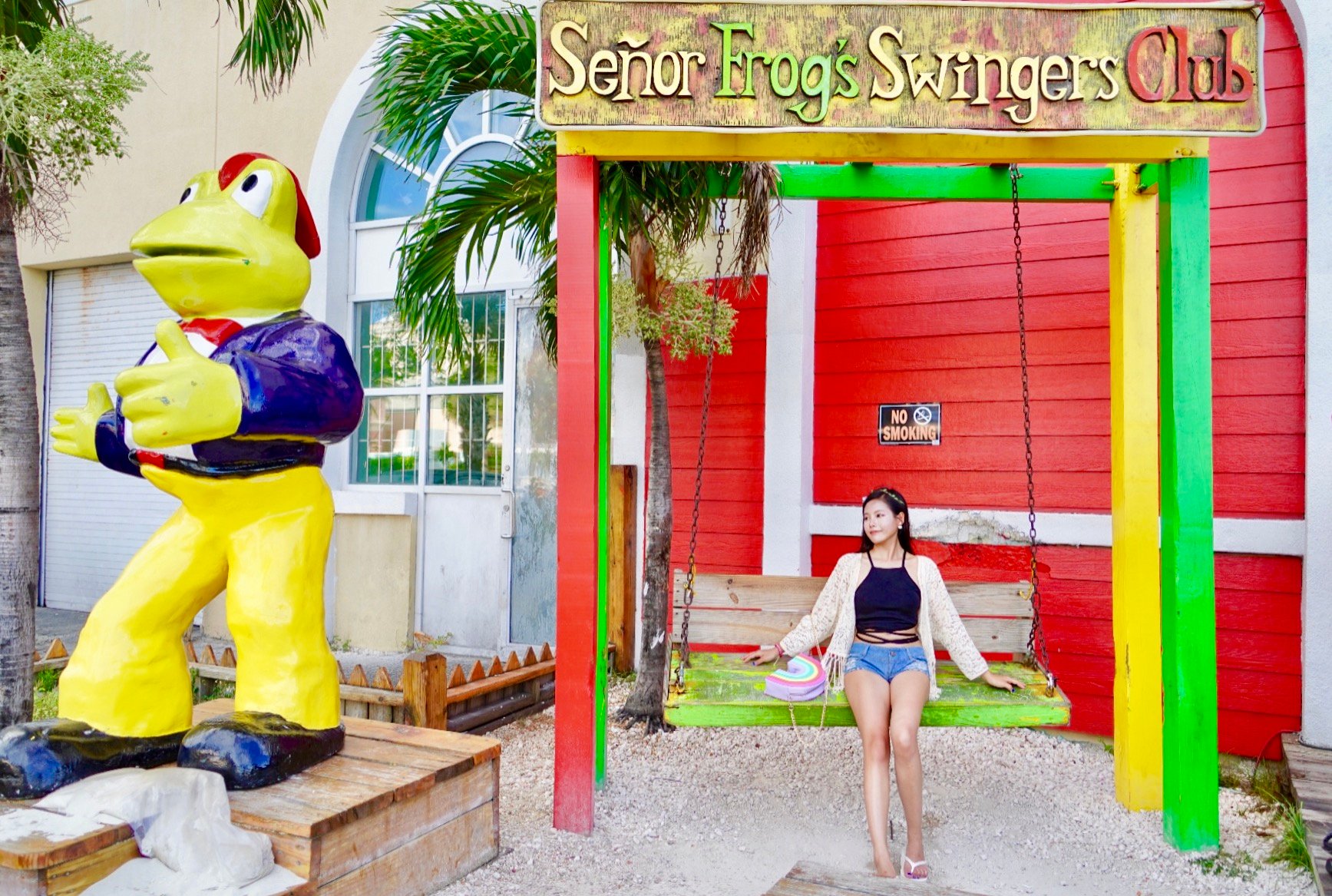 This is Woodes Rodgers Walk, just a few minutes walk away from down-town Nassau. Along this street there are plenty of other bars, clubs and restaurants.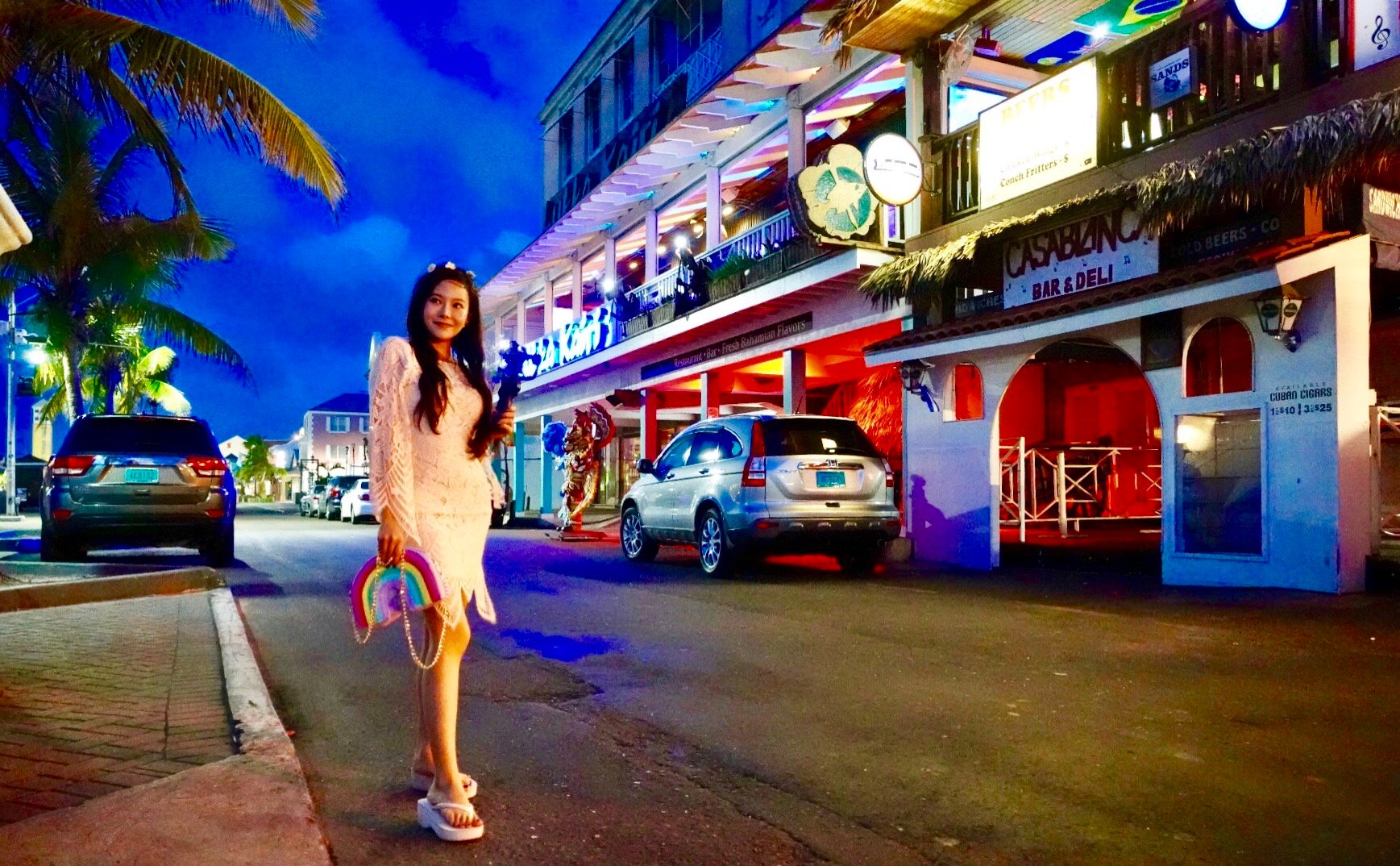 In the distance, you can see the huge cruise ship parked in the dock. It was probably stopping just for a few hours to let the people on board go for a roam around down town Nassau before taking off to the seas again.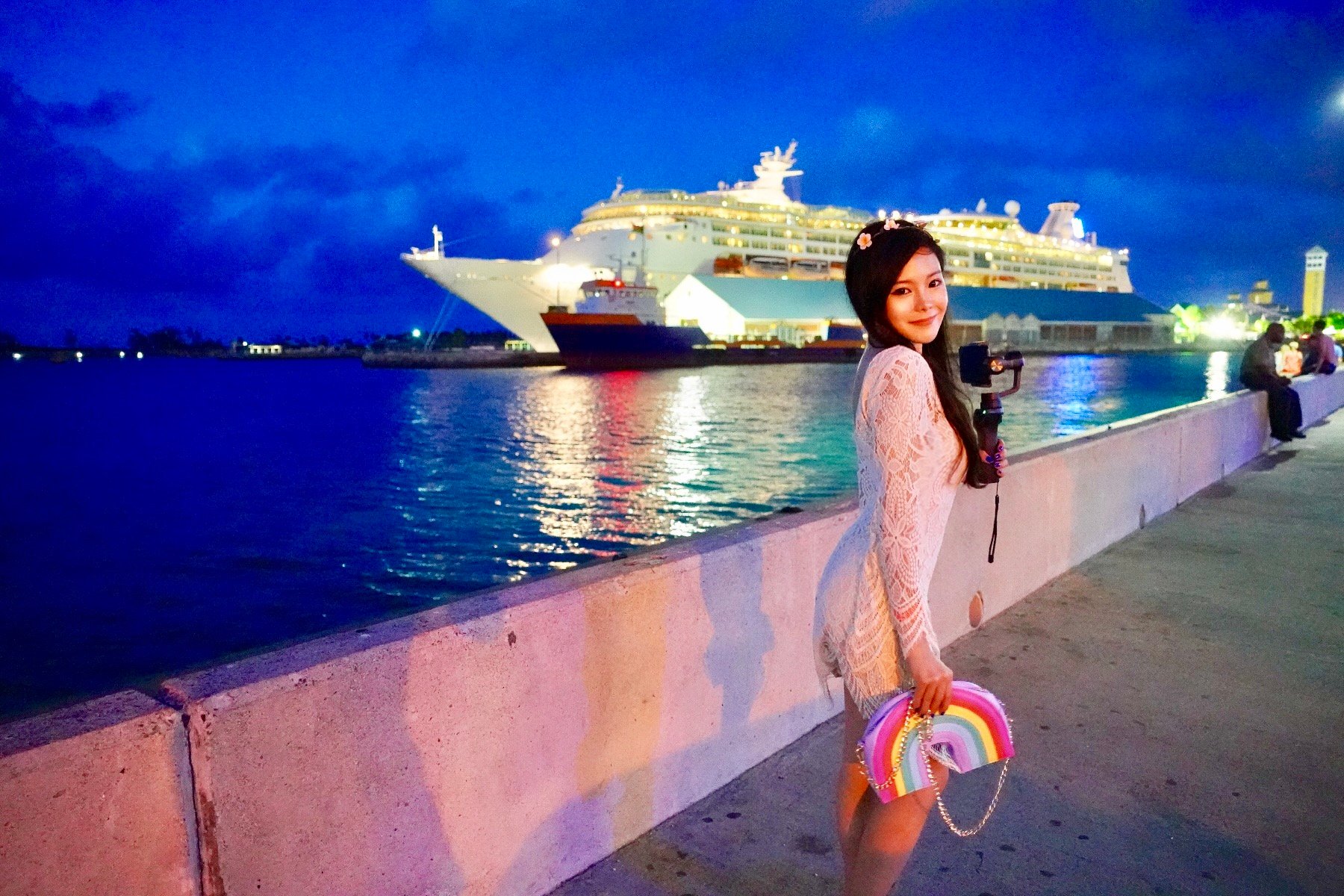 You might be wondering what the men sitting on the wall are doing? Well aside from enjoying a splendid night time view of the huge cruise ship, they're actually waiting for passengers for taxi rides back to their hotels.
How do I know? In Bahamas, taxi's have yellow car plates as opposed to white ones!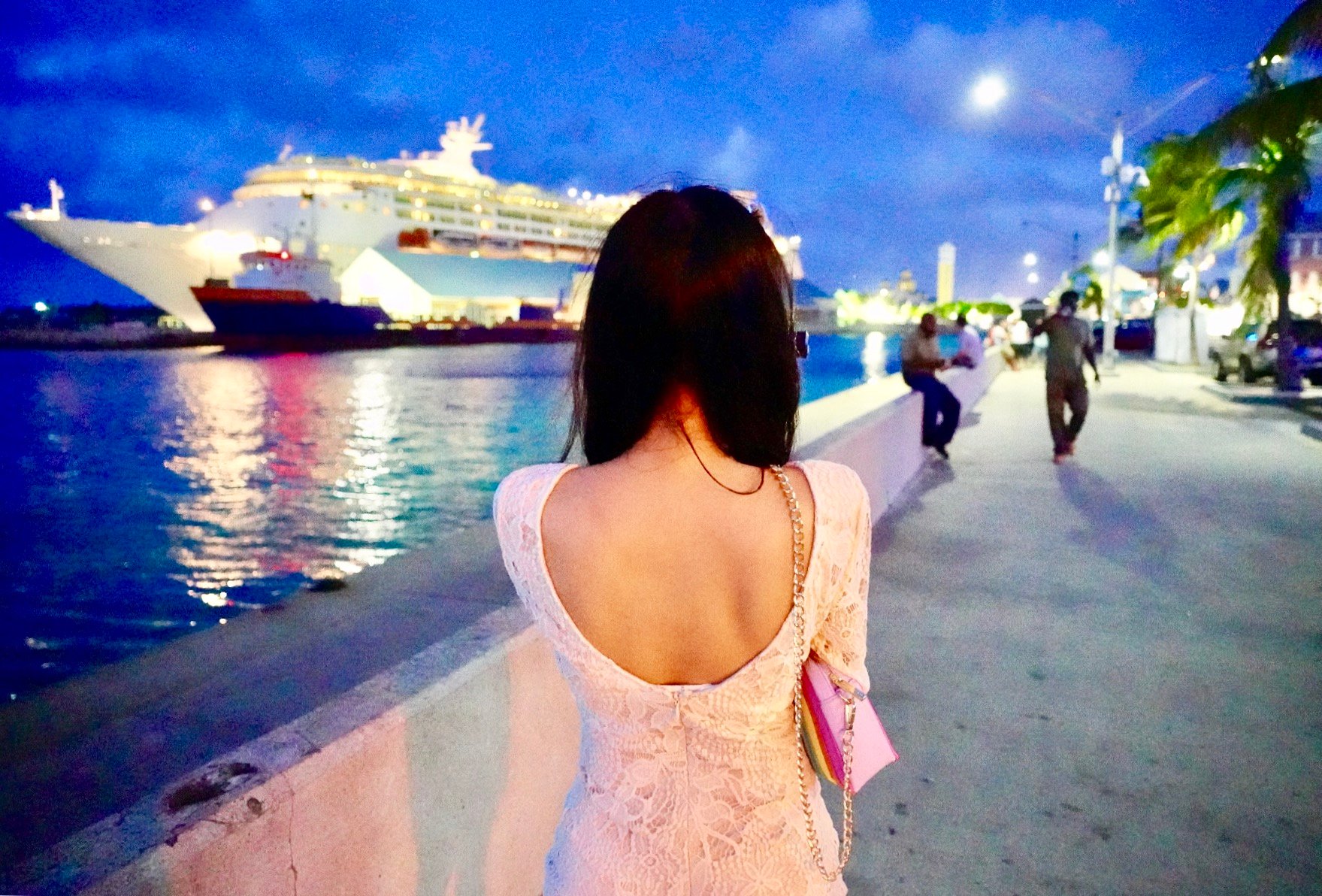 This is the entrance to Señor Frogs, stopping at nothing to remind us of their affiliation with Frogs, there are already three frogs at the entrance!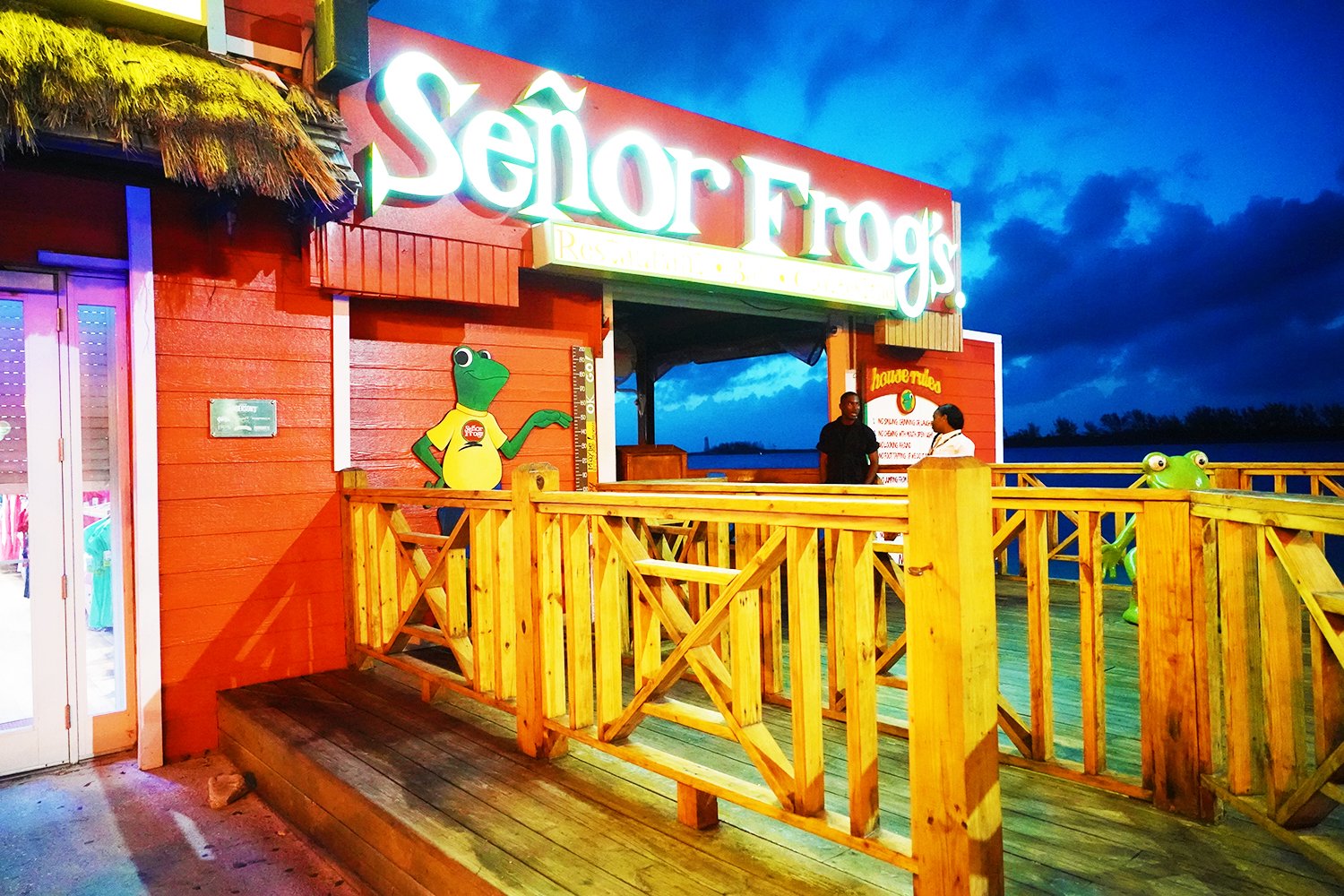 For some reason, there was also this really high stool outside the entrance. It's far too big for me and any regular sized person (Ok, I'm a bit smaller than a regular sized person -.-) so I must assume it's for the giant frog next to the swing.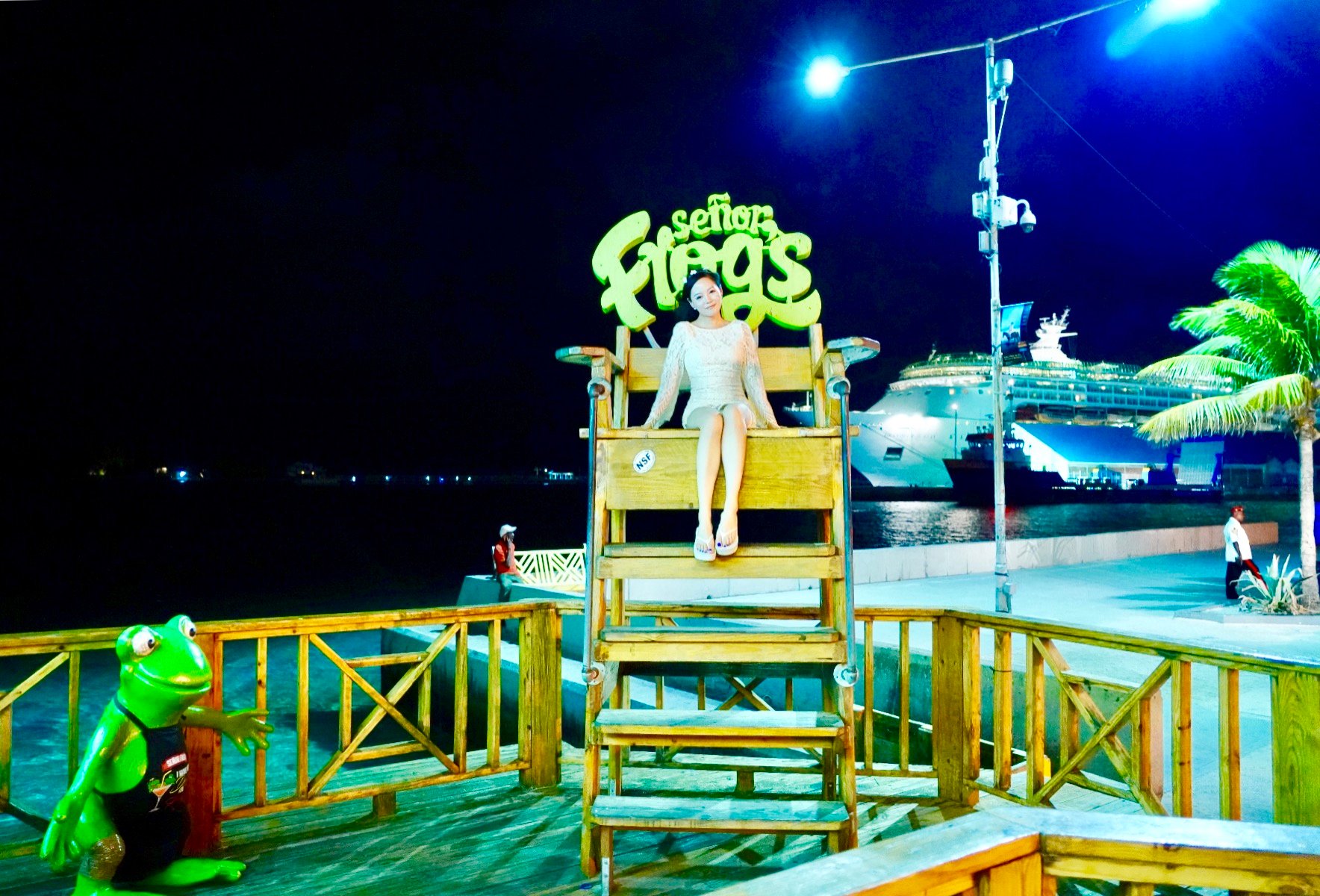 See how big that giant frog is!?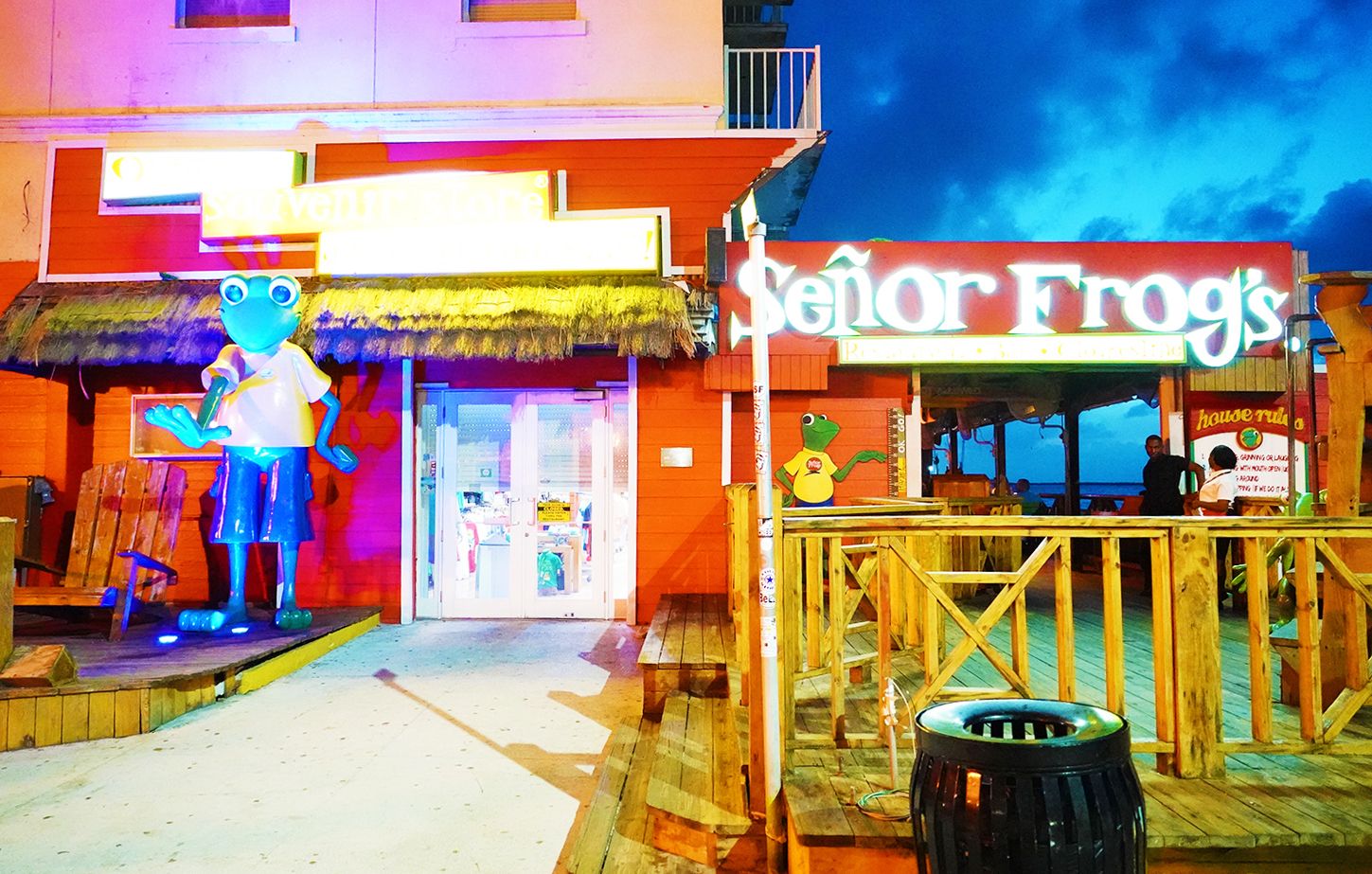 Here's me standing next to it for a comparison.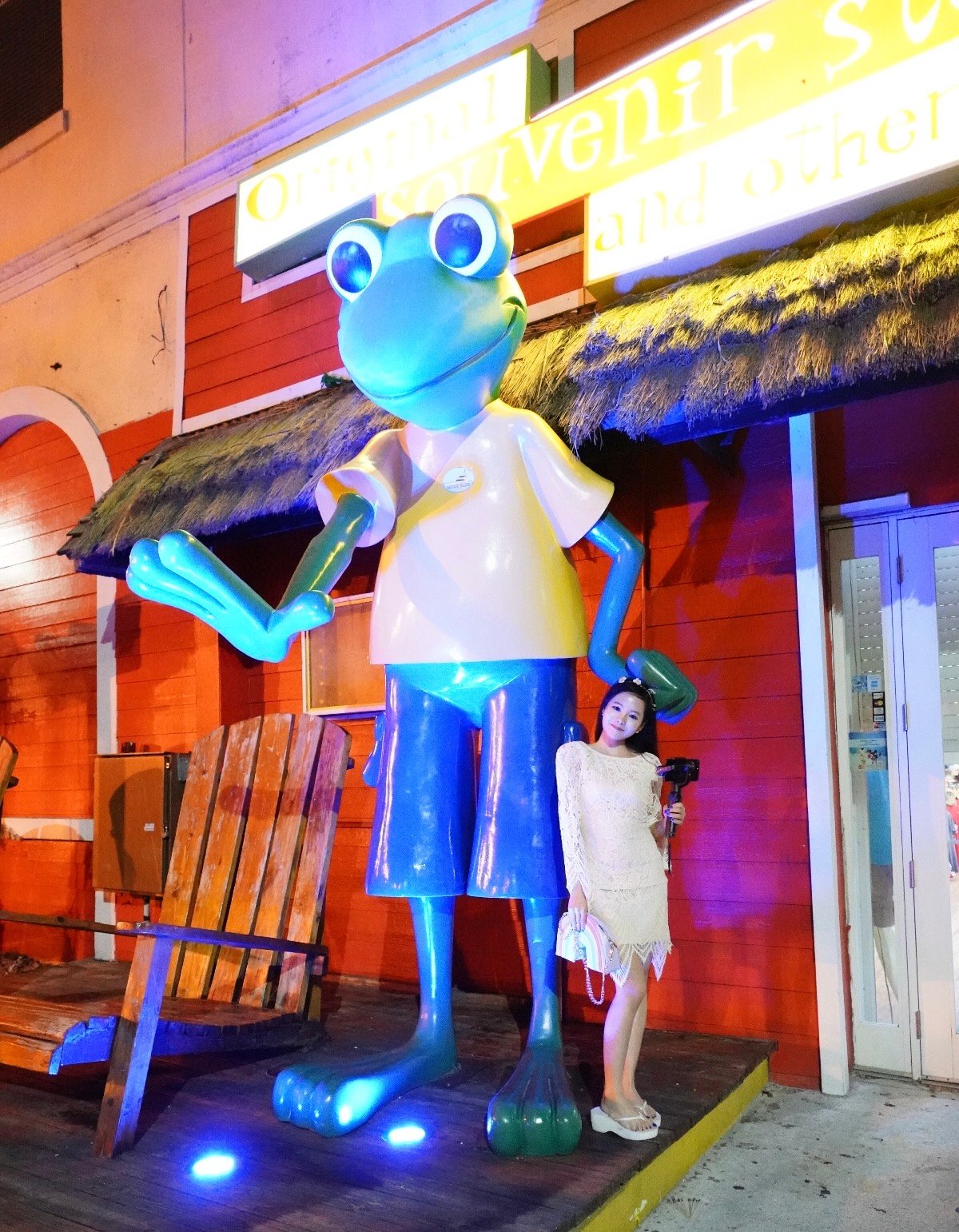 Walking inside, I realise that this part of the bar restaurant is actually built atop of a pier. The creaky wood planks and the overhanging view of the sea give this away.
On the left hand side, is the Señor Frogs souvenir store, selling lots of T-shirts and other Señor Frogs branded merchandise. It's quite nice seeing the restaurant and bar already buzzing with life, many groups of people already sitting down and enjoying a drink and a meal.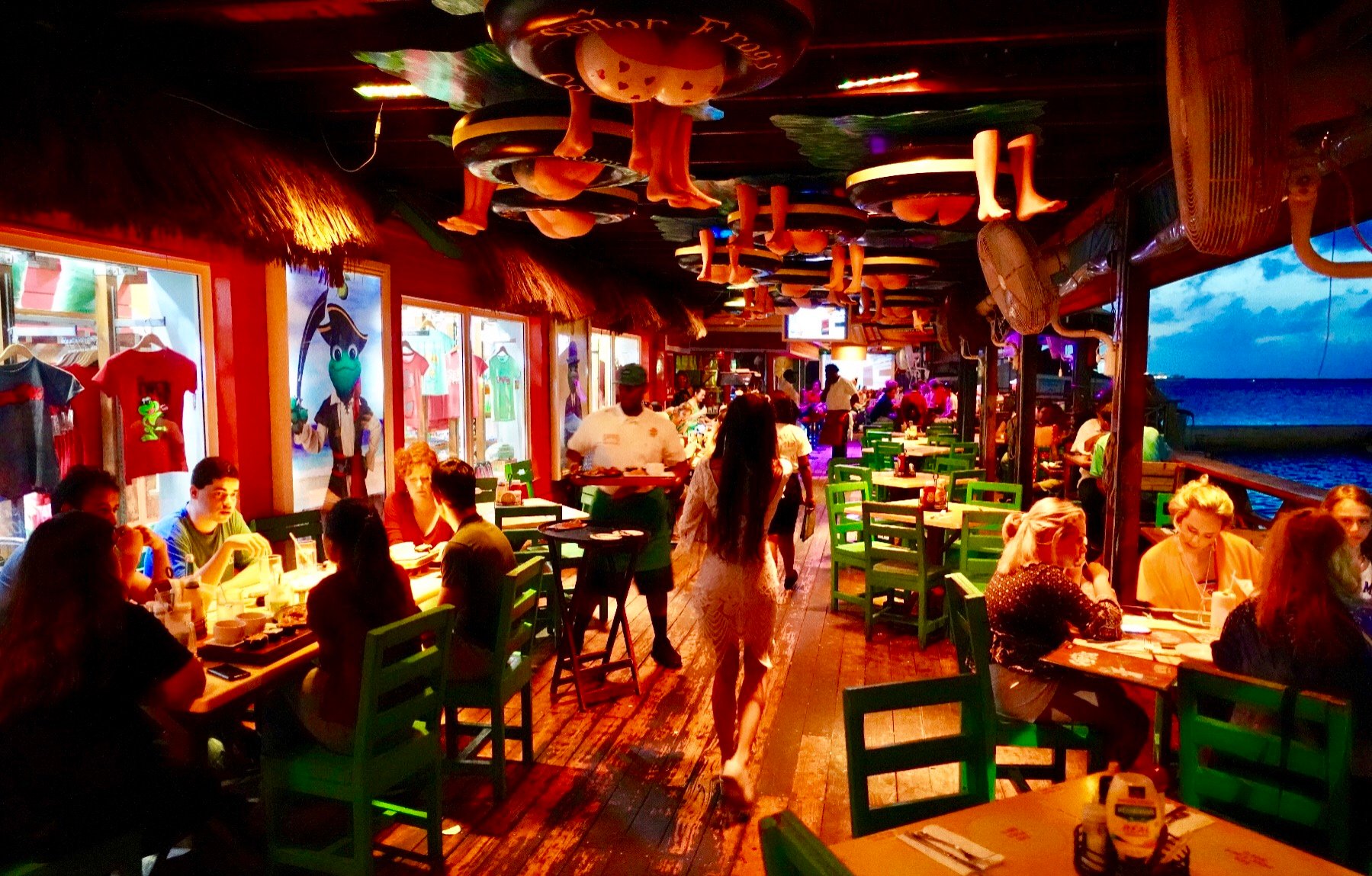 Further inside, the decorations are really quite eye catching. Each of these boards have their own little catch phrase and are attached to the ceiling at neck bending angles. No wonder my neck was sore the next day..
"I see drunk people!"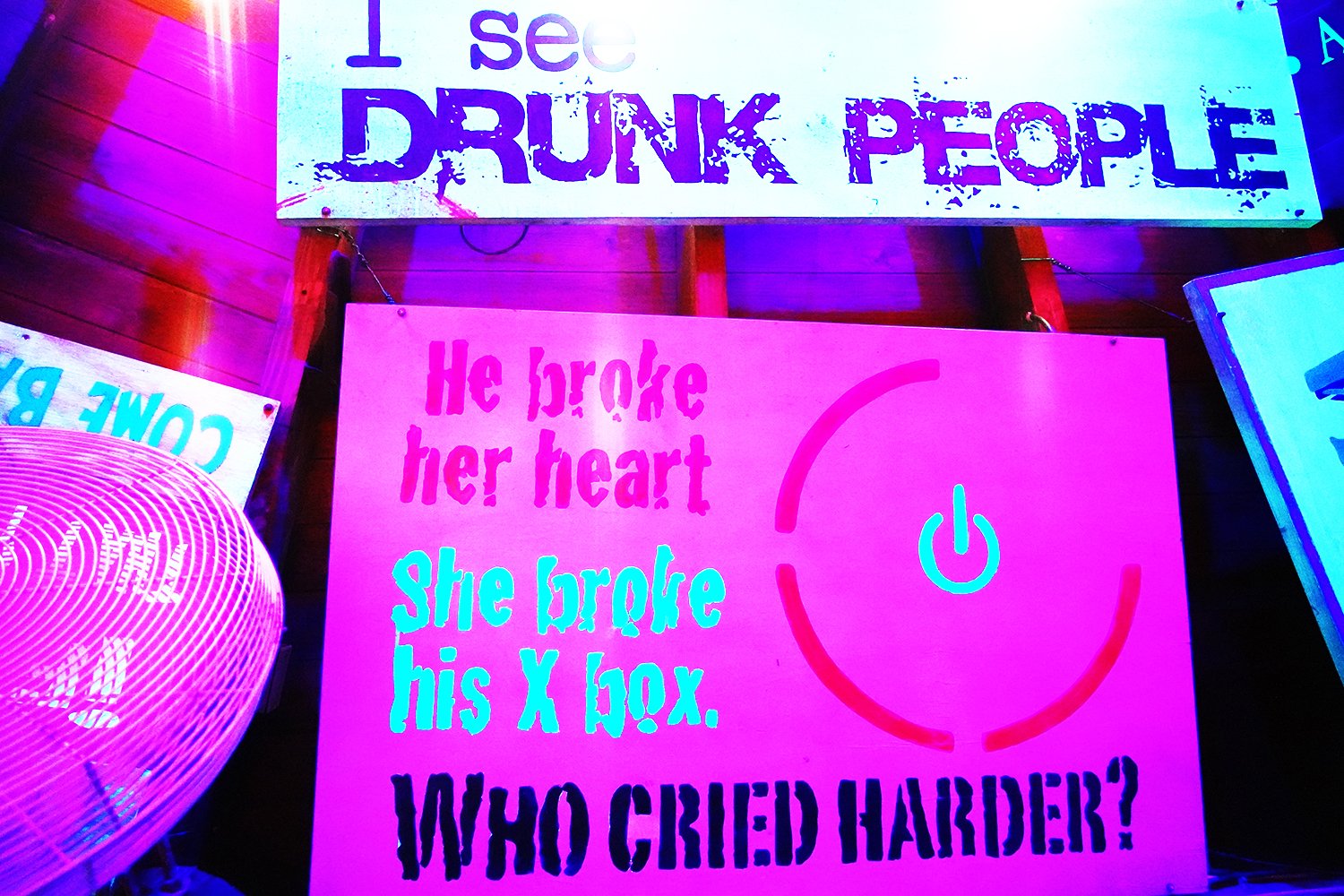 Aside from the comic boards, there are also these cheeky stools which are made to make the person sitting on it look like they're wearing a G-string and showing their big booty's!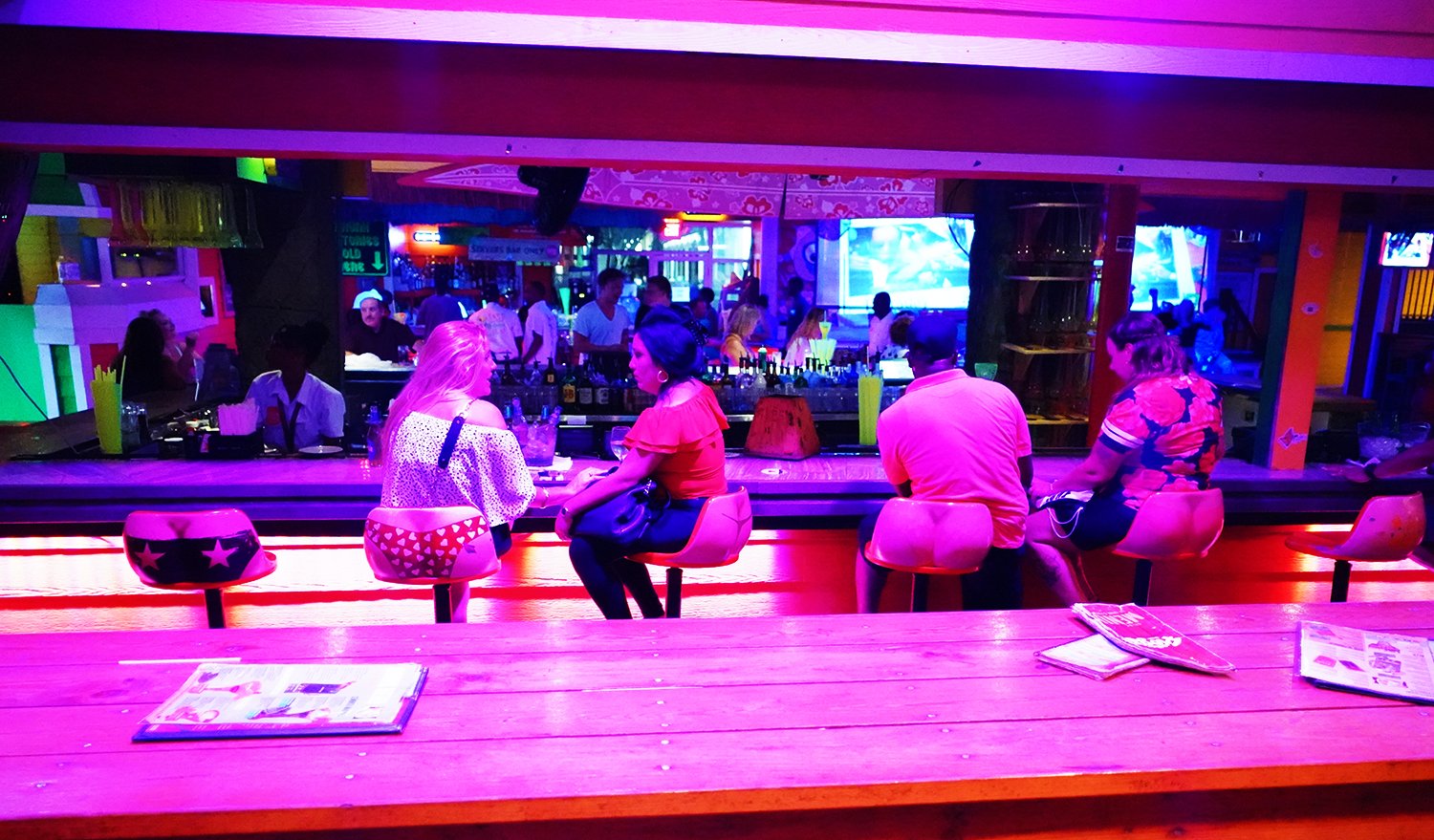 See what I mean about the neck bending boards??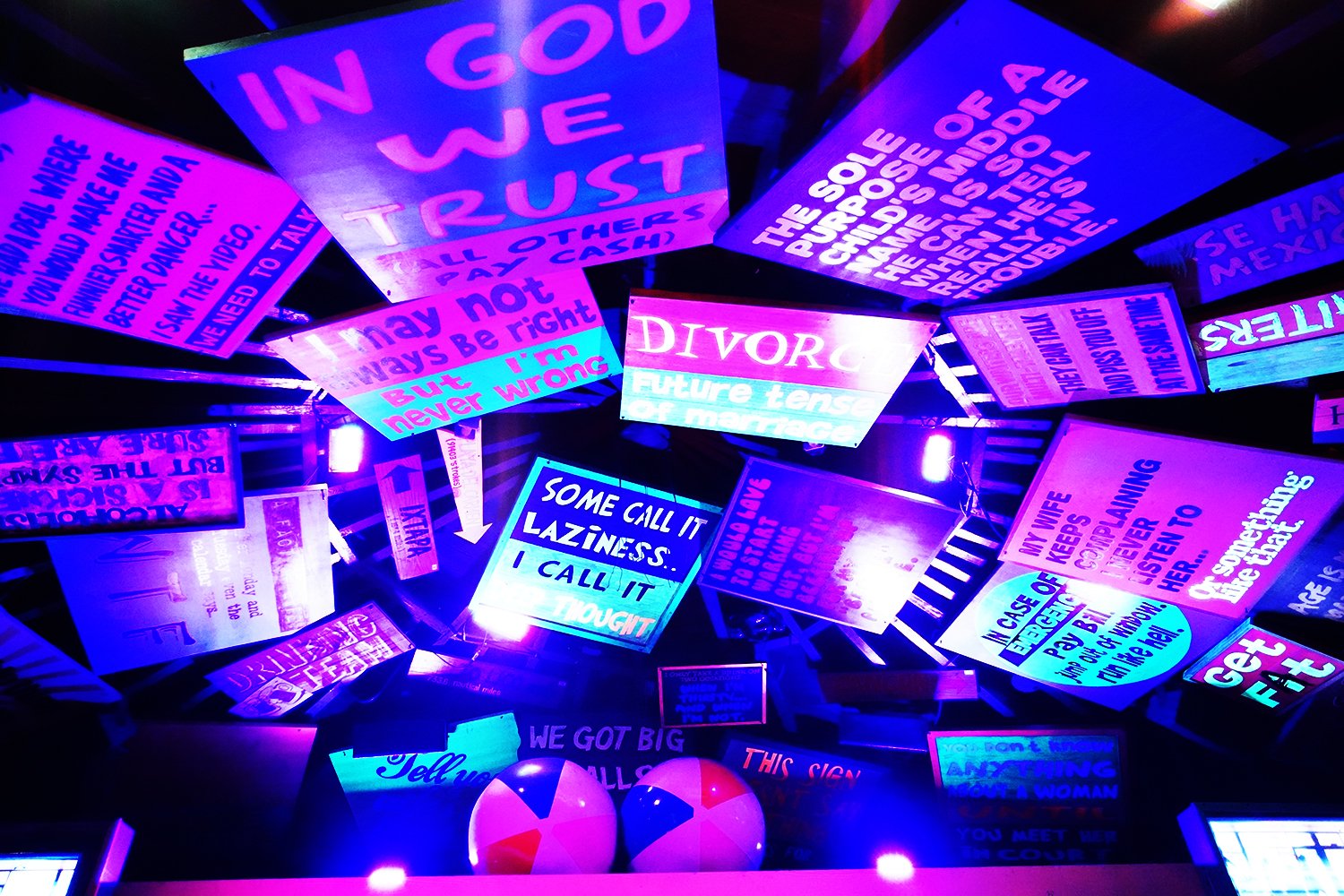 The DJ has his own little hut to work the music. By this point, the atmosphere had already started to pick up and there were some people already on the dance floor.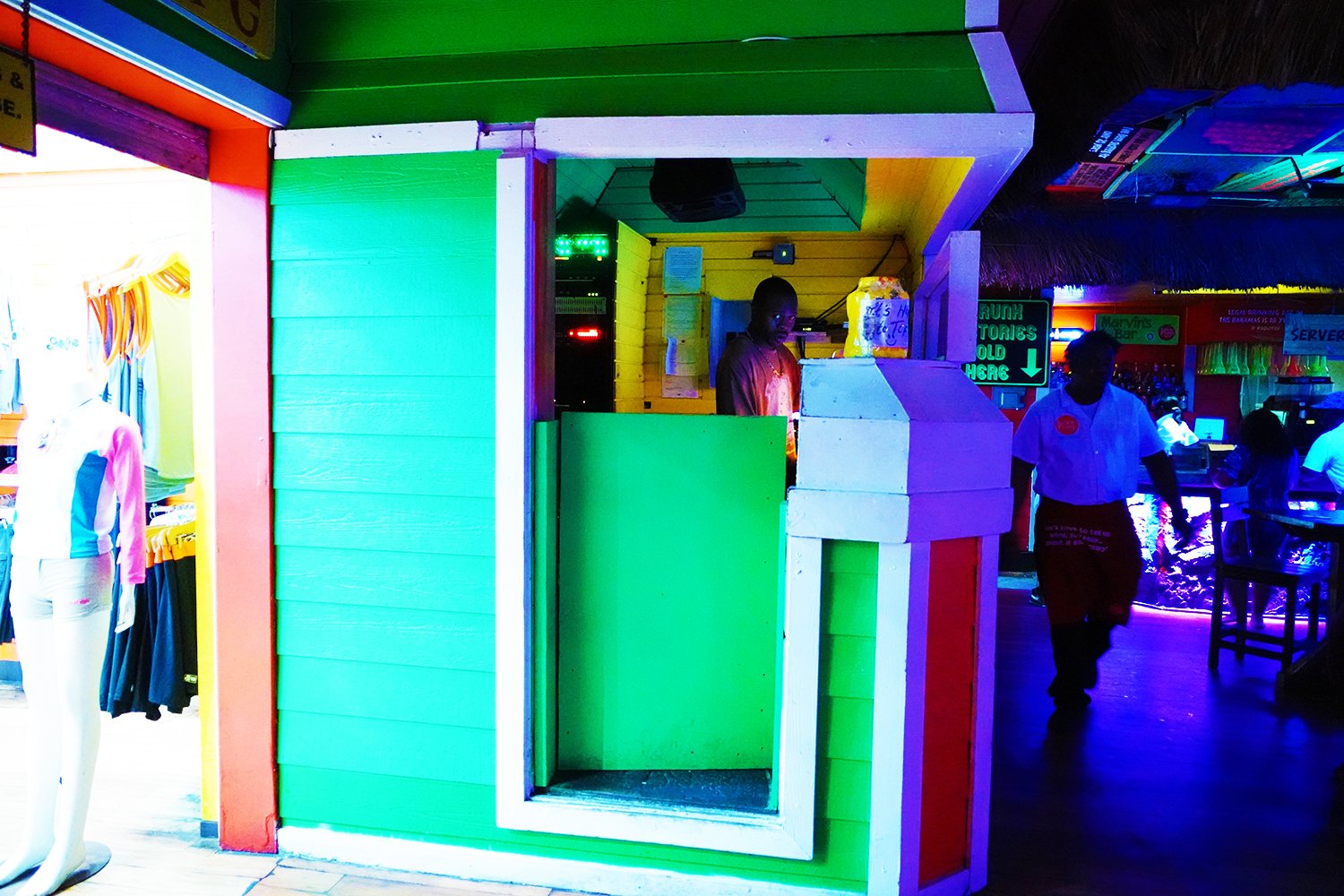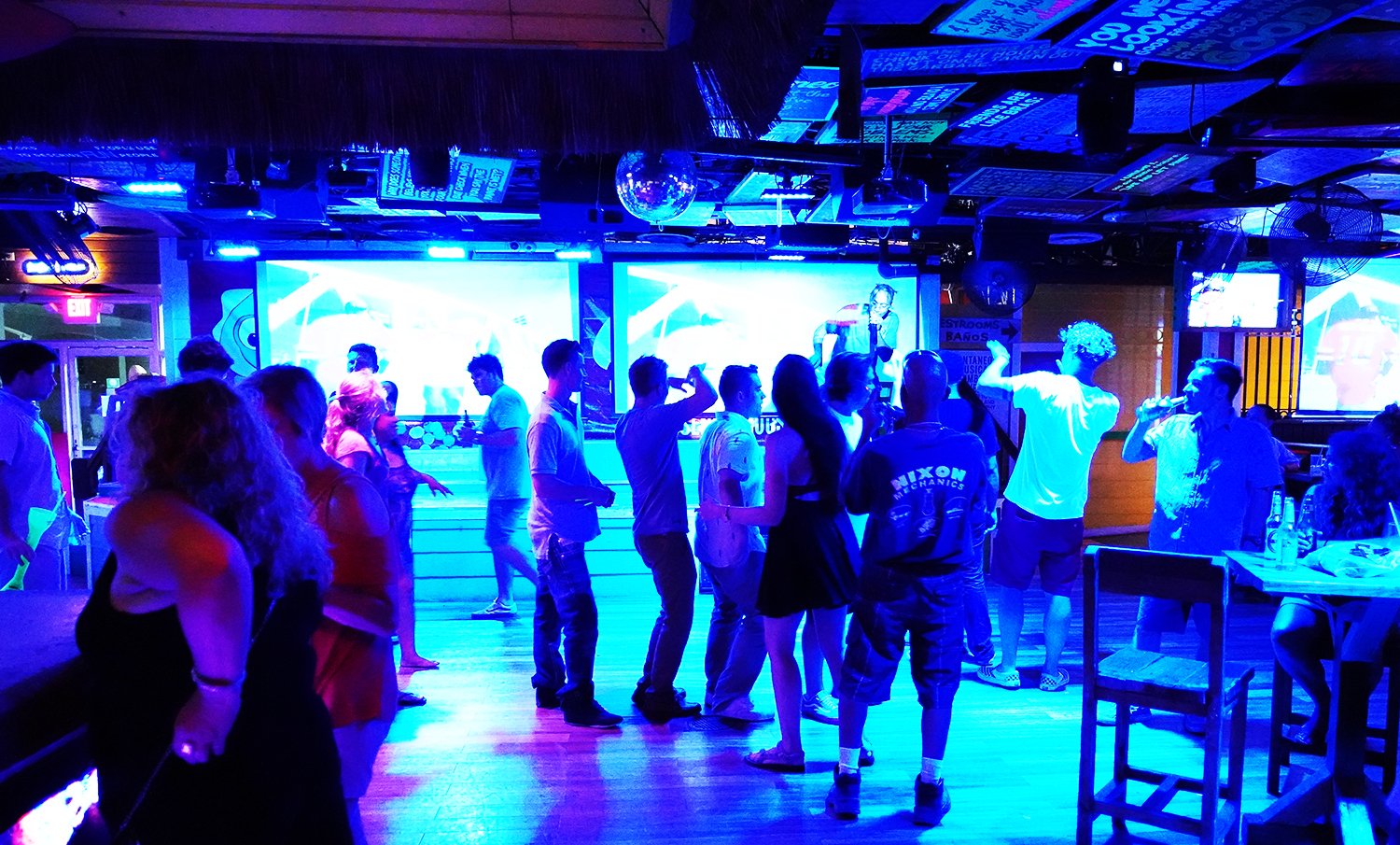 Despite the rowdy background atmosphere, the beauty of the sea and ocean liner fails to get drowned out.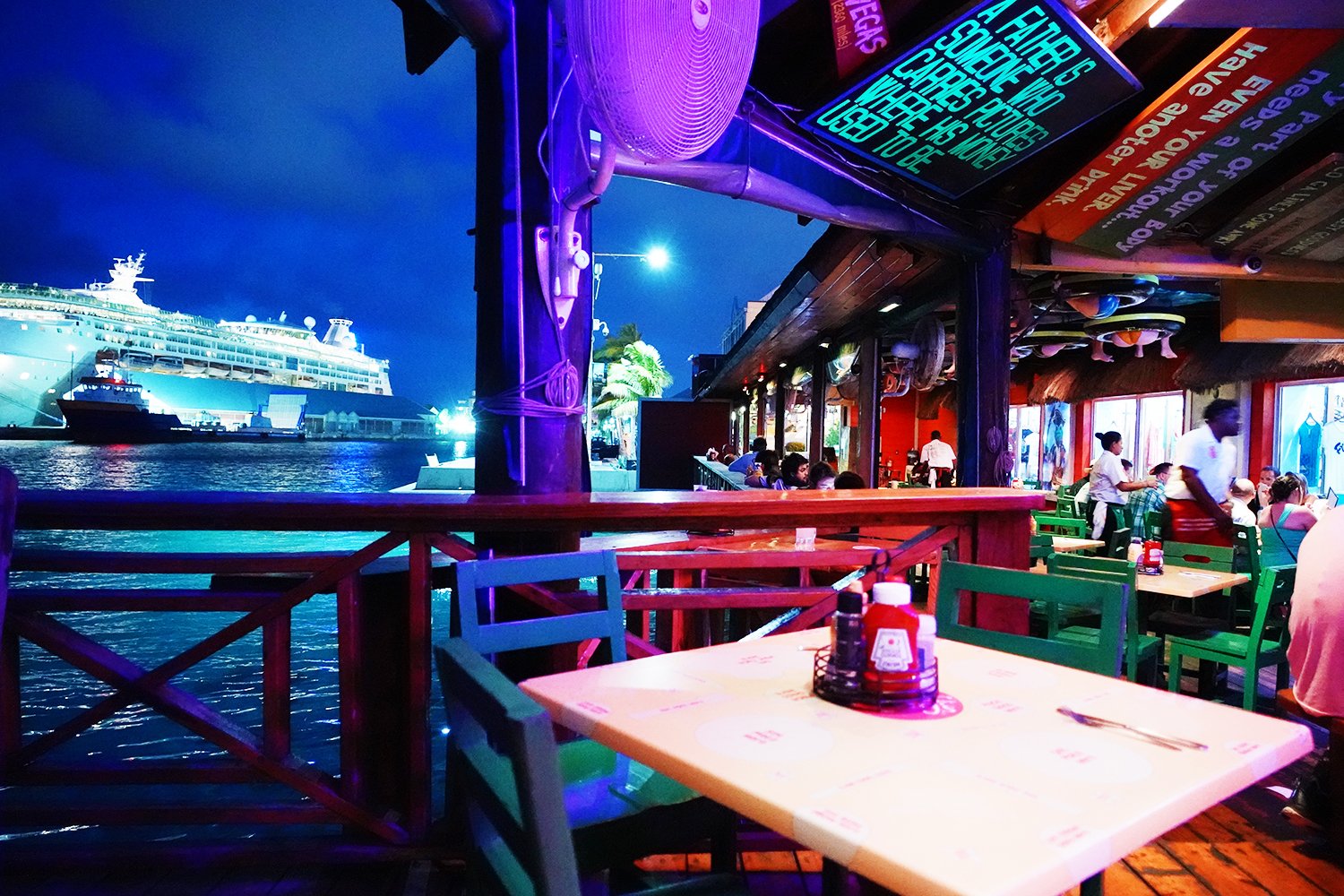 Now, onto the food!
The Menu.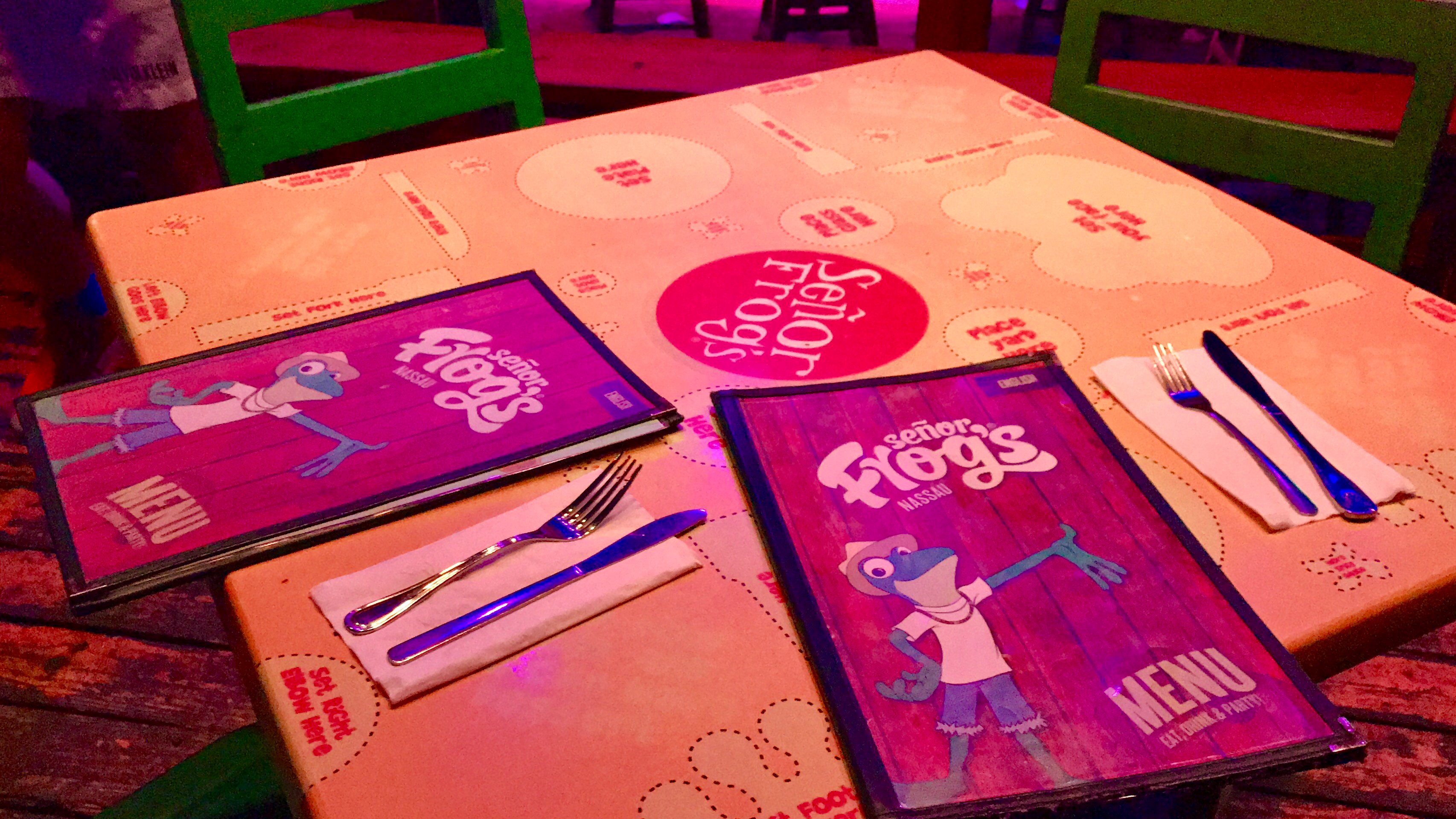 As a Mexican restaurant, I wasn't surprised to find a wide variety of Tacos, Fajitas and Burritos. If you're feeling boring, you can still opt for the more typical Burgers and Sandwiches.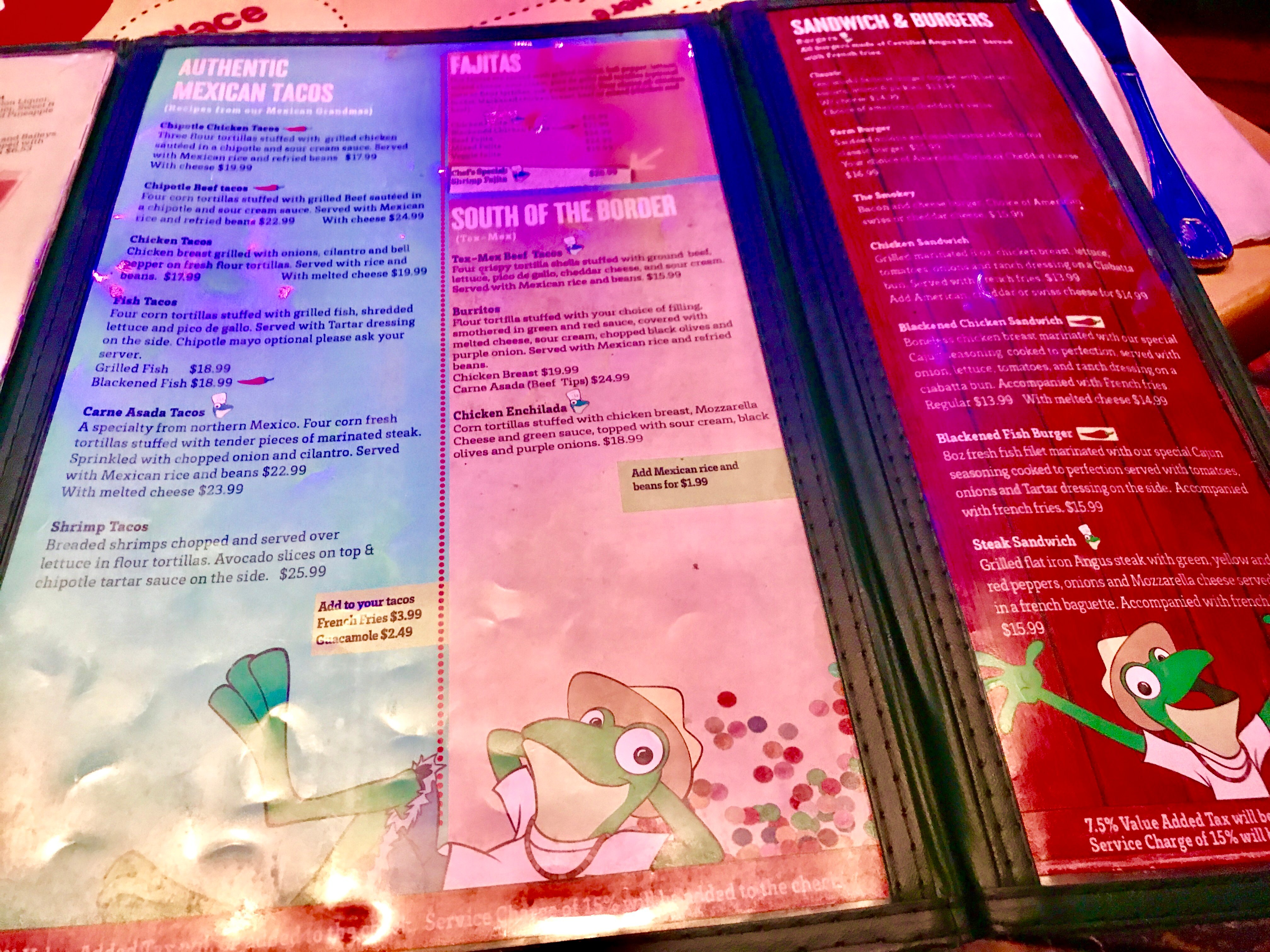 Perhaps the most appealing part of Señor Frogs is their cocktails and other alcoholic beverages. According online sources, Señor Frogs makes about 75% of their revenues from sales of alcoholic beverage. Frequently running drinking contests alongside theme parties where "anything goes" and guests are encouraged to go wild.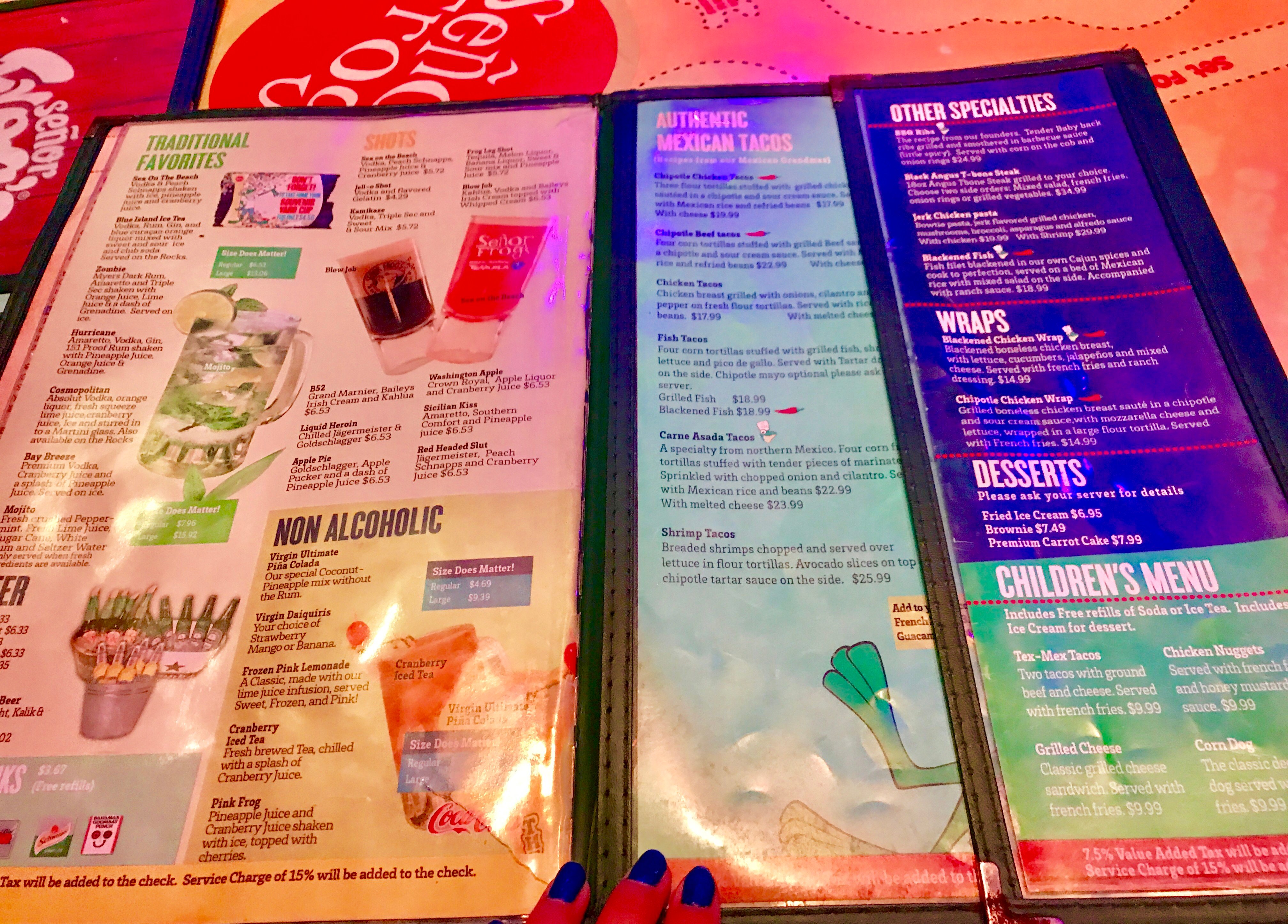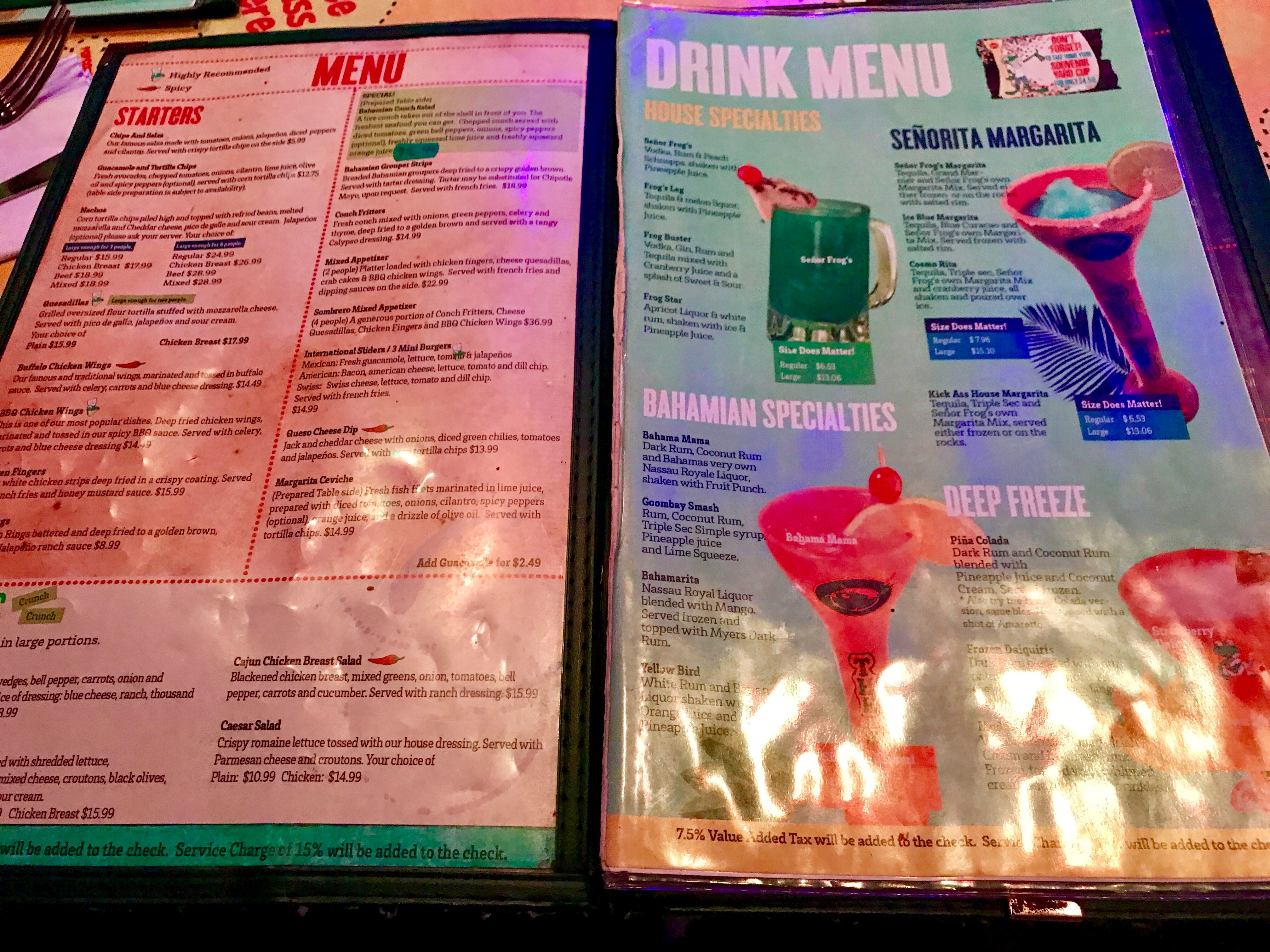 Señor Frog house special sounds like a good choice for a cocktail, for some reason I really like cocktails with pineapple juice.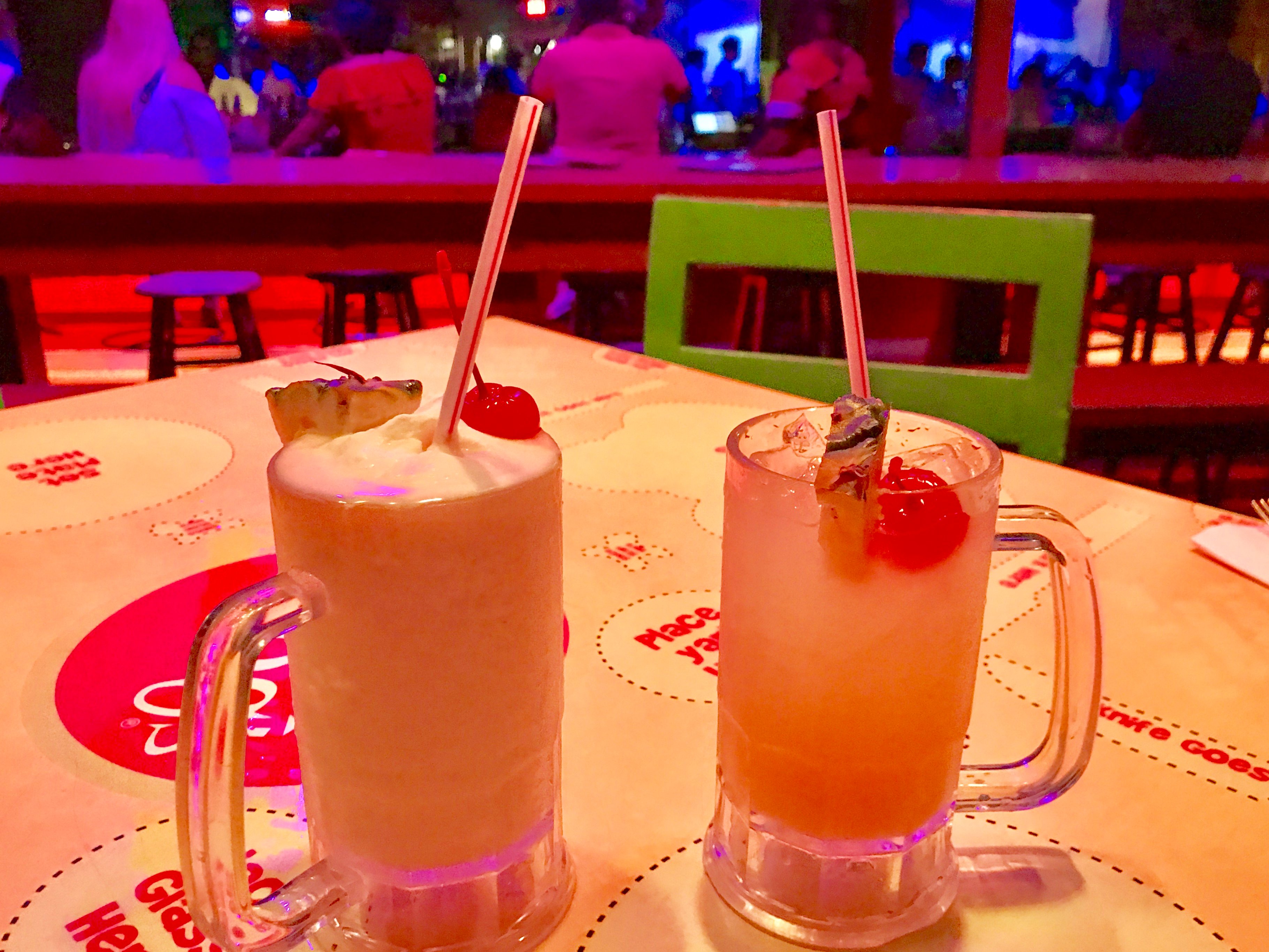 Caesar Chicken Salad - The generous portion I have come to expect in this part of the world!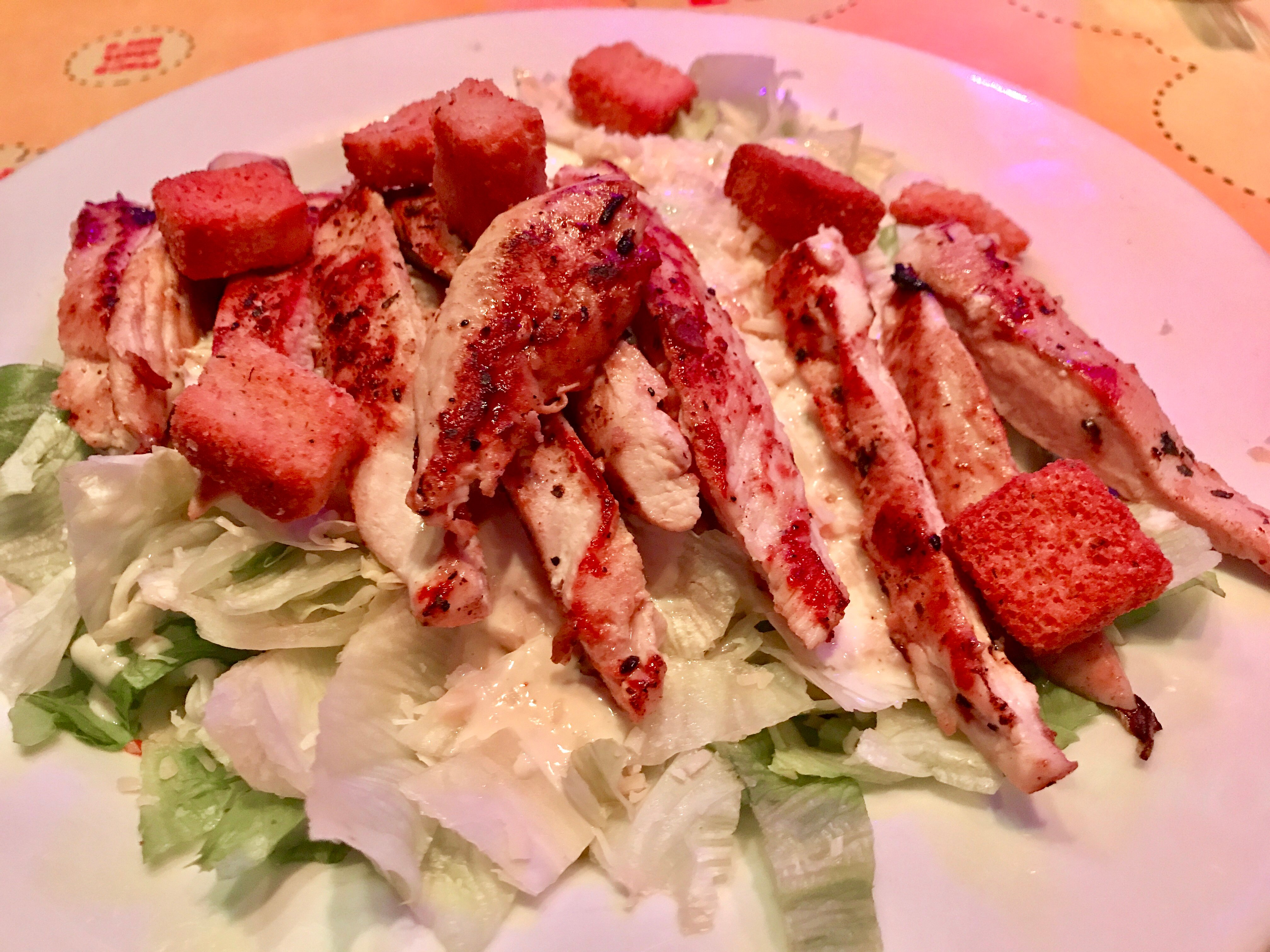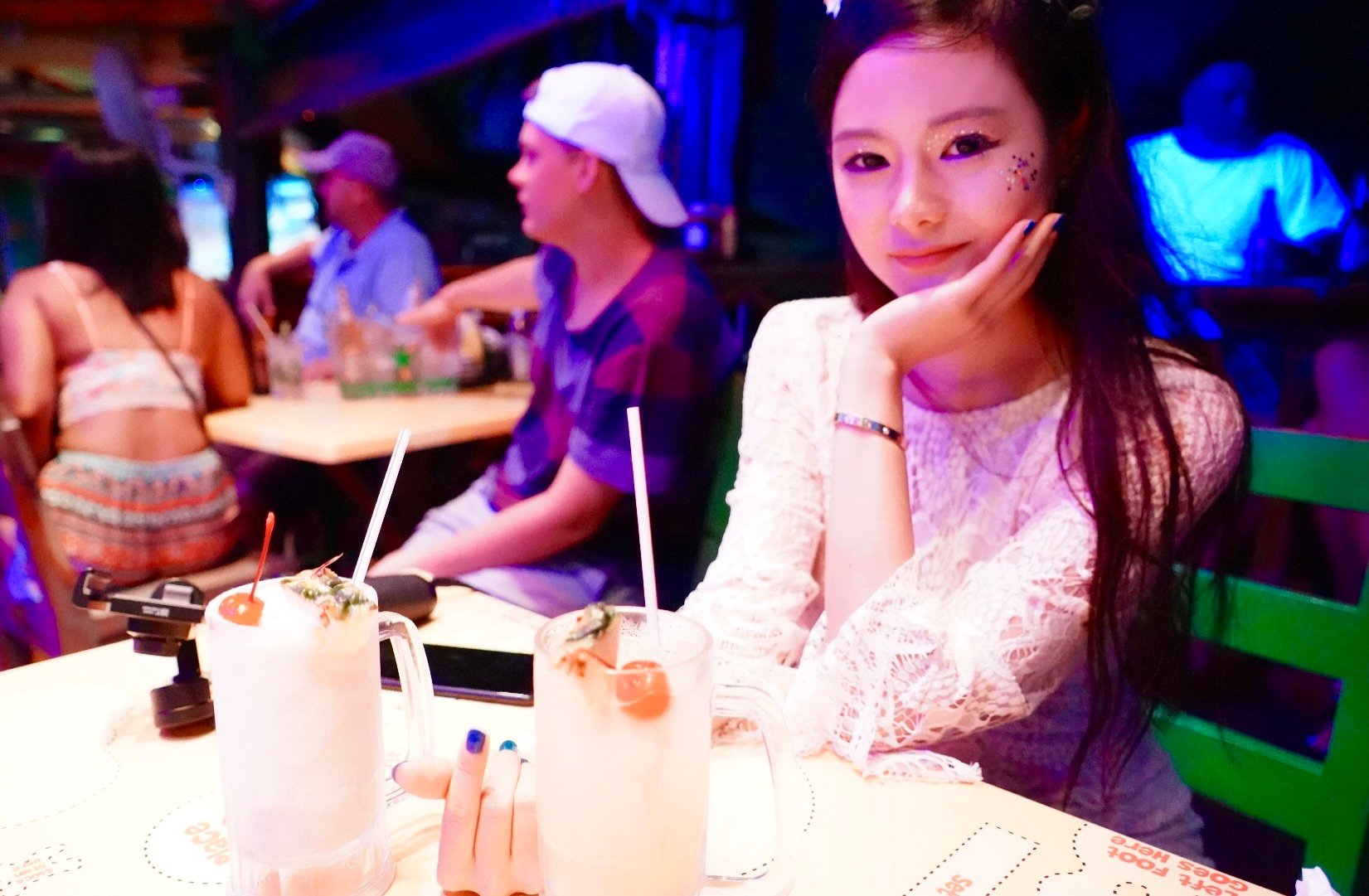 Buffalo Chicken Wings!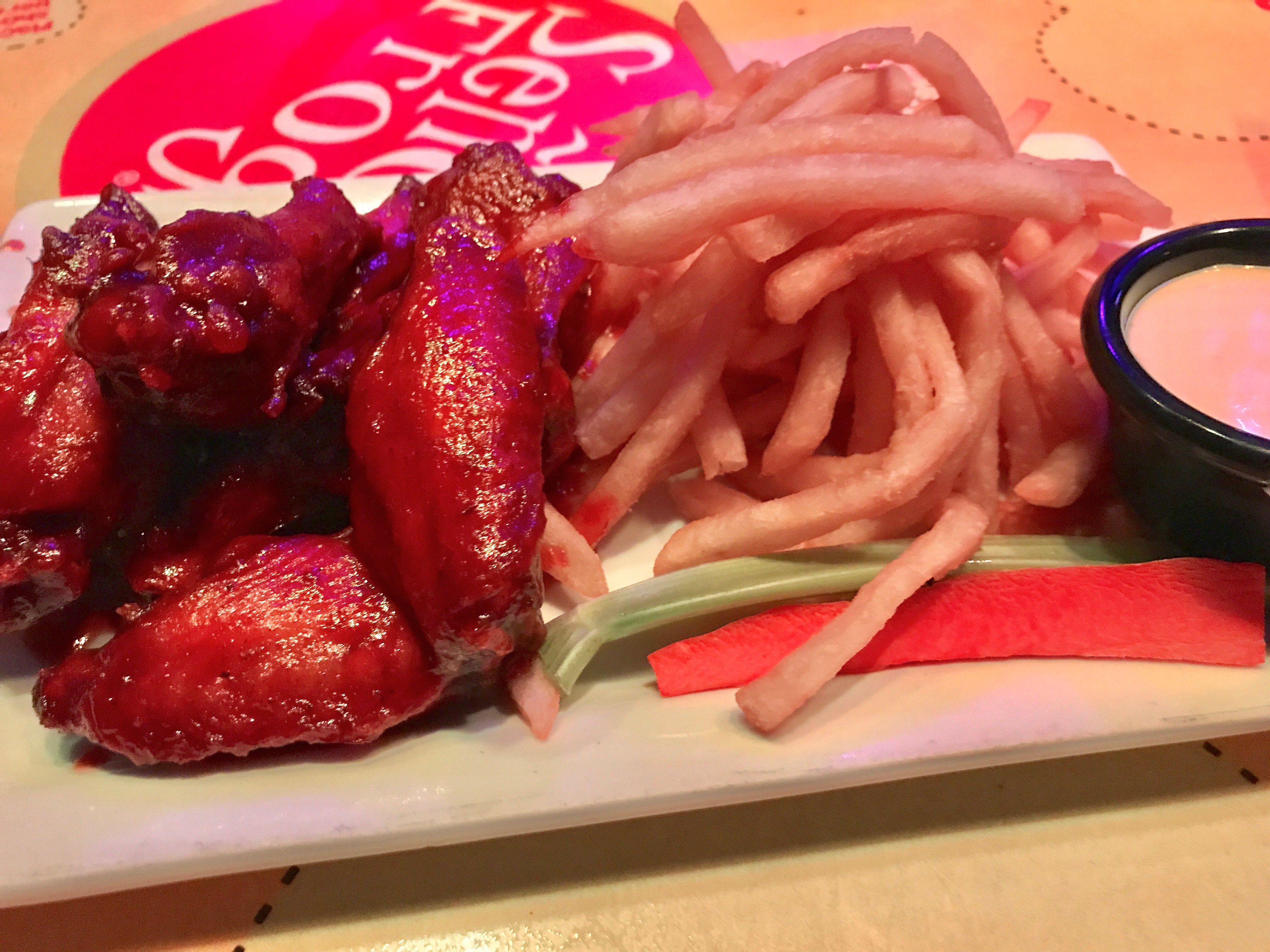 Bahamian Mexicans sure know how to make good Chicken Wings!
So juicy, so succulent and so delicious!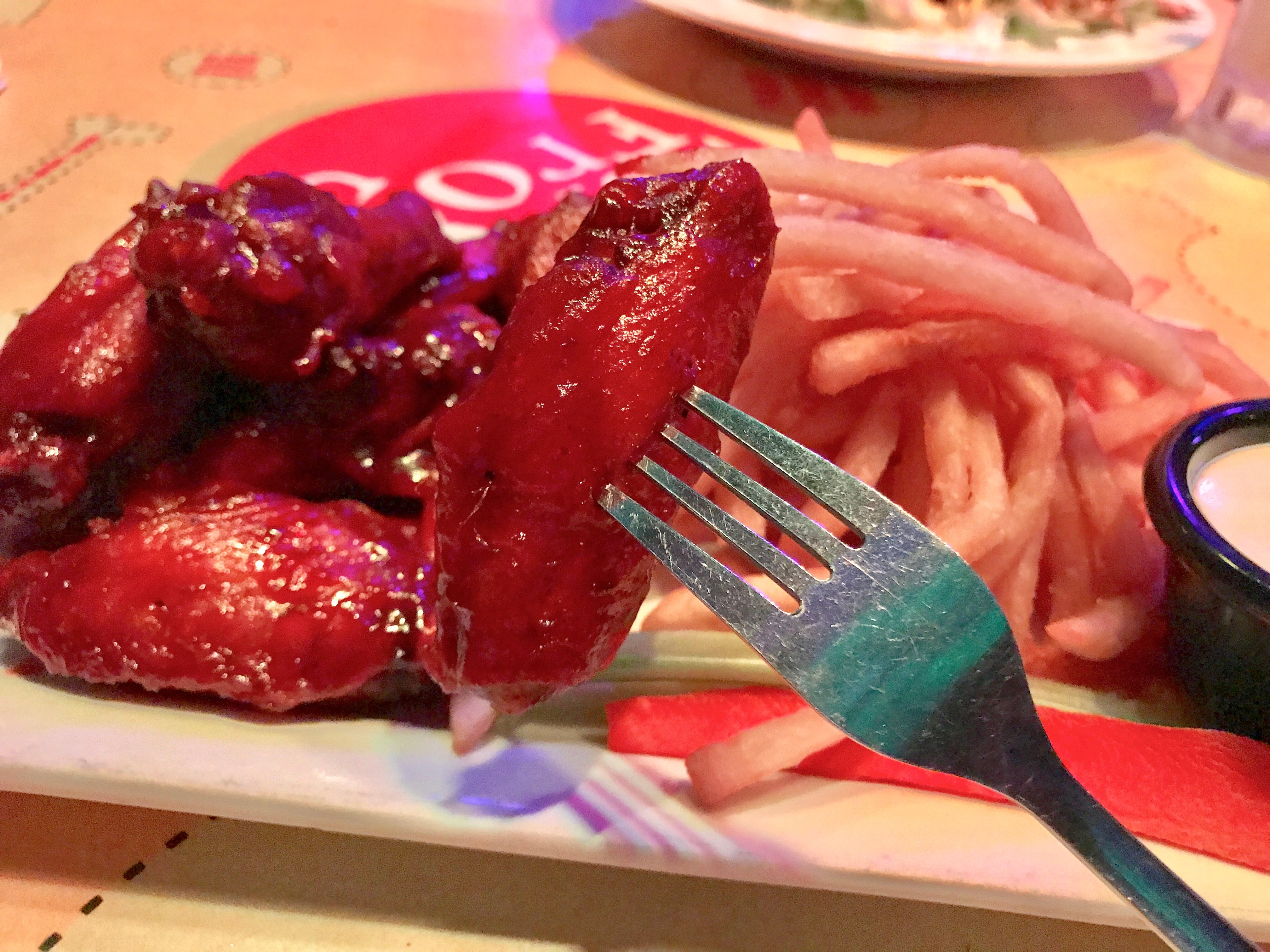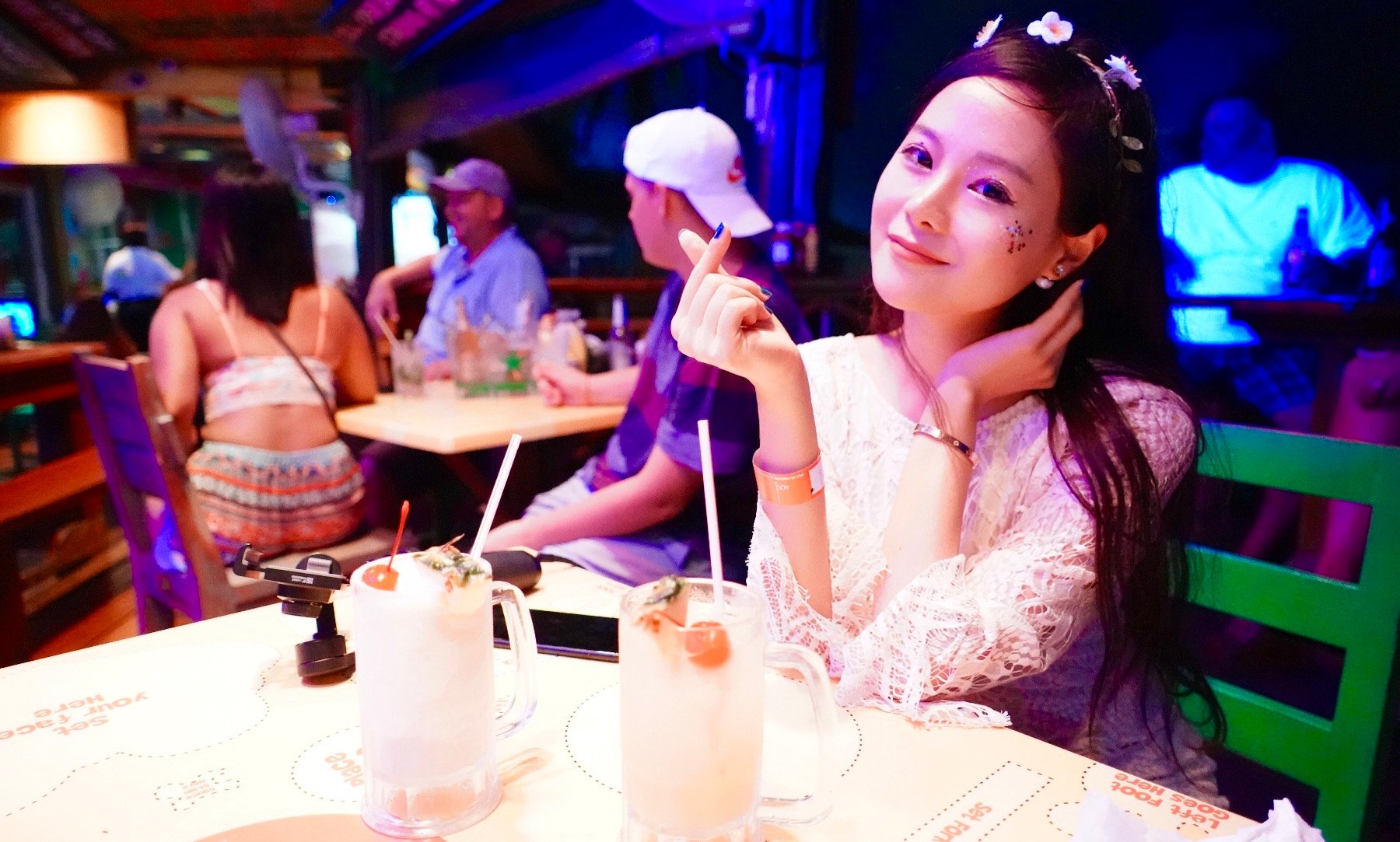 So, with the food and drink out of the way, I was already feeling a little tipsy so I stayed just a little longer to enjoy some of the party atmosphere then made my way back to the hotel.
I can't say for sure whether this Señor Frogs is like the ones you'll find in the US, but if it is, it gets a huge thumbs up from me!
Hope you enjoyed my tour of Señor Frogs in Nassau, Bahamas. Even though it wasn't the local Bahamian delicacy I constantly yearned for, it was still a really nice evening. Great atmosphere, lovely food, and a memorable experience!
As always, I appreciate your up-vote, a follow if you want to stay up to date with my activities and leave a comment to let me know what you think!
---
来到拿骚几天了,由于每天行程排的很满,大部分休息时间,都驻扎在房间的书桌上,整理照片,写文章,回留言。今天我想安排自己去拿骚的市中心逛逛,顺便和大家探索一下不一样的美食餐厅。选择Señor Frogs——青蛙先生这家餐厅,是被当地热心人推荐的,后来我了解了下餐厅的背景。原来这家餐厅不仅是在拿骚非常有名气,更是在墨西哥,加勒比,南美洲和美国分布着20多家分店。餐厅主要经营墨西哥料理。其实在市区逛的时候,这家餐厅的装潢十分抢眼,最有海岛代表的鲜艳颜色,红绿黄是外墙粉饰的主色调,整个房子的亮丽色彩,可谓是拿骚岛上的颜值担当呢。所以我也忍不住坐在门口的椅子上,和餐厅的主人,穿着绅士的青蛙先生合个影。
傍晚的拿骚港口彩虹般的灯光亮起来。港口边的街道,白天虽然静悄悄,但是晚上灯红酒绿,放着欢快海岛音乐的酒吧让这条街格外热闹。现在就跟着我走近青蛙先生的餐厅,探索一下特色美食,美酒和热情的音乐。进餐厅之前,我爬上餐厅门口的高架椅子留个脚印,真正坐在上面了,还真觉得有点恐高的呀。餐厅里已经座无虚席,家人朋友聚在一桌,快乐的聊天。餐厅内部的装修也延续了鲜艳色彩的风格,屋顶上一些英文笑话的木板,吸引了我,非常有趣。另一大亮点要算作餐厅的椅子了,做成了女生屁股形状,男生们坐上去,就变成了穿着性感内裤的lady,好好笑呢。餐厅的中央有个小舞池,年轻的男女们,围在一起唱歌跳舞,玩着喝酒游戏。我很想加入,只是要先填饱肚子再说。这家餐厅的地理位置绝佳,就在港口边上,能听见海浪的声音,也能看见流光溢彩的轮船。我选择了风景最好最靠海边的位置坐下,服务员热情递上菜单,菜单也做得五颜六色,像贺卡一样。
菜单上食物的分类非常细致,每一道都很想尝试。我点了一杯菠萝搭配椰汁的鸡尾酒,不知道为什么,我一直对椰汁特别钟爱。香喷喷的菜上来了,鸡肉沙拉的分量超级足,可以够3个人一起分享。吃起来也非常新鲜,鸡肉很软很嫩。接下来上来一份烤鸡翅,味道和我平时所吃的不太一样,好像加了特别的佐料,这大概是墨西哥餐的特色。沾了酸甜带点微辣的酱汁,一块接一块,吃的停不下来。美食美景配上,非常有节奏感的音乐,欢快的人们跳着欢快的舞蹈,我都不愿意离开了。希望大家喜欢今天我带大家体验的青蛙先生餐厅,感受海岛餐厅的狂欢夜,之后还有更多有趣的拿骚故事想要分享给大家。