Dear Steemit friends :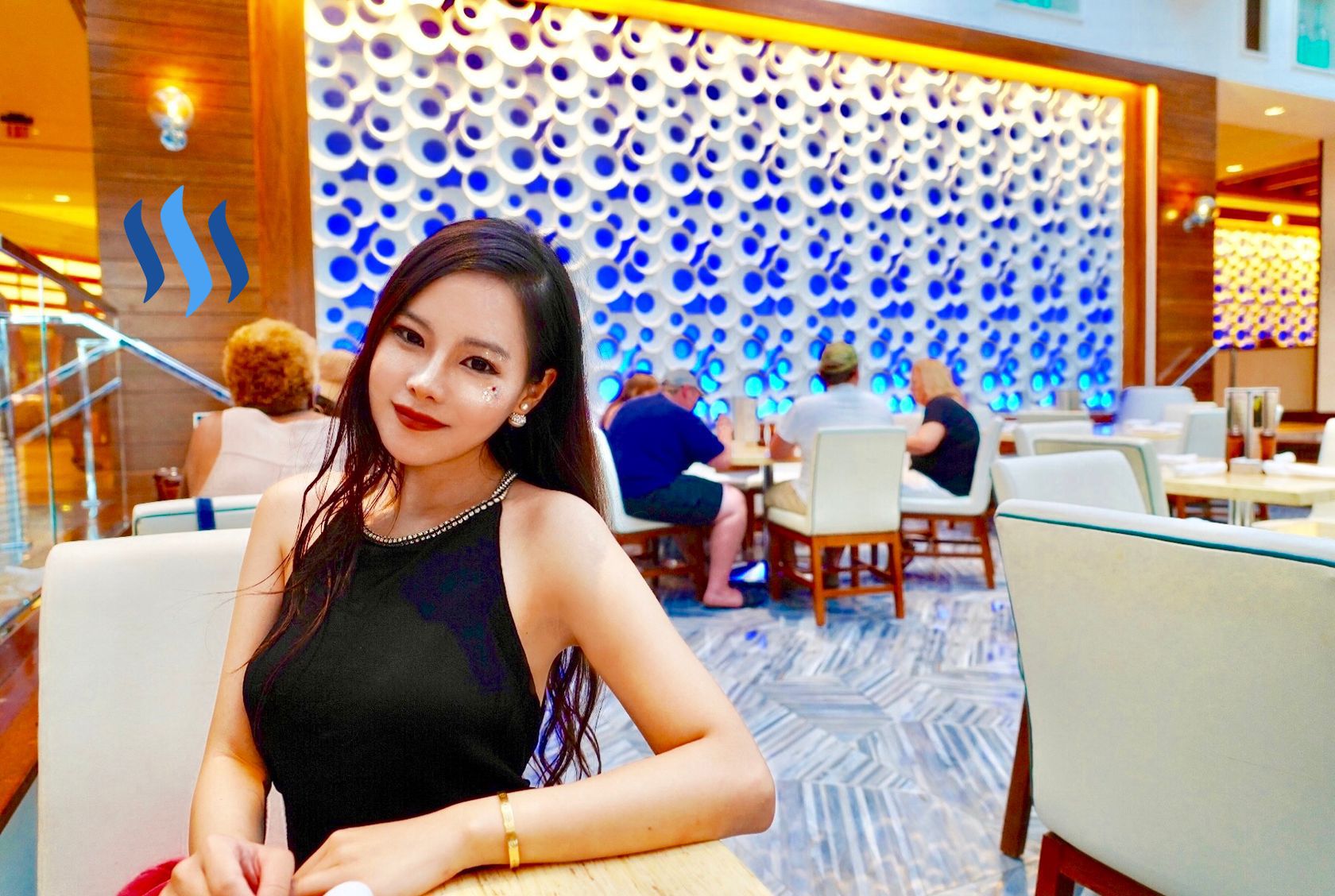 The Atlantis resort in Bahamas has surely drawn the attention of many travellers who seek their own answers to the mystery of the ancient lost city. After thousands of years submerged under the sea, curious explorers now have the chance to make their own pilgrimage to this Utopian relic.
Our adventures thus far have taken us to The Dig where partial ruins of the ancient city have now become the permanent home of a thriving marine ecosystem, buzzing with life.
Since the 19th century, historians have renewed their interest in origins of Atlantis, looking for clues as to where the advanced kingdom sank in just one day and one night. Whispers of the Greek island, Santorini remain a subtle yet plausible theory. My own adventures exploring Santorini and it's magical sea served only as a cathartic temporary release of my curiosity, ultimately leading my travels to Bahamas for further affirmation.
The Big Chair belonging to Poseidon, gave us a glimpse to where the mighty Olympian once sat as he ruled his Kingdom. Though indeed a God, Poseidon and the other Olympians walked among the realm of the mortals, ruling undetected as they presided over their areas of control.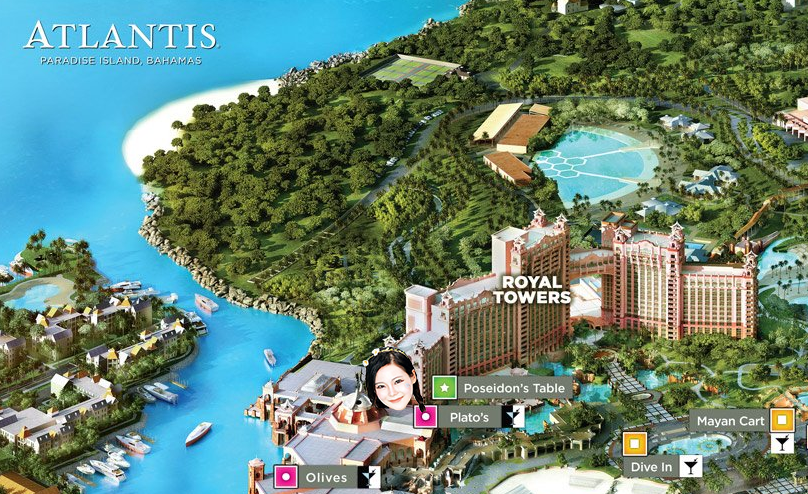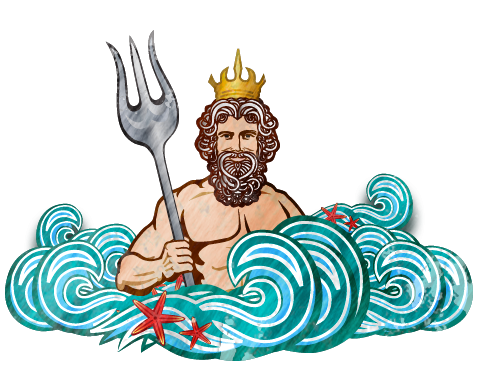 Poseidon
Poseidon was of course, the Greek god of the sea. After defeating the Titans, the world was divided into three. Poseidon drew the Sea straw and hence forth became the protector of all waters as well as all those who depended on them for safe passage.
He wields a three-pronged spear also called a Trident allowing him to strike the ground producing an earthquake. For this reason, Poseidon was also known as "The Earth Shaker".
Known for being arrogant, moody, and always flaunting his masculinity, Poseidon no doubt commanded a God worthy appetite.
My expeditions as Miss. Delicious takes us deep into his place of banquet. Poseidon's Table, a place that delivers both the quantity and quality of food, only worthy of a powerful deity. Dining here is a privilege, one bestowed upon us by right of abode in the heart of Atlantis.
What food, fit for a God and his Godly appetite can we expect?
Join me in the feast and let's find out!
---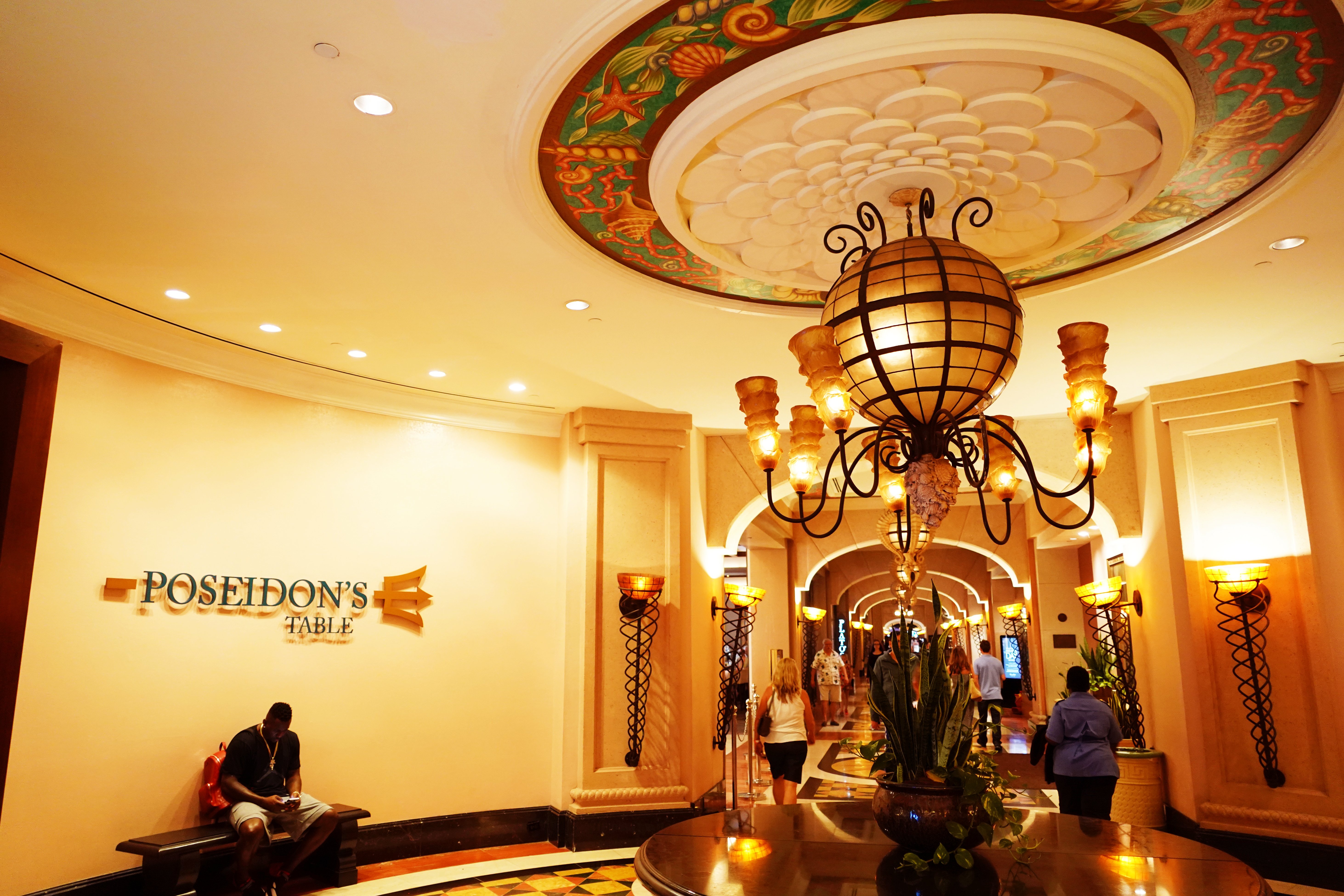 Just a minutes walk away from Poseidon's Big Chair. We see the marvellous entrance to Poseidon's Table. His Trident piercing through the name as a reminder of his unwieldy power.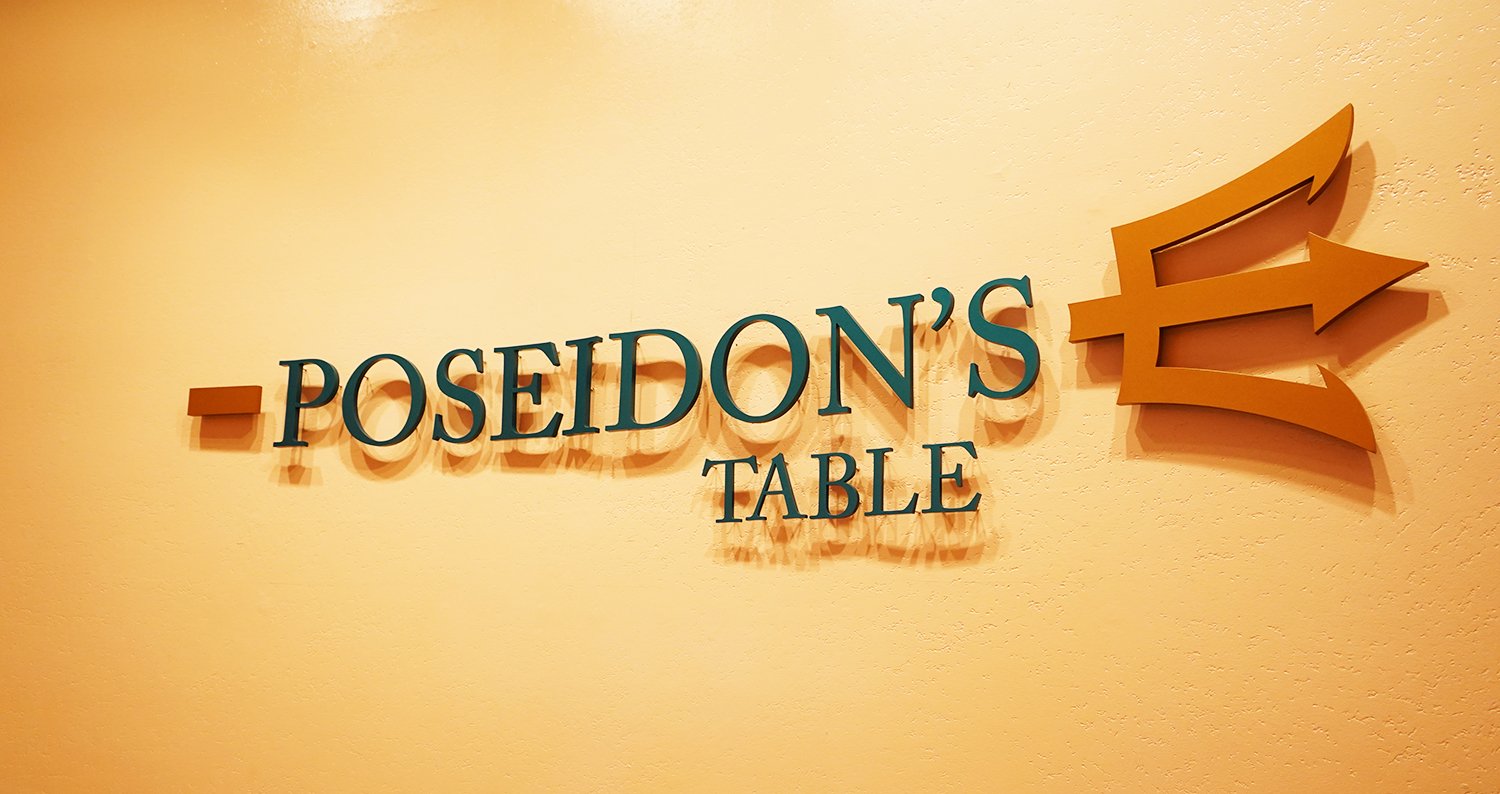 Entering the main court, we begin to see a style of decor that mimics the unwavering motions of the sea. A wall with a myriad of bubble like holes echoing Poseidon's position as God of the Sea.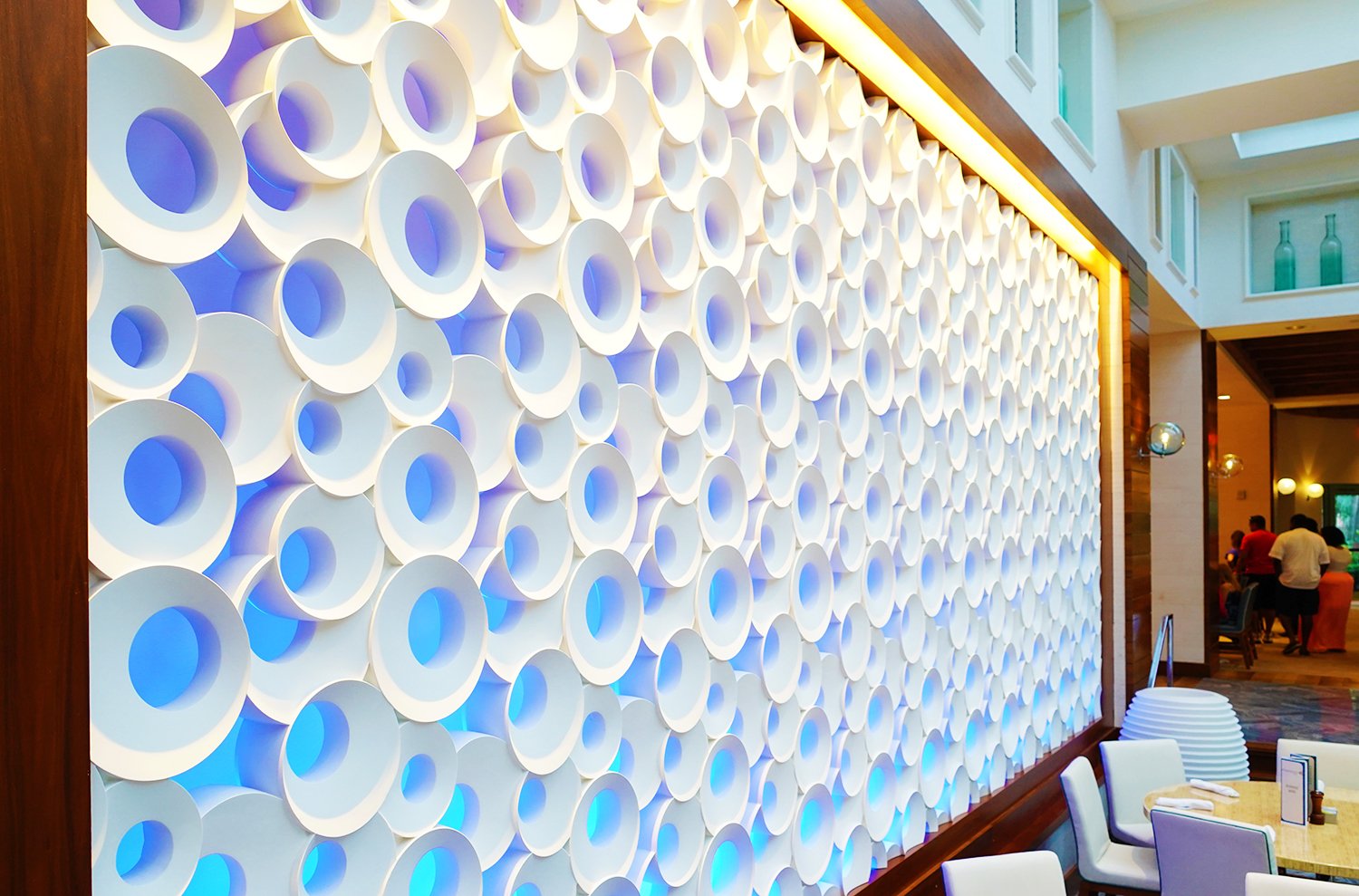 Enormous bottles frame the upper portion of the walls. Their size, a reminder of the unearthly size of the Gods.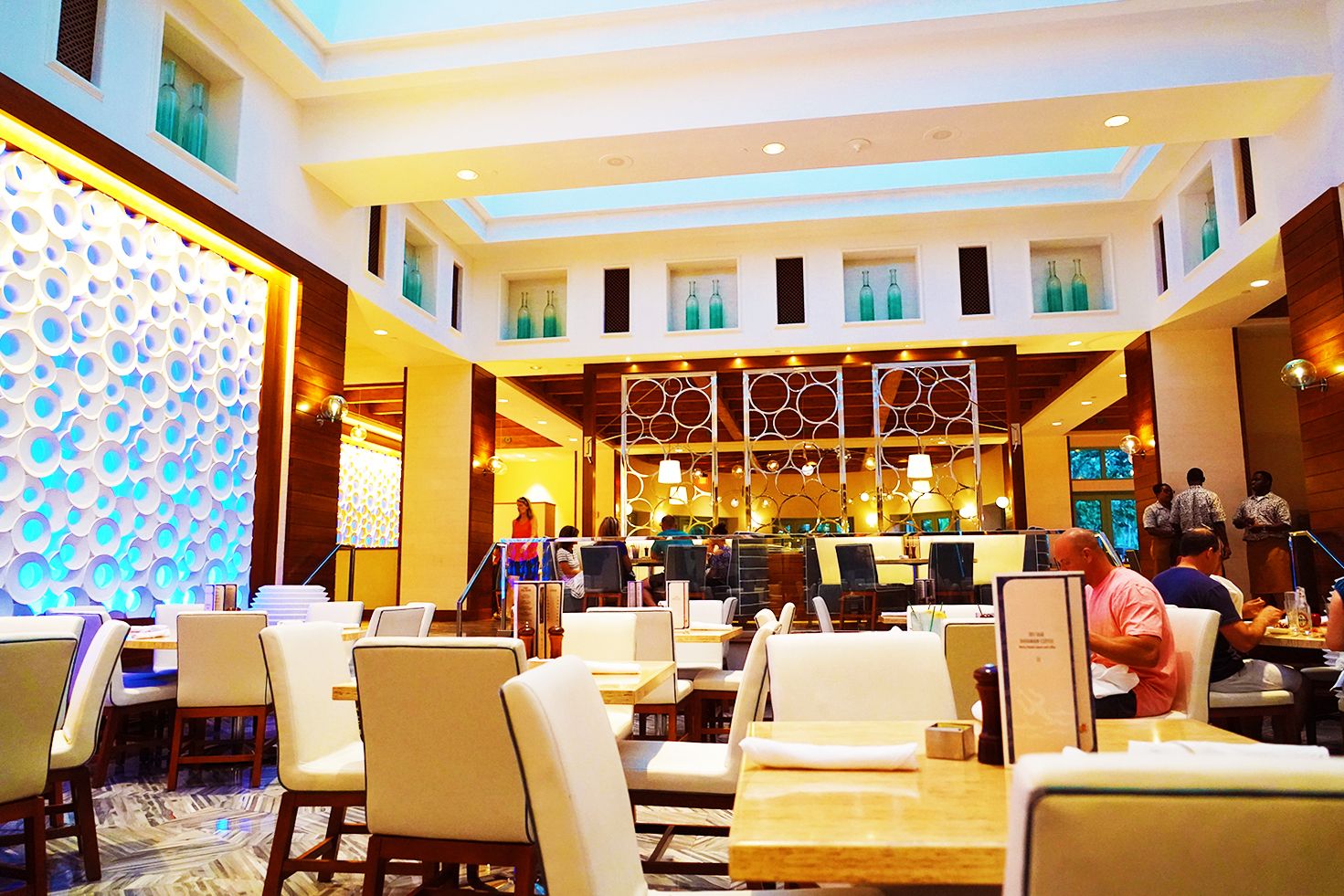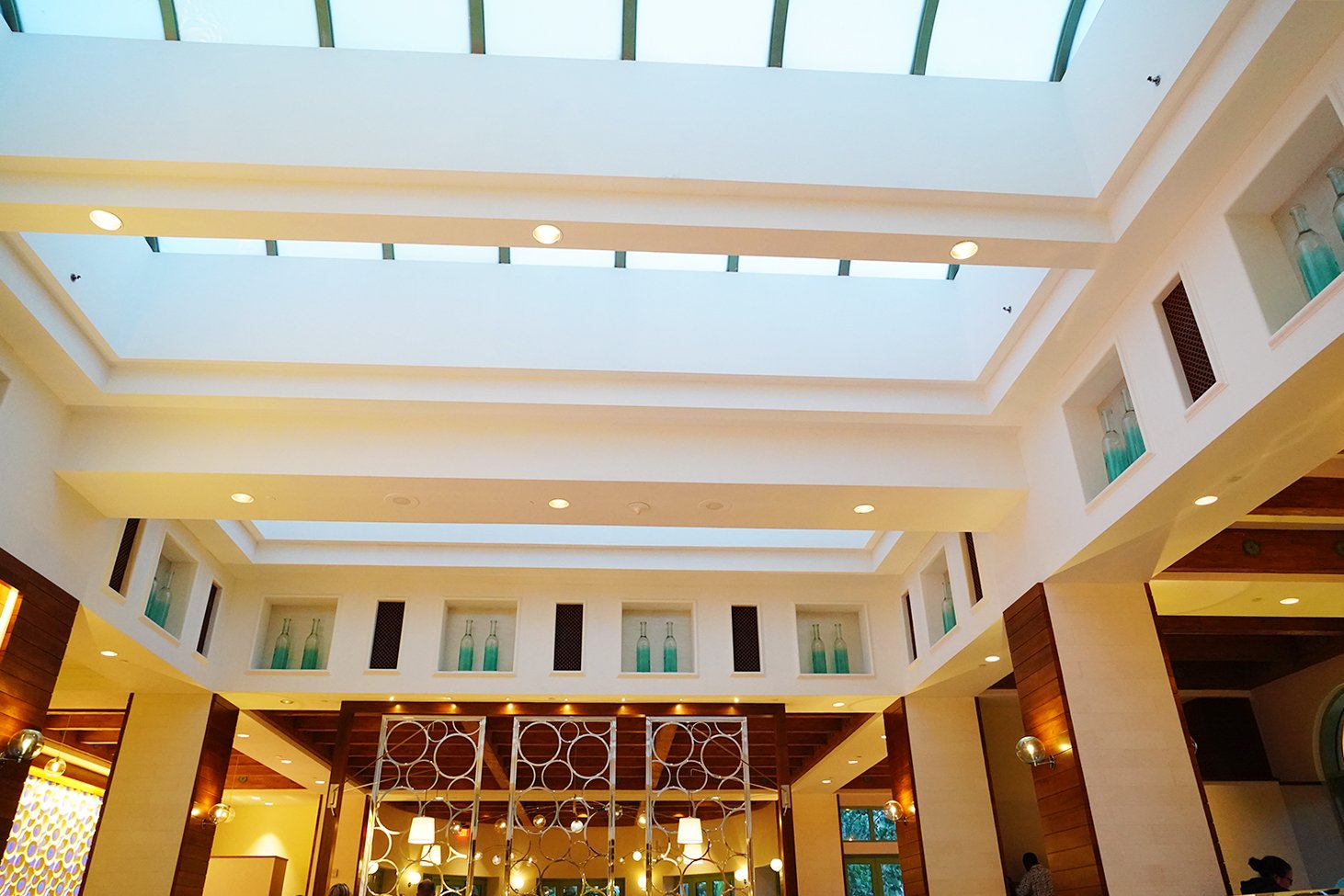 Behind the wall, the food awaits. Section by section, row by row, food of all sorts await our picking. Let's go through and have a look.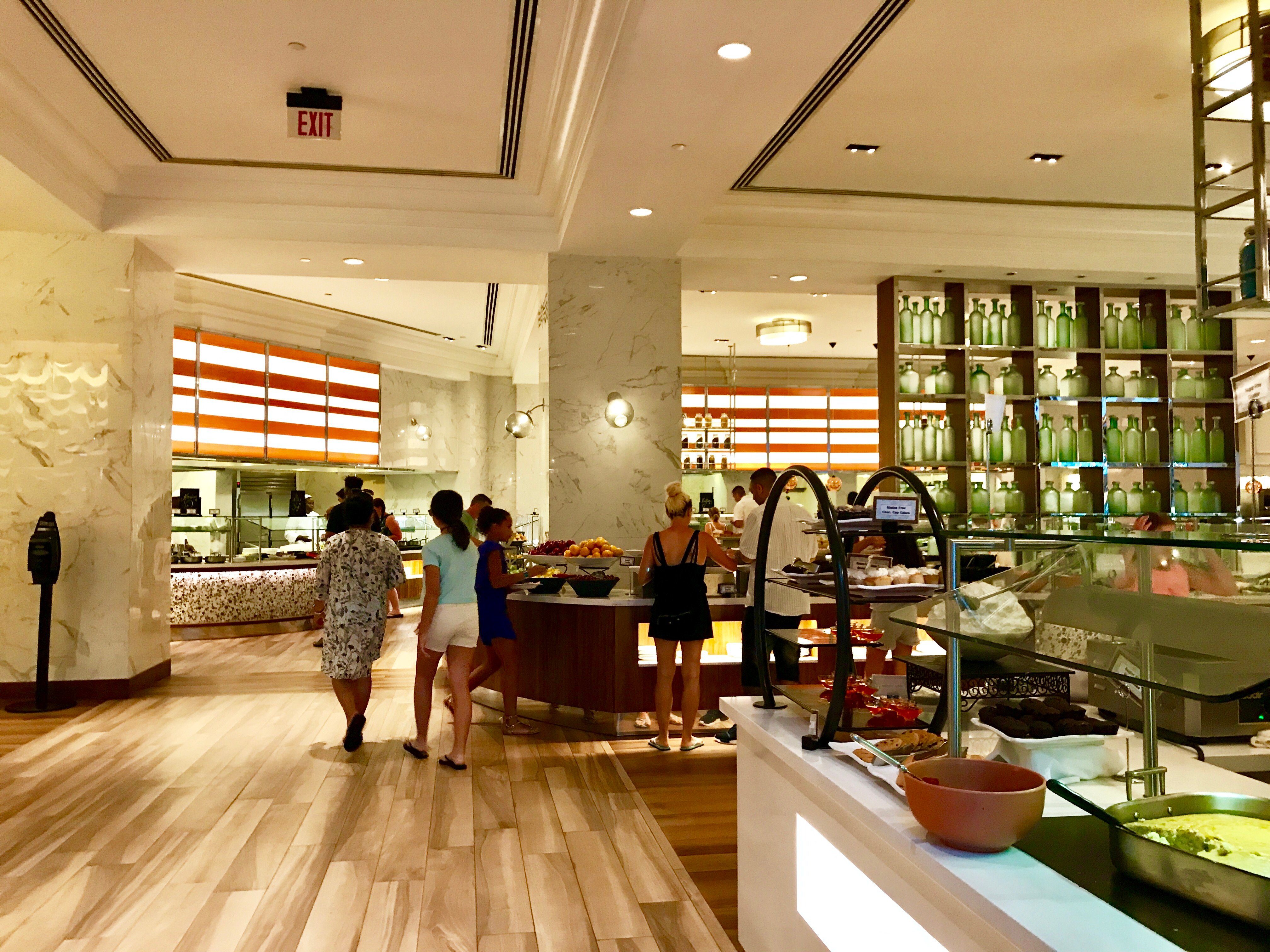 Roasted Vegetables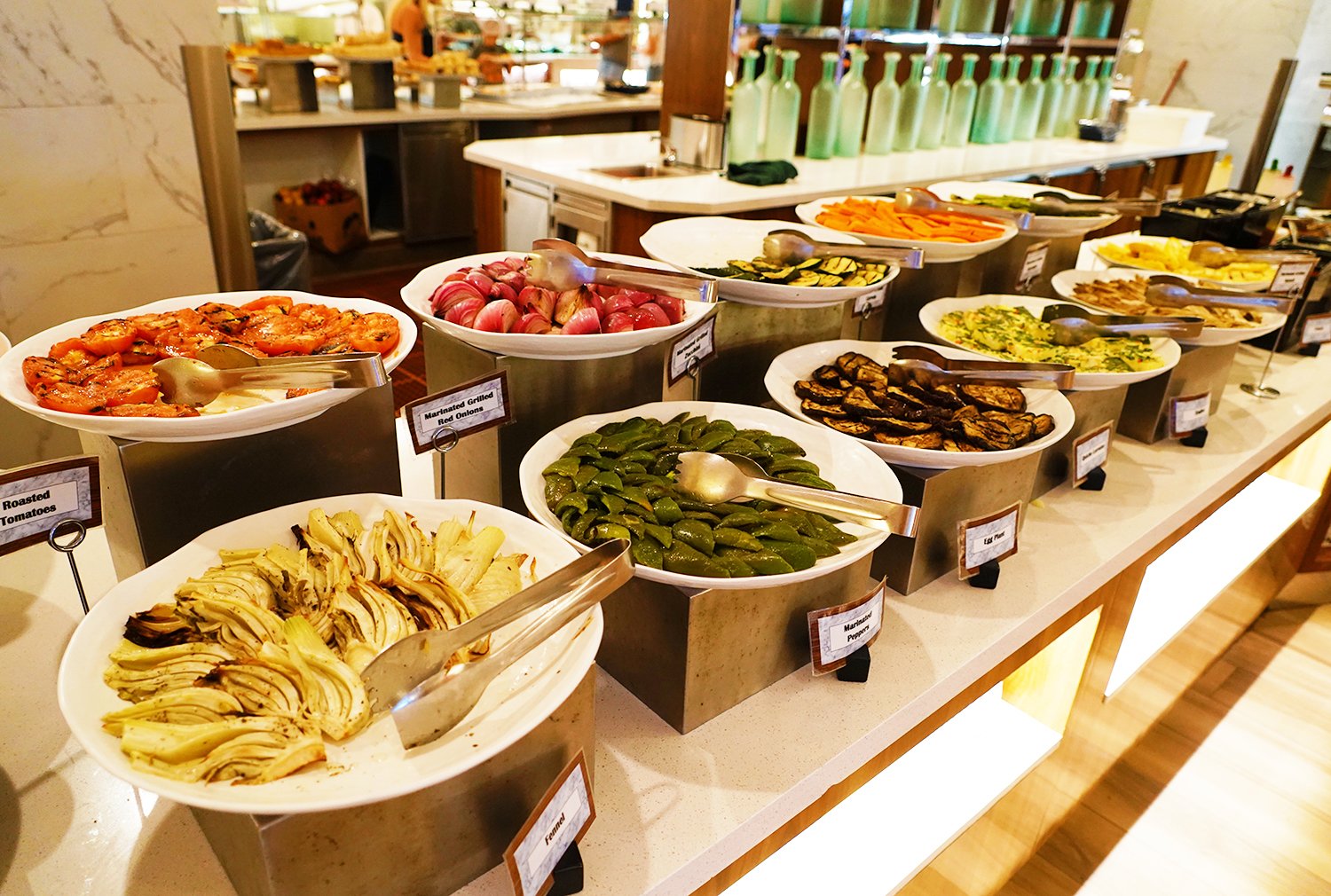 Fruits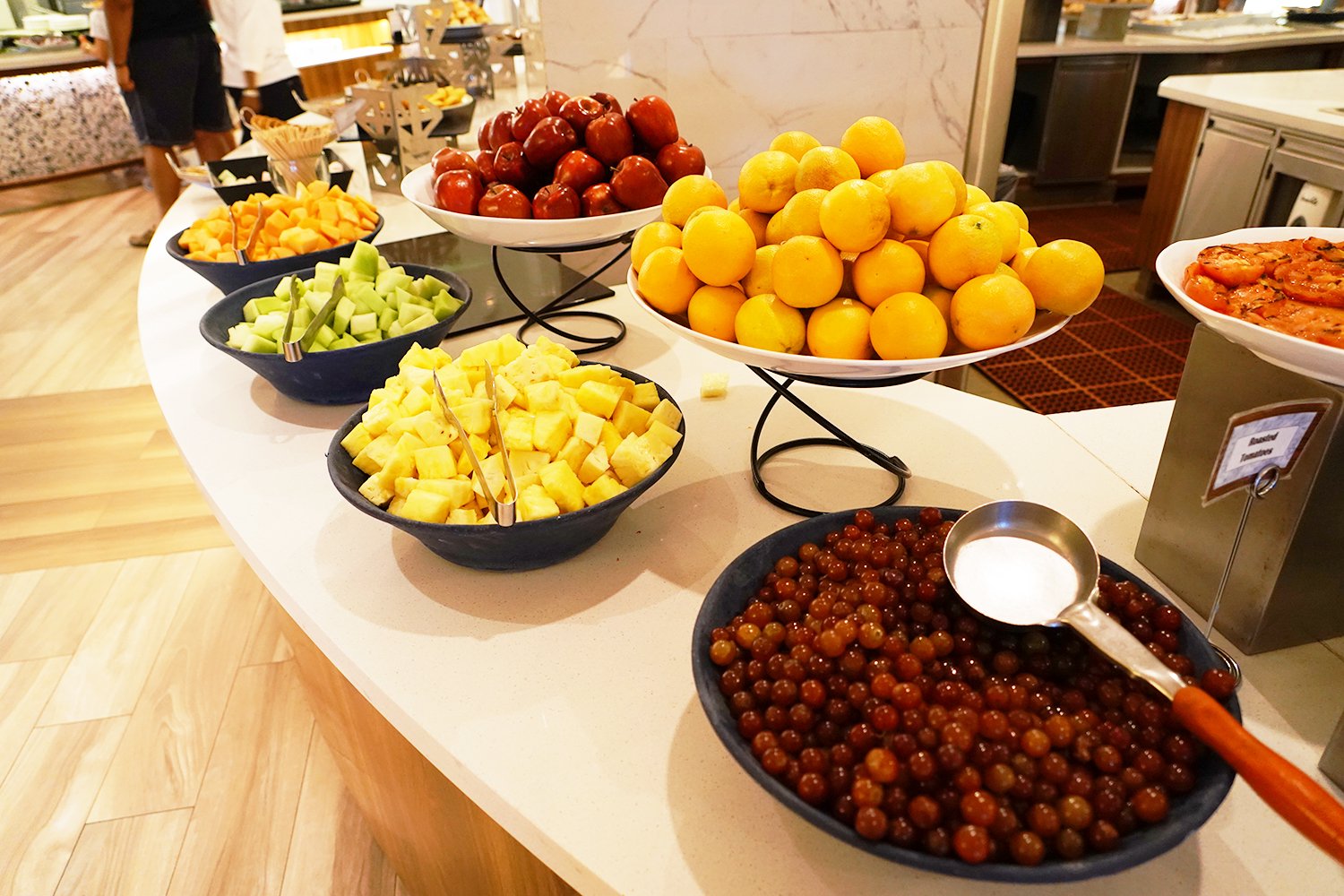 Salads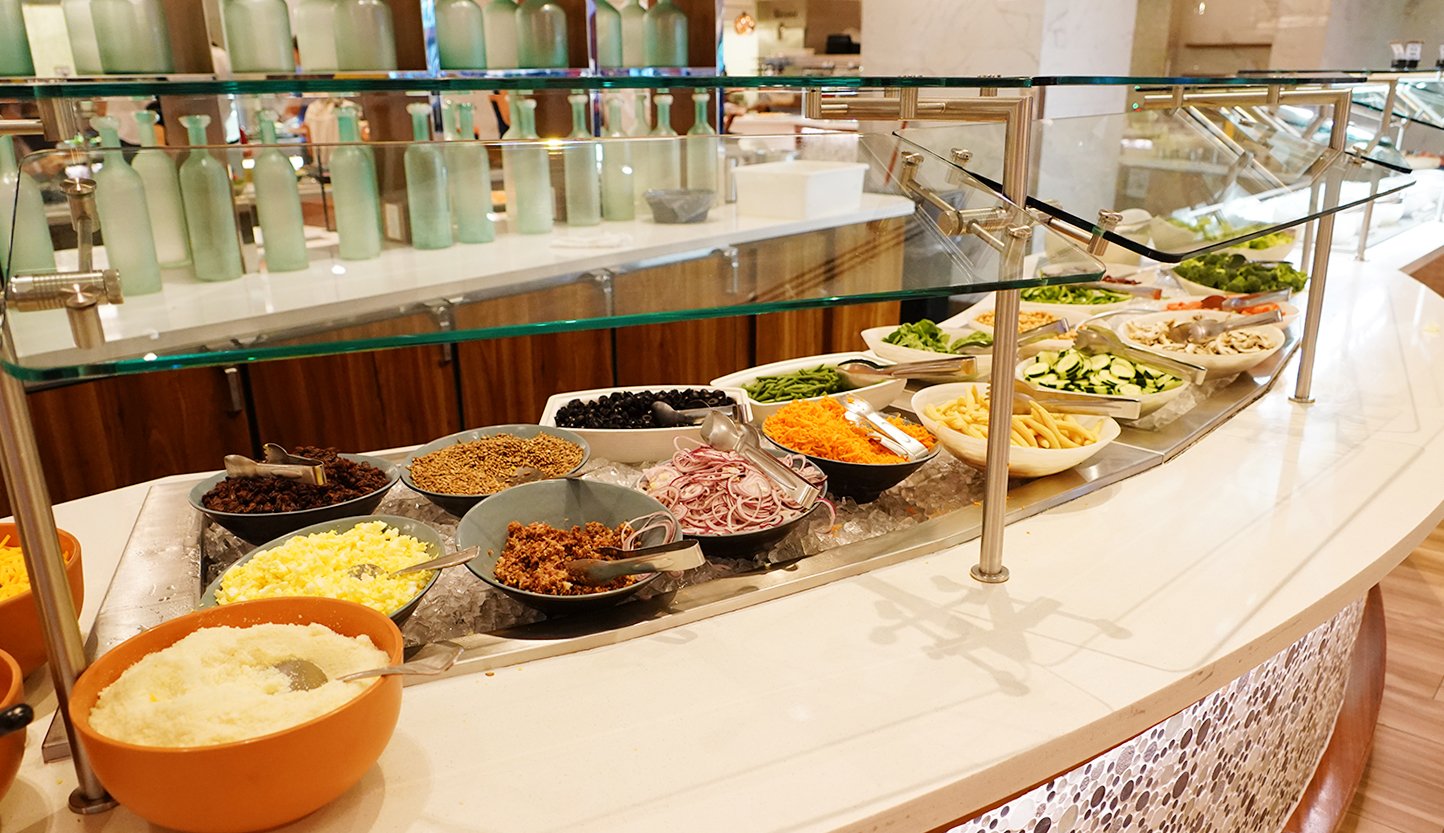 Lots of different Cheeses and cured ham / meat.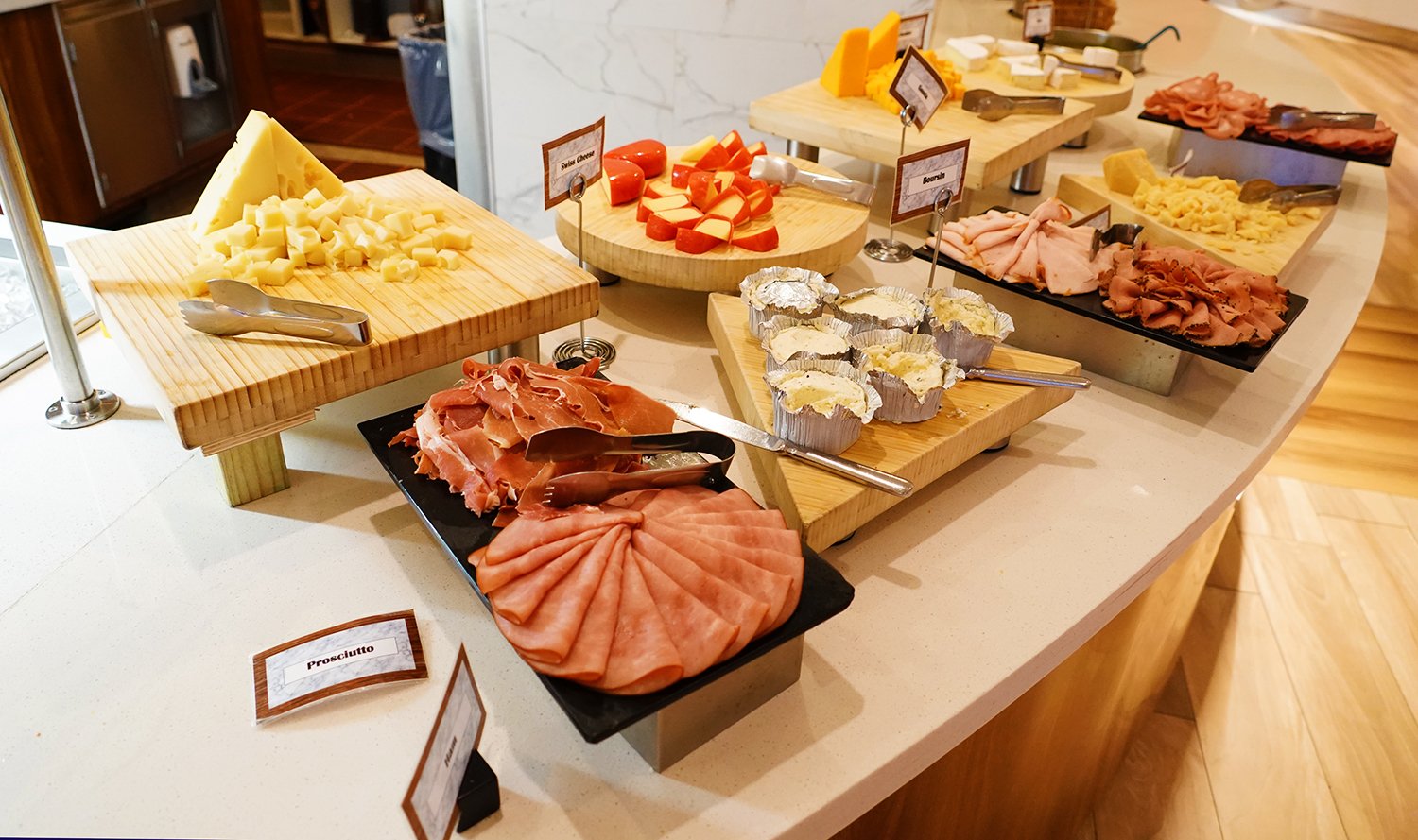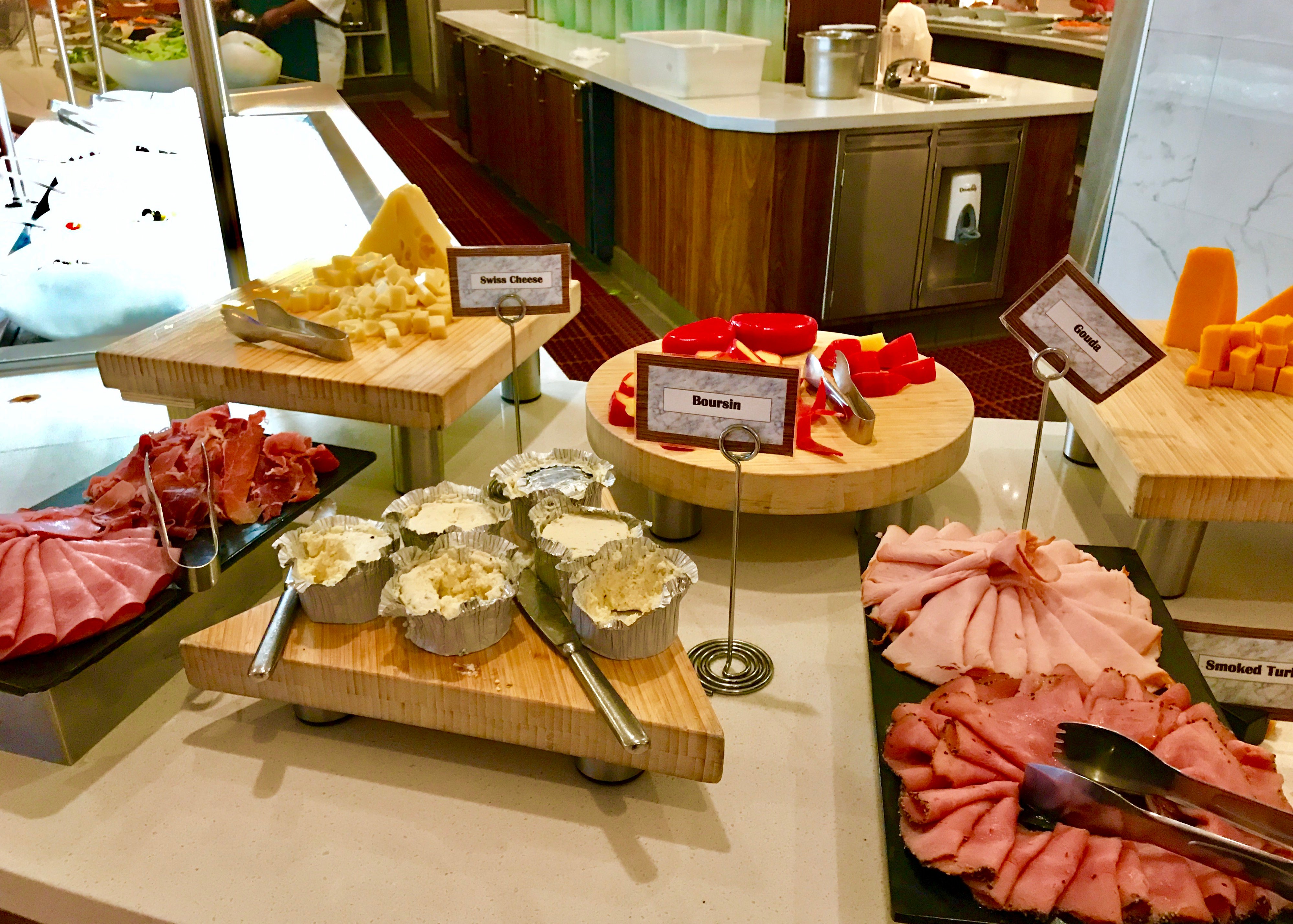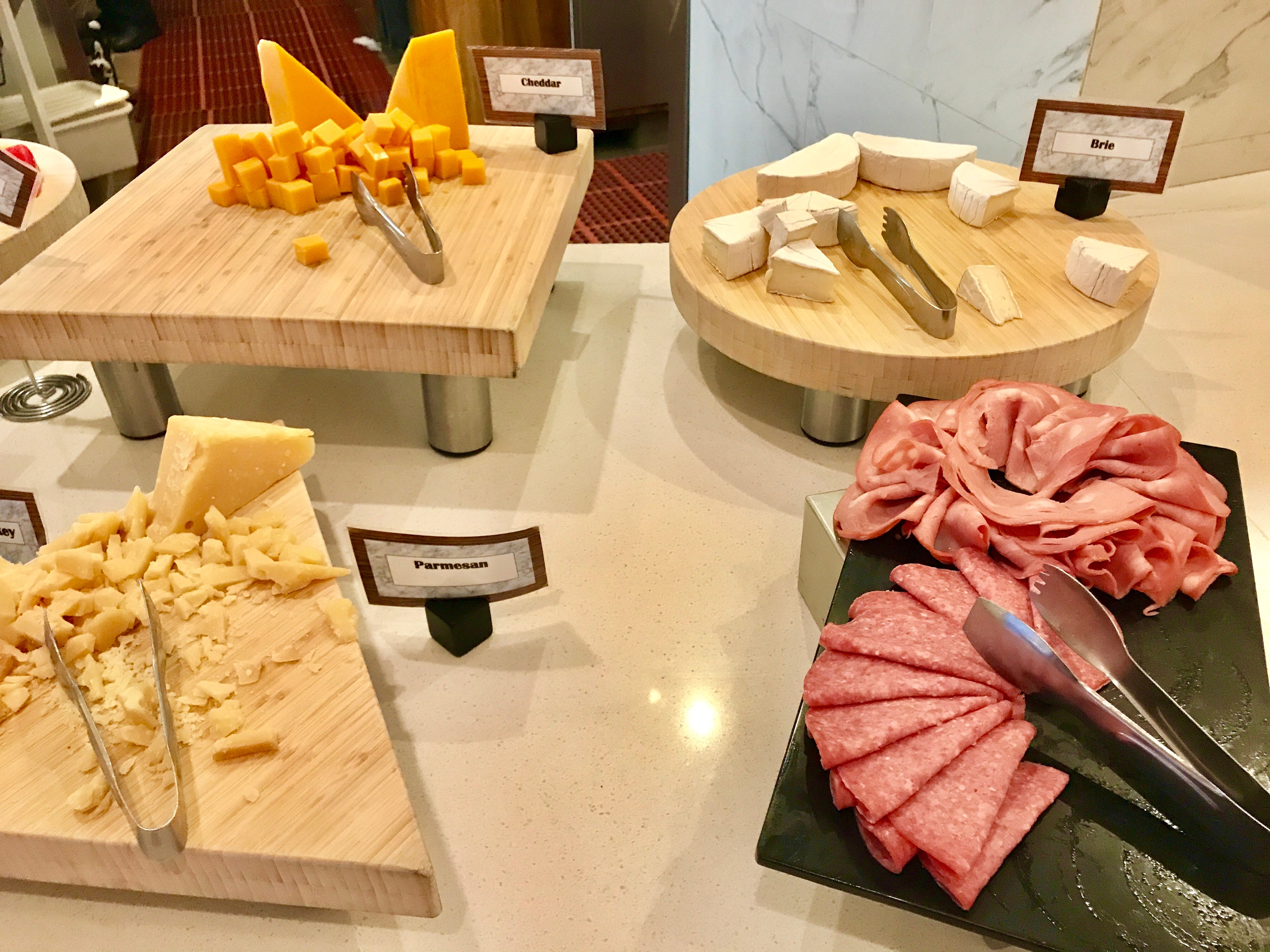 Even more pre-prepared salads with Olives, Beans, Beetroot etc.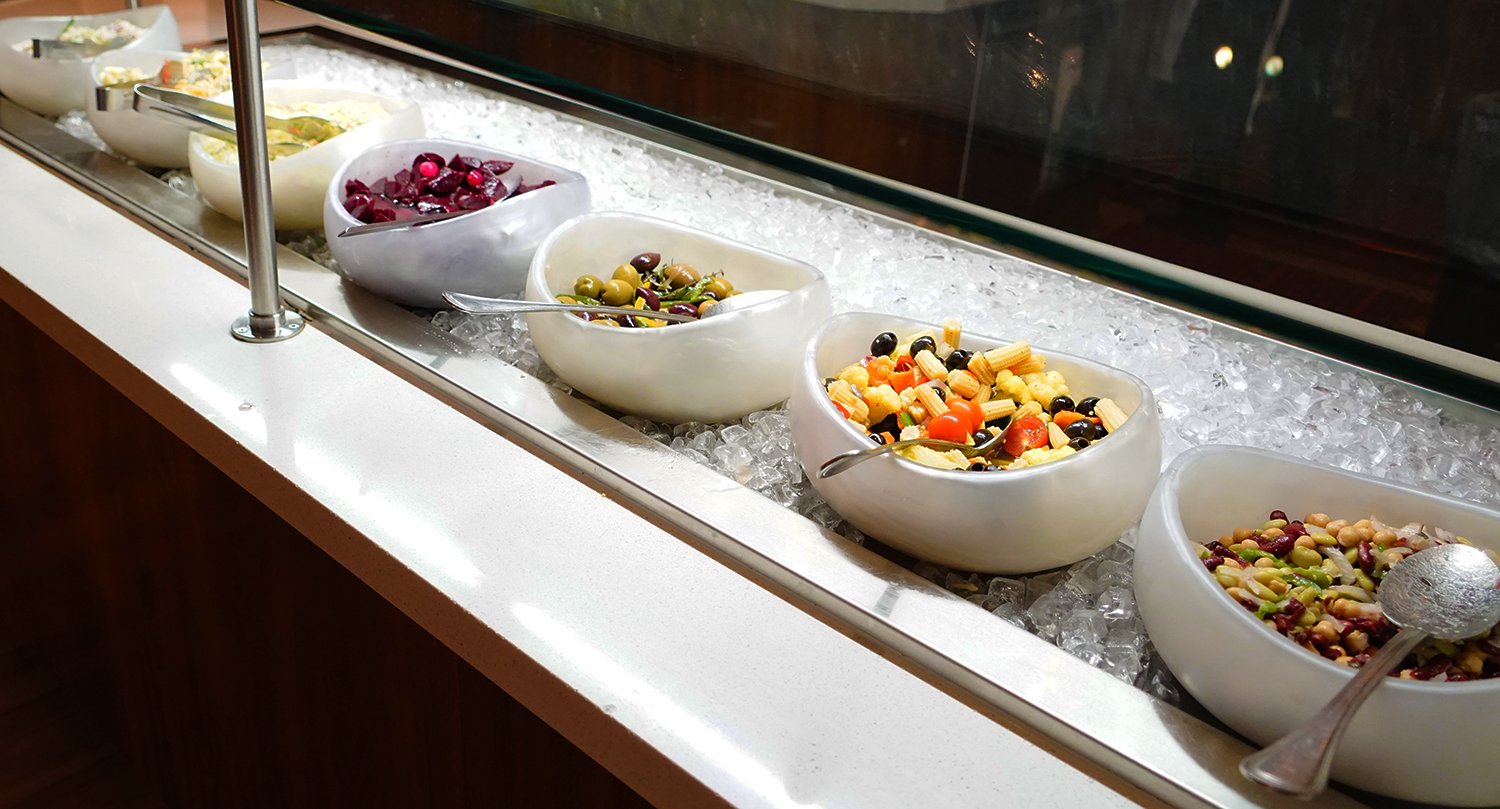 This is the Teppanyaki stir fry section where you can choose your own ingredients and the chef will stir fry it for you!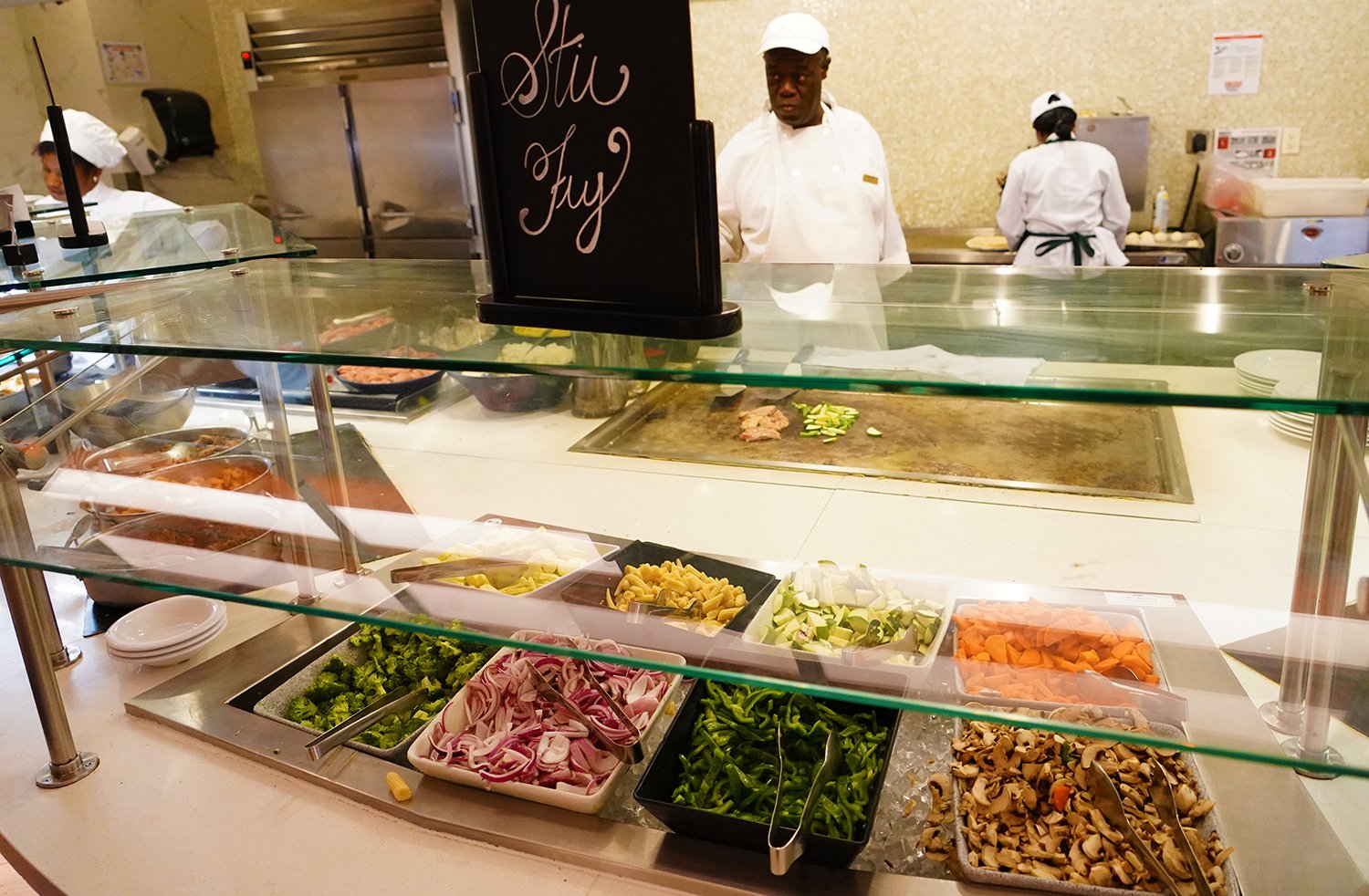 Seasoned Vegetables and Kimchi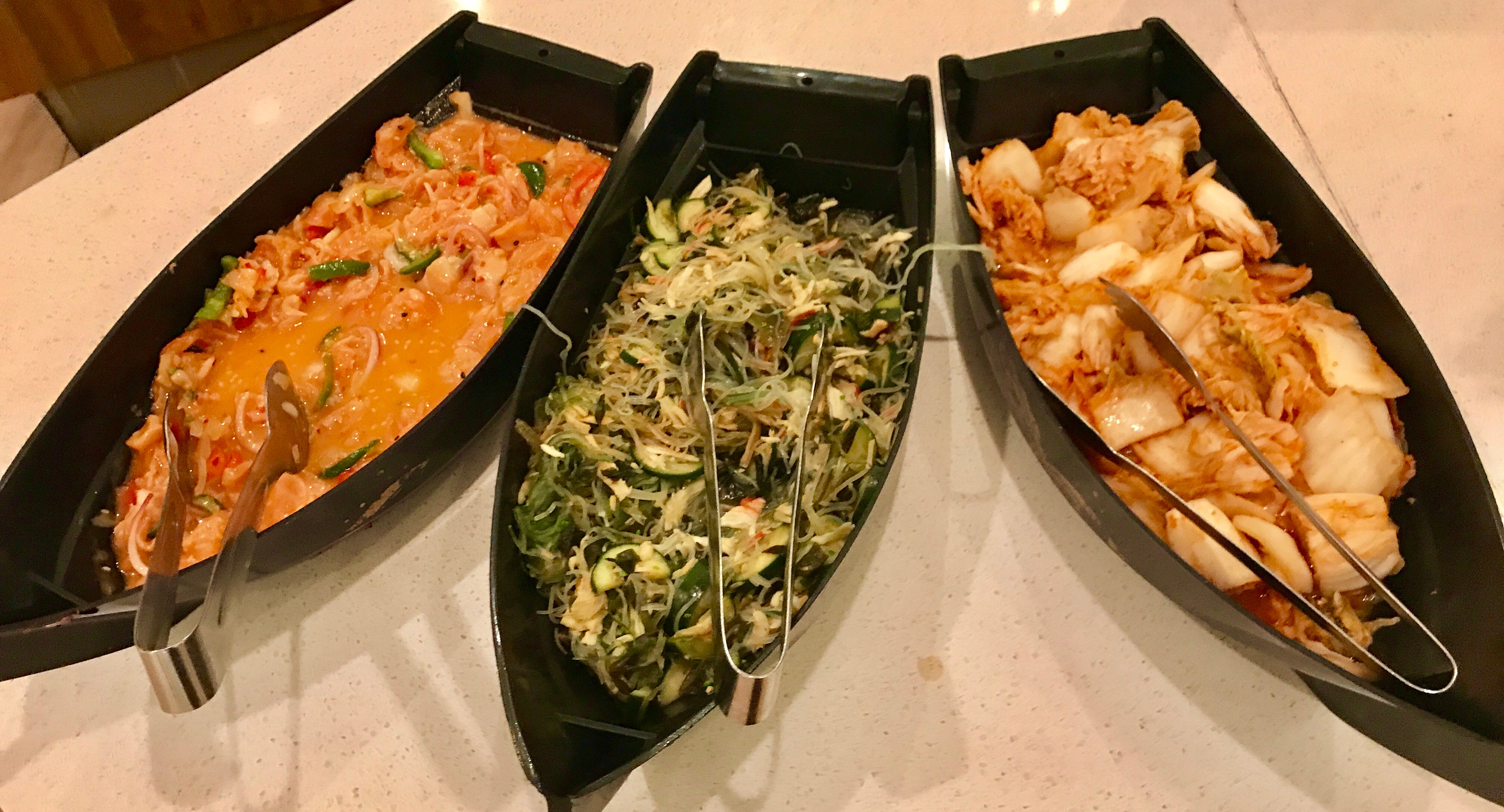 Freshly roasted meat!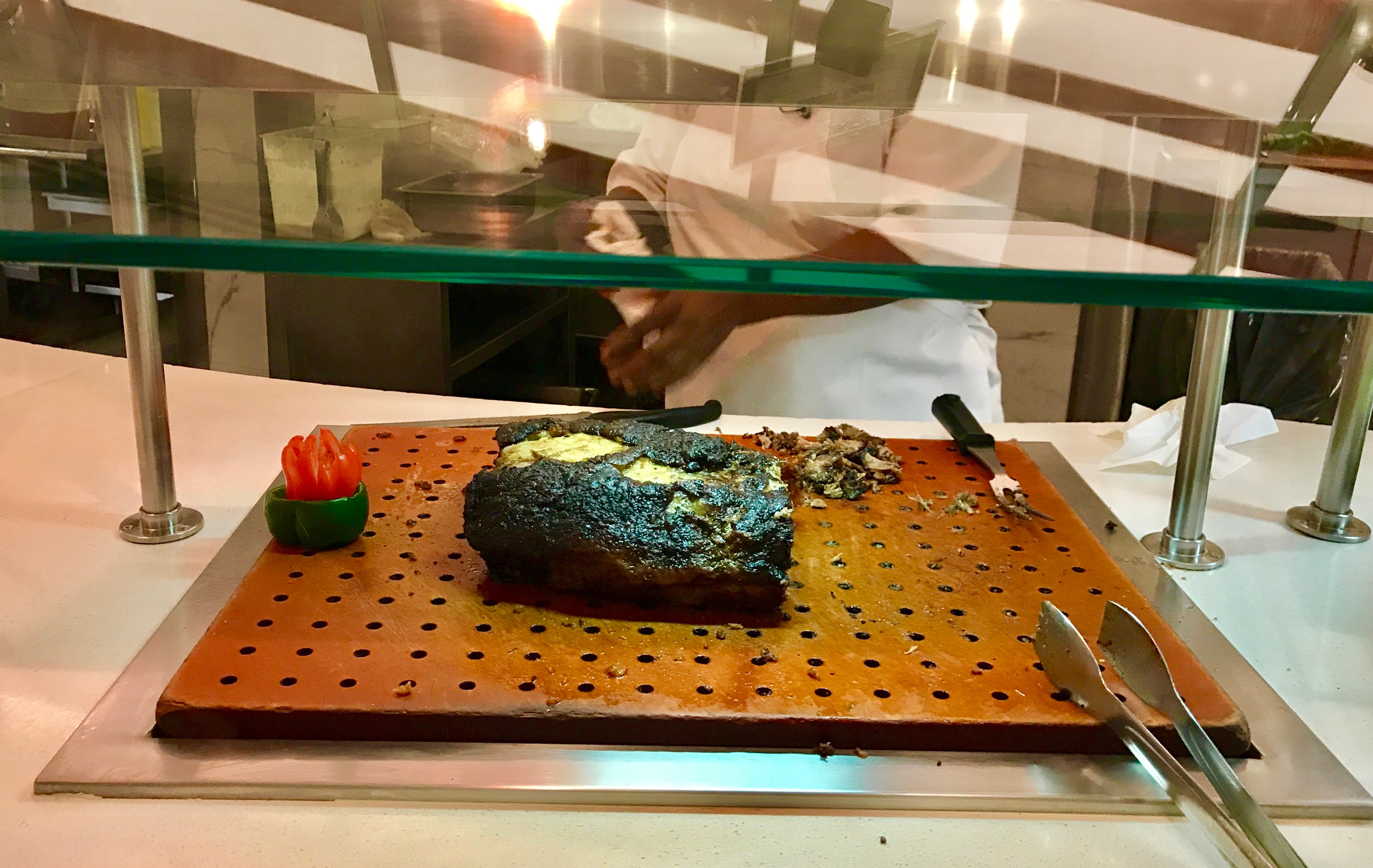 Sushi Bar. The Sushi bar was surprisingly varied. There was all sorts of sushi rolls, nigiri's and even sashimi's.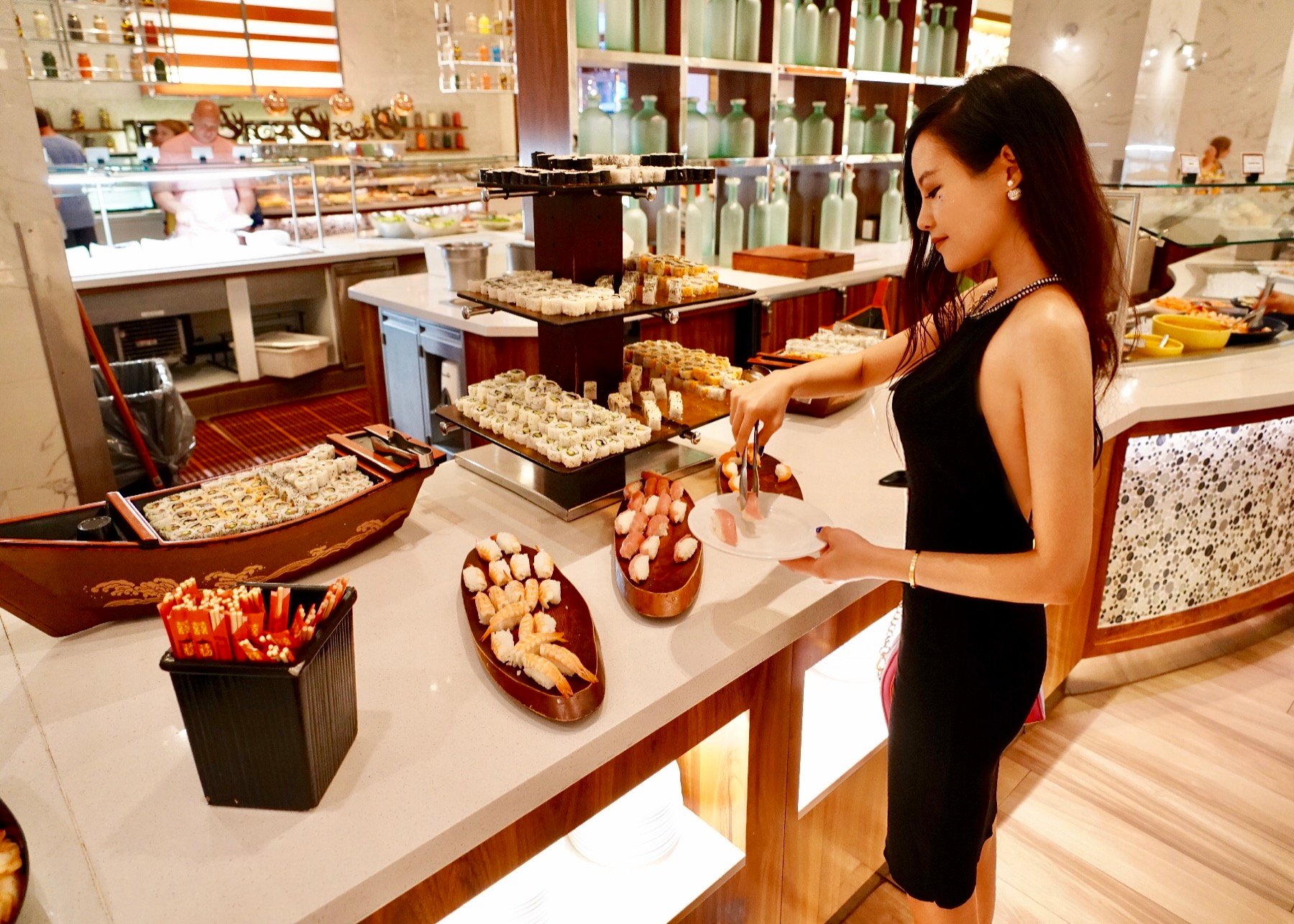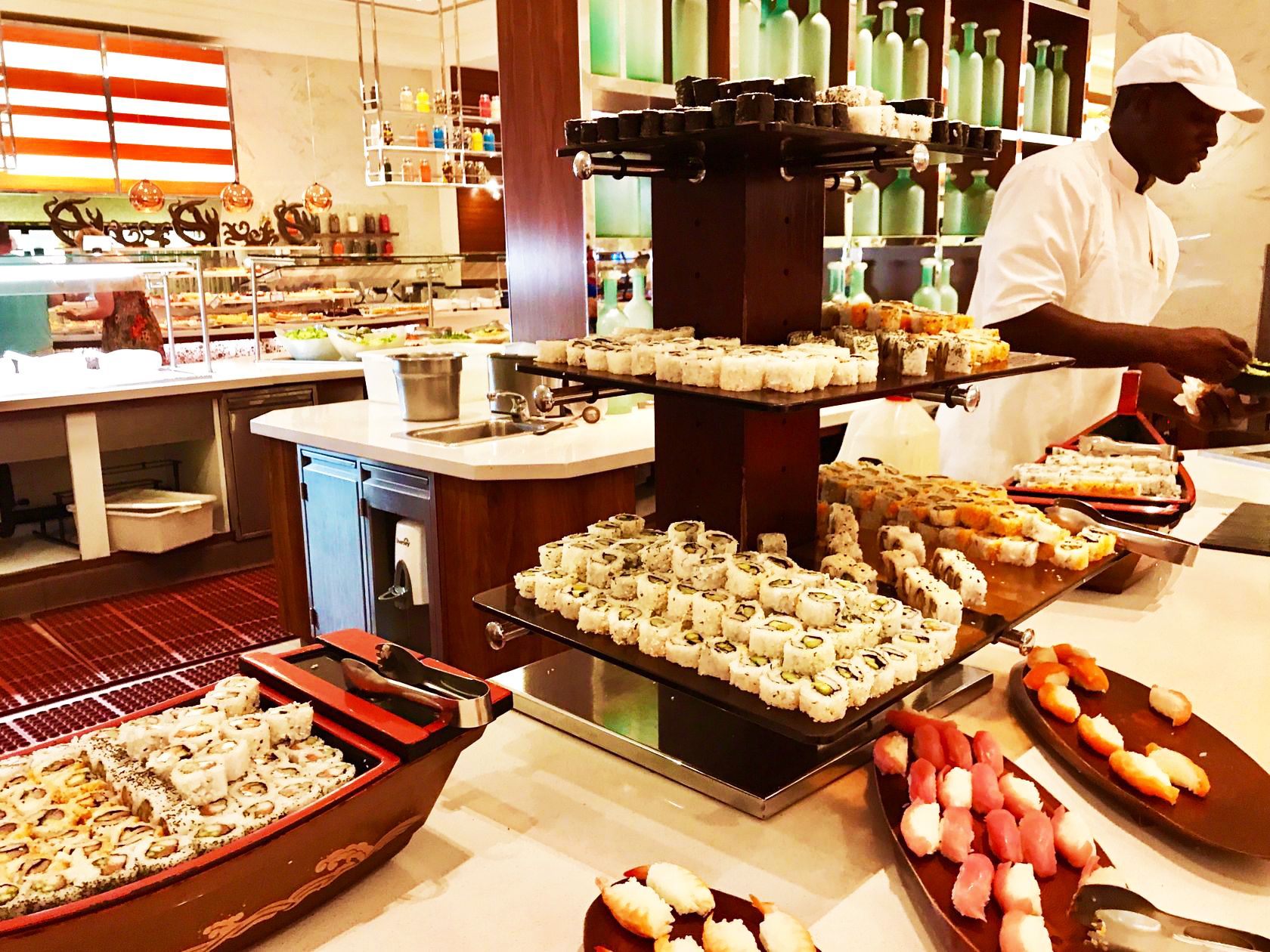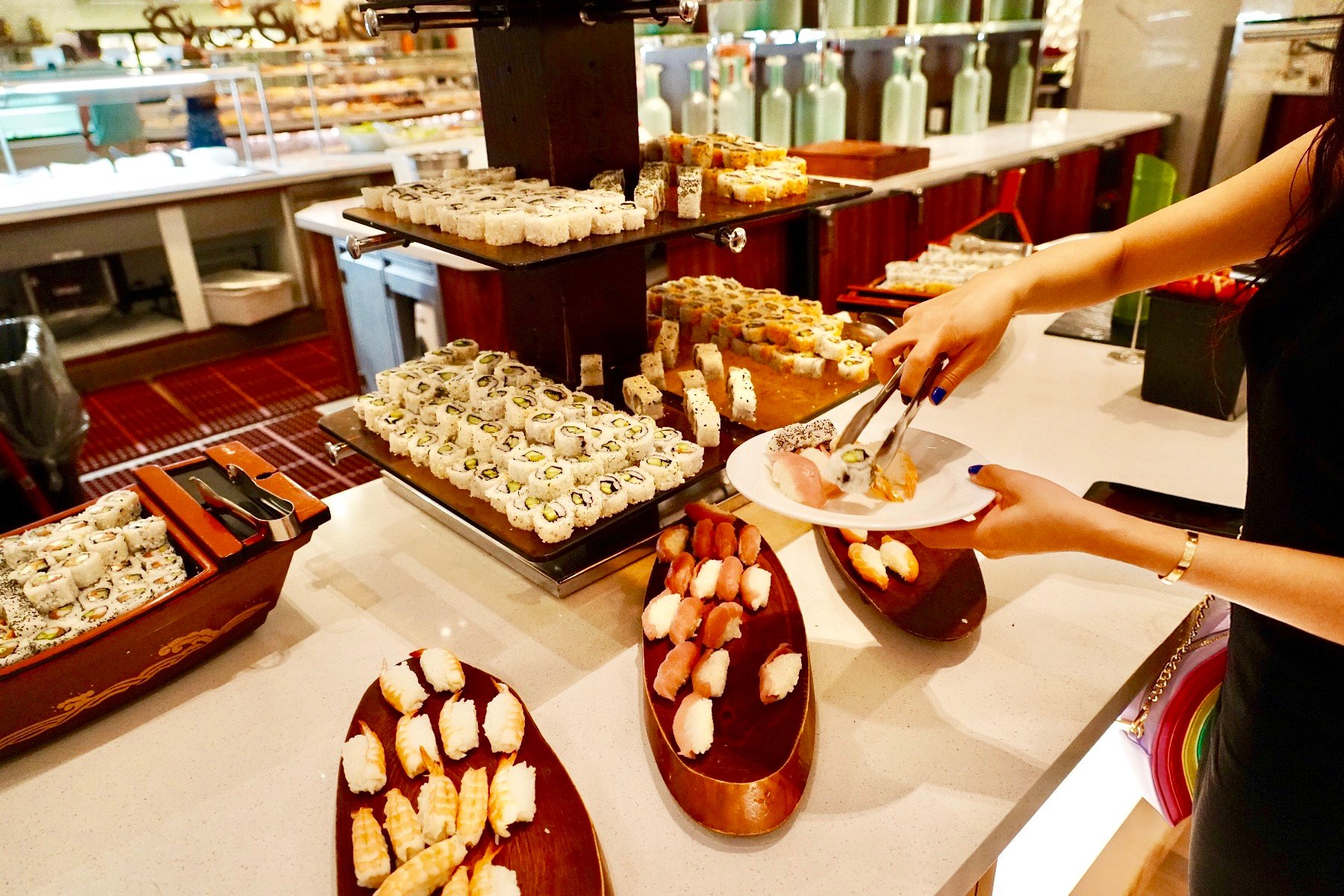 Pizza and make your own pizza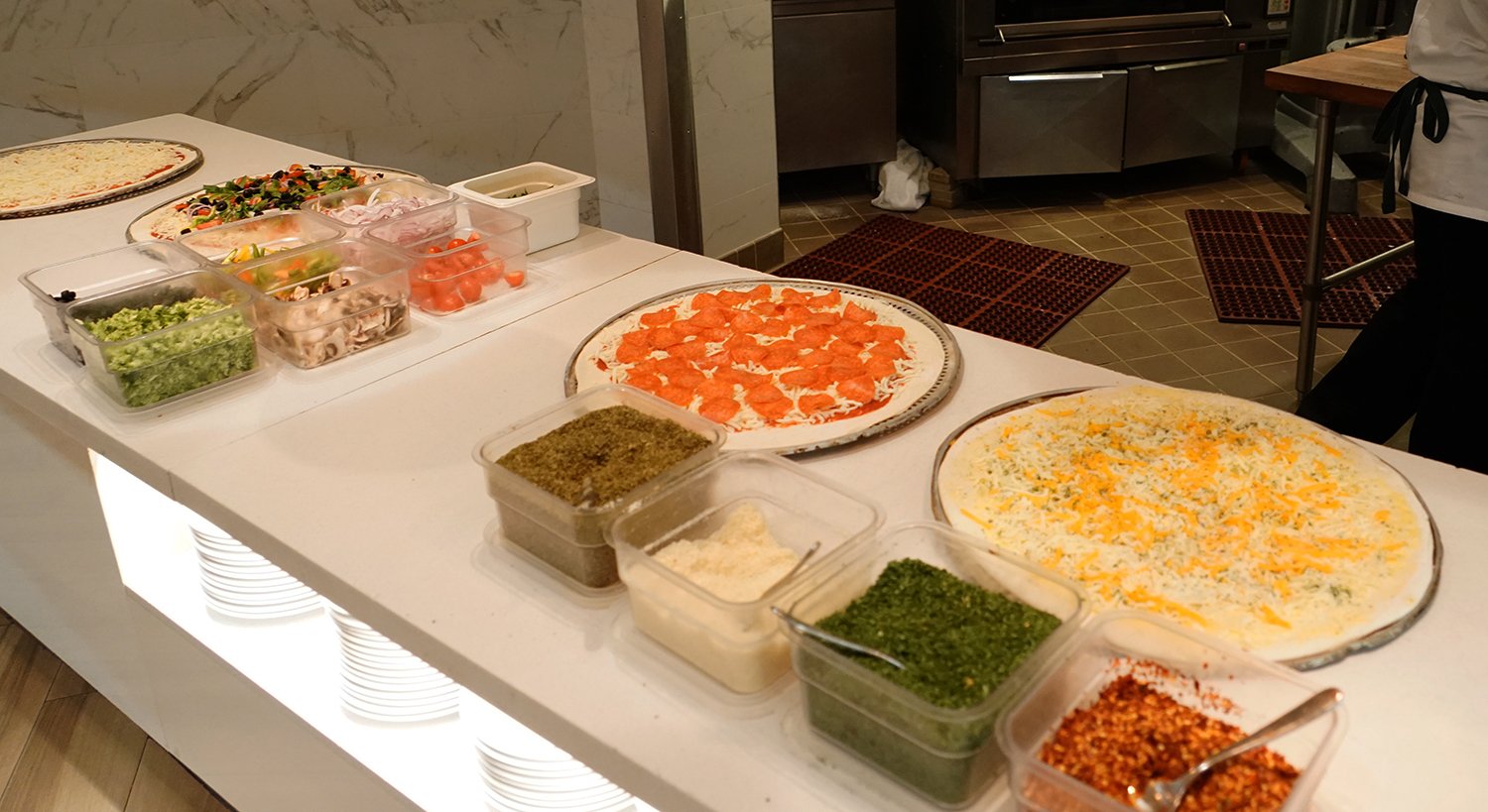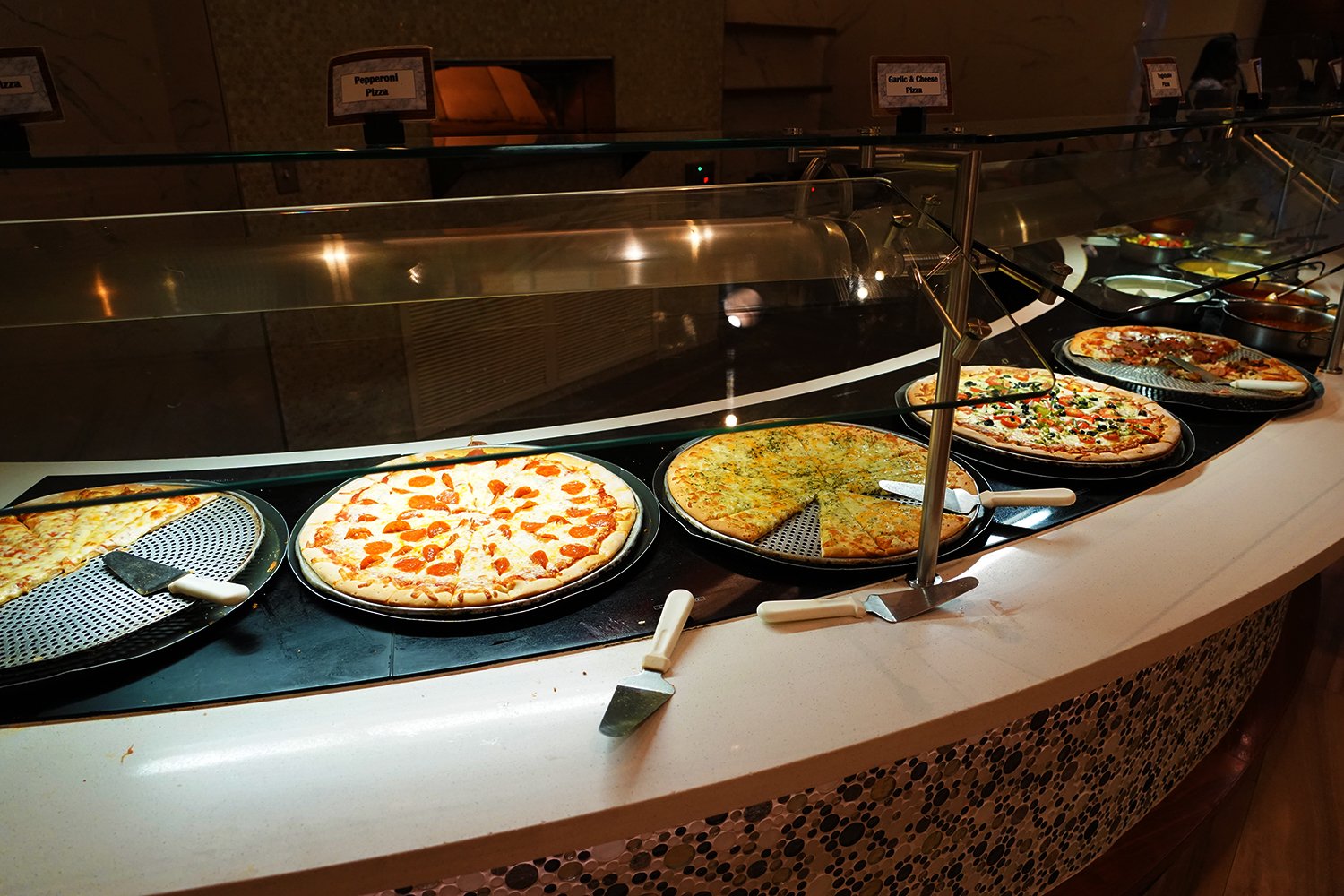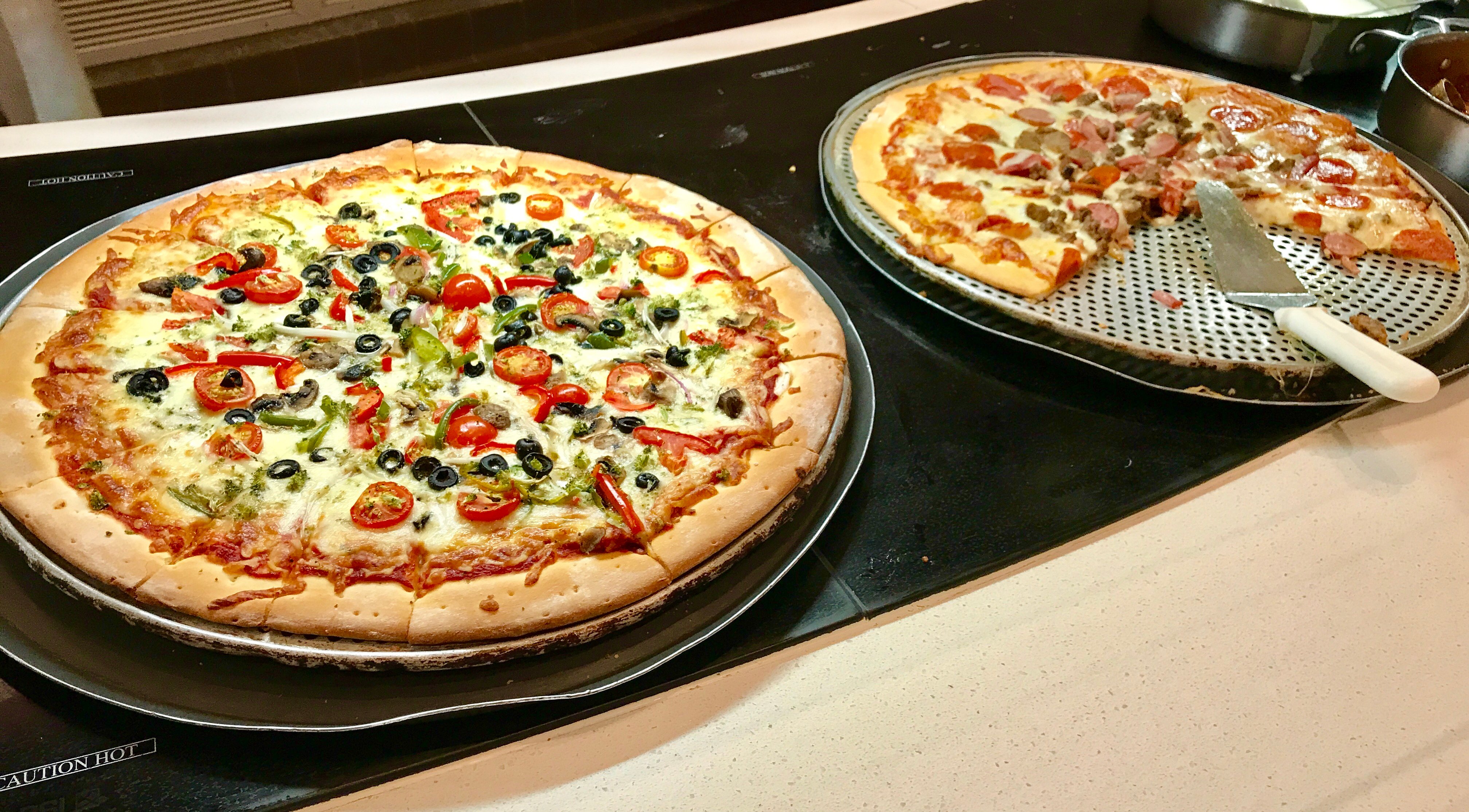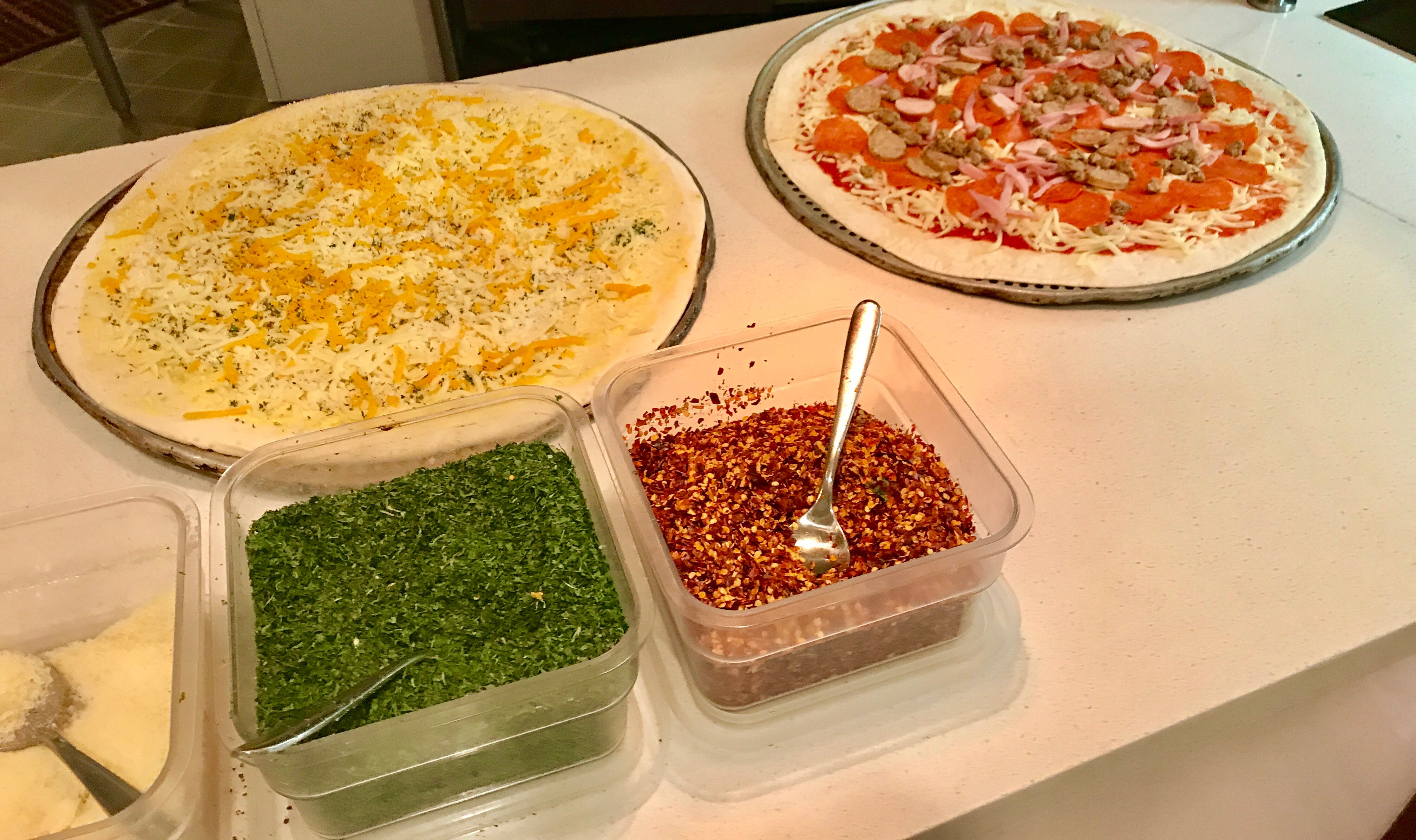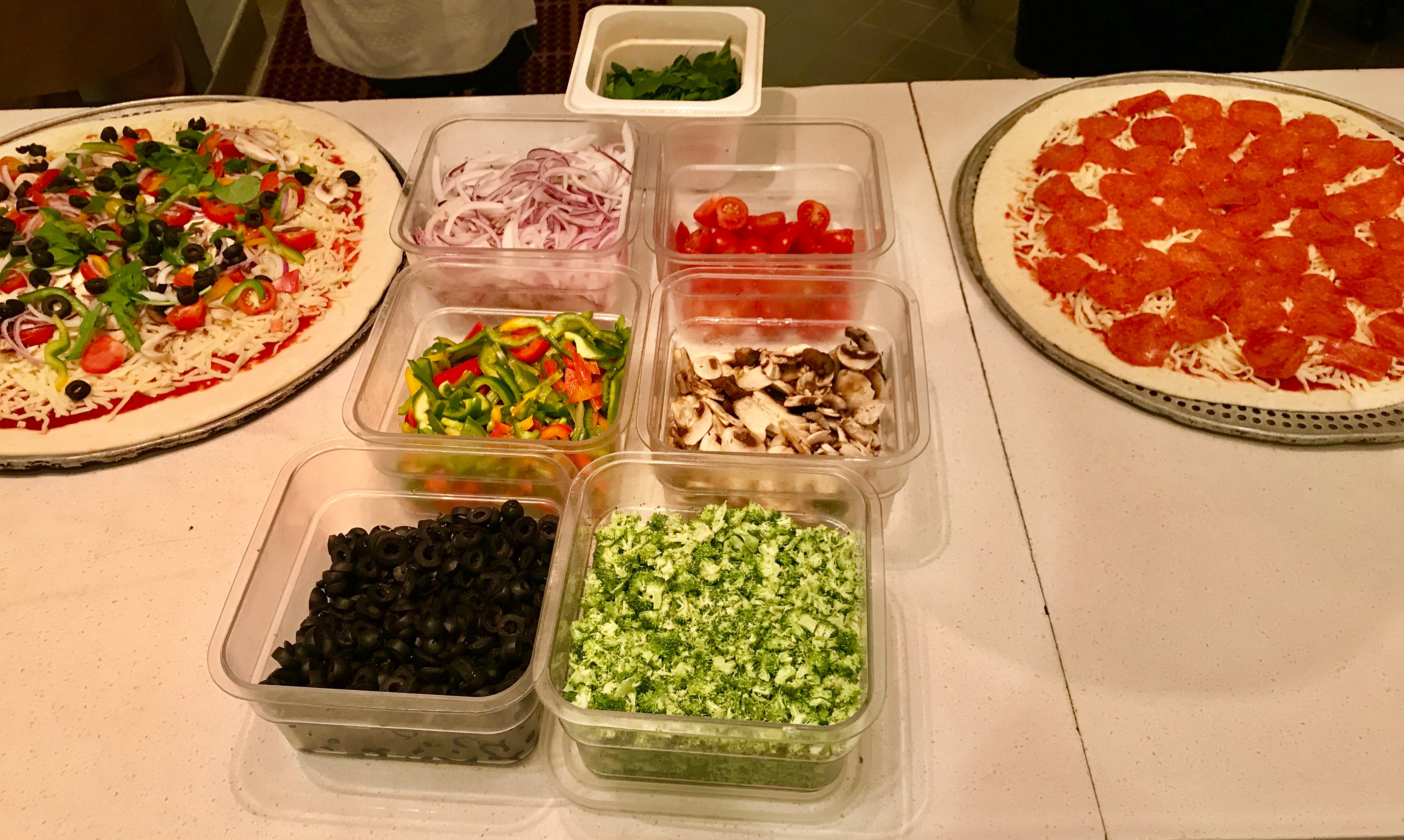 Hot Food section with various curry's, meat stews, vegetable stews etc.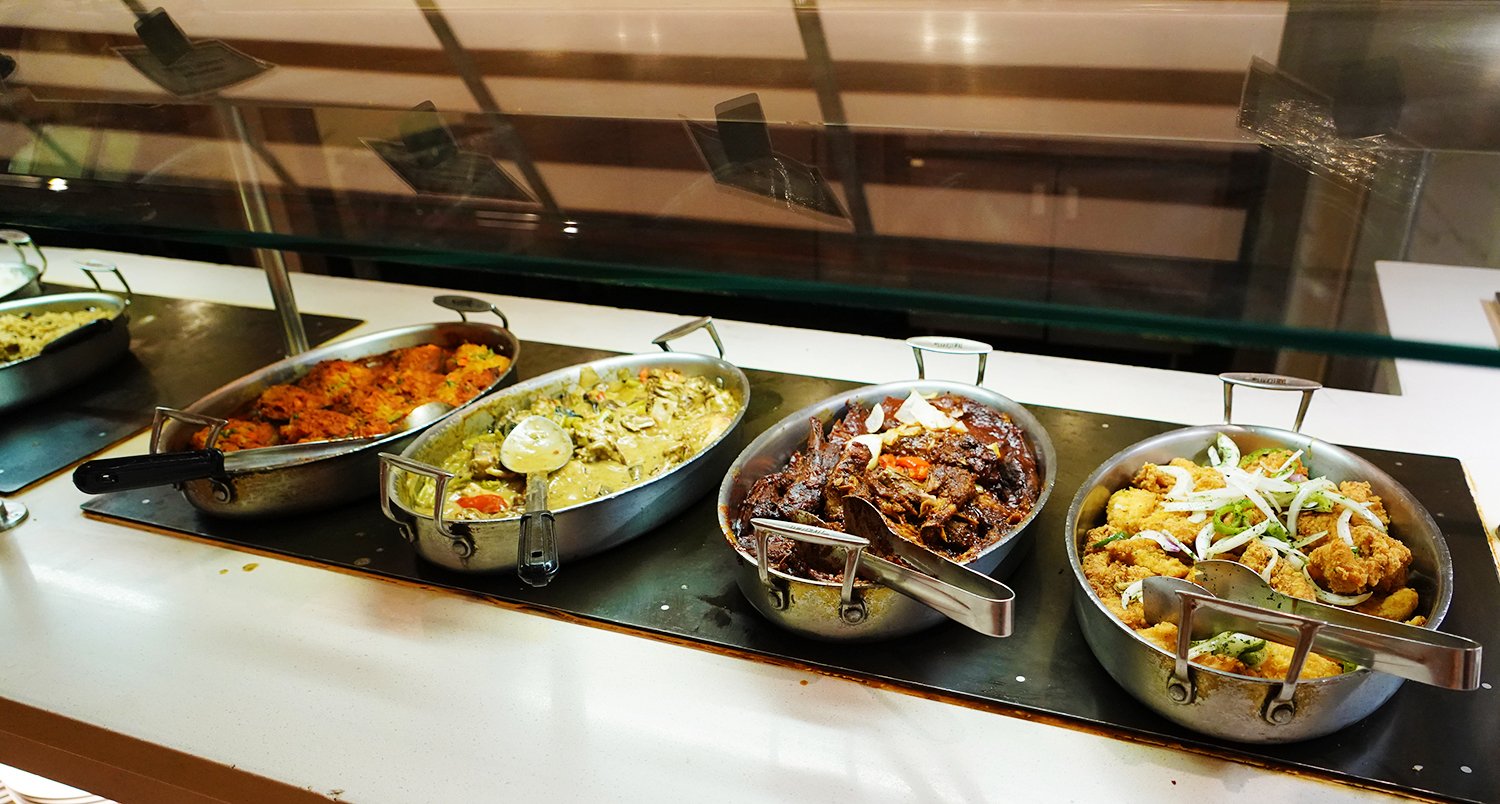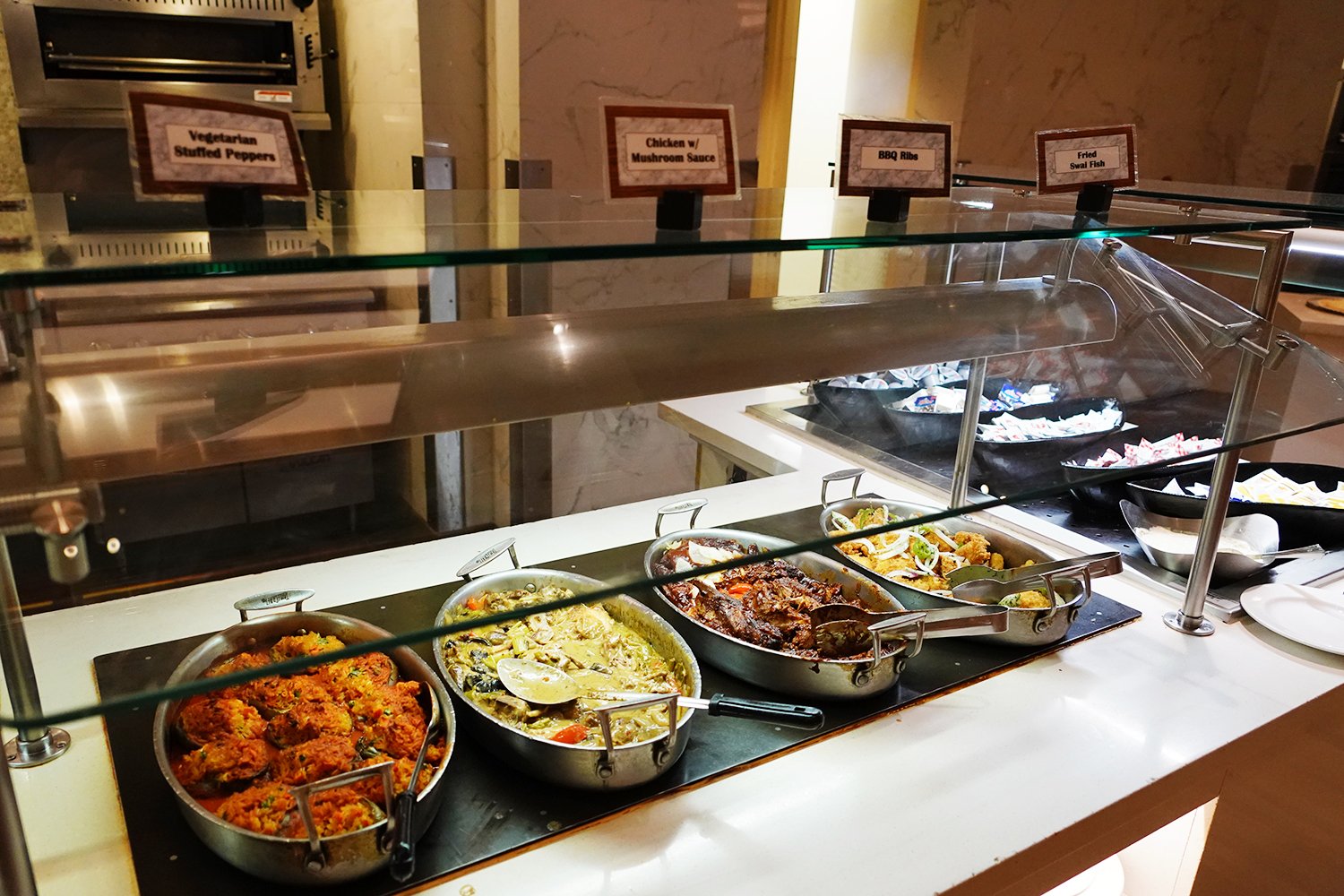 Boiled Broccoli, Jamaican Rice, Mediterranean Rice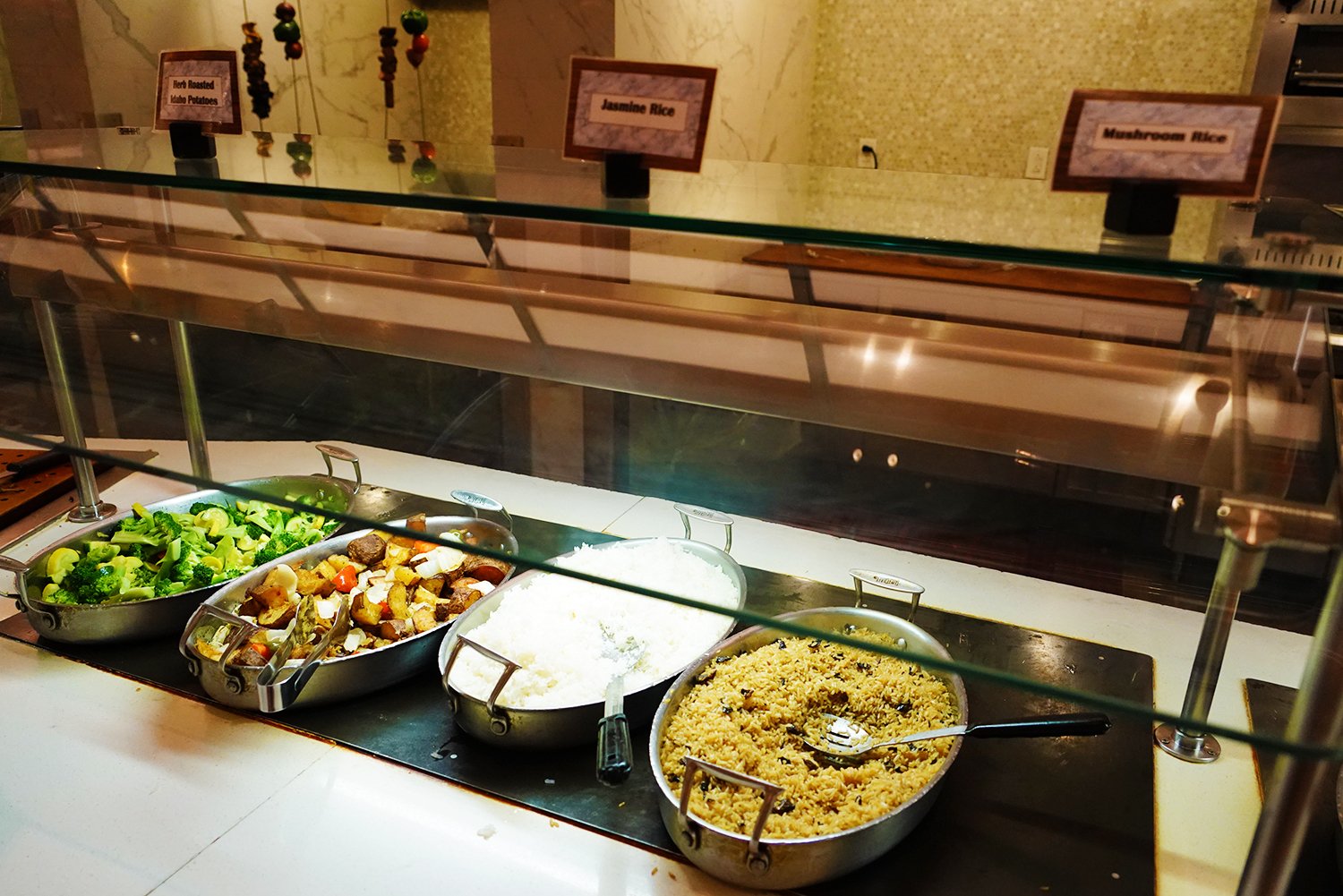 Crab Salad, Conch Salad, Shrimps Calamari Vinaigrette, Fish Cerviche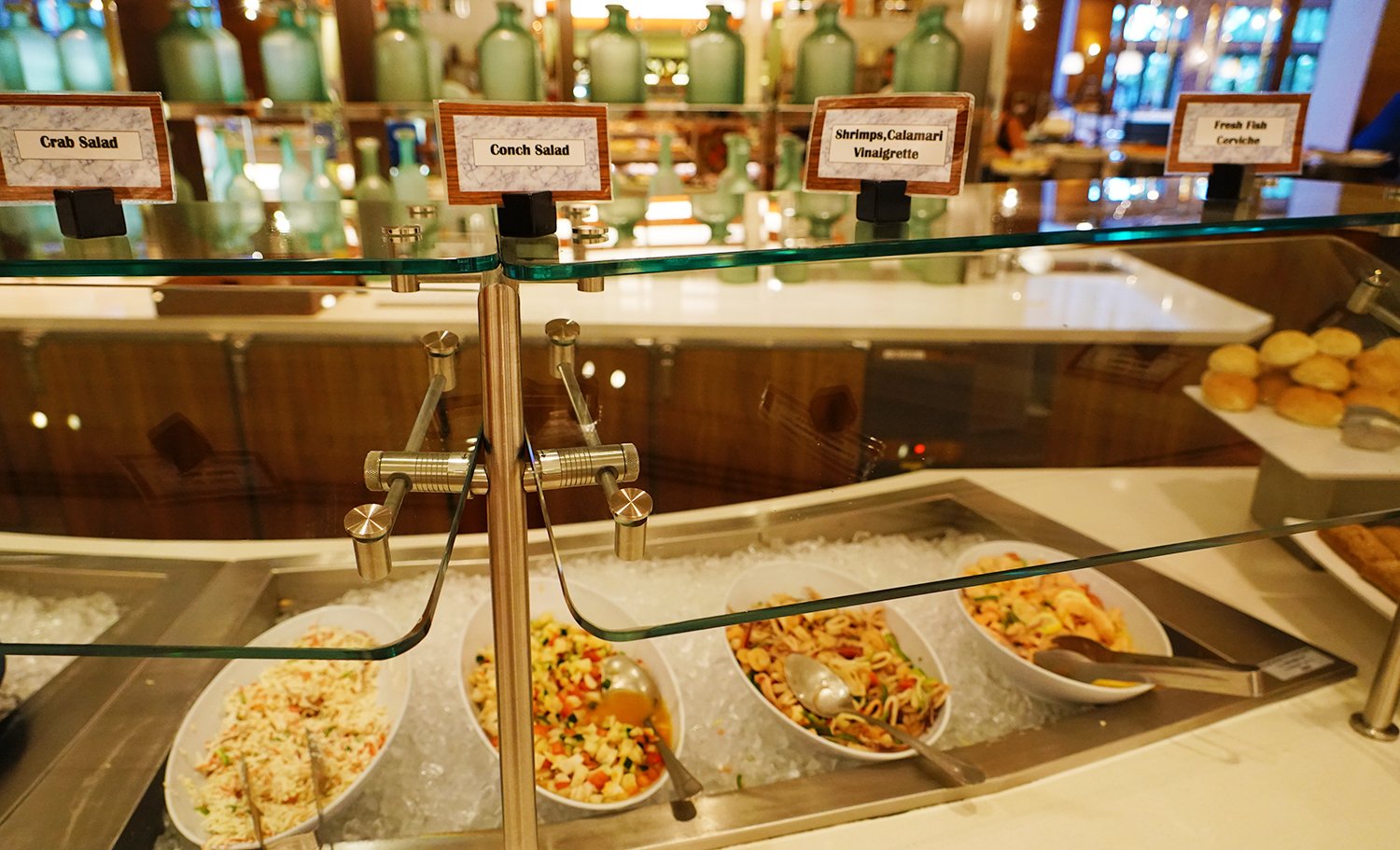 This looks like some sort of curry and Baked Pastry.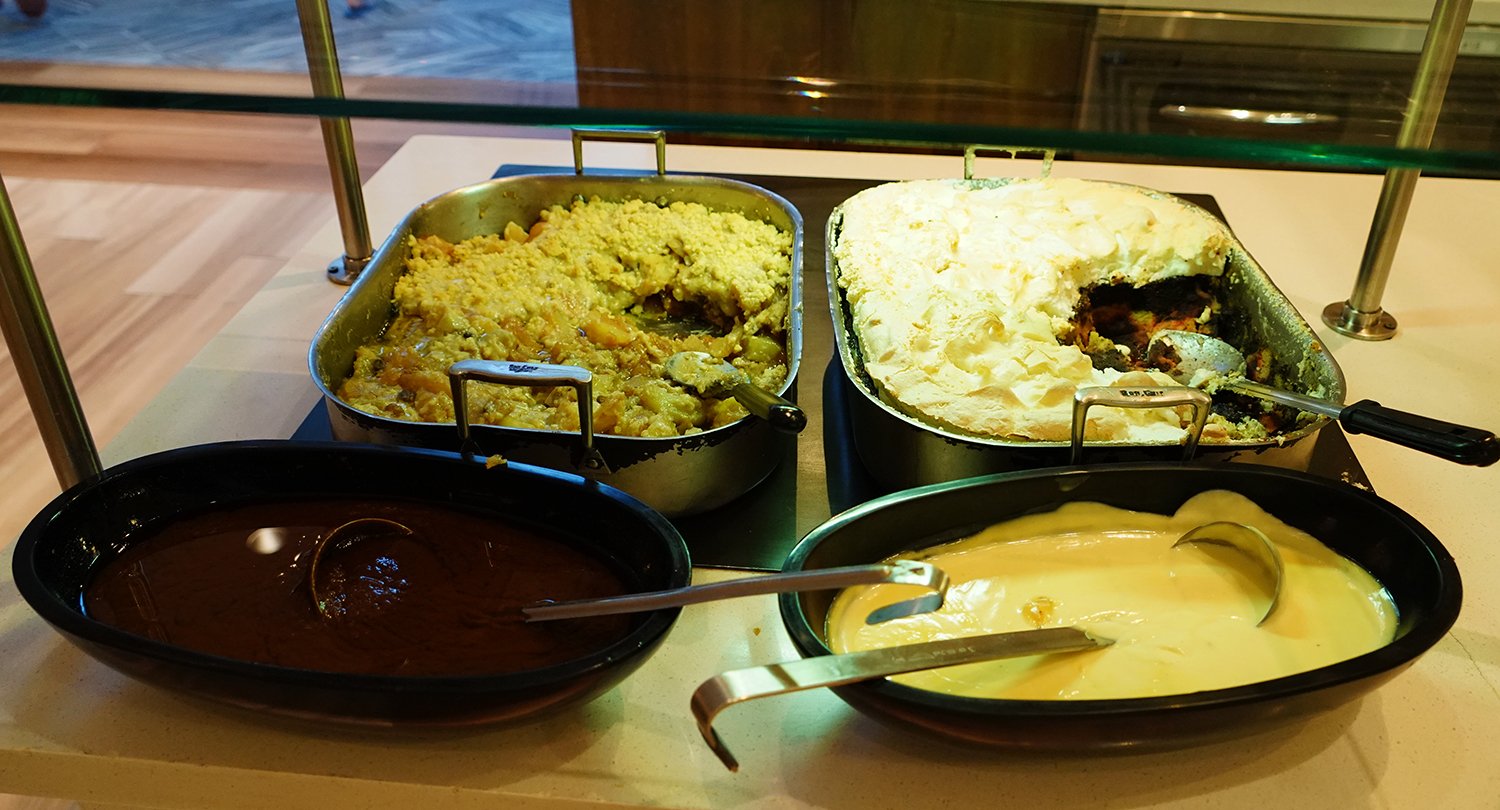 Meat lovers will love this section with Sausages, Grilled Chicken Breast, Grilled Steaks and Grilled Salmon.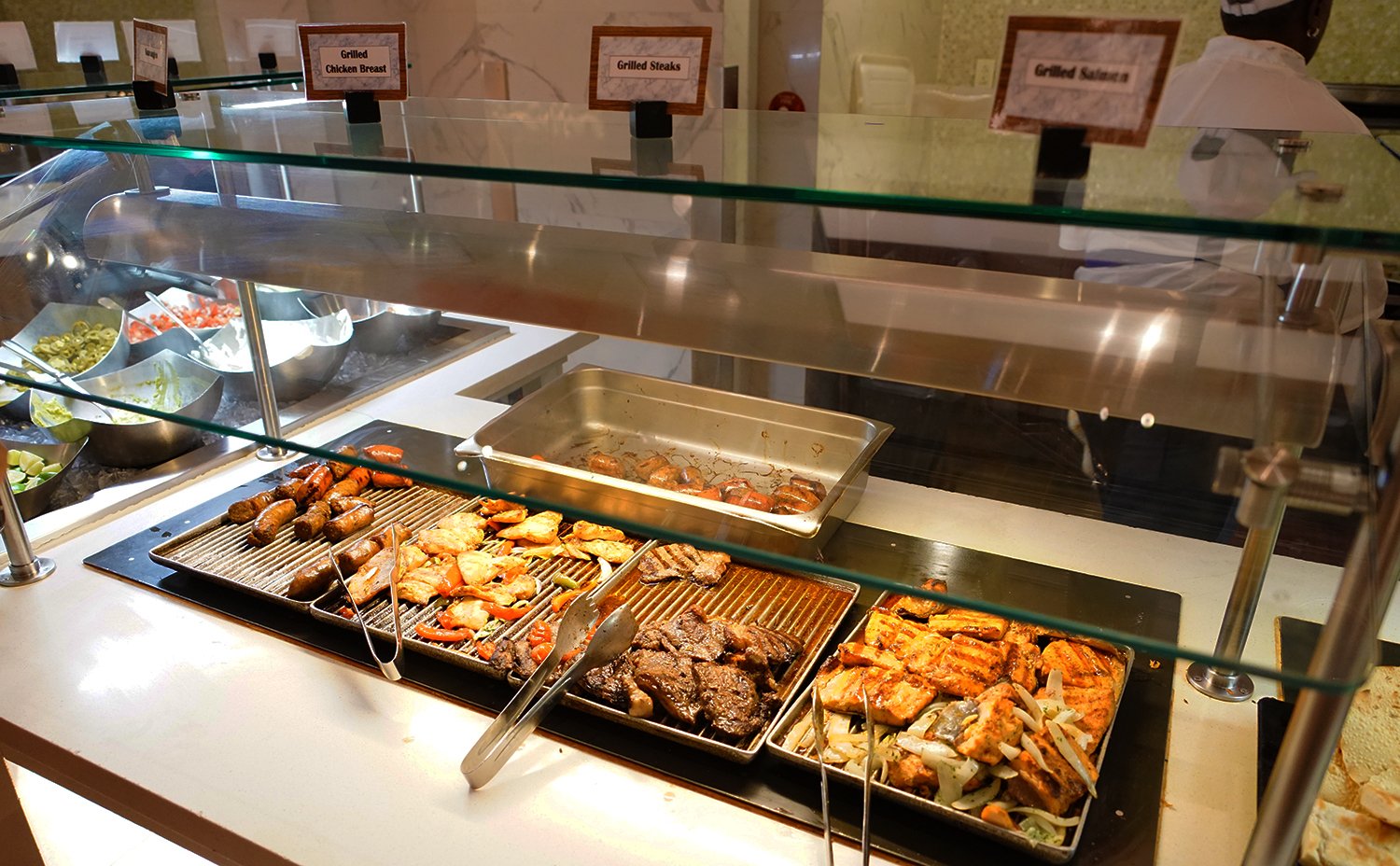 The seafood section is perhaps my favourite, it has Pealed Shrimps, Smoked Salmon and Mussels.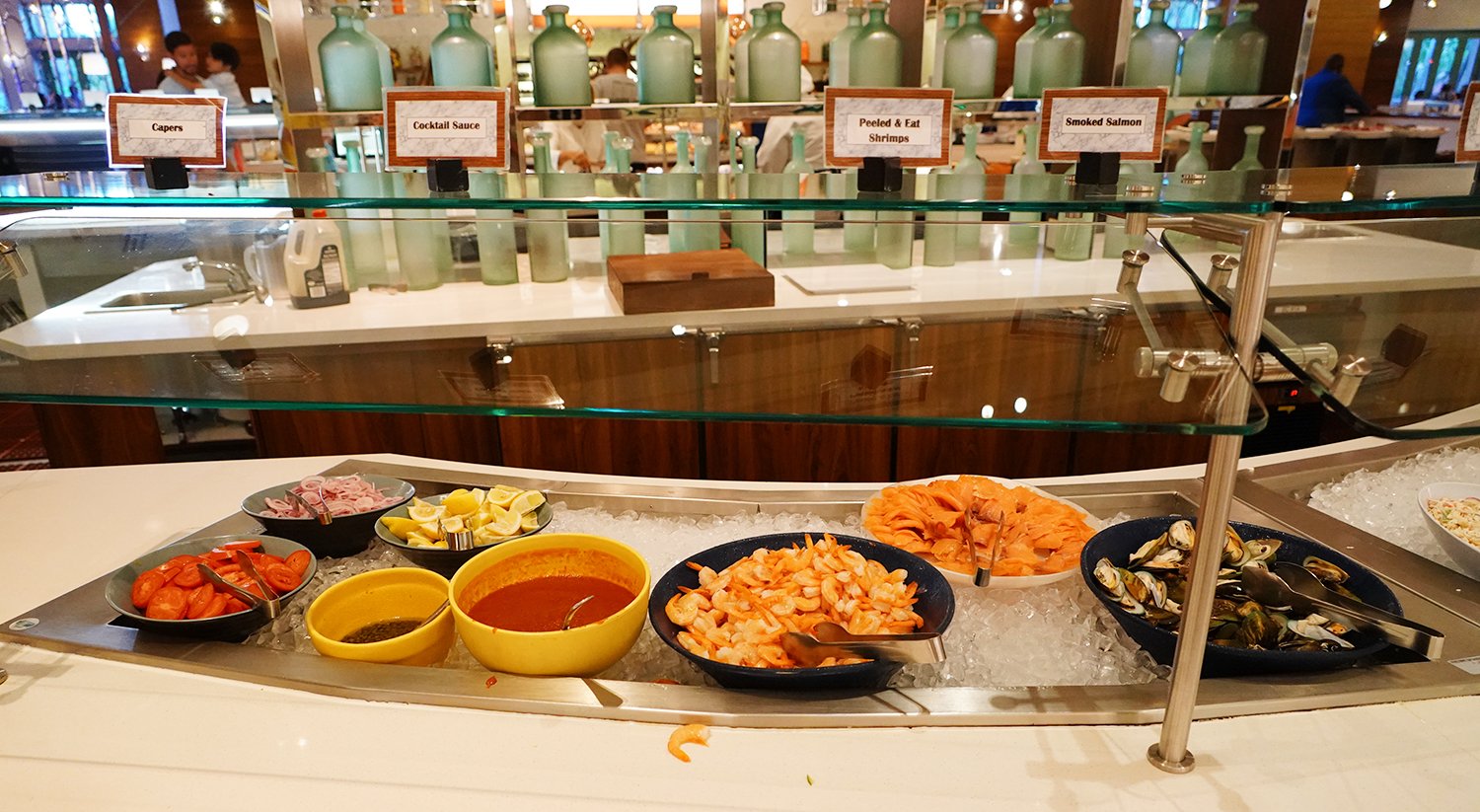 Mediterranean foods have a very good representation.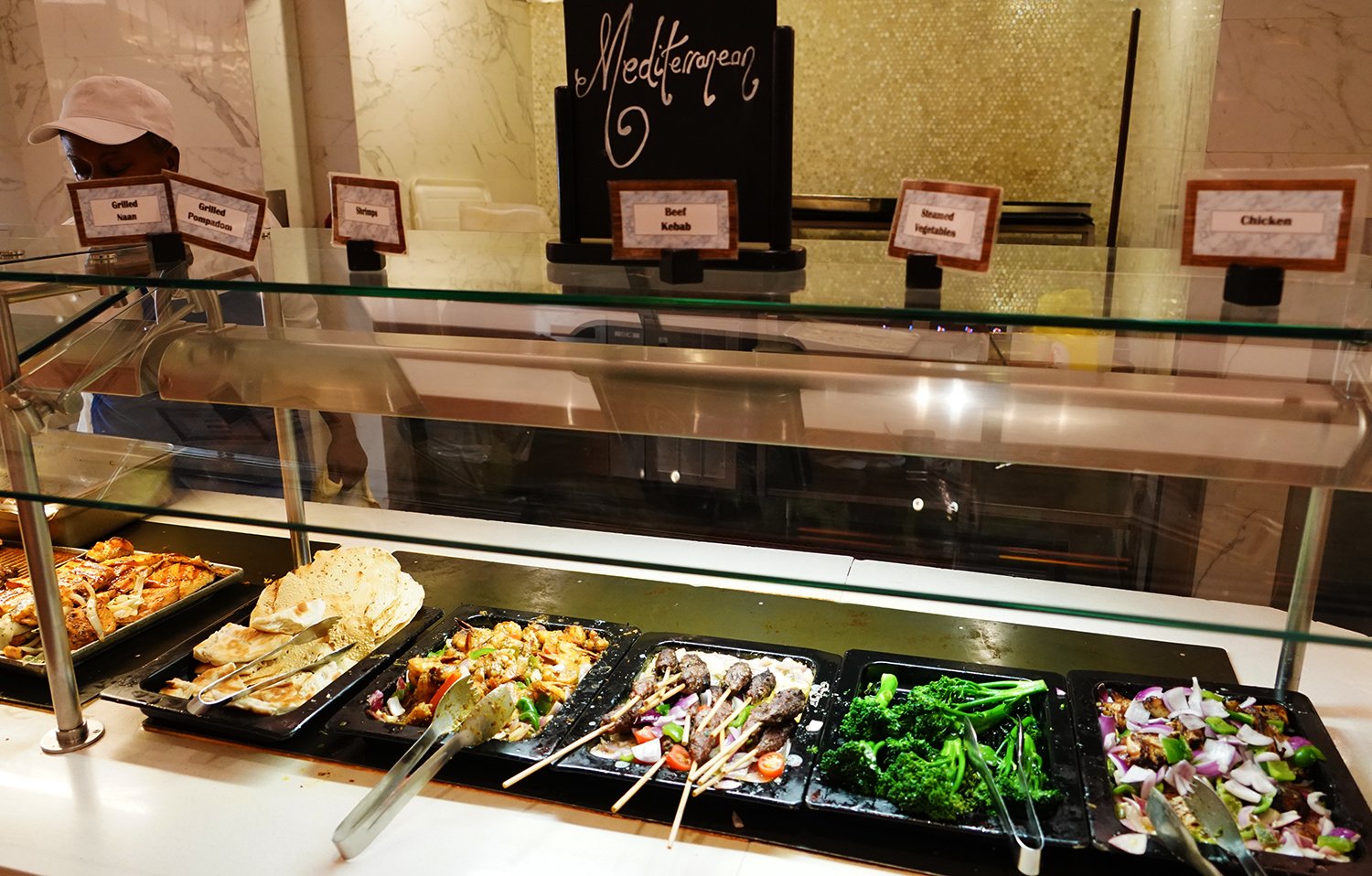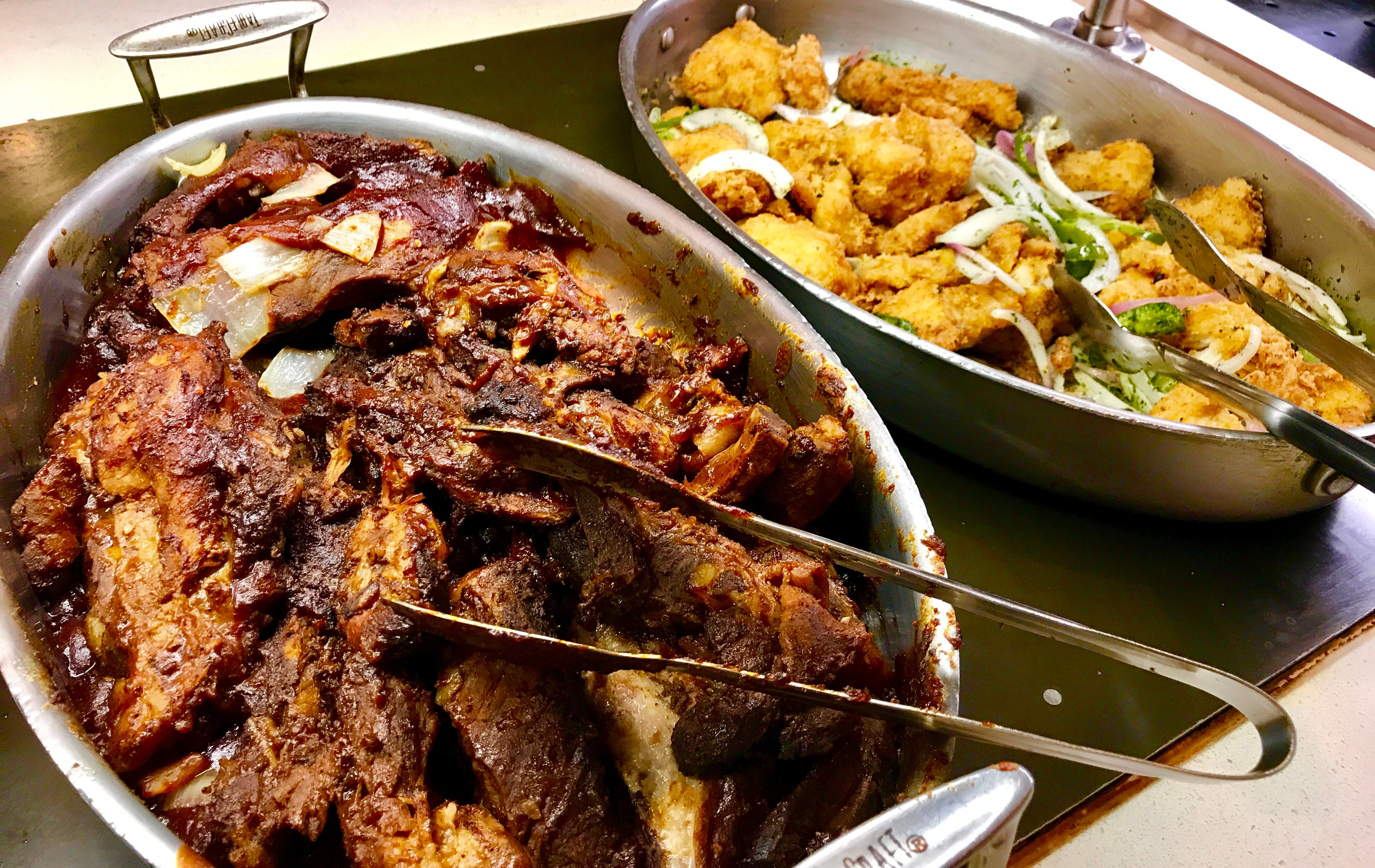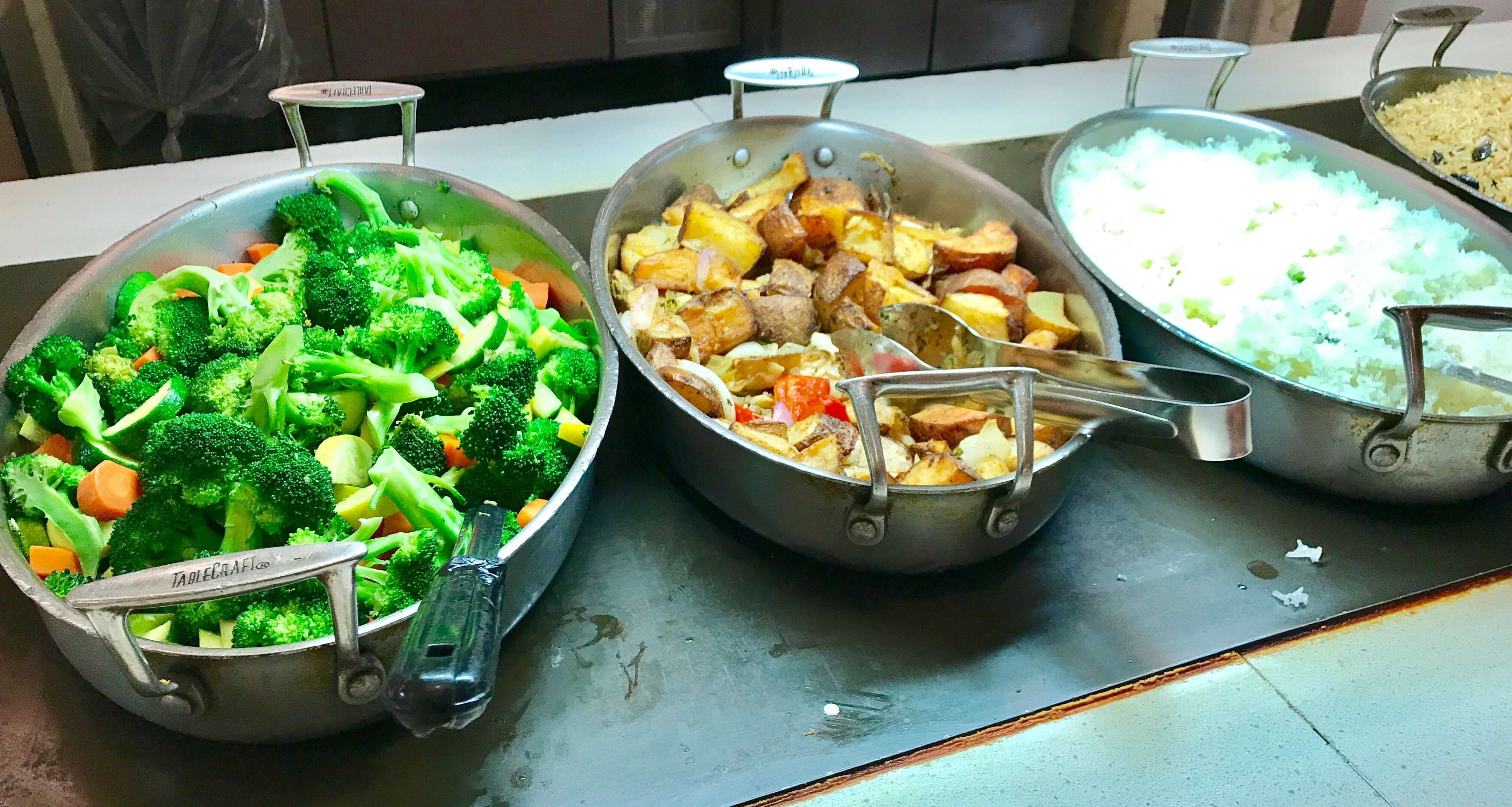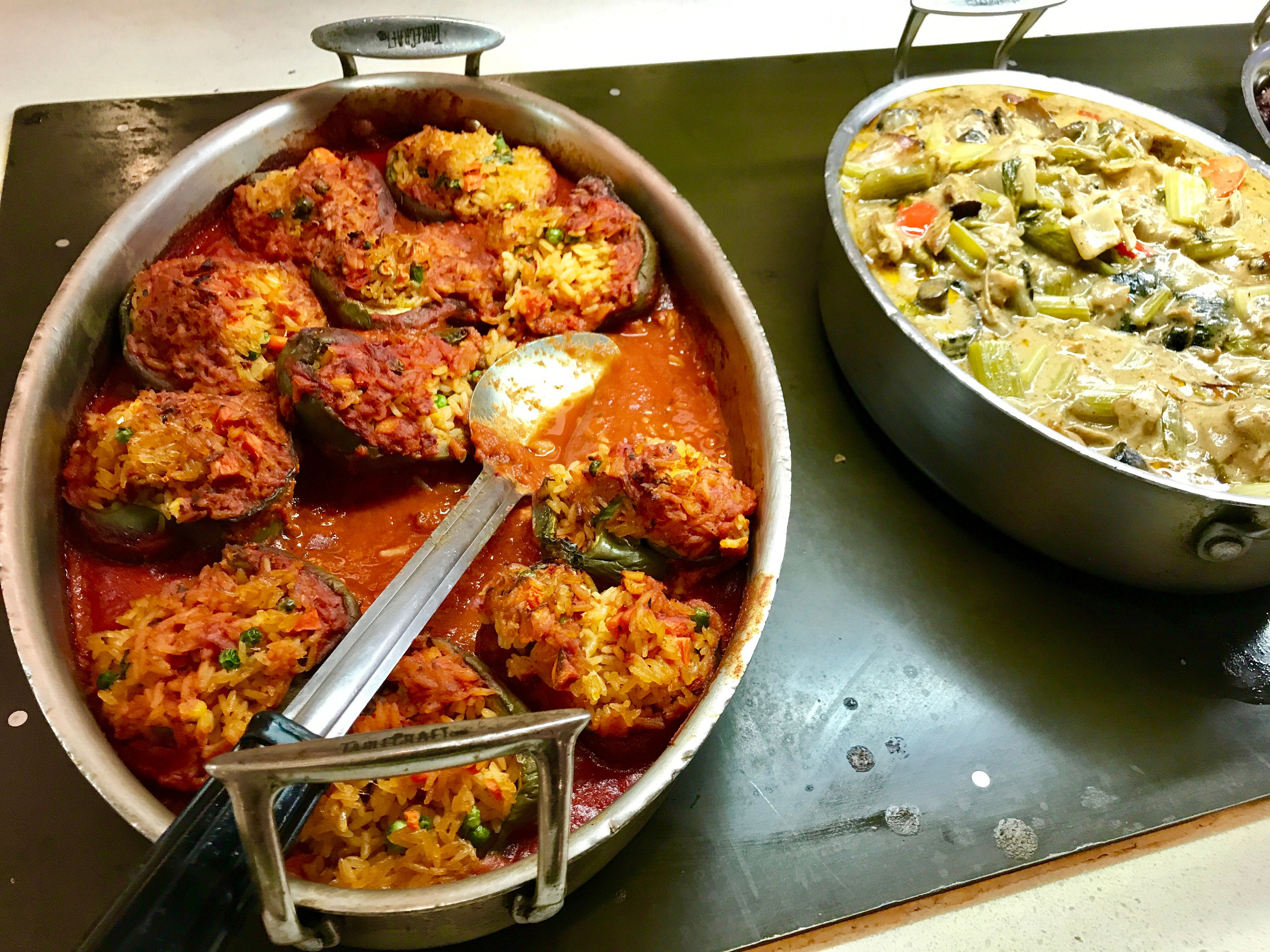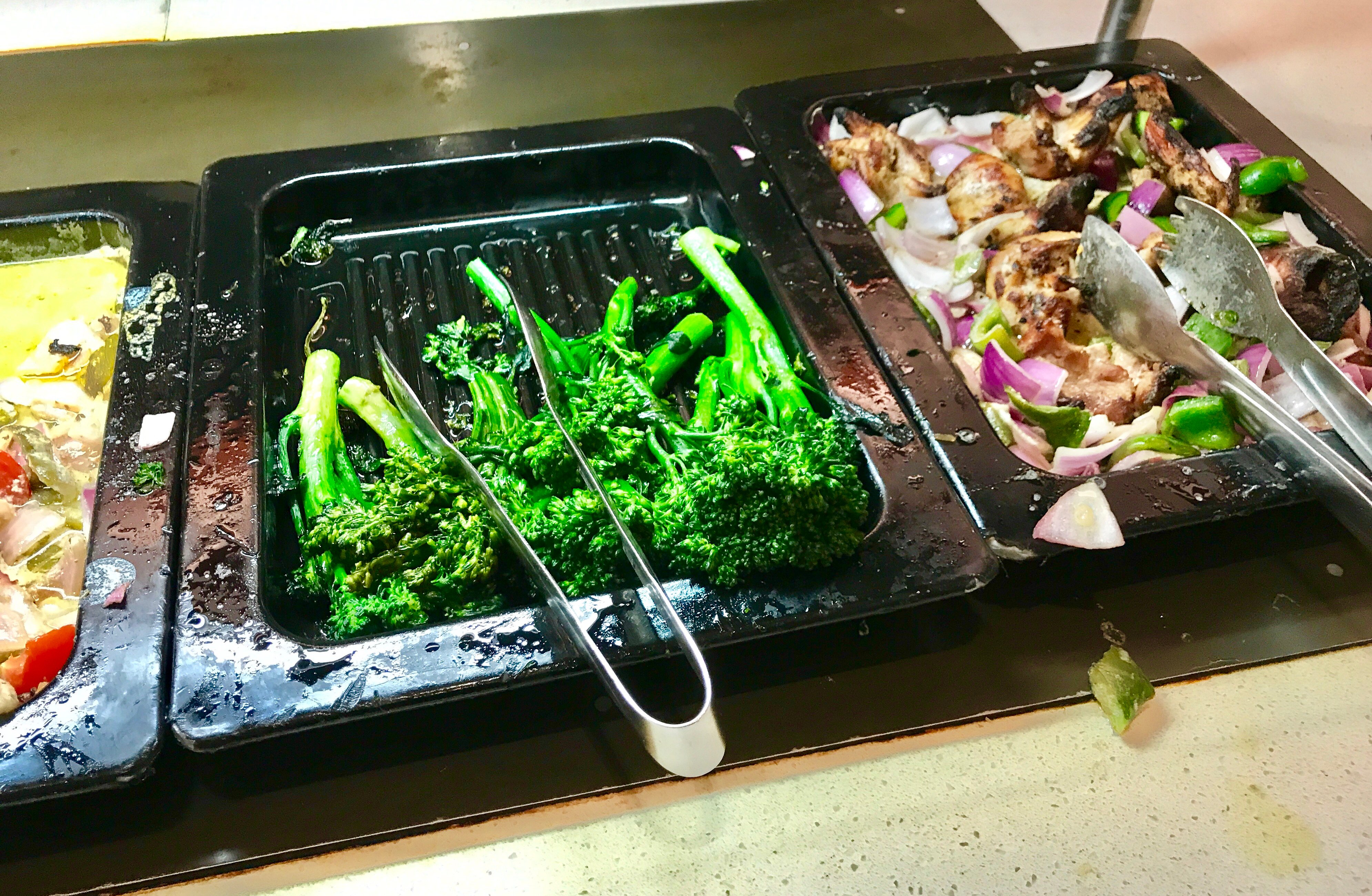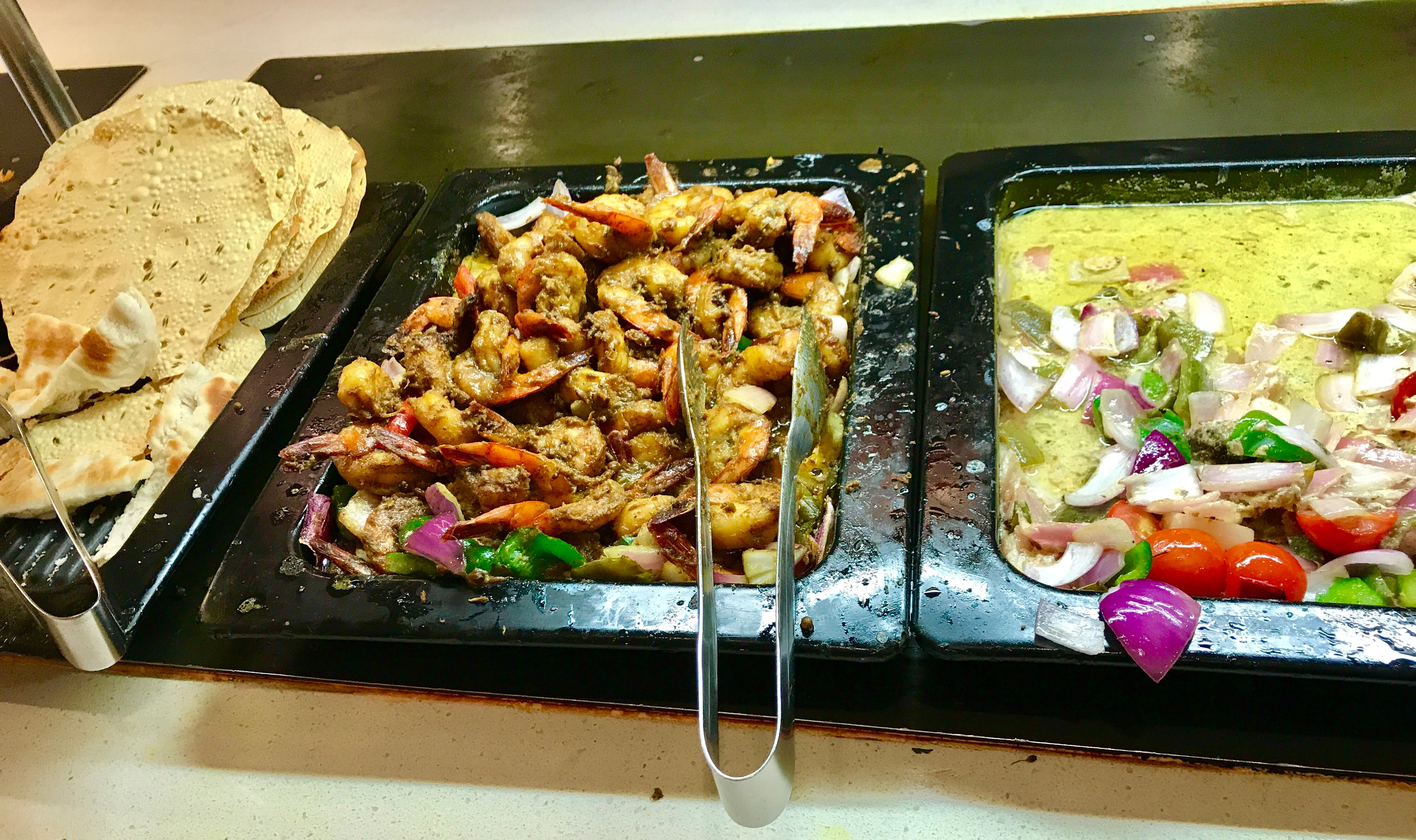 Make your own Tortilla!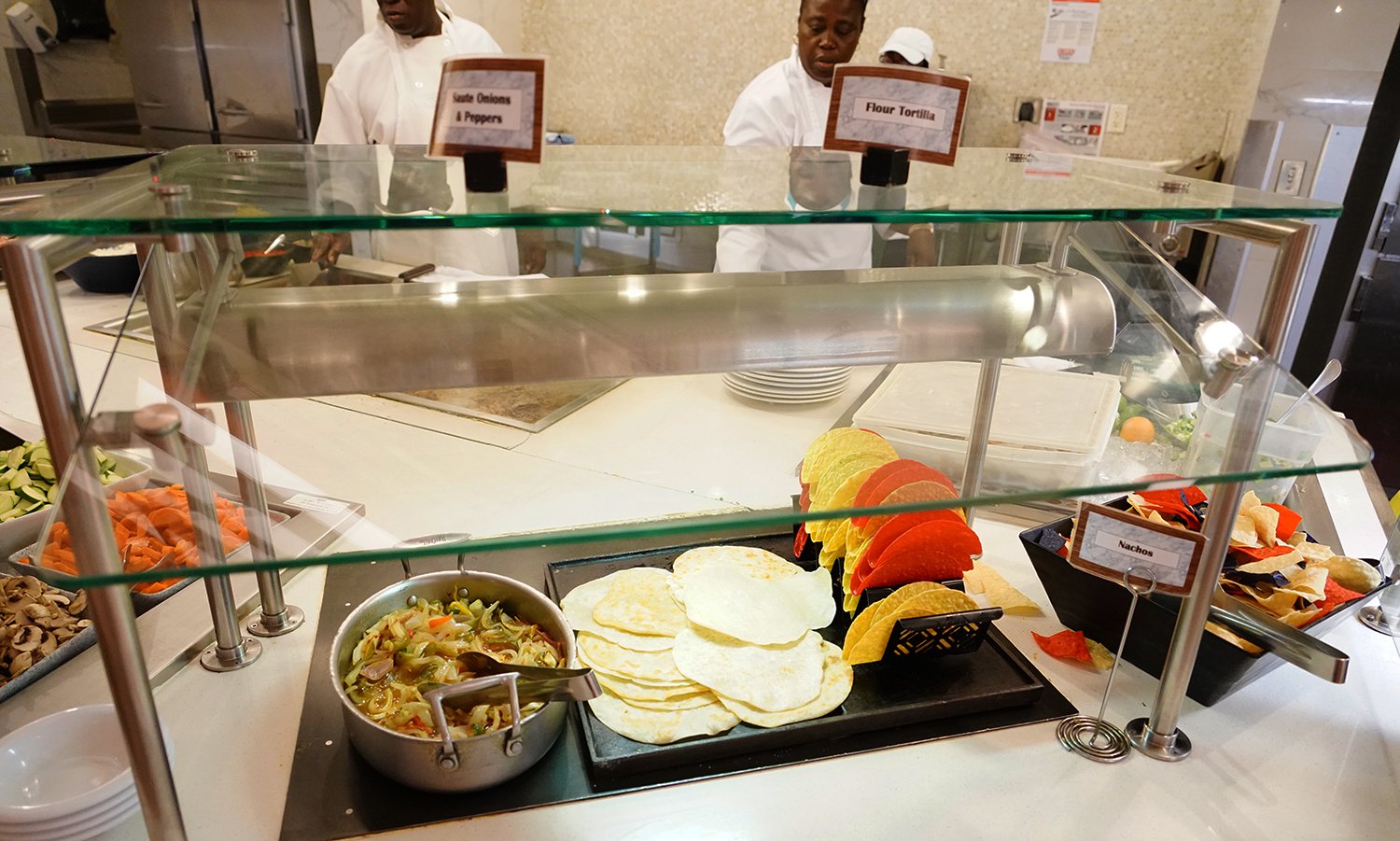 Bread lovers will have no problem finding one that suits their taste.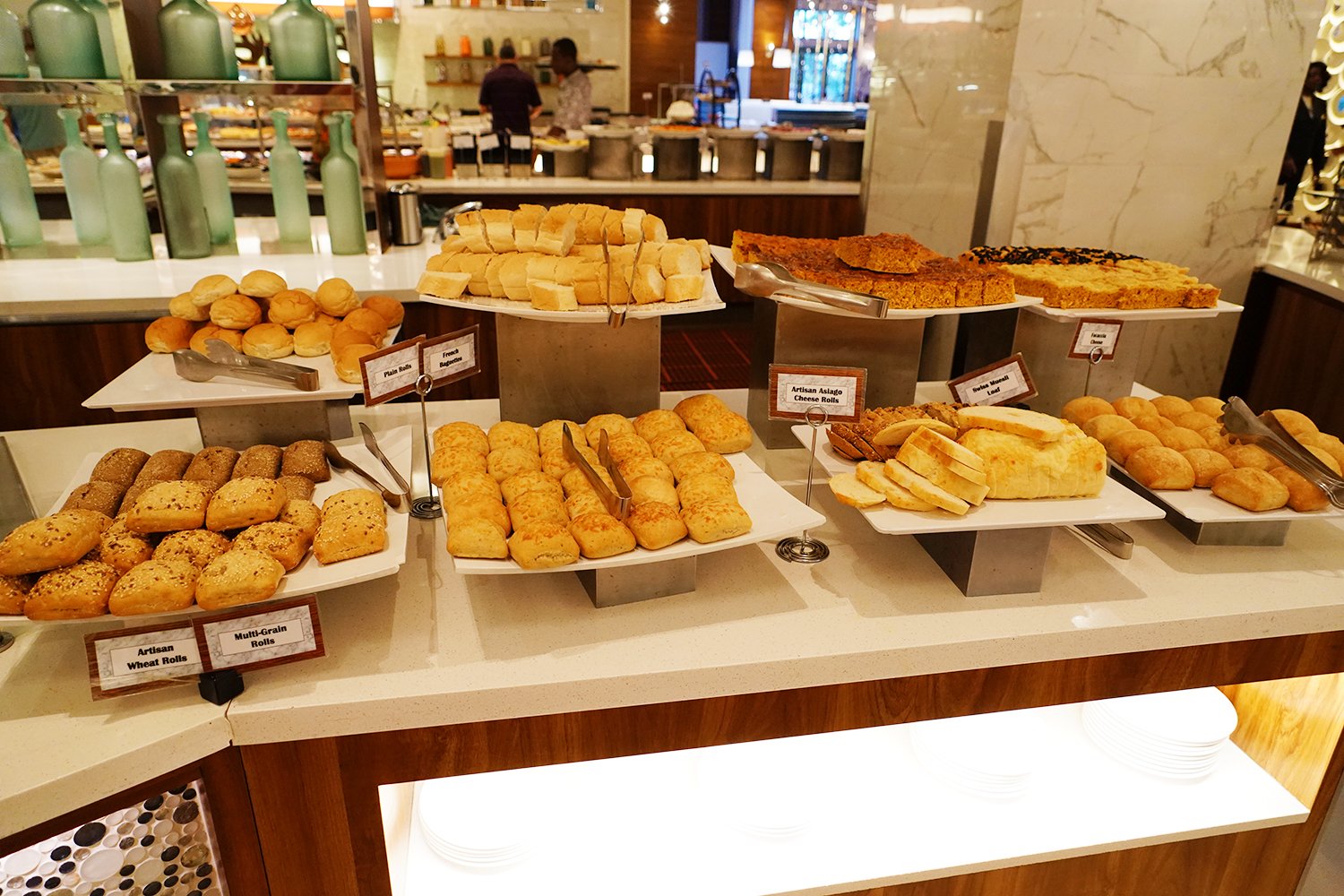 Desserts!
Perhaps the most comprehensive section of all, the cakes and desserts!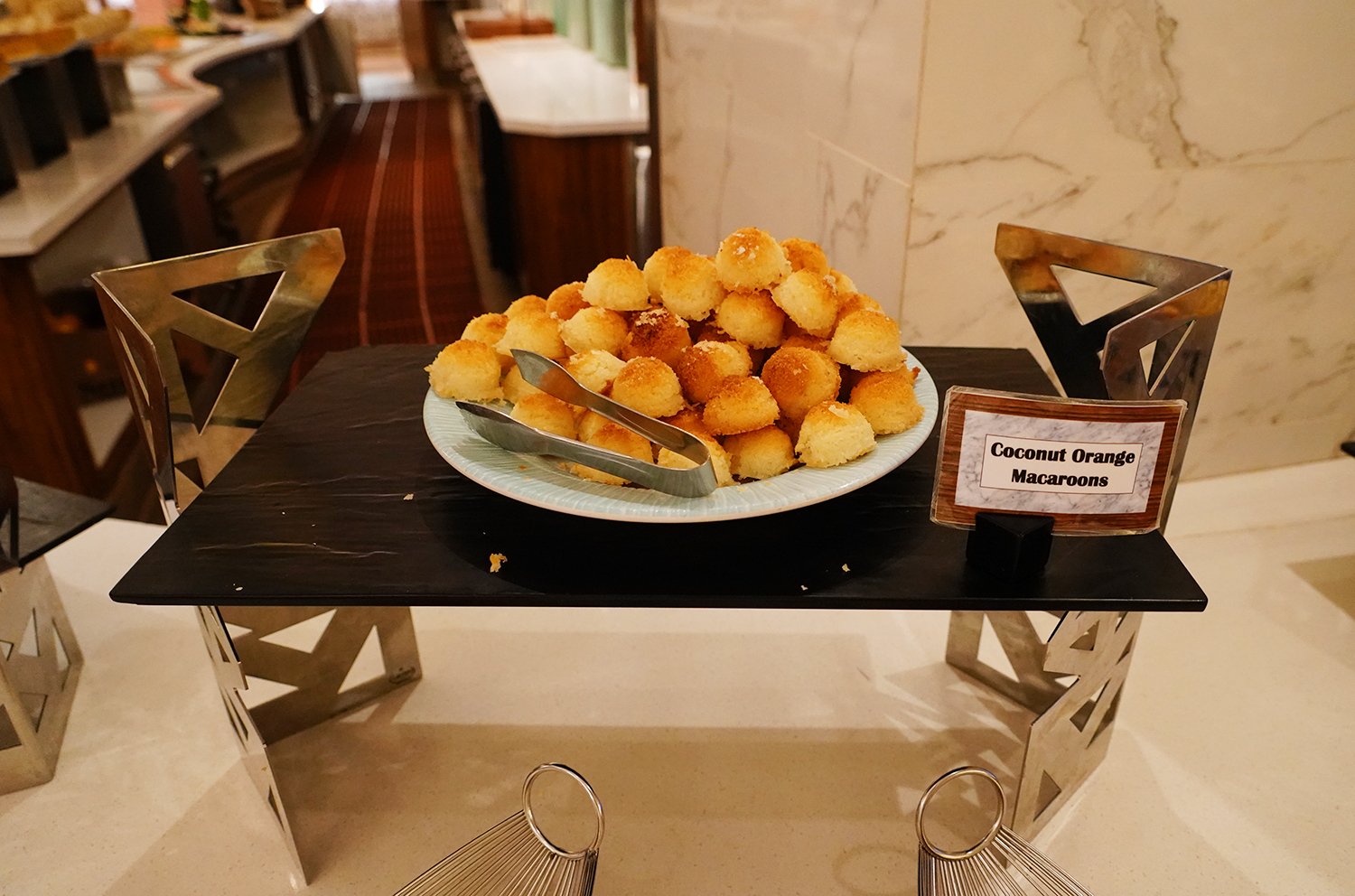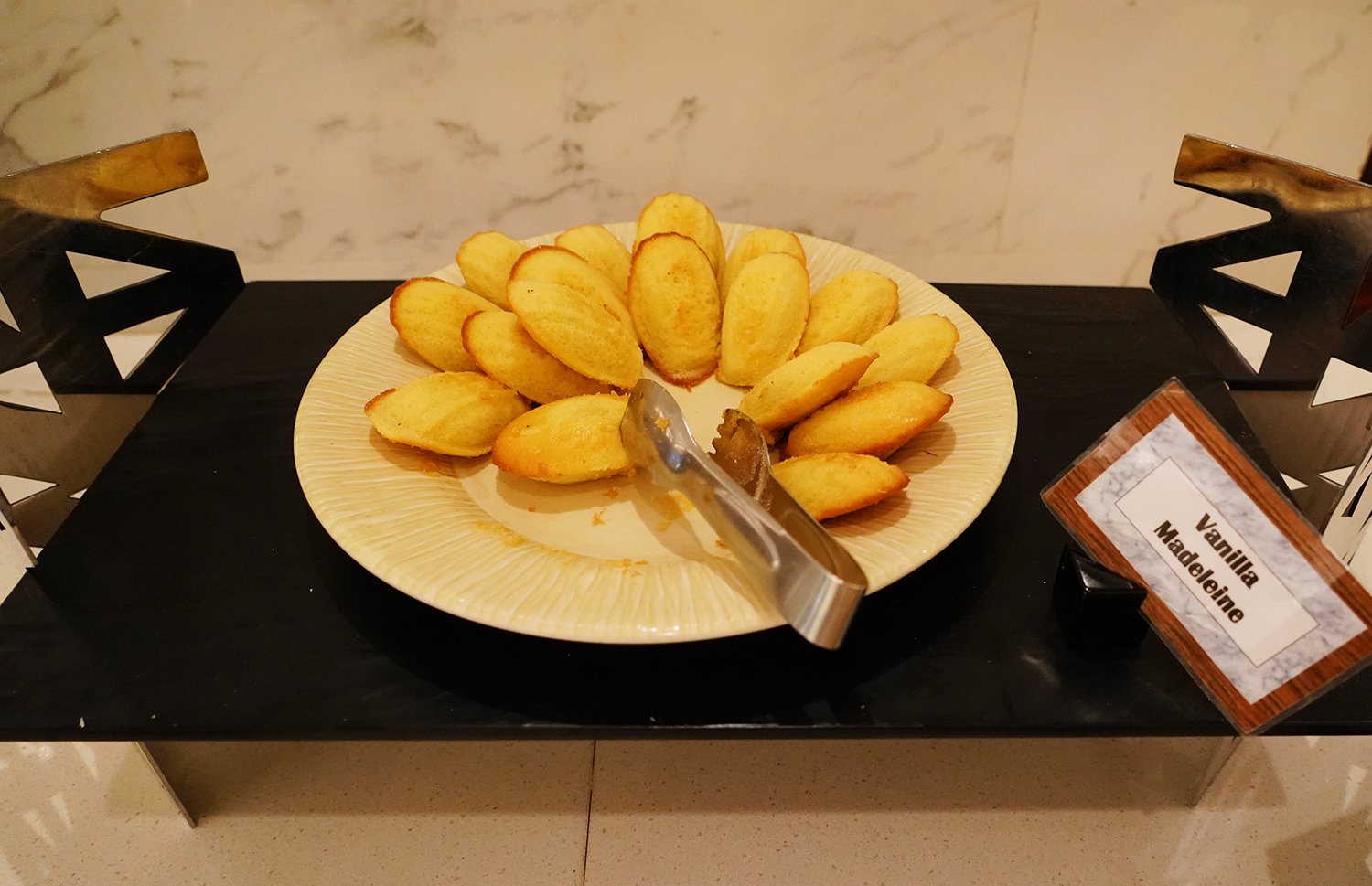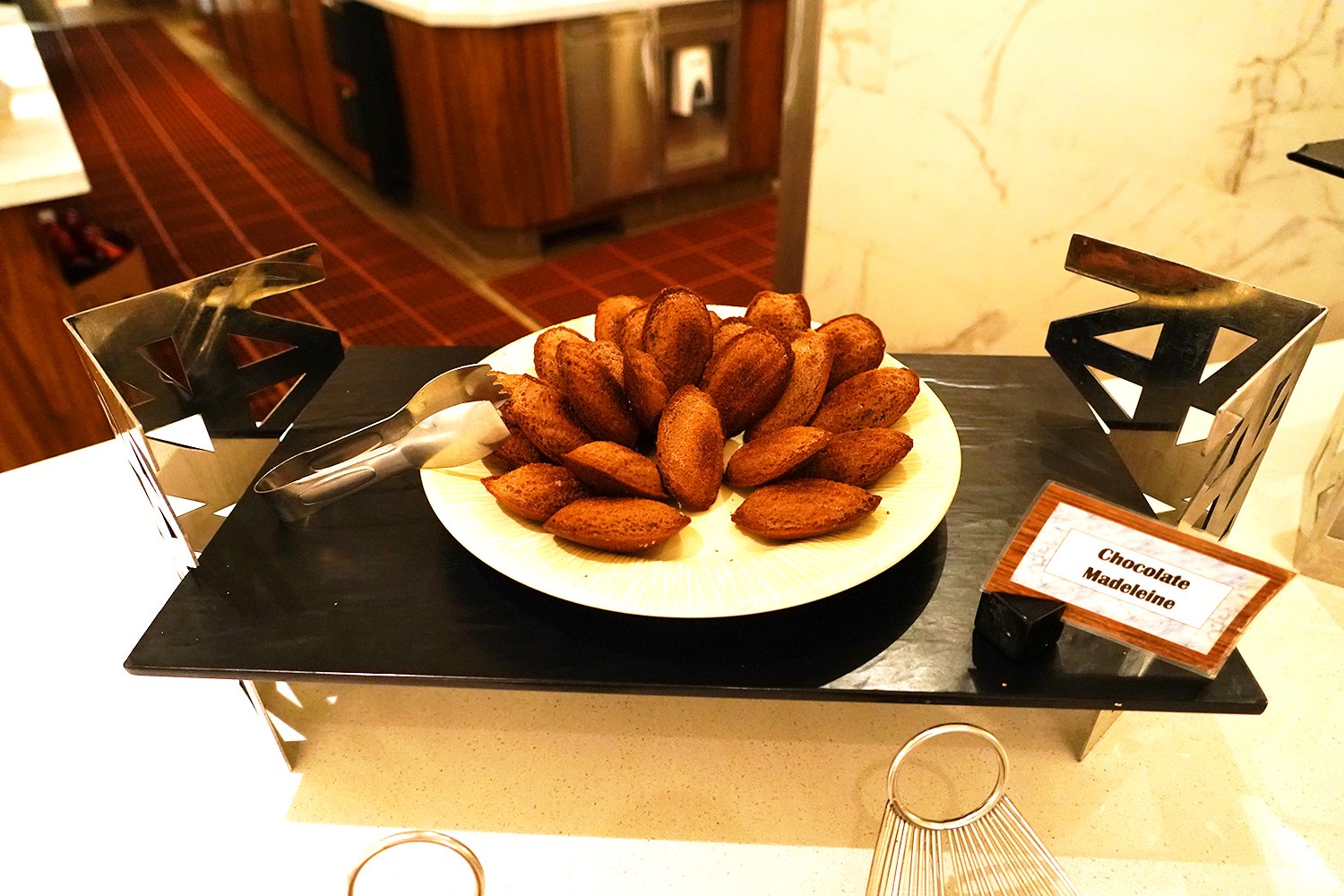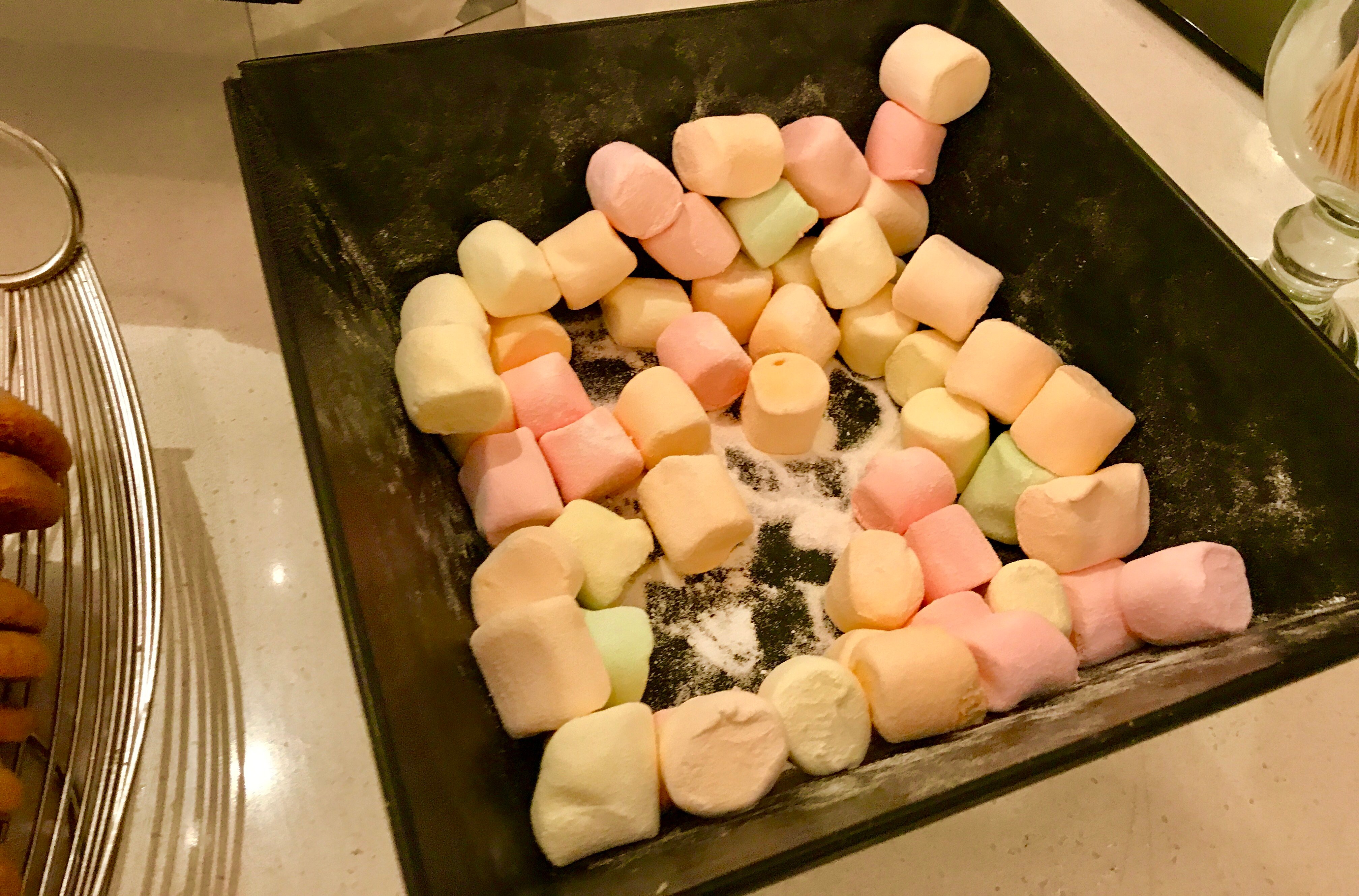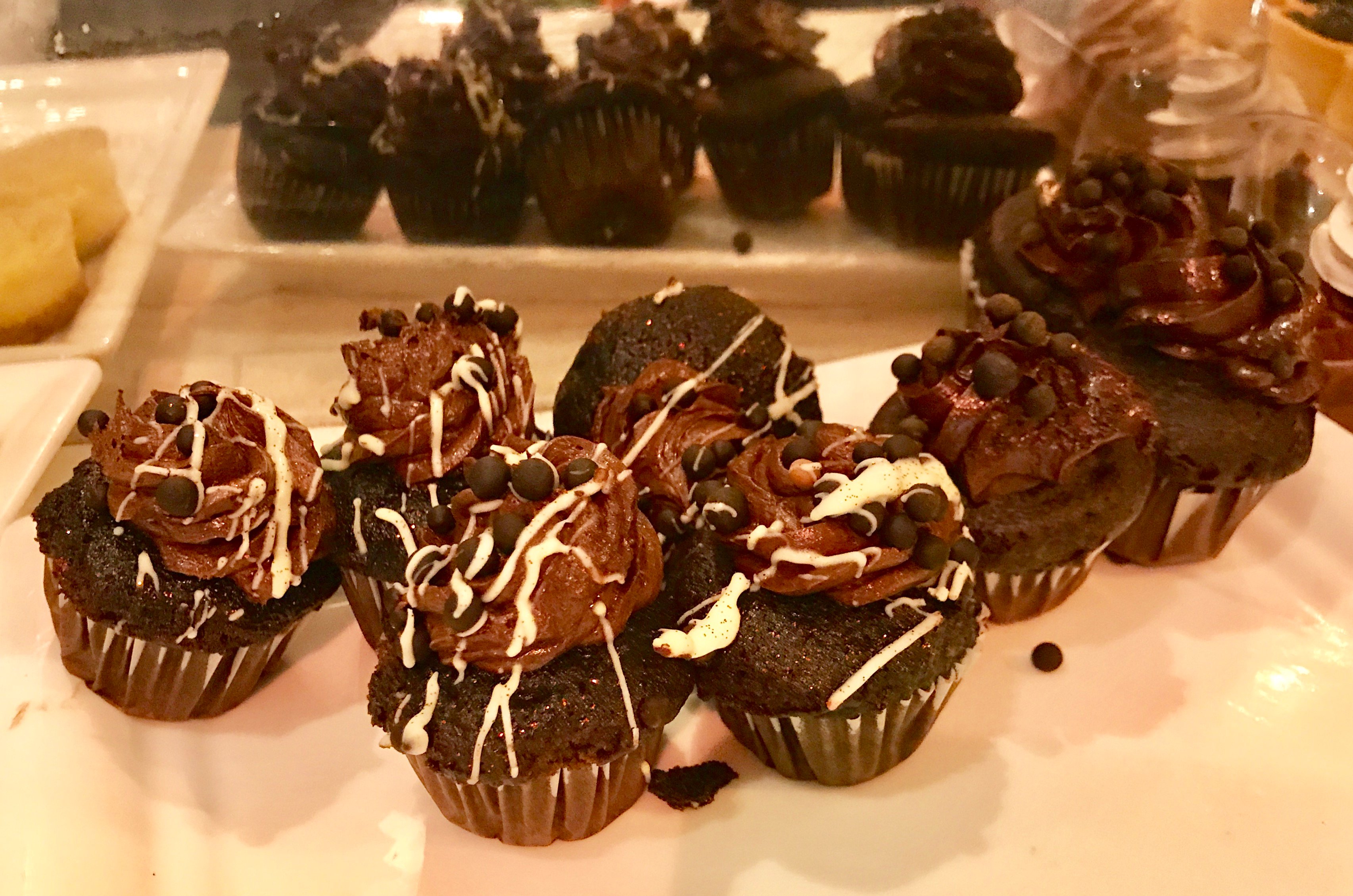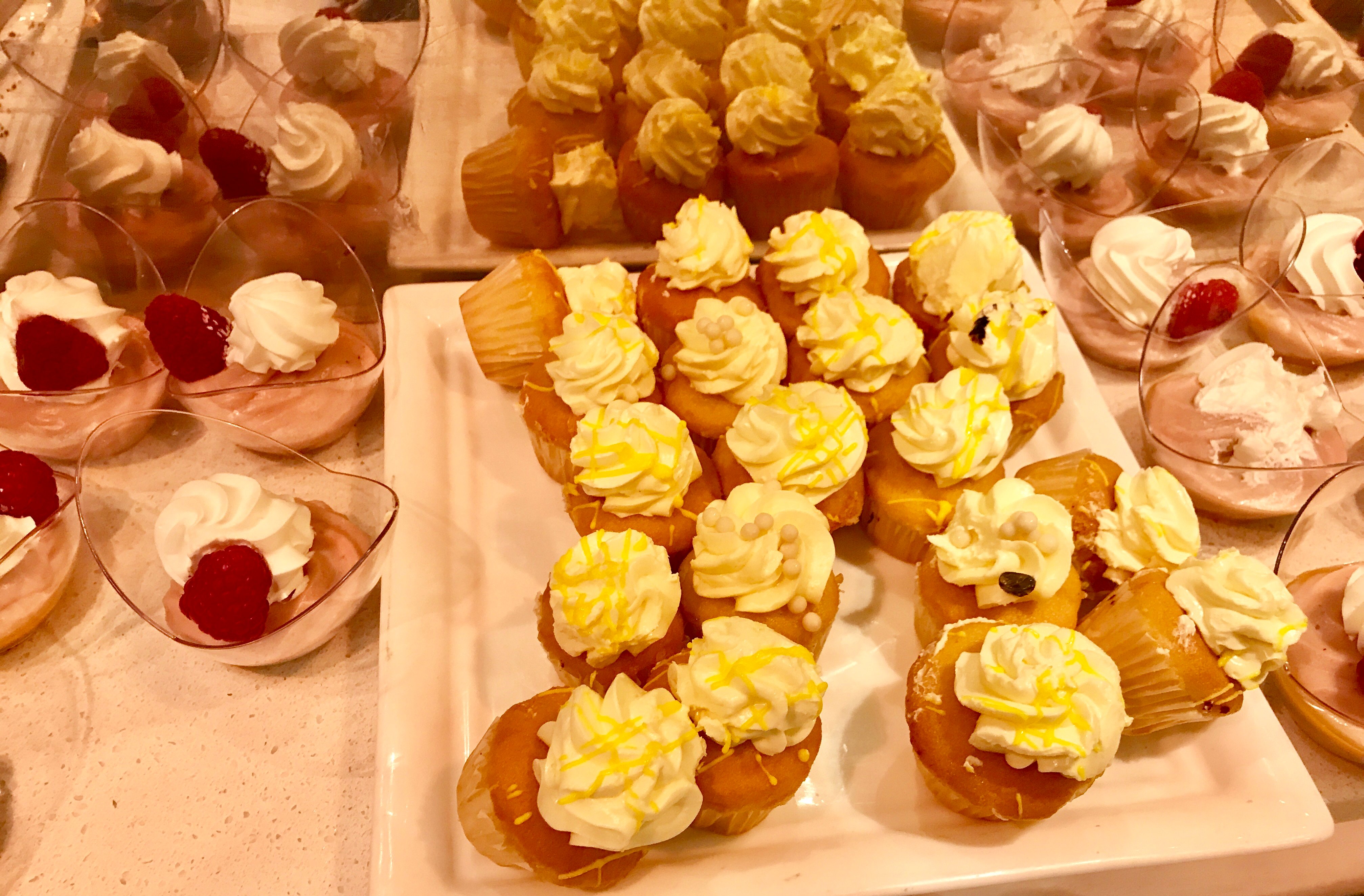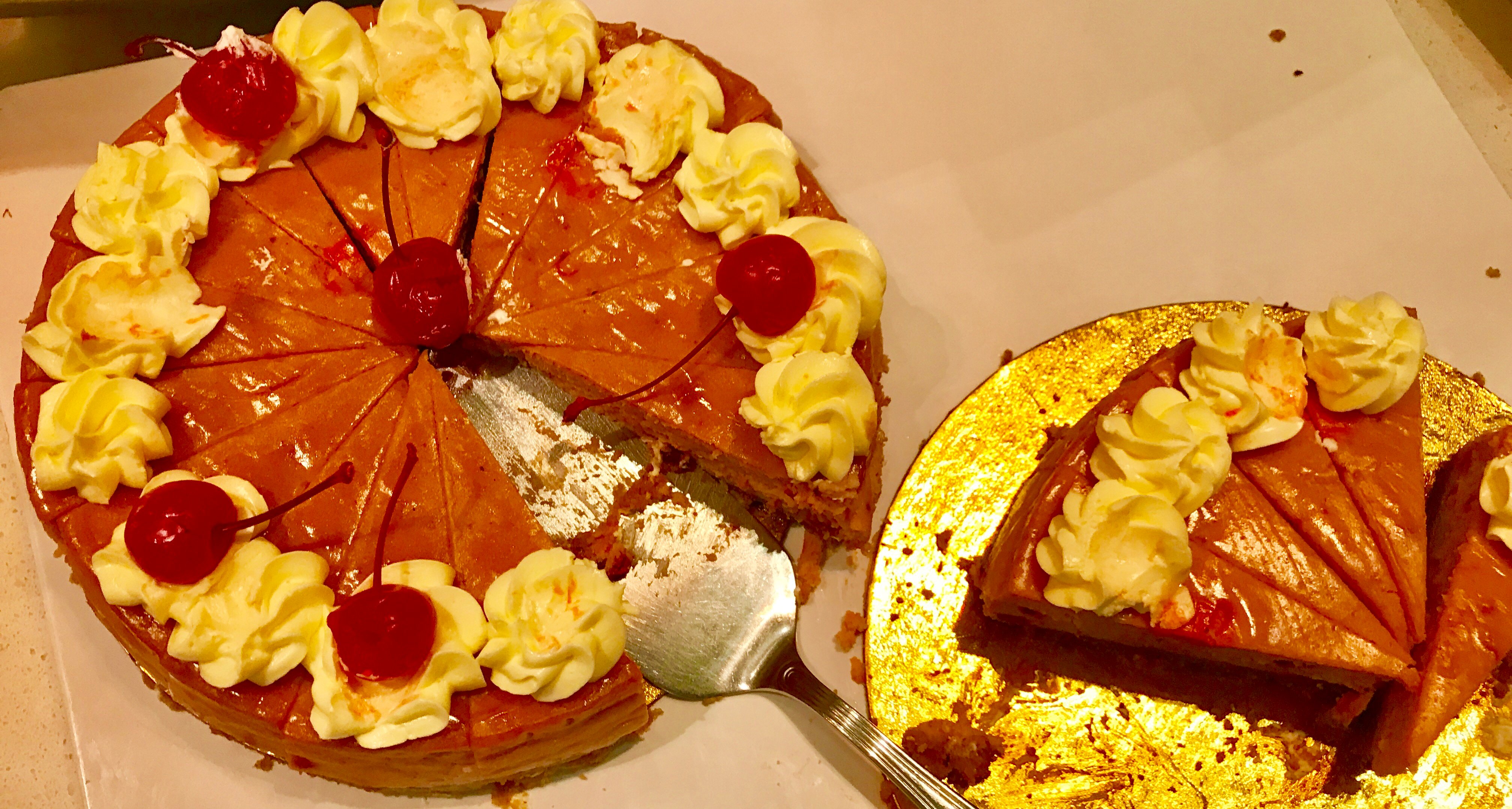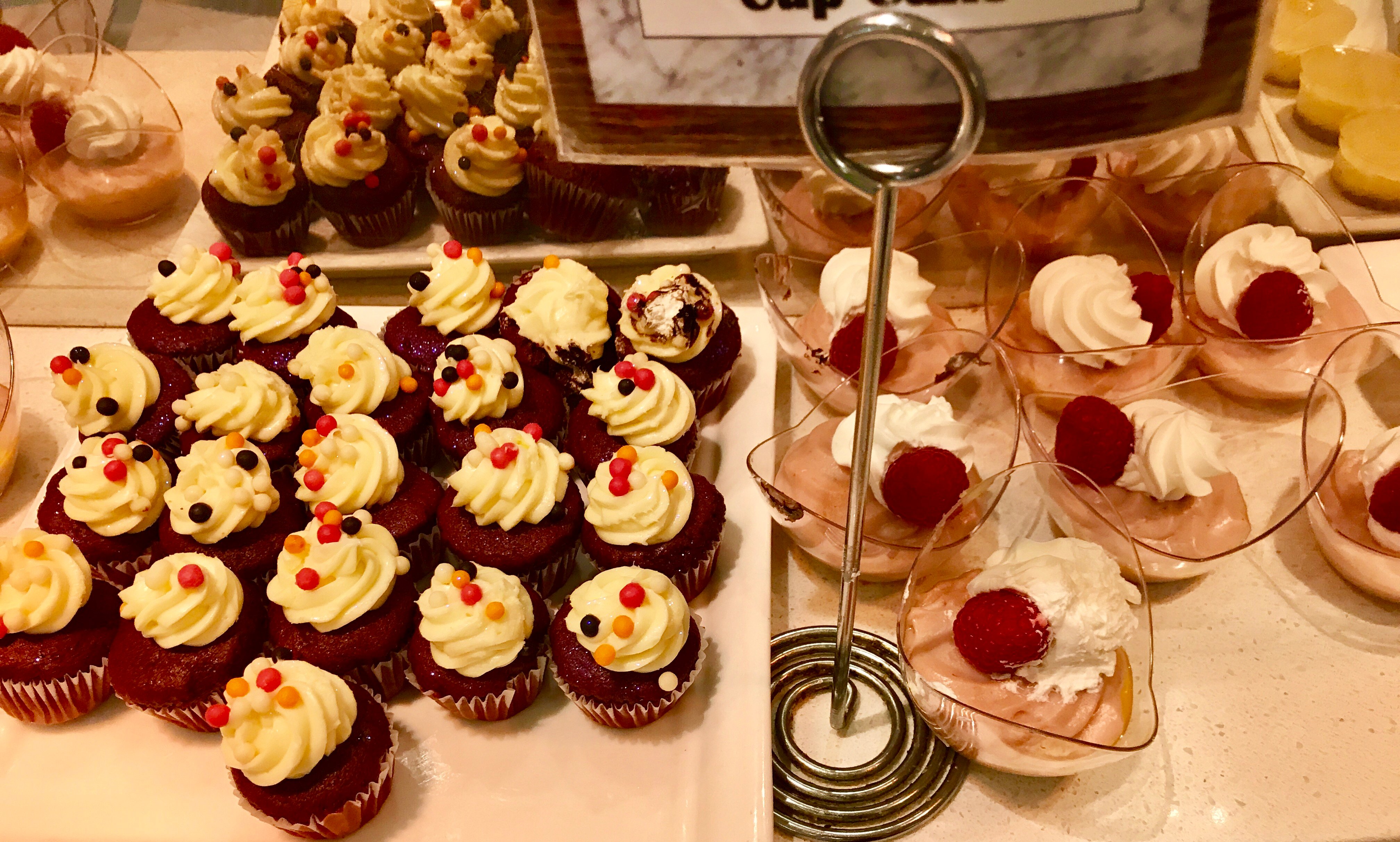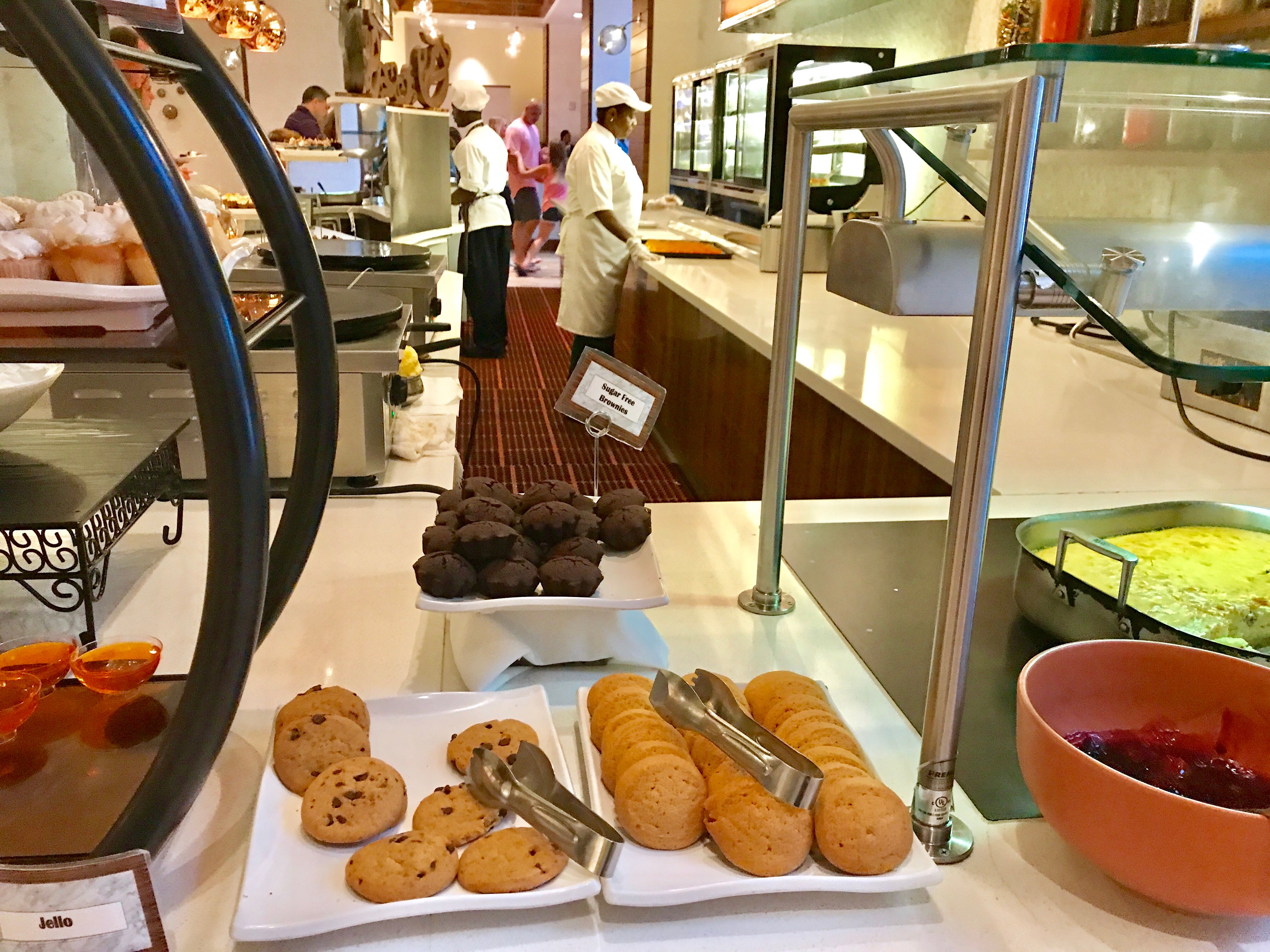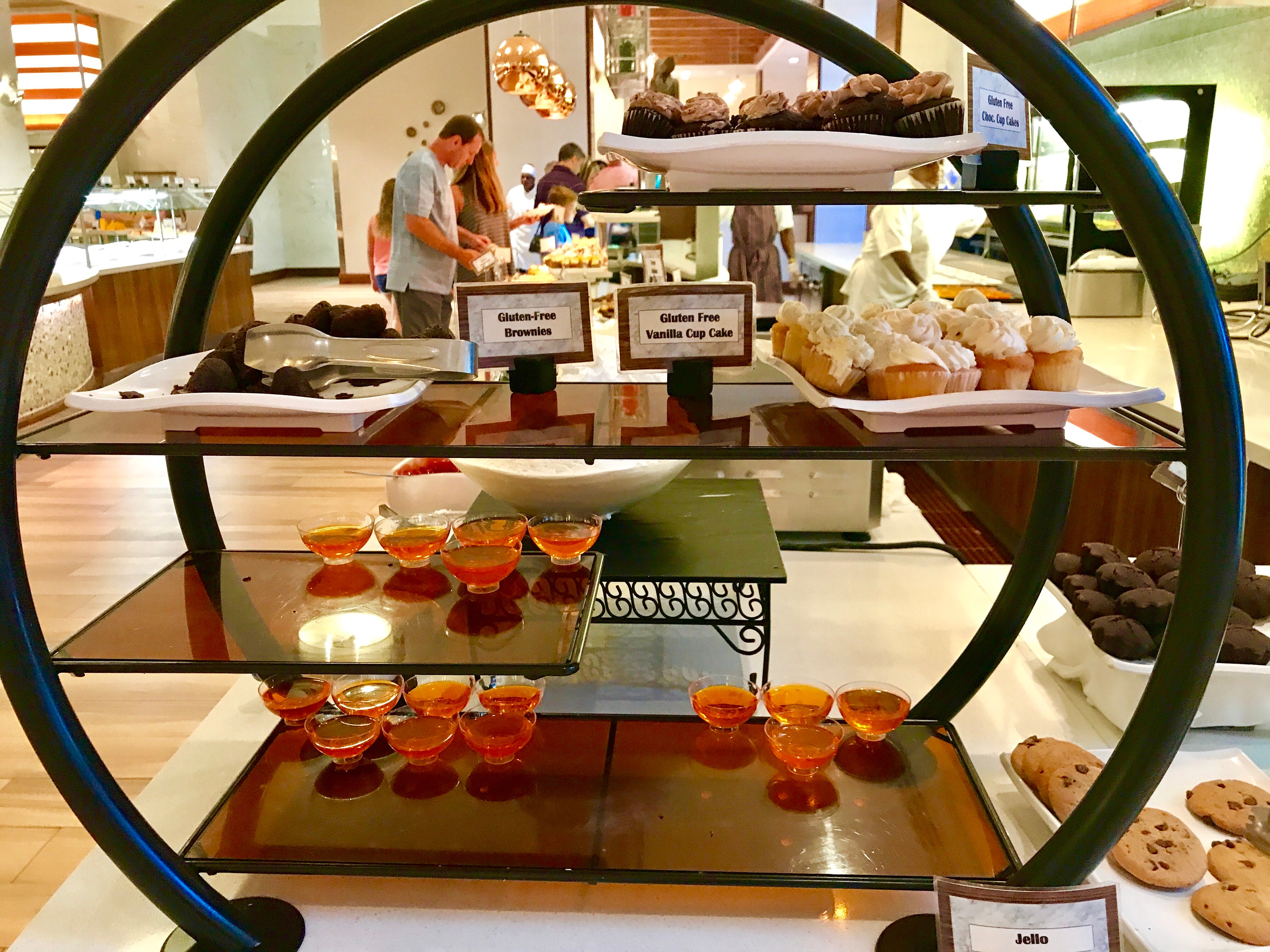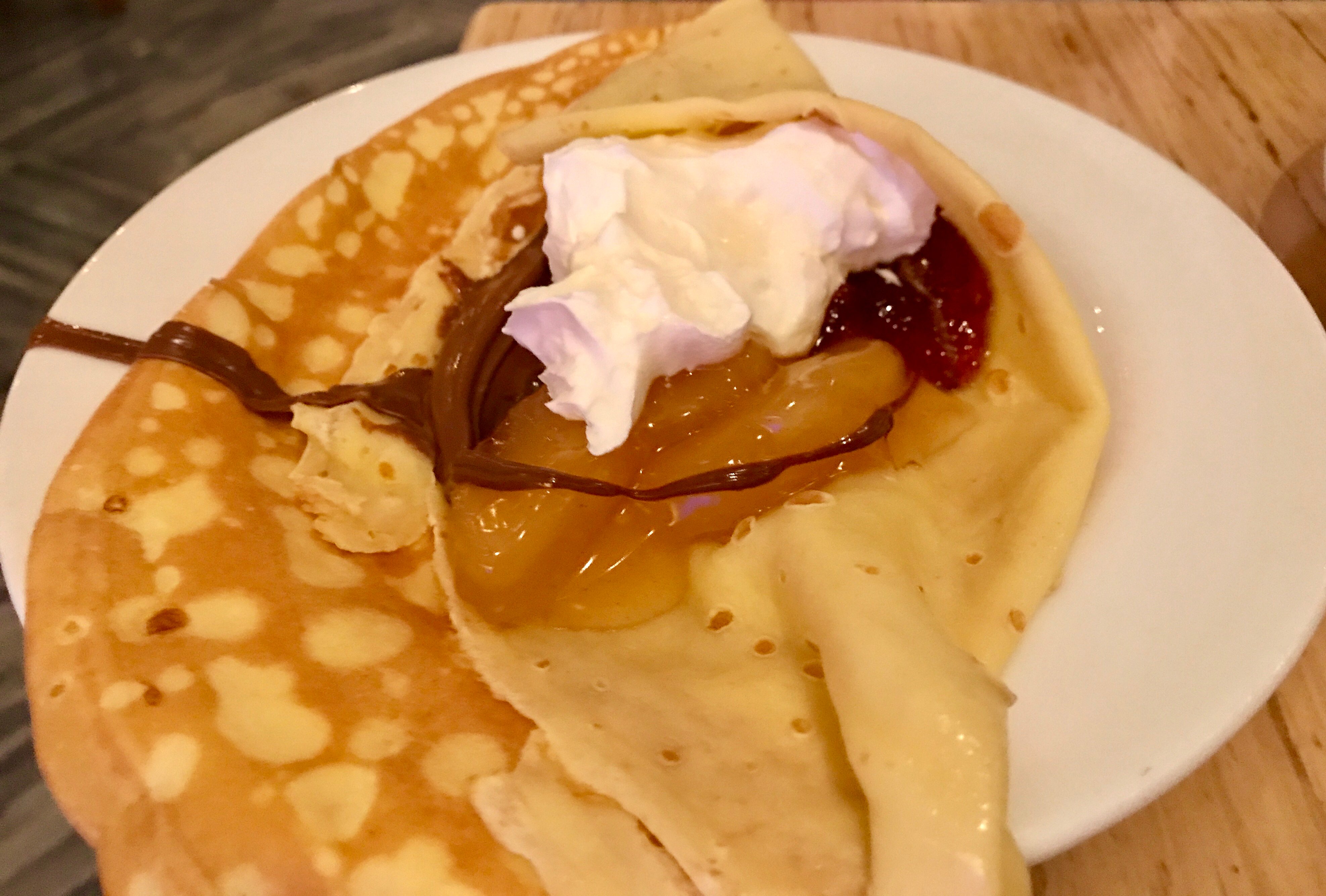 Ben & Jerry's has their own stand here! I of course obliged.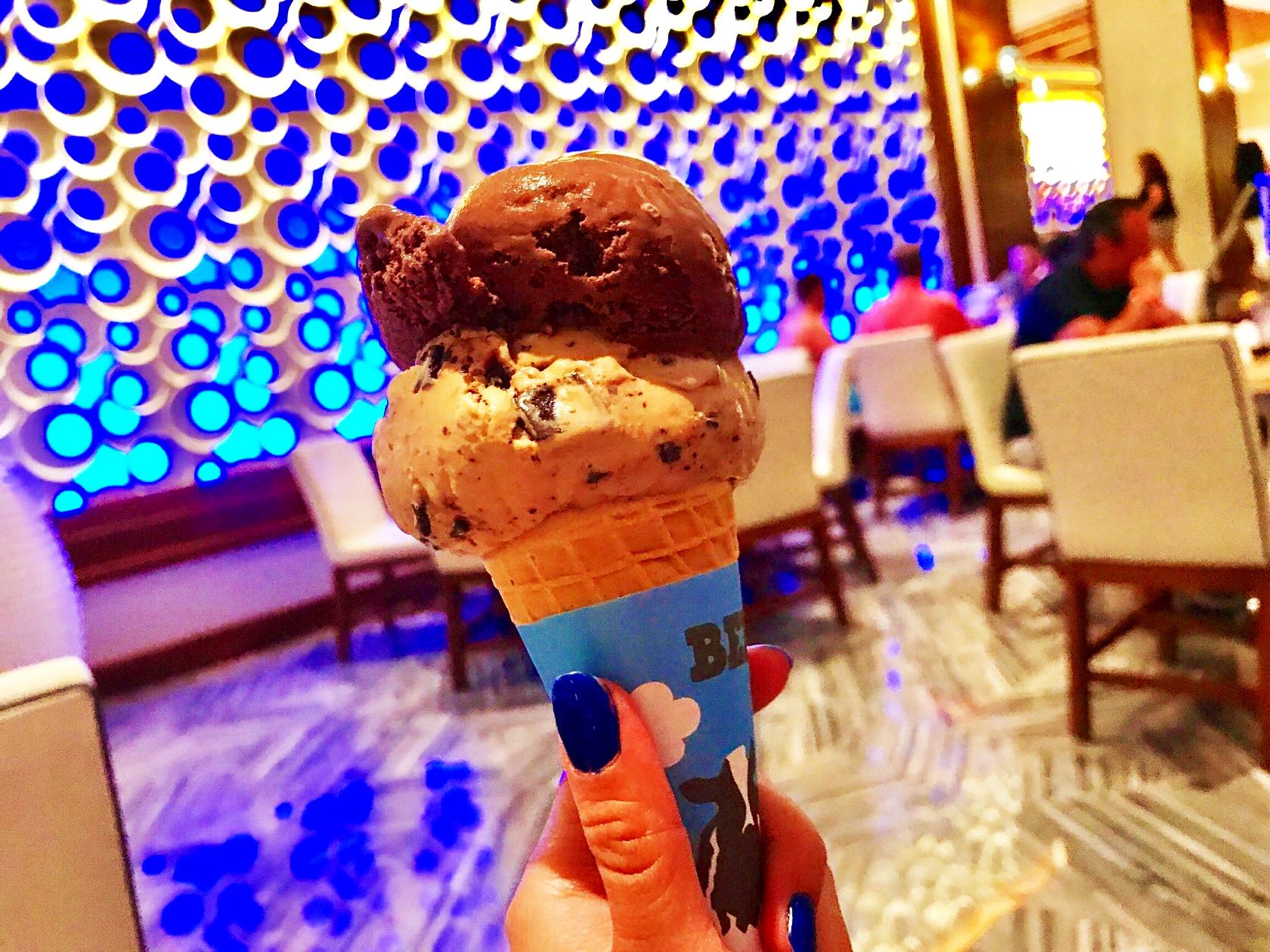 To celebrate a true banquet, a surprise mini Junkanoo sprung out of no where. All the restaurant staff and waiters started dancing and playing on the drums as they paraded around the eating area.
Check out the video below and see for yourself!
---
Poseidon's table is an eatery of epic proportions. There is very little chance that you will not find something you enjoy eating at this place. More likely, you will find it hard to choose what delights to eat and end up missing out on many delicious foods by the time you are full.
My visit entitled me to but a taste of the food from Poseidon's very ample table and has left me in awe of the food the Atlantians are able to enjoy.
I would recommend fasting an entire day before attempting to conquer this restaurant. Even then, you will likely be defeated by the onslaught of food. At least you will walk away with a personal victory! (And a very big belly!)
If you liked this post, please support with an upvote, follow me for more exciting and mouth watering blogs, and leave a comment to let me know what you think!
---
今天我想带大家去探索一下亚特兰蒂斯酒店里的自助餐,经过我这几天在酒店里逛,探索失落国度的废墟遗址,领略了巴哈马最大赌场的风光,我发现这家叫做波塞冬的餐桌的自助餐厅,应该是整个酒店里最有意思,并且吃的菜式种类最丰富的餐厅了,今天我们就选定这家自助餐厅,一起来品尝美味吧。
这家餐厅的名字最先吸引了我,波塞冬是希腊神话中的海神,宙斯的哥哥,黑帝斯的弟弟。他的坐骑则是白马驾驶的黄金战车。三叉戟是波塞冬的武器。当初宙斯三兄弟通过抽签均分了势力范围,宙斯抽中天空,黑帝斯抽中冥界,波塞冬则成为了大海和湖泊的君主。关于波塞冬还有这样一个传说,在一个小岛上,有位少女父母双亡。海神波塞冬娶了这个少女还生了5对双胞胎。后来波塞冬把整个岛划分成0个区,让10个儿子来统治。长子则是最高统治者,因为长子名叫"亚特拉斯",所以他统治的国家叫"亚特兰蒂斯"。虽然听说,根据专家分析,这个消失的帝国最有可能存在于希腊的圣托里尼,虽然我去过那里,但是当时不知道自己与这个神秘帝国那么的接近。好在这次来到曾经是海盗天堂的天堂岛上,也有这么一座充满神话气息的亚特兰蒂斯酒店,可以让我好好感受下这一段文化和传说。所以说这家餐厅的名字波塞冬,原来与亚特兰蒂斯在传说中有这样深远的关系,确实应了亚特兰蒂斯失落帝国主题酒店的概念。
走进这家餐厅,生意非常火爆,还等了一小会位置。先看看餐厅的装修,以现代化抽象派的元素为主,墙上大大小小的圆组成了一面墙和一块块玻璃。打着蓝黄相间的光。我非常喜欢屋顶的吊顶的大玻璃,白天透光性一定非常好。更有趣的是,吊顶下面的镂空墙里放着一排排蓝色的酒瓶作为装饰,真的非常独特。现在赶快跟着我去看看吃的吧。放眼望去,满眼都是鲜艳红黄蓝绿色的新鲜蔬菜,水果和沙拉,真的太健康了,尤其在热带的地方,这些属于必需品了。各种奶酪,火腿惹人馋。还有现烤出来的猪肉。我首先奔着寿司去了,岛上能做出这么多新鲜的寿司,还真让我惊讶。也许是托了酒店里另一家餐厅在全球都是高人气的日料店Nobu的福。一个个已经做好,就差进烤箱的皮萨也非常诱人。关于热食好像也有不少新鲜的菜式,各种青椒包着的海鲜,各种烤虾,烤鱼。最后是一大片甜品区,真是满足了大家的胃口。除了各种小面包,制作精美的蛋糕摆满了整个桌子,我站在那纠结了好久,都不知道要先尝哪一块蛋糕。下面是我丰盛的晚餐了,各种烧烤蔬菜,鸡肉和鱼,还有新鲜的贝壳类海鲜满足了我在海边度假的最大夙愿,当然还有我自制的可丽饼和班杰利的冰激凌。最惊喜的是餐厅里的员工们极具音乐天赋,拿着各种盆子碗道具,表演起了当地的民族音乐和舞蹈。希望大家喜欢今天的自助餐之旅,之后还有更多好吃的加勒比美事要分享给大家。