This ground beef rice soup video recipe is so easy, hearty and delicious. This soup recipe is great for using the vegetables you have on hand and you can use any rice that you like. This beef rice soup is simple , budget friendly and I am sure you will enjoy. VIDEO RECIPE below.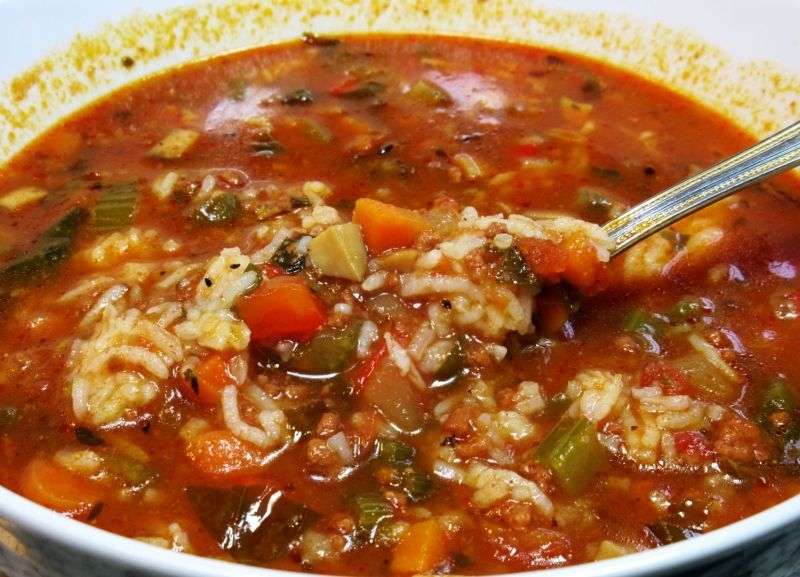 Beef Rice Soup ~ Ground Beef Recipe
INGREDIENTS:
1 pd. ground beef 85/15
1 cup diced onion
1 cup diced carrots
1 cup diced bell pepper
1 cup diced celery
1 cup diced mushrooms
salt and black pepper
diced chili pepper - optional for heat
1 cup fresh chopped celery leaf tops - divided into two
8 cups beef/chicken/vegetable broth
1 can diced or crushed tomatoes
1/2 cup fresh chopped parsley
1 tsp. garlic powder
1 tsp. thyme
2 bay leaves
1/2 tsp. garlic powder
In a pan on medium high heat add ground beef. Cook, stir and chop until no longer pink.
Add diced onions, carrots, bell peppers, celery, mushrooms, salt and black pepper.
Cook and stir for 5-7 minutes until veggies start to cook down.
Add chili pepper (optional) and chopped fresh celery leaves. Cook and stir one minute.
Add in broth and tomatoes. Stir.
Turn up heat to bring up to a simmer.
Add chopped parsley, garlic powder, thyme and bay leaves. Stir and simmer for 20-30 minutes.
Give a taste test and add any seasonings that you like. Add in other half of chopped parsley.
Stir and cook for another 5 minutes.
Cook rice according to package instructions. Add rice to pot of soup or to individual servings.
Enjoy.


PRODUCTS I AM USING ------ AFFILIATE LINK
Tess Cooks4u Amazon Store
https://www.amazon.com/shop/tesscooks4u
I love my copper bottom Revere set
http://amzn.to/2hVqWSl
Mountain Woods Wooden Utensil Set, 8 Piece
http://amzn.to/2hVrnMu
Cento Crushed Tomatoes
http://amzn.to/2rM7zjT
McCormick Culinary Bay Leaves
http://amzn.to/2j8ULMk
McCormick Garlic Powder
http://amzn.to/2iGA6TG
McCormick Thyme Leaves
http://amzn.to/2hPgEjr

Follow TESS COOKS4U on Social Media:
WEBSITE ~ TESS COOKS4U AMAZON STORE
EMAIL: tesscooks4u@gmail.com

All images, videos and content are my original work.
Taken with Canon PS SX670 HS.
Please ask before borrowing. Thank you, Tess.

Please UPVOTE and FOLLOW me. Thank you and have a wonderful day.

Much Love, Tess :)