Learn how to make the best authentic Chinese Kung Pao chicken stir fry. This spicy Chinese chicken stir fry recipe is so good with spiciness, sweetness and saltiness. The Szechuan peppercorns give this Kung Pao chicken stir fry a unique spicy taste. Hope you give this Chinese stir fry a try and....enjoy! VIDEO RECIPE BELOW.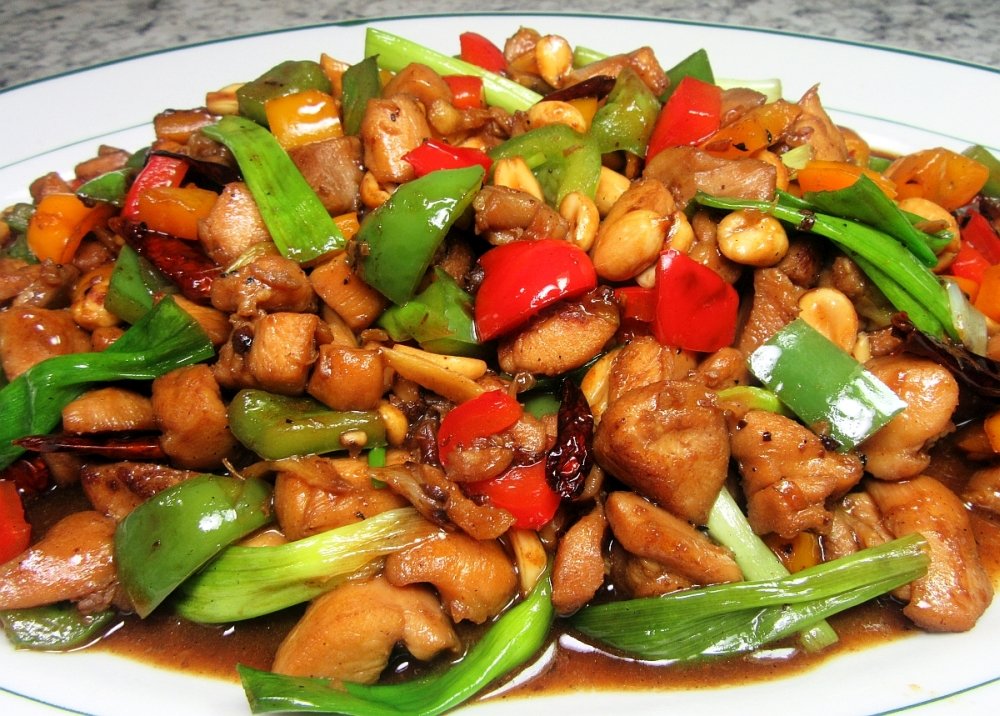 BEST Chinese Kung Pao Chicken Stir Fry
INGREDIENTS:
1 pound cubed or sliced boneless chicken thighs
1 1/2 cup diced bell peppers
6 green onions - whites and greens separated
8-10 dried red chilies
4-5 large cloves minced garlic
2 tsp. minced or sliced ginger
1 tsp. Szechuan / Sichuan peppercorns
oil
Chicken Marinade:
Cubed chicken
1/2 tsp. dark soy sauce
1 tbsp. Shao Xing wine
sprinkle white pepper
1/4 tsp. baking soda
*Mix above ingredients and marinate for 15-30 minutes
Sauce:
1/2 cup chicken broth or water
1/2 tsp. dark soy sauce
2 tbsp. light soy sauce
1 tbsp. Shao Xing Wine
2 tbsp. black vinegar
2 tsp. sugar
1 tsp. sesame oil
1 tsp. cornstarch
*Mix above ingredients
In a pan or wok on high heat add in oil and marinated chicken.
Spread and let cook for 15 seconds before stirring.
Cook and stir for 3-4 minutes until done and remove from the wok.
Bring wok back up to a medium high heat. Add more oil, minced garlic, ginger and whites of garden onions. Cook and stir for 20 seconds and add in Szechuan peppercorns and dried chilies. Cook and stir for another 20-30 seconds.
Add in peanuts, cook and stir for 30 seconds and add in bell peppers.
Cook and stir for 2 minutes.
Add in chicken and juices. Cook and stir for one minute.
Pour in sauce. Cook and stir for 1-2 minutes until sauce thickens.
Add in green garden onions, stir to combine and you are ready to eat!
Enjoy.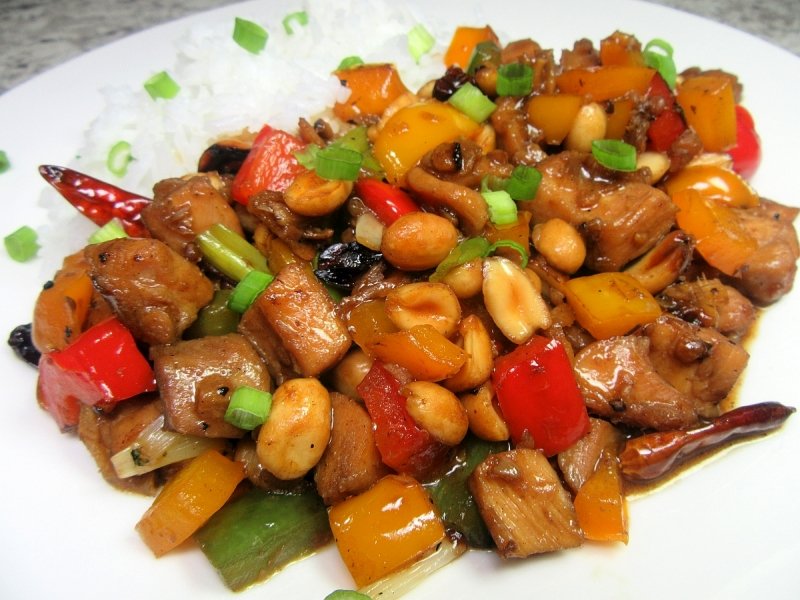 PRODUCTS I AM USING ------ AFFILIATE LINK
Tess Cooks4u Amazon Store
https://www.amazon.com/shop/tesscooks4u
I have an electric stove so I use a Carbon Steel Flat Bottom Wok
http://amzn.to/2irYVyy
These Wok Spatulas are nice for wok cooking.
http://amzn.to/2irXi3V
Joyce Chen Bamboo Chopsticks
http://amzn.to/2hqPTV6
Fresh Garlic
http://amzn.to/2nai7aK
Kikkoman Lite Soy Sauce
http://amzn.to/2hLqUcN
I use the Kadoya Pure Sesame Oil
http://amzn.to/2i6fCTE
SHAOXING Rice Cooking Wine
http://amzn.to/2hrbtsw
Koon Chun Black Vinegar
http://amzn.to/2j9E2eF
Pearl River Bridge is my favorite brand of dark soy sauce.
http://amzn.to/2i3VE9T

Follow TESS COOKS4U on Social Media:
WEBSITE ~ TESS COOKS4U AMAZON STORE
EMAIL: tesscooks4u@gmail.com

All images, videos and content are my original work.
Taken with Canon PS SX670 HS.
Please ask before borrowing. Thank you, Tess.

Please UPVOTE and FOLLOW me. Thank you and have a wonderful day.

Much Love, Tess :)