These rice cauliflower and chickpea burgers are easy and packed full of flavor. You can adjust this cauliflower burger recipe by adding the spices and flavors that you like. If you are looking for another veggie burger recipe, this cauliflower and chickpea burger hits the spot - flavor and texture. VIDEO RECIPE below.. Enjoy.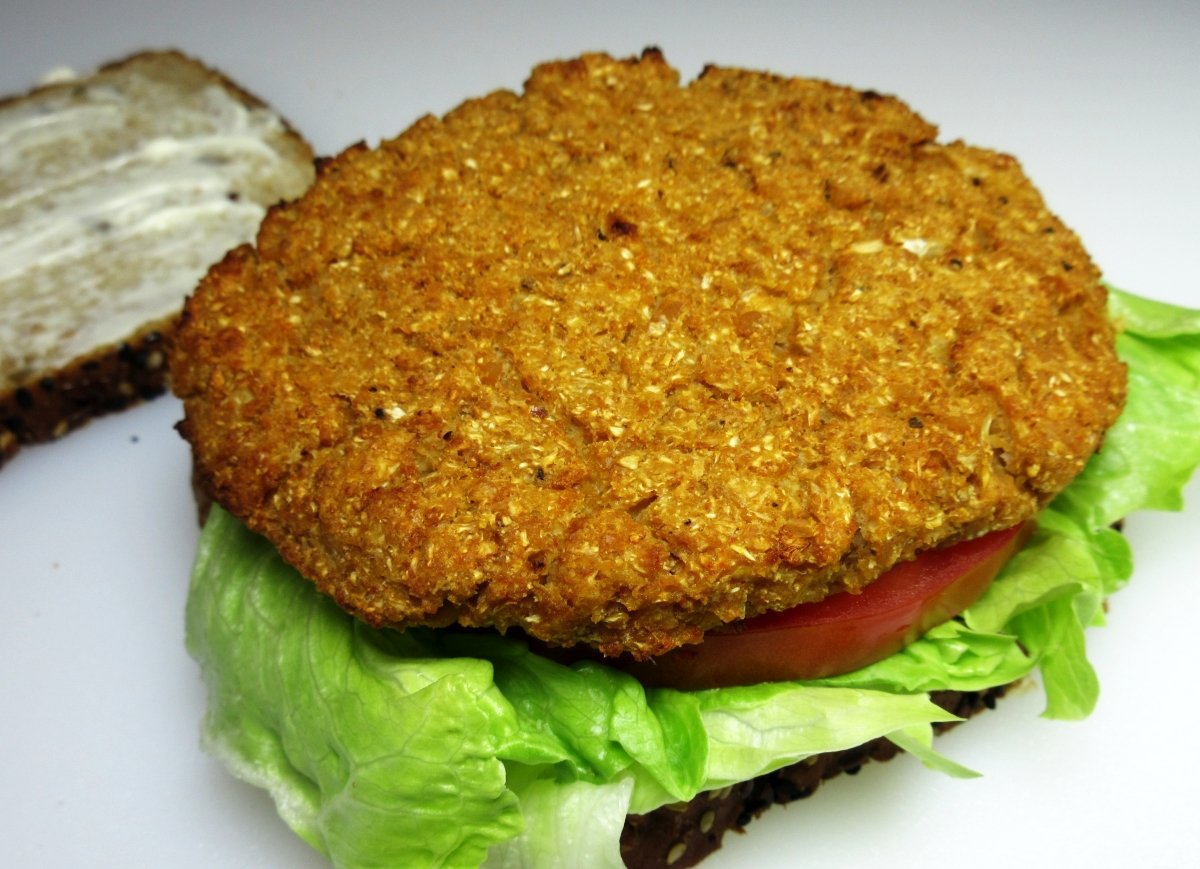 Rice Cauliflower and Chickpea Burger
INGREDIENTS:
4 cups riced cauliflower
Chickpea mixture - below
1 egg or flax/chia seeds mixed with water
1/4 cup bread crumbs
1/4 tsp. salt
1/4 tsp. black pepper
1 tsp. garlic powder
1 tsp. onion powder
1 tsp. paprika
1 tsp. Lawry's seasoning
1/4 tsp. cumin
olive oil
Chickpea Mixture:
1 can rinsed and drained chick peas
1/2 small onion
2-3 cloves minced garlic
2 tsp. Worcestershire sauce
2 tbsp. water
Put above 5 ingredients in food processor and pulse until combined and in fine pieces - leave a little texture.
Mix everything together in a bowl.
Form patties (made 6) and place on parchment lined baking sheet that is coated
lightly with olive oil.
Brush tops with a little olive oil.
Bake at 425 degrees Fahrenheit for 30 minutes.
Further ingredients to make the sandwich:
12 grain bread or bread of your choice
lettuce
tomato
mayonnaise
Amish cucumbers/onions/jalapenos (cucumbers, onions, jalapenos, 1/2 cup sugar, 1/2 cup
apple cider vinegar and water to cover - refrigerate for at least 4 hours)


PRODUCTS I AM USING ------ AFFILIATE LINK
Tess Cooks4u Amazon Store
https://www.amazon.com/shop/tesscooks4u
Farberware Nonstick Bakeware 3-Piece Cookie Pan Set
http://amzn.to/2i80RQb
Mountain Woods Wooden Utensil Set, 8 Piece
http://amzn.to/2hVrnMu
Stainless steel nesting bowls. A must for the kitchen.
http://amzn.to/2igzFfp
Lawrys Seasoning Salt
https://amzn.to/2GJXtnL
McCormick Ground Cumin
http://amzn.to/2iBpfut
McCormick Garlic Powder
http://amzn.to/2iGA6TG
McCormick Onion Powder
http://amzn.to/2iGJOBx
McCormick Paprika
http://amzn.to/2iGvvky

Follow TESS COOKS4U on Social Media:
WEBSITE ~ TESS COOKS4U AMAZON STORE
EMAIL: tesscooks4u@gmail.com

All images, videos and content are my original work.
Taken with Canon PS SX670 HS.
Please ask before borrowing. Thank you, Tess.

Please UPVOTE and FOLLOW me. Thank you and have a wonderful day.

Much Love, Tess :)