Hello my lovely fellow Steemians....
Prepairing food is an interesting and simple process . First make arrangement and then cooking.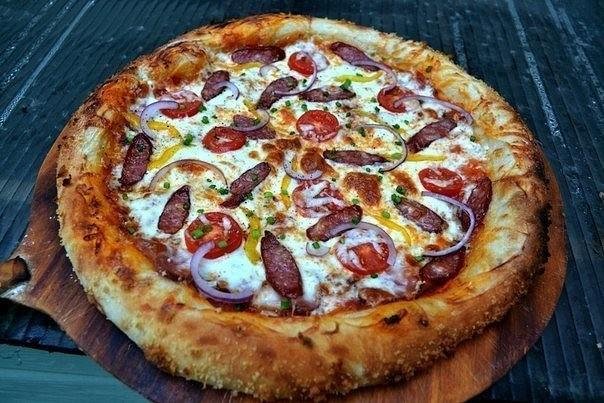 Ingredients:
for filling:
hunting sausages-80 gr.
bell peppers-15 gr.
Suluguni cheese-100 gr.
cherry tomatoes-3 PCs .
for the dough:
wheat flour-250 gr.
water - 205g.
yeast (dry) - 0.5 tsp.
Sol - 0.5 tsp.
sugar-1 tsp.
olive oil-15 ml.
for the sauce:
tomato-1 PC .
onion - 30 gr.
garlic - 1 tooth.
oregano (dried) - 1 tsp
salt-to taste
pepper (ground) - to taste
Preparation:
For the dough mix all ingredients, stirring with a spoon (very runny dough), and leave, covered with a towel in room temperature for 4-5 hours. The dough can be considered ready to work, if it has grown three times and covered with small bubbles.
From the bowl the dough is ready put a spoonful on the parchment, on which you will have to bake.
Hands dipped in flour, and from the center to the edges smooth the dough to the desired diameter. Stretch the dough always on paper and on the surface from which you will drag the dough into the oven.
Take any baking sheet, turn it upside down and set it to the highest position in the oven.
Fry the onion and garlic over low heat.
Add tomatoes, salt, pepper, sugar, herbs.
The dough is lubricated with sauce, put the chopped sausages, sprinkle with cheese, spread the cherry, bell pepper.
Slice of a loaf lubricate oils plant with garlic, and bake in the oven.
Allow to cool, divide it in not very fine crumb.
Sprinkle crumbs oiled side of the pizza.
Warm up the oven at a temperature of 270 degrees, along with baking, for 30 minutes
Take out the baking sheet, carefully, it is very hot, do not turn.
We spread our pizza along with the parchment onto the hot upside-down baking sheet flat side.
Send in the oven for about 7 minutes.
Decorate with red onions, green onions, sprinkle with olive oil.
Bon appetit!