Hello Steemians! Hi dear friends!
Good evening, dear friends. today I want to offer you a wonderful and delicious recipe..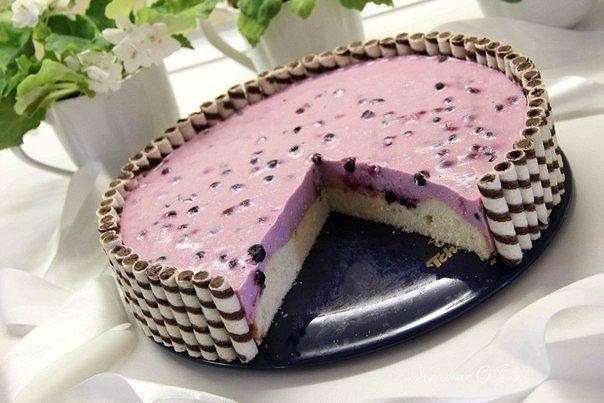 Ingredients:
for the dough:
chicken egg - 2 PCs .
sugar-100 gr.
kefir-100 ml.
wheat flour-150 gr.
vanilla sugar-0.5 tsp .
baking powder-0.5 tsp .
vegetable oil-25 ml.
for the souffles:
yogurt (blueberry) - 800 ml.
sugar-50 gr.
gelatin-20 gr.
milk-50 ml.
blueberries - 1 stack.
Preparation:
Beat eggs with sugar, add vanilla sugar, kefir, butter and beat well again.
Sift flour and mix with baking powder.
To combine two mixtures and stir with a spoon.
Pour the dough into a detachable form and bake in a preheated oven at 180 C for about 25 minutes (ready to check with a dry toothpick).
Take the cake out of the oven and leave it in the form to cool down completely.
Gelatin pour milk and leave to swell, then put on the fire and warm until completely dissolved (do not boil).
Yogurt mix with sugar.
Pour a thin stream of warm gelatin into the yogurt.
Stir well.
Add berries and mix.
Pour the mixture on a cooled cake.
Put the cake in the refrigerator until completely solidified.
Get our cake and carefully remove the sides.
It is possible to decorate according to Your desire, such as wafer rolls.
Bon appetit!