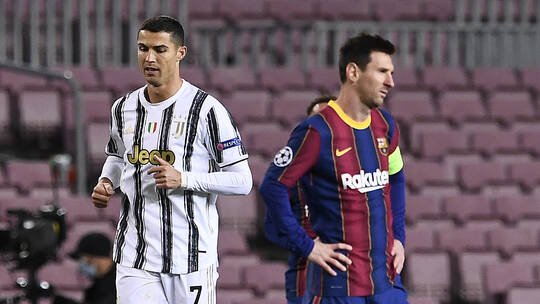 Argentine Lionel Messi, the star and captain of Barcelona, ​​and his traditional rivals Cristiano Ronaldo, the star of Juventus, together bid farewell to the UEFA Champions League, marking the first time since the 2004-2005 edition.
Ronaldo left with his Italian champion team after losing to Porto, on Tuesday, despite winning 3-2, because the Portuguese team won 2-1 at home, which gave him the qualifying card with the advantage of the goal outside the ground. While Paris Saint-Germain eliminated Messi and his companions on Wednesday, they beat them 4-1 in the first leg before drawing 1-1.
According to the "Opta" network of statistics, for the first time in 16 years in the 2004-2005 season, Ronaldo and Messi are together outside the Champions League quarter-finals, when Messi bowed out with Barcelona from the round of 16 against Chelsea, while Milan ousted Ronaldo when he was He plays for Manchester United shirt. Since then, the duo have not missed the quarter-finals, and Ronaldo has won 5 Champions League titles, while Messi has won 4 times, the last of which was the 2014-2015 season.