Here is a picture of our old ground which we gave up to move to the London Stadium and the promise of greater things for West Ham.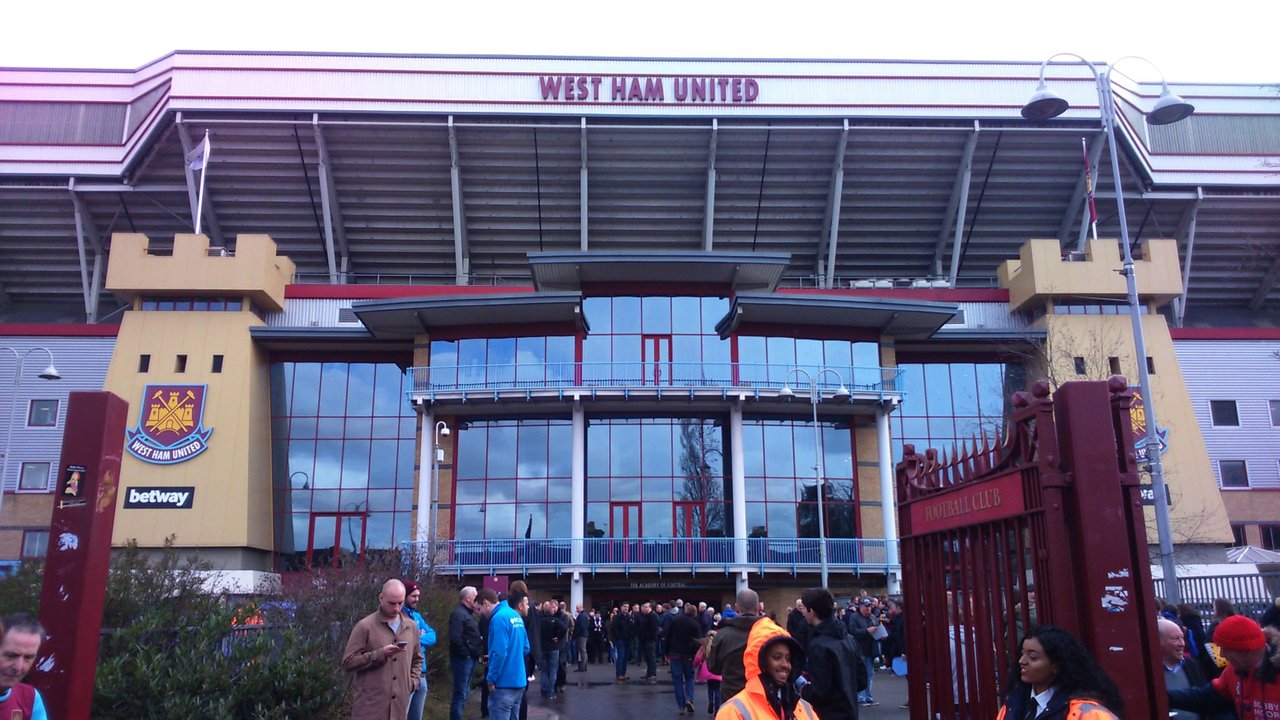 Free use image Google
West Ham were in a bad position in 2010 when the Icelandic owners got into financial difficulties. The club was purchased by David Gold and David Sullivan. In my opinion they have undoubted business acumen but not so much when it comes to running a football club with respect to football matters. The club is run by Karren Brady (Vice-chairman) now of the Apprentice TV fame.
The owners immediately had their sights on moving the team to the London Stadium, after hosting the 2012 Olympics the stadium needed to provide a legacy to sport. Although not really suited to host football matches (It was required to retain a running track) conversion was done to install retractable seating. In my opinion the stadium is not ideal for football. From West Ham's perspective they got a really good bargain with regards to the rent they pay.
The deal was highly controversial, Barry Hearn wanted to share the stadium, his appearance in front of the House of Lords is a classic one man band of East End bravado that ultimately failed to allow his club Leyton Orient the chance to share the stadium.
YouTube Hearn
Shortly after this the very shrewd Hearn sold Leyton Orient, his prediction of the demise of the club coming spectacularly true in short order with relegation out of the football league in just 3 short years. This a team that just missed promotion to the Championship the season before Hearn sold up. Of course not all of this was a direct result of West Ham's move to the London Stadium as this fan's comedy video of the owner shows.
YouTube Becchetti
Karren Brady also made a far more less convincing appearance in front of the same committee shortly after Hearns and this too can be found on YouTube should you wish to view it. Actually for completeness I have included it here.
YouTube Brady
It was a big deal to move West Ham from their home of the Boelyn Ground which they owned outright. Supporters were told it wasn't possible for the ground to be expanded further and that for West Ham to progress further a move to a bigger stadium was of the upmost priority, fans were sold the dream of potential Champions League football or at the very least the creation of a team that would compete for the top 6 places in the league.
Fast forward to the present situation which after the away loss to Crystal Palace see the team languish in 17th position in the Premier League and looking very much like relegation contenders rather than a team trying to get into Europe.
Whilst West Ham have spent money on players its the position of Manager that the club seem to have great difficulty in getting right. Manuel Pellegrini was tempted out of China and what was effectively semi retirement in all but name for a whopping £7 Million a year deal. He is 66 years old but looks a lot older and it would seem he is not the manager he once was.
I know it is easy with hindsight but some of his decisions have been woeful for one of the top paid coaches in the country if not the world. Persisting with one up top with Haller when it was clearly not working and his reluctance to put Martin in goal just some of his recent blunders.
Whilst other teams such as Spurs, Arsenal and Everton have acted swiftly in sacking their manager, West Ham are holding on grimly, no doubt reluctant to part with the required compensation and admittance they got this appointment terribly wrong.
Our next game is against Leicester and I can't see anything than a loss in that fixture, the game in hand is against Liverpool (Nice) so the chances of West Ham dropping into the bottom 3 in the next few weeks look a dead cert.
I fear Gold and Sullivan will leave it too late to make the required change in the manager, good candidates were available as well, by the time they do it if at all, it won't only be too late there won't be anyone of note out there for the job.