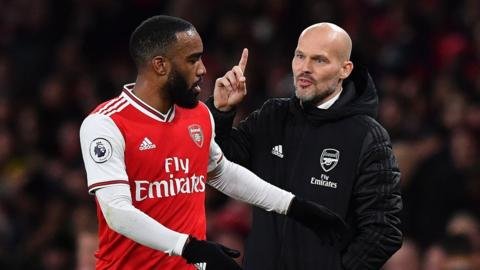 Emery is gone and Ljunberg is in as interm Manager. What has changed? I think the only change is the name, Emery and Ljunberg. Very different names but the same tactics, formation, and cluelessness.
I remember criticizing Ljunberg team selection in his first match against Norwich and here again he fumbled with the selection and also with the substitution. It is only with Arsenal that I see full backs being substituted on a regular basis.
Emery did it like thrice and Ljunberg made one yesterday. You don't need a seer to tell you that Ljunberg does the team selection for Emery.
I don't know why he never left with Emery. He was part of the coaching crew that brought Arsenal to where they are right now but wasn't pursued probably because he is of Arsenal blood as Manchester united fans will say of Solskjaer.
It is crazy when you are doing exactly the same thing that got your predecessor sacked. This is an opportunity to be made permanent coach. I don't know how hard it is to start the right first eleven and use the correct tactics. I don't know if there is a bonus for starting Willock or producing shit results.
Aubameyang has scored 50% of Arsenal goals this season prior to Lacazette lone goal and you are playing him in the right wing to do what. That's Pepe wing and he will definitely do better there than Aubameyang whose task is to only cross the ball in for Lacazette. Ozil is played in the left wing role too with Willock taking the central role as a number 10. It is just crazy that any coach will decide to perform worse than who we thought was worse.
I don't care about what you think of Lacazette but Aubameyang must start in the number 9 position every match. He is miles better than Lacazette and the stats don't lie. 41 goals in 100 appearances for Arsenal compared to Aubameyang 53 in 82 appearances. He is leading Aubameyang with 7 assists, 19 compared to Aubameyang 12.
Arsenal should play to their best player's strength. Olivier Giroud was not the best of strikers during his Arsenal era but he surely delivered. Arsenal tweaked their gameplan for him to succeed with Ozil.
The likes of Ljunberg and Emery have only succeeded in tweaking their gameplan to destroy the best Arsenal players.
If the Brighton match continued for 180 minutes, Arsenal will surely lose. The team looks disjointed and everything is sinking. Raul Sanllehi, Josh Kroenke, and Edu Gaspar need to act urgently. The next couple of fixtures might see Arsenal in the relegation zone if Ljunberg is still in charge.
A change of coach should bring about change in team fortunes not deterioration. Ljunberg should be sacked and not allowed to go back to the youth team or assistant coach. He is no different from Emery and having him in the club means we are still doing things wrong.
Weed all of them out for a new Arsenal.
---
Posted from my blog with SteemPress : https://mysteemblog.000webhostapp.com/2019/12/it-is-the-same-old-story-for-arsenal-with-freddie-ljunberg
---