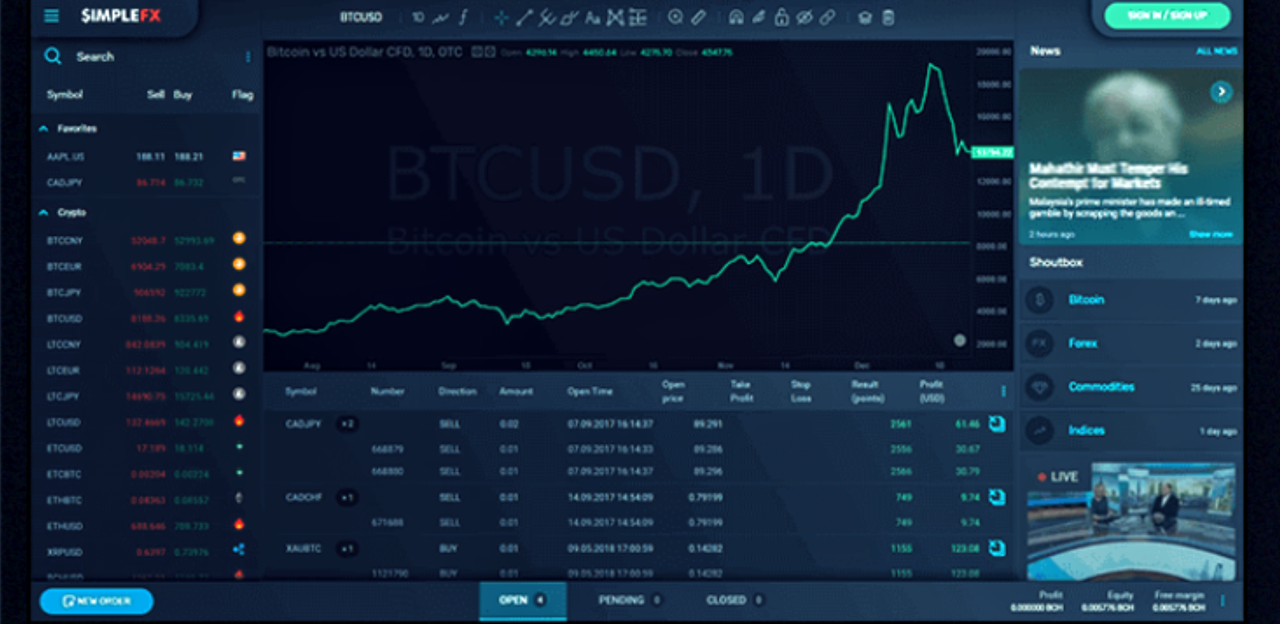 For anyone who knows when it comes trading it can certainly be a challenge to do it successfully. Only about 20% of all day traders are actually successful at it achieving net earning at the end of the year. Even myself being a trader for over six years I still find myself struggling at times to make a consistent profit. I have traded just about everything there is to trade like forex, stocks, options, cryptocurrency, commodities, and even penny stocks. When it comes down to it though forex always seems to be the toughest market to trade. Even after you follow your set rules, never risk more than 5% of your bank on one trade, look at both the technical and fundamental analysis. You can do everything right and still struggle but then of course there are those trades that work out exactly how you want them to and all your efforts pay off.
Forex Trading
About three years ago I stumbled across a a newer forex trading platform at the time called SimpleFX
and have been using it ever since. What immediately attracted me to SimpleFX was the fact that users can deposit with cryptocurrency instead of fiat if preferred and borrow leverage up to 500 times with negative balance protection. In fact they accept eight(8) cryptocurrencies for deposits and withdrawals. They do also accept other methods like skrill, neteller. Now I can trade currencies, commodities, derivatives, and crypto with my crypto, pretty cool.
Right before joining SimpleFX I was using a forex trading site which wasn't cutting it for me. It didn't offer a lot of the necessary tools needed to trade successfully. On top of that the spreads were high and was lacking in many other ways. Anyway I remember immediately falling in love with Simplefx's trading platform, the functionality was smooth on my mobile device with all the little details in the right places, i knew this was going to be a great website to start trading on.
When I tried SimpleFX for the first time I was hooked. After being mad at myself for taking so long to switch over to the new trading platform, I realized all great features that come with this trading platform. I realized that not only is this platform perfect for me but even other traders or beginners who are just starting out in Forex trading could also use this because it's so easy.
First off, there are over 10 Different ways to deposit funds, some include cryptocurrency like bitcoin, ethereum, Litecoin, and dash and the others like Skrill and Neteller Residents that are from Europe do have the option to deposit with Fiat. Residents from the United States can only deposit and withdraw using cryptocurrency due to certain regulations and must use a VPN if using the SimpleFX app. If you use the Meta-trader you don't need a VPN.
Honestly for me using cryptocurrency for depositing and withdrawals is the best option because they are so quick and easy plus all the transaction fee's are pennys. All withdrawals made with crypto are processed instantly. That means anyone can cash out and have the money within 5 - 30 minutes. That beats any institutional bank method or epay service, thats for sure.
Leverage With No Risk
Another great benefit are the different levels of leverage that can be used, in fact leverage can be borrowed up to 500:1. Now i will even do you one better, that leverage being used, never has to be paid back if it is lost. Why you ask? Well because SimpleFX uses Negative Balance Protection for their traders, this is an automatic feature so don't worry, you won't have to look for a button to turn on. It is always protected no matter what. This will always prevent traders from having their balance go negative from a losing position.
Now let's say for example, a trade goes horribly wrong and ends up in the red beyond your available balance, that trade will close with a loss but the user does not have to pay any of it back. The only loss will be your balance but that's much better than losing your balance times 500 isn't it? This is a incredible safety net to have specifically for traders just starting out. Without Negative Balance Protection using the same scenario, the trader would owe some serious cash and be in debt. This feature has saved my butt a few times that's for sure, so thank you SimpleFX. Seriously though, for those who trade cryptocurrency know these markets are very volatile so this feature is amazing to have but enough about that.
Trading Platform
When it comes to their actual trading platform it is very user-friendly and accessible. Traders can customize their charts provided with plenty of different signals. They also feature an easy 1-touch trade button making executions lightning fast. Their spreads are some of the lowest I have seen thus far which allows maximum profits. Traders have two different options when trading desktop and mobile. They can trade with the default trading platform or they can use the Meta-Trader 4 trading platform.
SimpleFX has partnered with MT4 to bring all the great tools and cool features the Meta-Trader 4 offers. When it comes to my personal preference, i use the default on desktop and Meta-Trader 4 on my mobile device because of the tools that are available on the MT4. Although, SimpleFX has released a new mobile trading app about 2 months ago and it looks great. Its vibrant colors and great functionality its a great app to trade with. You wont find all the trading tools like MT4 has but its just a matter of time as they perfect the app.
Some other great features in there mobile trading app is the News feed and Shout Box. The shout box is something I have come to love because there is nothing better than being able to talk with other traders and talk about the latest trends in the markets or maybe you just want to bounce ideas or potential strategies that can be used. No matter what it is I recommend any trader to get familiar with the platforms chat room. It's always good to get a second opinion if your not sure about the market.
Well I have shared my two cents and I truly hope other traders out their take my advice and at least try SimpleFX. You can try it without even signing up, just head over and take it for a Test-Drive to see how the platform operates. I know everyone has their own needs to attend and maybe some things i enjoy, someone else it might not matter as much.
Learn more about SimpleFX and other trading platforms at Bitcoin Gaming Online
Posted using Partiko Android