{"Gay kids aren't a "plot point" that you can play with. Gay kids are real, actual kids, teenagers, growing up into awesome adults, and they don't have the books they need to reflect that. Growing up, my nose was constantly stuck in a book. Growing up as a lesbian, I was told over and over and over by the lack of gayness in said books that I did not exist. That I wasn't important enough to tell stories about. That I was invisible. Why are we telling our kids this? Why are we telling them that they're a minority, and they don't deserve the same rights as straights, that they're going to grow up in a world that despises them, that the intolerance of humanity will never change, that they're worthless. It's not true." ― Sarah Diemer... Today's post is an entry to @vermillionfox's foxtales contest... No music-aides for today.}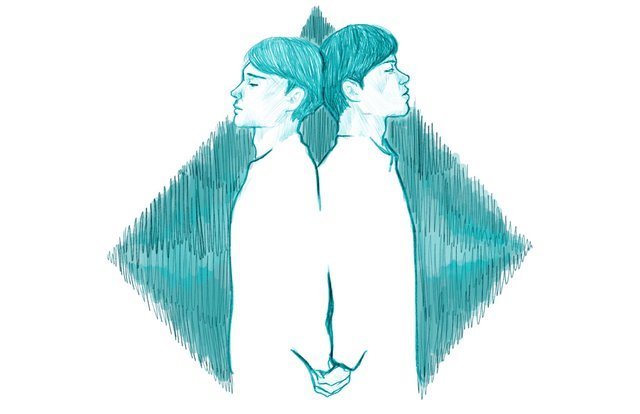 Image by the lovely @vermillionfox
- Sad Sundays -
- Two paths -
Twisted was Fortuna's hands today, deciding that a little grief was to be a fancy on the blue afternoon. So told the tale betwixt their heads as the MPs fast approached them on both sides, screaming "curfew violation, 1074!" Fortuna, oh Fortuna, why must you twist those hands of fate harder than what was necessary? Why my delicate child, why did they both had to suffer for a simple act of merely existing together - more than what one was willing to say? Why my delicate bundle of chaos, a such orderly attack on the two kids; for what did they do that you bestowed a fate worse than death? I may not care, but the act was rather unnecessary; yet should I dare to give an iota of a care when others had ran for their lives? Or maybe I should care for those that had resisted and rightfully so? Yet here we are with two people that managed it so well that you had to change everything for them to get caught? But alas, the humans shall answer it for me for which I guess you had that arranged within the snaps of your fingers - clever girl. But, despite everything, and a fate that couldn't be any worse do I dare to say they bravely deny the choice to run away or allow themselves to be split. And this is where I must give you grace, however I cannot stomach to do so as the hogs to capture every sliver of intensity had arrived and shall report the news. I guess your report is cut out for you by them... congratulations!~
- Solidarity -
In the teal of the sky did their hairs blend in. Hands so webbed together that what could get stuck in their grips shall stay stuck forever. Yet, despite their hand holding, did their voice-box refuse to make one beep and their eyes staring away from each other. Trying to gaze at each other and their eyes bounced back; only the rivulet of tears came out and the only way their minds knew that the other had existed at all. Their feet meeting the edge of the boardwalk, their bodies collapsed on each other's back despite their legs yet not giving in. Hands still stuck together, the eastern half's eyes were stuck on the rising Luna solidifying her reign over the sky and the western half's eyes still outpouring for the death of the light disgracefully sinking below the horizon. Then their eyes shut again, heads cocked up and they felt the breath come in to soon leave - yet enough to tell the other was alive. Looking back, only the mere whitening void and blue prism dare stick around; a mockery of their life yet now somehow freeing them to the last action the past tried the entire time denying them from. Looking forward, the endless waves coming by in as the remains of life travel as far as they could to the ocean - even if non-aquatic life were to die, better in the comfort of eternal slumber than in the hands of endless chaos. Standing up, their feet stepped over the boardwalk and finally their lips made contact - not even the flood of water could prevent their last memory being the passage into the impossible that they long demanded.
- And so a year late it came -
Who knows what could've been, what should've happened, when it would've happened - but it didn't. His body couldn't but just anchor to the wall, hands ever looking for something to grip. Only a mere year ago, he had been here with his hands trying to clutch anything - to feel something than mere plaster and paint. His heart didn't care for his lips to enter into euphoria nor did his heart want to be with another heart if need be. Only something to grab and hold unto until the spirit was purged of what he or his acquaintances alone couldn't had the time to mourn over. Yet if that other would need someone, his hands were always trying to reach as far as possible. However, today, his body was in no condition to offer such great reaching out and locked his entire existence was in a cell - not of concrete nor his mind, but himself and the room. How it didn't happen was something that managed to make his past mind shake around and freeze him until it had gotten bored. Today, by Fortuna's grace, did he finally understand the how but not the means to relay such vital information to the past when he so needed it. And, despite everything, his hands felt another - his own - and he gripped on tightly; the echos of a thank you and I shall win it. The older self finally at ease, his stature returned to where he most needed to be and the night complied with his demands. The trial may have not been a victory, but the hope remains for his past to correct it. Or history be damned, for what he had cared for...
Two things: I still will be on my break-cation from the NANA and recently been getting more involved on Twitter. So yeah :p