Hi my Steemian friends!
I gave it many thought before writing this post, as I usually don't like to be public about my disappointments or the stuff that I find unfair or unjust, but following the series of things that have been going on I felt I had to because I think this is destroying the spirit of Steem community. :(
I never was a big fan of Bid Bots. Actually I was invited to participate in a couple of them and I never did, because I don't think that they are a good thing for the Steem ecosystem. But lately I started to use them on my posts about DSound community updates because it is the only way to get a post on trending in Steem nowadays, which is sad on it's own but it's the way things are!
Yesterday I was confronted with the story of @fulltimegeek: We have a THIEF on the Steem Blockchain -- Don't use BUILDAWHALE !!! and many others that I read lately and I got worried about this trend...
This post is not to talk about the @fulltimegeek situation, as I don't have many information on that and I don't even know the guy... but I find strange that people jump on a flag war without any further investigation! And mainly I find strange that in +1700 comments on that post, no one talks about the fact that @themarkymark is using @buildawhale blacklisted bids to fund his other project @ipromote with other people's money! This is a fact, I didn't make this up:

Although I respect @themarkymark for the many good things he did on Steem community over the years, I have to manifest my uncertainty on the fairness of this situation, because the @ipromote project is not in any way related to removing bad content or spam from the platform, but another bid promotion service that he runs! Now I ask what is worse, biding on bid bots to a link post or keeping other people's money to fund his own other projects? Well, this is a rhetoric question because, as said, this post is not about that situation, just giving my factual 2 cents on this...
Maybe I'll get flagged and/or trolled as well... if there's still hope for this community, I sincerely hope this won't happen!
Steemians are becoming unfriendly too damn frequently! Greed is becoming the norm here, trolling is now the way people disagree about anything and even censurship is now accepted! This is so fucking sad! :(
Well, moving forward to my case...
Last week I posted another DSound community update, this one calling for delegations, so I had to use bid bots to make it appear to as many people as I could, as nowadays is the only way to get people to see our content. So, I sent many bids to the bigger bots in the @yabapmatt's SteemBotTracker website, which let's us direct our bids to many bots and follow up what their doing. Here is the bid I sent to @booster:

As you can check on my account, neither @booster voted my post, nor it refunded it or reply with any information. Well, I am a developer and I know quite well the code of @yabapmatt's postpromoter bid bots, as I am checking it to get ideas for my new DSound Love Machine community promotion bot, so I could understand that the bot got stalled somewhere and wasn't responding to any of the bids... so I patiently waited for the bot operator to resolve that situation, alerting of that in the latest post of @booster.
Nothing happened for days, but then @booster disappeared from SteemBoTtracker website, and I started checking directly the bot API to try to find more information, so I saw that my bid and others were on the next_roundlist, so maybe they would still be run eventually... but suddenly later on, they got removed by the opperator and the bot started a fresh round without any of the bids that were there left hanging to the next round! As @yabapmatt can confirm, this list doesn't get wiped out without human intervention, as it is saved in the bot state to disk, so this was intentionally done by someone!
I have to say that at that time the bot didn't have any "OUT OF SERVICE" message on it's page, as you can verify on the Blockchain by the transaction that updated the @booster account or the post informing that here:

As you can see this happened only one day ago! So several days after my bid or my messages that you'll see below...
Facing this, and still without any reply on my comment on the latest post of @booster, as you cann still see here: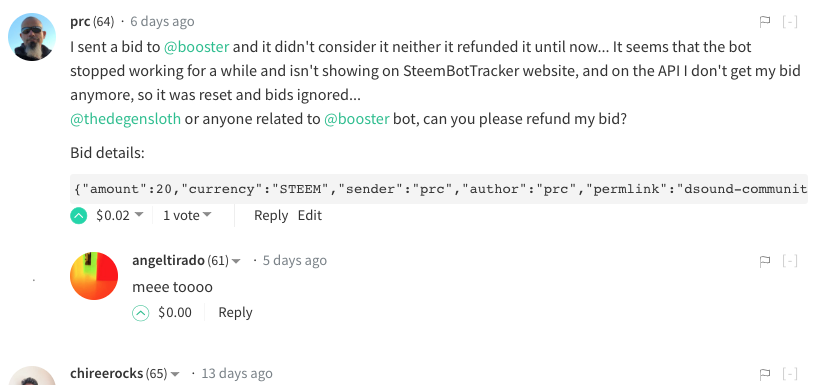 I started trying to find anyone to talk to about that, mainly on the SteemSpeak Discord server, as the @booster bot belongs to that community, or the community admin @fyrstikken. The people in the general chat had informed me that the bot operator was @thedegensloth, so I sent him a private message, here is the full private conversation: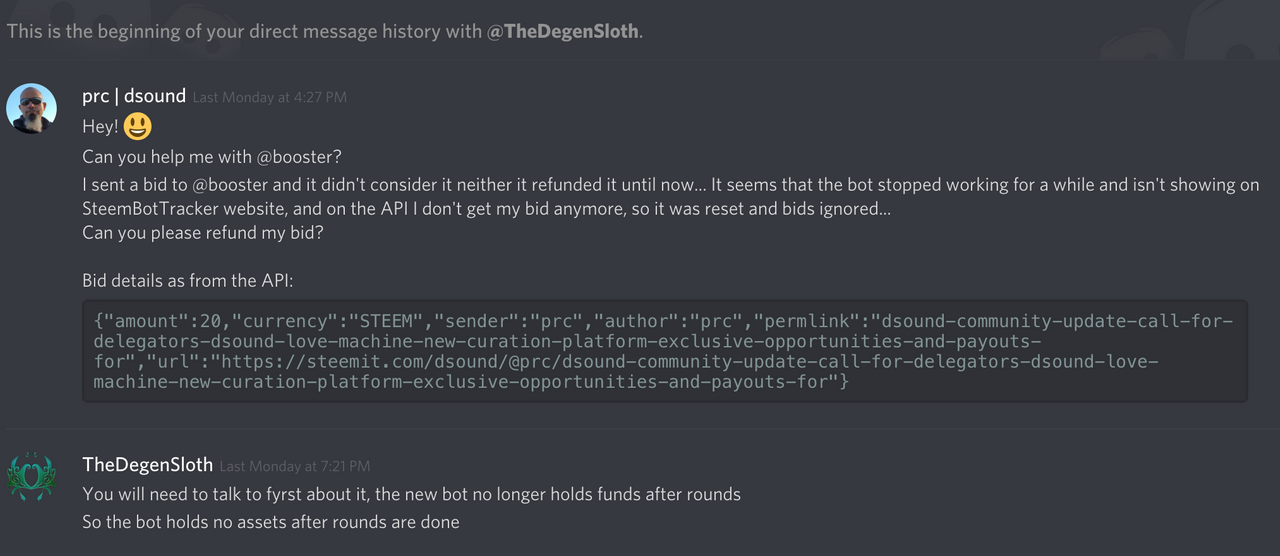 So I went to @fyrstikken and sent him a private message as well, that he took days to reply, after several messages I exchanged with other members of the community in general chat, only to insult my intelligence with this: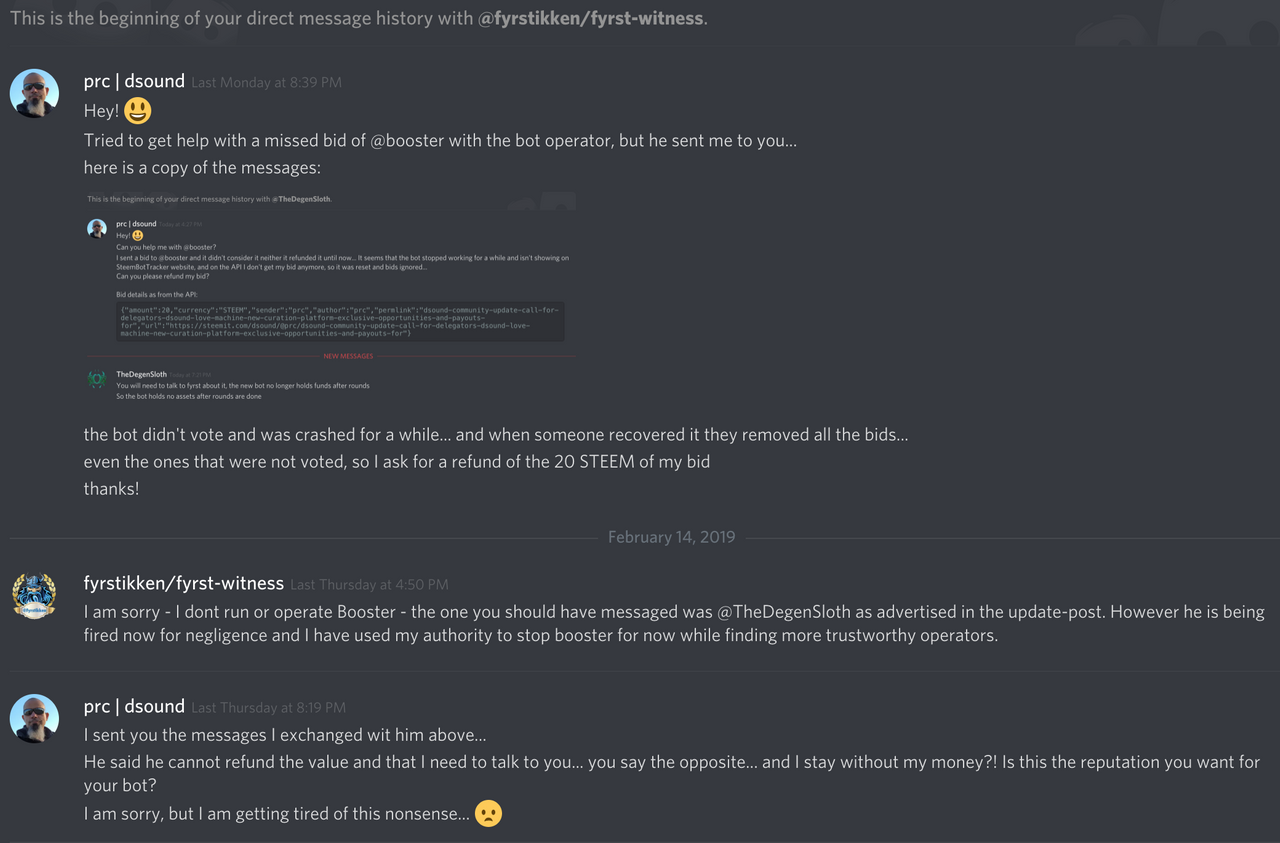 You can see that I sent him the conversation with @thedegensloth as well, so no excuse for this reply...
So, I am still without my 20 STEEM and these guys don't give a fuck about any of this! Sorry for my french but this really pisses me off...
It's not about the 20 STEEM! In fact I am not richer nor poorer because of that... but it is a question of fairness and this climate of kaos and general disrespect for others in the Steem community that I really find disgusting!
I think that this wave of "if you have huge stake you can do whatever you want and get away with it untouched" kind of mentality is slowly killing the Steem community, and this makes me really sad!
When I joined Steem community, almost 2 years ago, it wasn't like this! Otherwise I would probably not have joined it, nor developed DSound or the DSound Tribe community in here...
Please use this post to re-think about Steem and what it is becoming... This is not intended to generate any wars, but more a community brainstorm about these issues and how to avoid continuing in this direction!
If this is what the whales, and their sheeps, want to Steem, like a stake weighted KAOS, then maybe I am one of the few "aliens" in this community that want's it different... :(
Sorry to bring this sad post to you guys... But this is getting too far...
Peace and Love <3
UPDATE:
See what I got by raising my voice against all these bots, bot owners and unscrupulous whales?!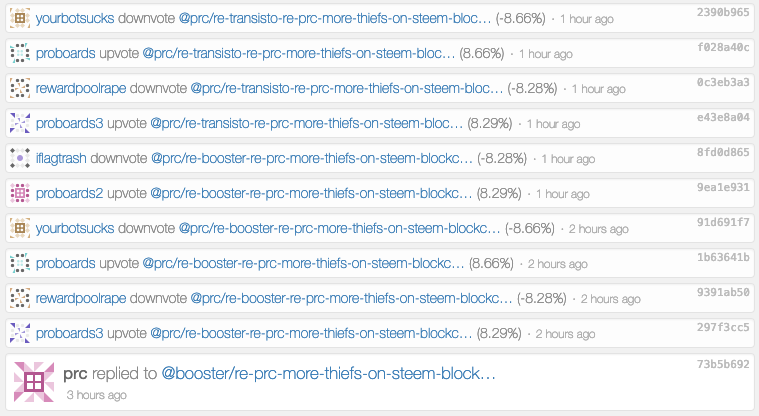 Now one team upvotes and another team downvotes, like two kids comparing their dicks sizes, sorry for my french.
But they didn't have balls to start doing it on the post, because there they would become more visible... Well, maybe they will now!
Welcome to the kindergarden! 🚸 This is the state of Steem... 😔