Welcome!
My 2 dogs and I went on an adventure because we hadn't for a while and the feet were itching! I decided to go see a friend who I met traveling and they live in Oslo. I left North Germany (Flensburg) with a bicycle and camping gear and a guitar to pay my way. I wrote a diary, and include diary entry's Exactly How It Was Written so don't get angry at punctuation etc and I had no GPS, just a map and compass. I never travel like you would think. Most are taking trains or planes, or buses, and stay in hostels and buy food, and most are on a "limited period of time from work"- to squeeze in many places they want to see before returning to the shackles. I have been traveling for 8 years, but the last 4 years I have slowed down even more than I already was. I travel slowly compared to others because I was always limited (financially)to the cash in my pocket and anyway was used to having no spare cash, even when I too lived in a box- which was definitely much worse by far!
The Previous Part's if you want to back track
Part 1- Entering Denmark
Part 2- Abandoned Hotel
Part 3- 420 Jam Session
Part 4- Nils' House & Christiania
PART 5
Diary Entry - Hittarp, Sweden.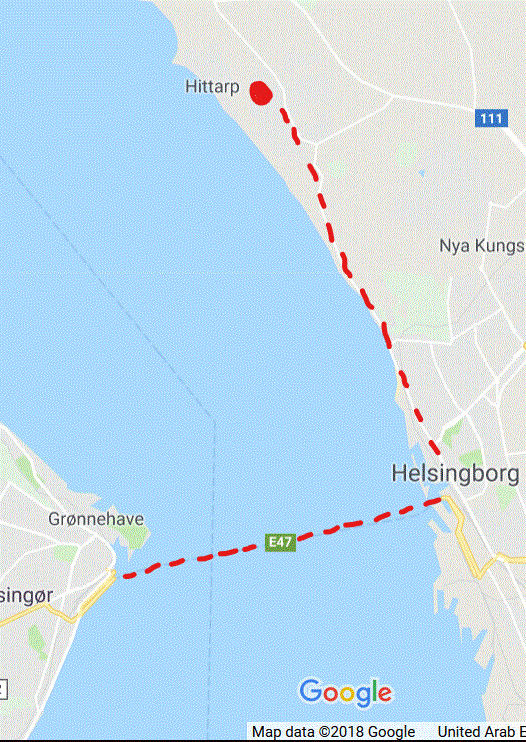 Everything is wet. We are now in Hittarp, Sweden. Haha oh yeh, yesterday I played at a small shopping center in Humlebaeck on the way to the ferry over to Sweden. haha it was well worth it and had a lot of cash after 90mins. I thought the ferry would cost alot but it cost just 34kr! the price of a coffee haha. I brought 5 packs of tabacoo with the music money on the boat crossing and had a phat lunch on the boat. We rest today. Yesterday we did 60km and Ulo (my small terrier) jumped up and sat on the back of the bike for the last kms to the ferry.
yeh we stay here today. The first bins in Sweden....

2 packs of bbq marinade chicken legs
3 x turkey breasts 1 kg each
potatoes
ham, and oh yeh,
yesterday I had 5 times the daily recommended added sugars and I feel ruff from it! I found a strawberry yogurt drink haha. Nearly brought a camera from tent neighbor in Christiania but in the end but I didnt. If I think hard enough that I have one, then Im sure one will come. The plan for today is to stretch and relax, practice new songs and find some way to cook this meat. Its raining again.
Ive had the idea to to today instead, to find a better camping place. Yesterday I was pretty desperate and just stopped and setup camp next to the sea
Some hours later..
Looking for a place to set up camp, the weather looks like it will be bad quickly again. Found a place but there's no fire place, and a road next to me and many snobs everywhere. (a snob is a rich person). I want a siesta, sleep somewhere and eat some bread with humus and cheese, then go to "angelholm" on the south west coast. There is a free camping place there, and woodland and its not more than a 2 hour ride away.
Just had a siesta. was great.went outside to make hot water an d now the rain is here, big black cloud slowly moving. haha, nature says "No"!
I think if it's dry at 16.00 then ill make a move. as I just thought that the rain started hammering! 1 min later - stopped.
Well im gunna finish packing and atleast get ready to move on.

29th April 2016 Diary Entry
OK Finally! Angelholm FIRST FOREST IN SWEDEN! EVER!
Some woman told me the date :) I was playing guitar today and managed to change the Danish crowns + the 100 Baht Thailand note that some kind idiot gave me.
We took the coastal road early in the morning from Coppenhagen. Coastal road's involve a lot less hill's even though you go more distance, you get a better view and don't have to ride up ridiculous hills on the roads built for cars. I wanted to just take the bridge to Malmo but bicyclist's are forbidden. It don't take long at all to get to the port and we were fresh from the rainy day relaxing in the tent at Christiania. I was expecting to be searched at the border and hid the lump of Hashish I had got the night before at Christiania, got on the ferry and was shocked at the cheap price.. I had been thinking it would cost a lot but it didn't. In fact the dogs and the bike was free of charge! We crossed over into Sweden and it was quite a ride from the boat to the exit of the port. I waited at a gate expecting the police there to come and open it, and after 10 minutes, nobody came they were just looking at me. Then a lorry driver honked his horn and pointed to a big red rubber button on the fence so I went and pushed it, and it opened the gate.
BORDER CONTROLS ARN'T REAL! ITS JUST ON THE TV!
I followed a cycle path, there are cycle paths well deigned stretching all over different country's with places to camp along the way. I found a place suitable for a camp and a safe place to have a fire, and it was so unreal to be in a forest full of pine trees. Ive been in many forests, but this was the first Scandinavian forest that I had ever been to and it was just much more magical in someway with all the tall pines and scenery I hadn't seen before.
So yeh im in Angelholm. Just cooked a pack of the marinade chicken, and a whole turkey breast that I cooked on a stick above a fire, with a pot of potatoes. very nice. Got another pack of chicken and today found some pasta, guess whats tomorrow! haha 20 chicken legs.
This is the first town with beggers. Tomorrow im waking up early and will go play guitar in a good spot that I saw and will most likely get arguing with the gypsy's. Met the forest guy (the warden) his cool. I think ill load up in the morning and go play til midday, then bust out some km's.
The warden came past on a quad , a young guy. What a great job he has! Just riding round the forests checking on it and the people there. He said the rule was that you can stay 24 hours, and you must be 100m away from a house, and you are free to put up a tent anywhere in Sweden. Nice nomadic rules! We chatted a bit and then he left. People that work in nature are always relaxed people. For instance if you ever need to charge a phone or change some money then always go and ask in flower shops in a city, you get a much better response than asking other places because the people are working with nature. It was so nice to be in a forest it had been a long time since.
30th April Diary Entry
Camping on a beach in (there's a smudge on the diary!) .......
Had a hard day. Started of with the dogs running mad in the forest for 30 mins full on, then we start to ride and after 3km they want to stop. We are all tired now! I left an mp3 player in a toilet on the beach then had to go back to get it , that took hours, we were tired before, and had to go back 15km so an extra 30 km in total. Good job I got the tent up, raindrops are plopping on the tent.
Making a quick fire just to cook on. Oh yeh wow, realised I left my bike tool kit in Christiania, AND yesterday I lost my mobile. Stopped to get coffee and ended up at a working mans club on the side of the road. There was a free BBQ and the coffee I was looking for was also free! They said there was soon a carnival coming also in Bastad
---
May 1st 2016 Diary Entry
Wow my body clock has gone crazy. I went to sleep when it was dark , woke up and thought i had slept the whole day through and that it was getting dark again - but it was the sunrise! went back to sleep and now its 8.30 am.


THE SUN IS OUT!
First time in 2 weeks Ive seen the sun! My body is aching and condensation is dripping inside the tent. I got to go to the post office - fuck its Sunday. I carved a second spoon whilst in the forest, a little tea spoon, and I found a place selling sheets of sandpaper. Thought to send it to sis for her birthday in 2 days from now.
Beautiful Day - I hope that was they grey gone until September now!
Too bad the chicken was GREEN after it was cooked, so obiously not good to eat. Pasta and fried mushrooms. Was very shit.. until I remembered I had found Philadelphia soft cheese! Now its the bollox! Bit sandy but..
Some hours later
Ah... so nice to lay down - I was wondering why im tired,but I decided to do a short cut which involved hills. I was following the Katterleden something or other but anyway the cycle routes obviously cut out the hills! I saved 40 km but had to push the bike up hill. At one point some guys on racing bikes came around a corner and saw me and all started laughing, I wondered what they were laughing at, until i got round the corner and saw a the biggest hill ive ever seen in my life.. STICK TO THE CYCLE PATHS!
200km or so until Goteborg!
---
Below - The only photo of me with the bike and trailer before leaving.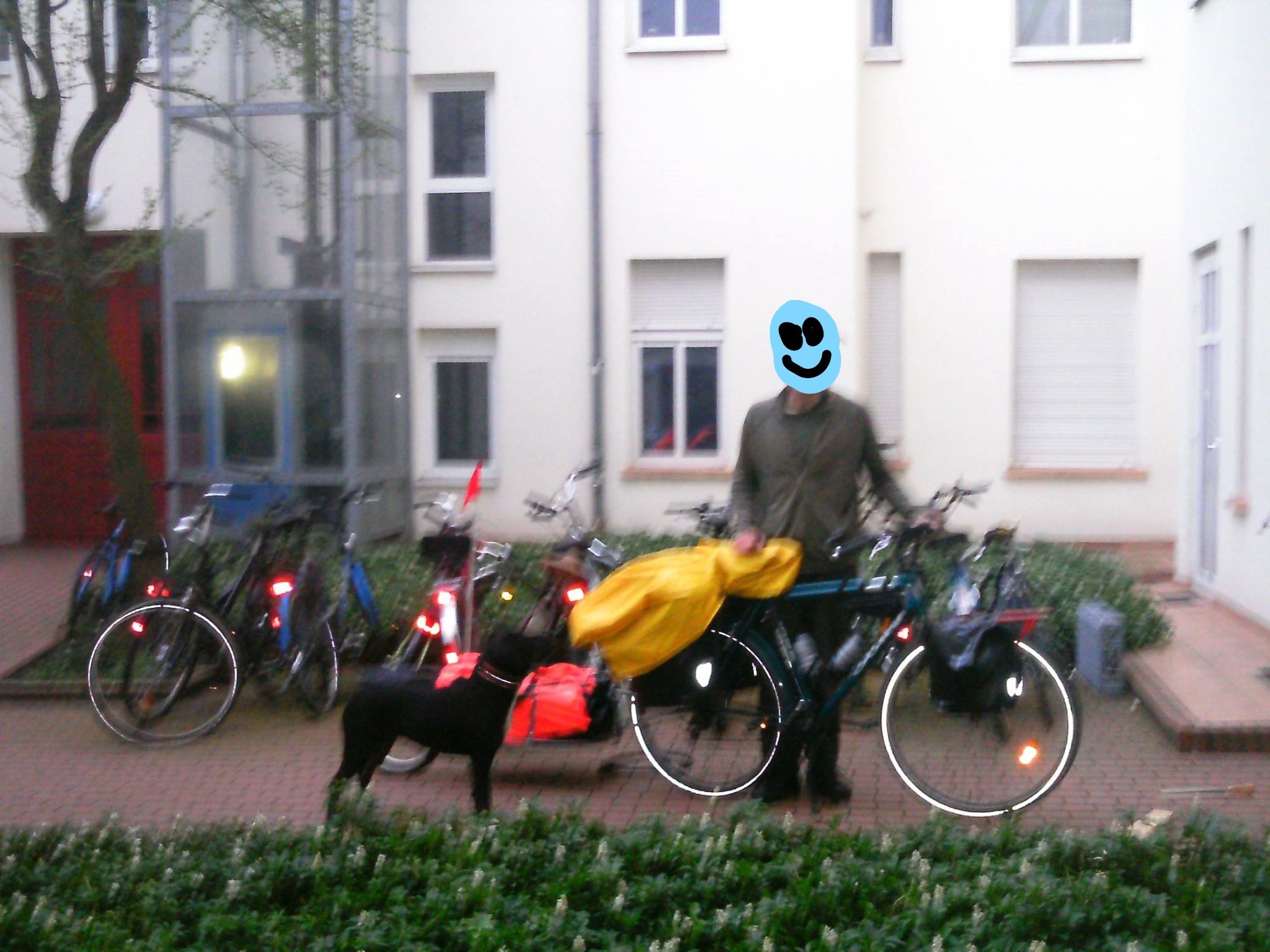 Recent post's.. Oldest first!