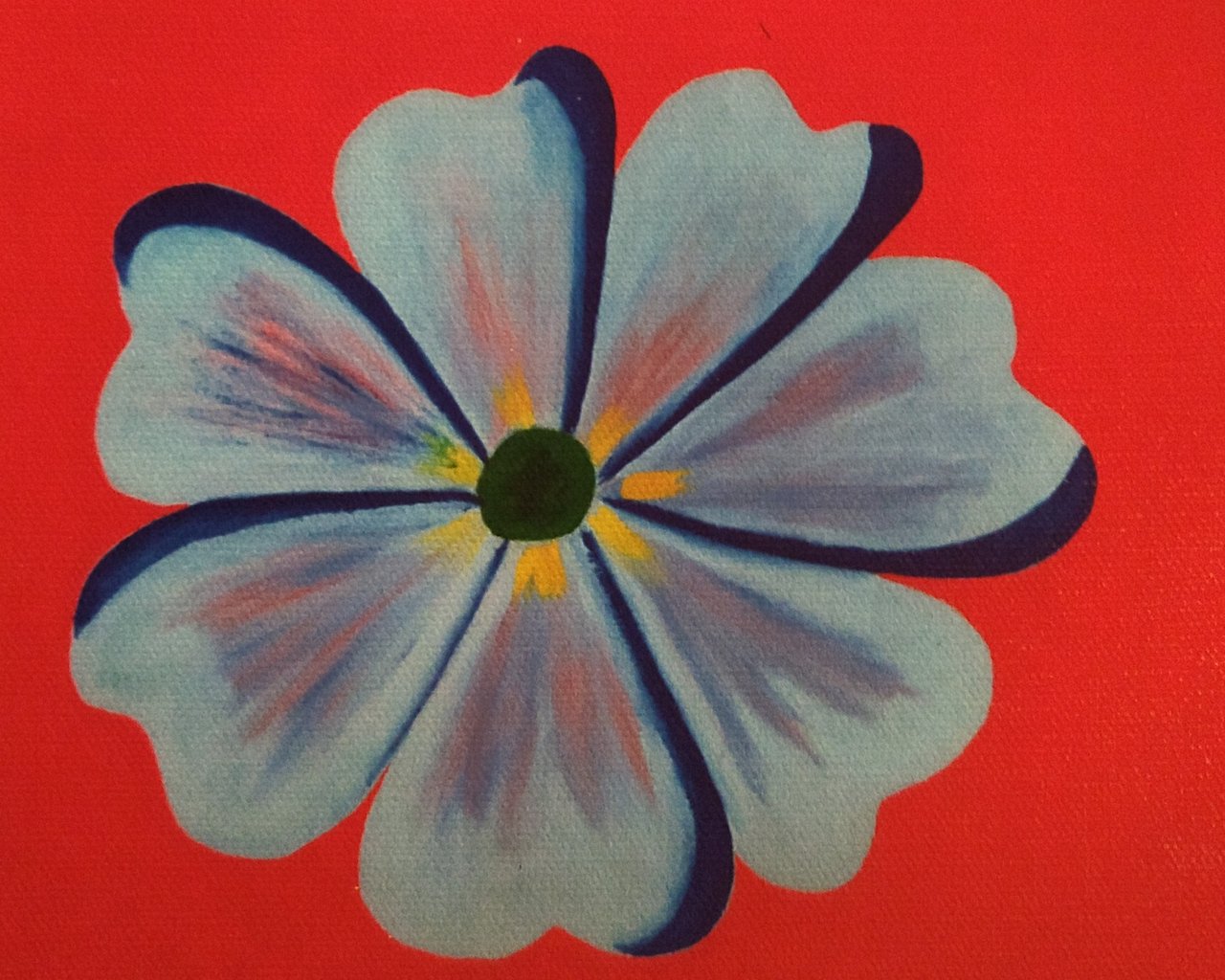 drawing by Akil Jahi, reproduced here with his permission
---
Two days ago I had the honor of spending time with two men who have spent many many years in Unit Two, known in the parlance of the outside as Death Row, of Riverbend Maximum Security Institution in Nashville, Tennessee. I knew not to fear them by what I had been told by my daughter, who visits Akil Jahi regularly and enjoys his dear friend Abu's company whenever Abu has a visitor at the same time. But I was not prepared for what I felt when I was with them: elevated, open, honest and joyful.
We began our gathering as Akil and Abu always begin gatherings, with a poem about forgiveness, a moment of reflection, and Abu's beautiful voice singing Amazing Grace. What then followed was a remarkable conversation that I hoped to share with all of you here on Steem, so I asked their permission to write about them. They both readily agreed. What man who knows he has a valuable message would say no? And what Steemian would not give writing a blog post about them a shot?
But I found I was unable to write a thing that did justice to these fine men. No words of mine could capture the joy and love I felt in that cement block room, sharing a meal of vending machine selections on a makeshift table, six of us (two from the inside and four from the outside) discussing poetry, art, music, cooking, trauma, choices, family, justice, truth and love.
Akil Jahi and Abu-Ali Abdur'Rahman are leaders among both prisoners and guards in Unit Two. I could see the respect and love in the smiles of all who exchanged a word or even a glance with them. But more than that, I could see the same in the other prisoners from the unit and their visitors, whether they were in shackles or handcuffs and meeting behind glass, or allowed the freedom of movement that Akil and Abu have earned in their decades at the prison. This surprised me at first, all the joy evident in the visiting room for the inmates on death row, which was very different from what I saw as we passed through the visiting room for the general population. But after three hours with Akil and Abu holding forth on finding strength, goodness, and joy in what could be one of the bleakest of places, I understood. This is a special place in large part because of the two of them, a place of honor, opportunity, worship and freedom.
I have decided to let Akil tell you himself of the rewards of his incarceration. Here are four of his many poems. The images are my photos of poems he has sent to my daughter.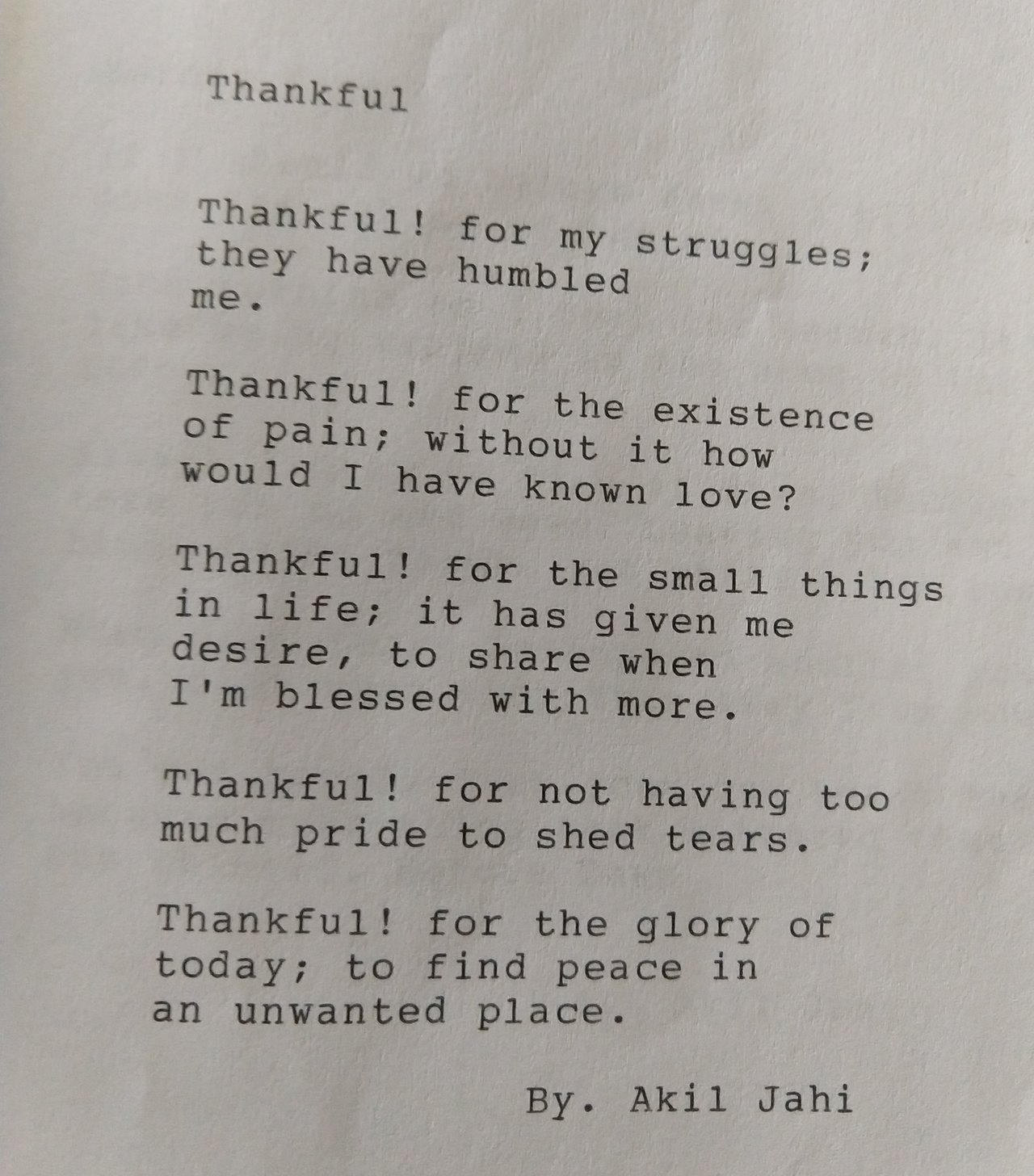 ---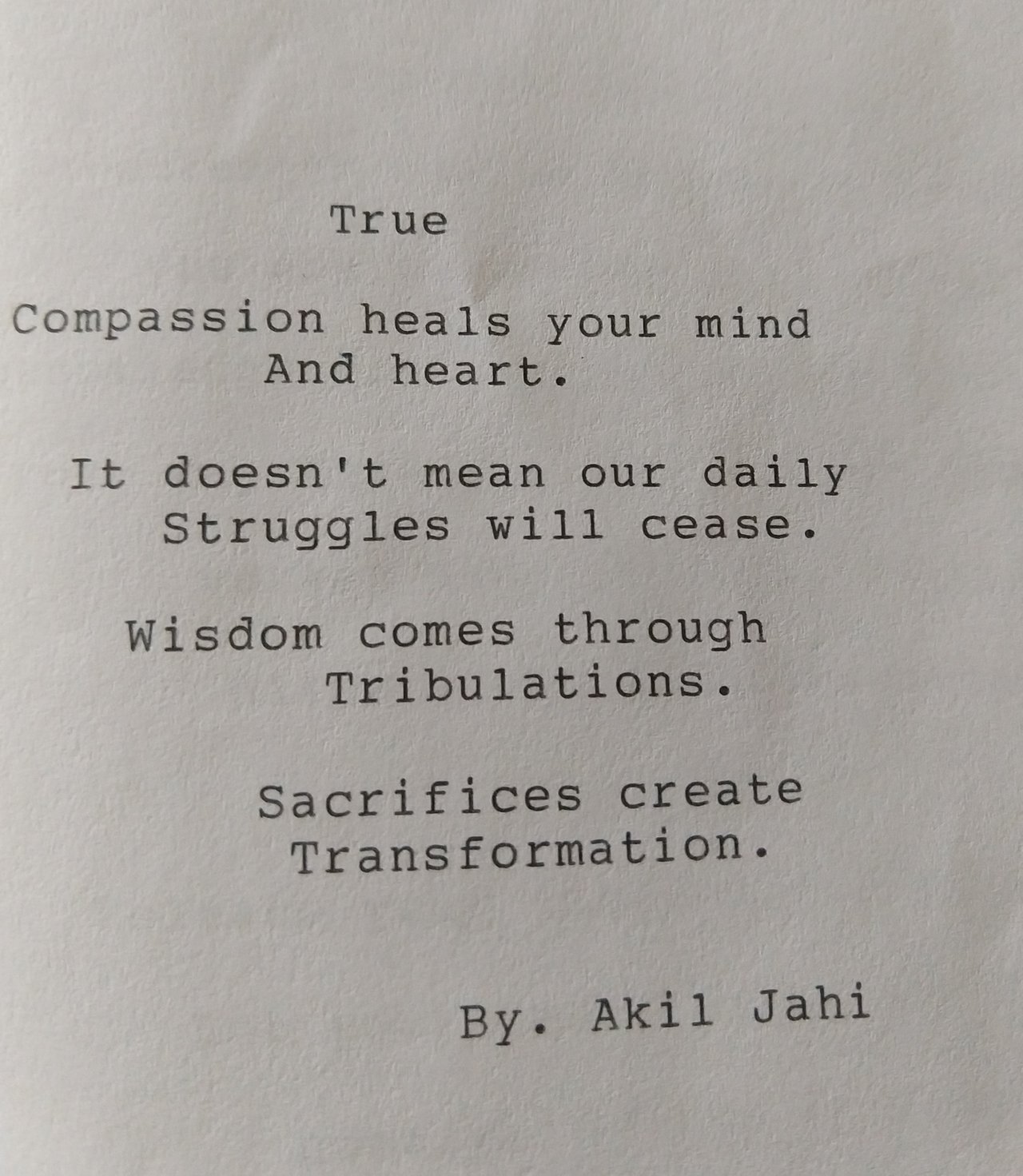 ---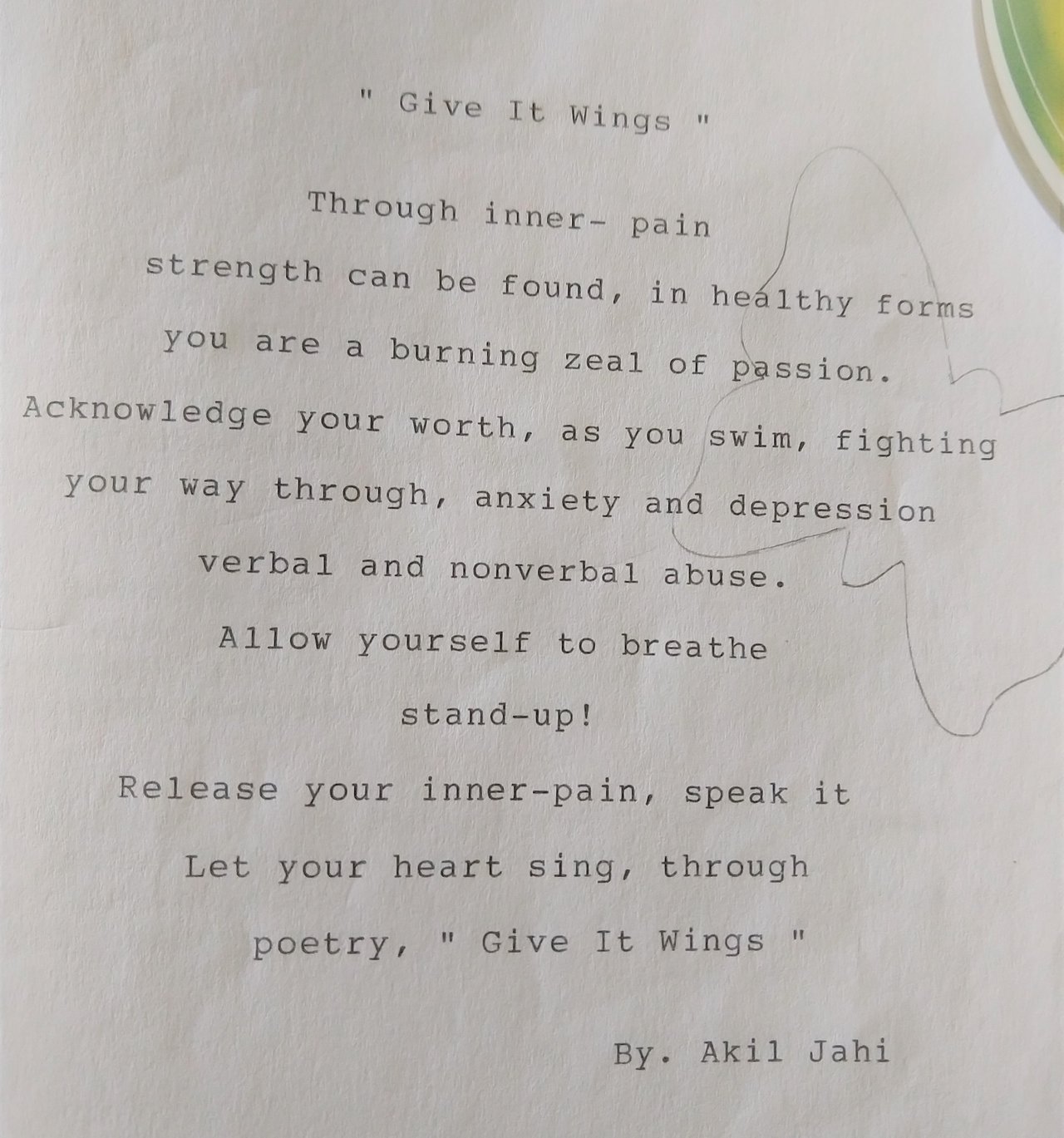 ---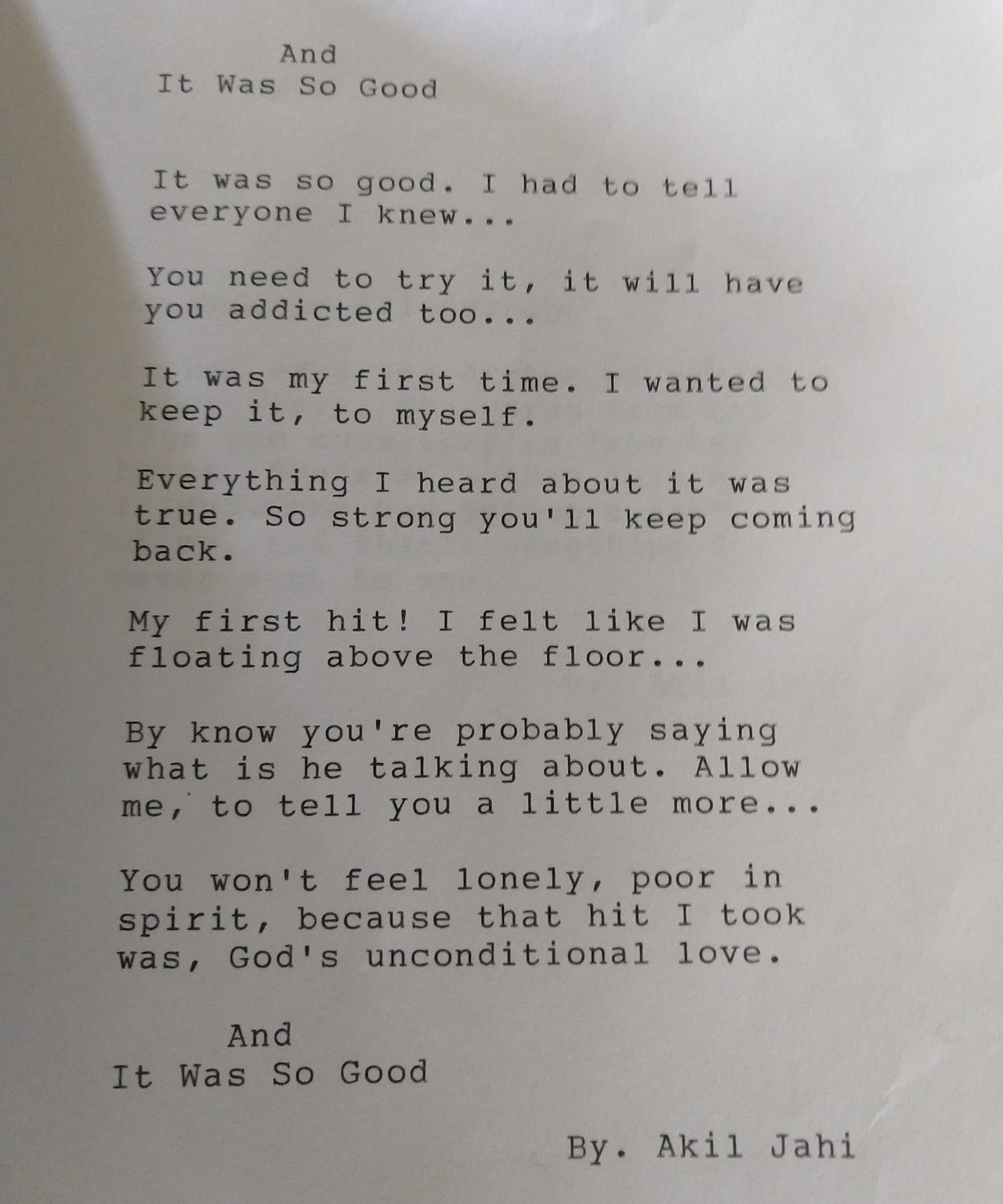 ---
There is some bittersweet news to tell of Abu, news that is cause for both celebration and sorrow. His death sentence was vacated a few days ago after many years of fighting the injustice of this sentence, and he will be leaving Unit Two, thankfully not to be executed, but to take up residence in Unit Six for the rest of his life.
I have no doubt Abu will be a force for positive change among the prisoners and guards of the general population as well, and that is truly wonderful for many many people. Akil will likewise continue the good work in Unit Two. But Akil and Abu, friends of a very special sort, may never see each other again. They will be able to send verbal messages through their visitors, they will be able to send each other letters, but they may not ever again be in each others presence. Akil too is trying to vacate his death sentence which would result in their being again housed in the same unit.
I leave you with a few powerful words of Abu's, and he too has many more of these:
Shed the past of unwanted suffering and become the healer, others await you.
---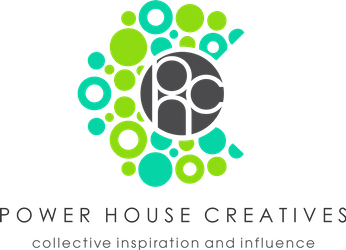 ---