In August, a petition was created by the FreeRoss.org campaign to get Ross Ulbricht freed from his extreme prison sentence. Ulbricht is the founder of the infamous Silk Roads black marketplace. He was sentences to two life terms plus 40 years and is imprisoned in a high-security United States Penitentiary in Colorado.
Clemency from the President is my only hope of breathing free air again.
Please get this petition to as many people as possible. I need your help.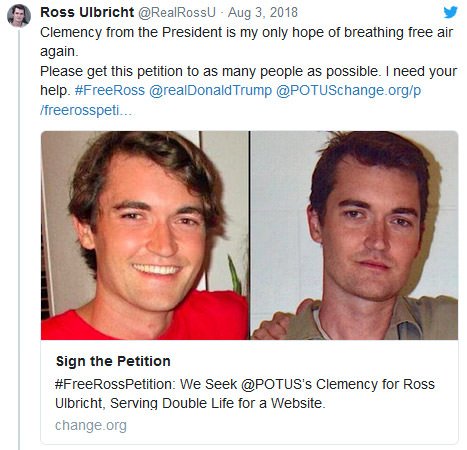 Source
Soon after the petition came out, Ulbricht got some mainstream political support from a Senator. U.S. Senator Eric Brakey runs for the Republican Party in Maine, and he tweeted about his support for Ulbircht's goal to gain freedom:
Hey Ross — I've signed your petition.
You have very clearly been treated unfairly by our criminal justice system and my heart is with you and your family.
Next time I am in Colorado, I'd like to come visit and help if I can.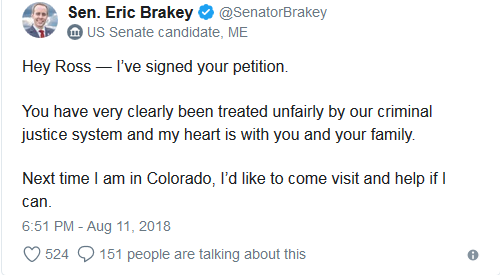 Source
Ulbricht didn't respond right away. Ulbricht got his own personal Twitter account last July, created by his family. It takes time for him to know what's going on, as he explained in a tweet relayed for him from prison in July:
Fyi, I've been dictating my tweets over the phone and they get posted word for word. Then the comments get printed and arrive in the mail a few days later. So far, so good, but if the prison goes on an extended lockdown, I'll have to send my tweets out via snail mail.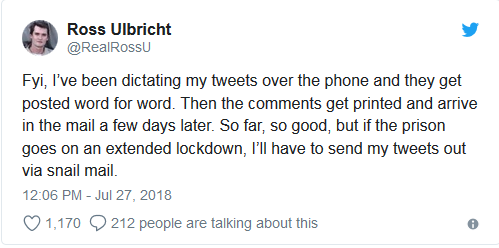 Source
After the first show of support, Ulbricht had not yet responded, but Senator Eric Brakey corresponded with the @PardonROss Twitter account and tweeted about the corruption in Ulbircht's trial:
Terrible to learn that the judge considered pending charges during sentencing that were later dismissed due to corruption by federal investigators — and his appeal was still dismissed.
This is not how our criminal justice system is supposed to work.
When I win election to the US Senate this November, I will definitely raise the issue with the President.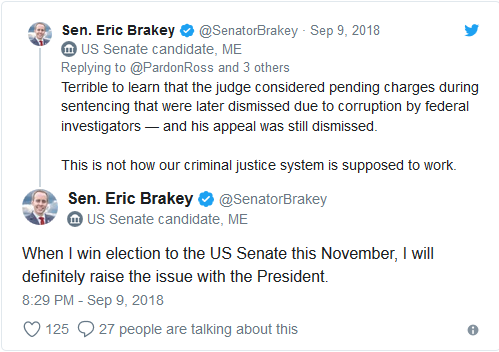 Source
It took over a month for Ulbricht to get the printed Tweet by mail and then call out to send his message for relay onto Twitter.
Hey Eric, thank you for signing my petition.
You're my new favorite Senate candidate! I and so many others need your help.
How can we help @SenatorBrakey get elected?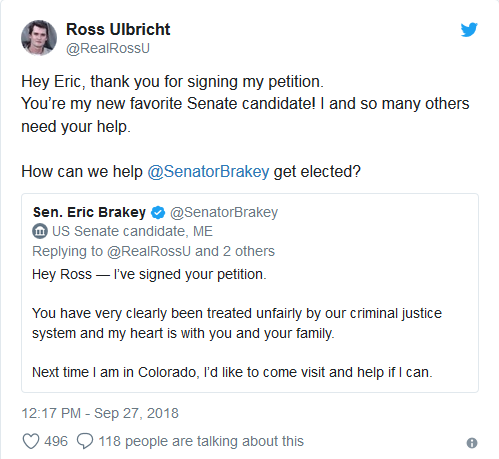 Source
Ulbricht appealed the sentencing earlier this year. Many people were behind his writ of certiorani petition for appeal, which was denied by the Supreme Court of the United States. They also denid any future appeals. The only way he can get out now, is through a presidential pardon, which is why the change.org petition was created. The hope is that President Donald Trump will want to free Ross from prison.
So far, over 88,000 people have signed the petition to free urging Trump to free Ulbricht, and it keeps climbing:
My son, Ross Ulbricht, is serving a double life sentence plus 40 years, without the possibility of parole, for a website he made when he was 26 years old and passionate about free markets and privacy. Ross―an Eagle Scout, scientist and peaceful entrepreneur―had all non-violent charges and no criminal history.
The charges that sent Ulbircht to prison were based on corrupt federal investigators who are no in prison. Despite the charges based on their corruption being dismissed, Ulbricht still rots in prison for them.
Ulbricht had received political asupport priot to Senator Brakey, through the Libertarian Party who passed a resolution at their convention asking Trump to give Ulbricht a full pardon. Senator Eric Brakey appears to be the only mainstream political player who has come out in support of Ulbricht. He also vows to try to get a pardon issued for Ulbricht. Maybe he will have more luck compared to the LIbertarians, seeing as he is part of the mainstream 2-party system.
---
Thank you for your time and attention. Peace.
---
If you appreciate and value the content, please consider: Upvoting, Sharing or Reblogging below.


me for more content to come!
---
My goal is to share knowledge, truth and moral understanding in order to help change the world for the better. If you appreciate and value what I do, please consider supporting me as a Steem Witness by voting for me at the bottom of the Witness page.