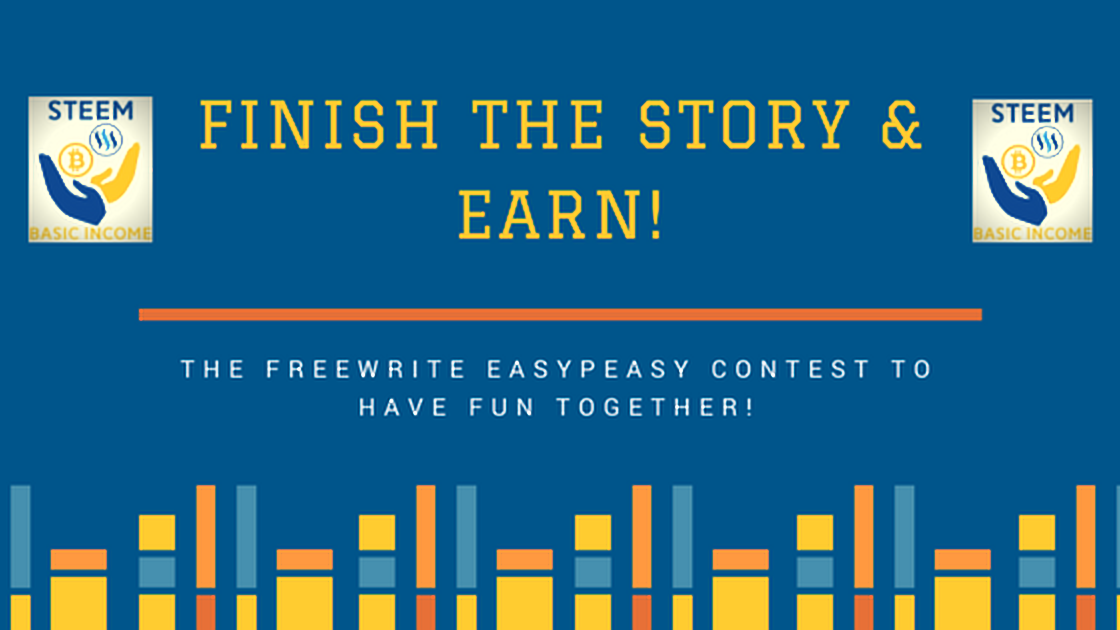 Dear friends, thanks to you all for participating to day #4! Last week it's been a great fun and you have exceeded yourself! I admired your vivid creativity which outmatched my first part of the freewrite.
This week I will confirm a pot of 2 SBI per day of contest: let me share the fun and wealth as much as I can with all of you freewriters!
Here is how this contest works:
1. I write an unfinished fiction story/freewrite
2. You finish it with a comment in the comment section (relax..no long stuff needed!)
3. I will donate up to 2 @steembasicincome shares to the freewriters with the most interesting, fun, original, crazy ending (I'm the unquestionable judge. Well, technically not me.. the bananafish voices within my head are).
It's super simple and I hope we'll have loads of fun together! Basically you comment, as you always did, just this time you can be rewarded with one or even two SBI share!
Nothing is mandatory here..Just enjoy and prepare for a trip into my delirious fiction world!

For those that don't know what the @steembasicincome is, we're talking about a great project run by @josephsavage which - based on your amount of shares in it - will grant you a permanent vote on all your posts!
Here you will find their most recent post with details
Steem Basic Income is a social experiment to bring a basic income to as many Steemians as possible. Members join by sponsoring others into the program. Steem Basic Income is delivered through providing regular upvotes to member content.

Too much writing! Here's the story based on @mariannewest today's prompt "syrup":
Bathed by the purple light of Segesta, the moon-oracle, the chief minstrel admired the suspended city of Taqrah from the watchtower.
Soon he would return to its opal walls, climbing one of the twenty compressed-air tubes that could carry you from the ground to the floating city in the blink of an eye.
His mission was coming to an end and, in all truth, he was not so keen on returning home. A voice behind his head whispered mellifluous and insidious that the Council of Bards would not be enthusiastic about the songs he had collected to enrich the immense main archive.
It is true that since he had been accepted as a citizen in Taqrah, on the wave of his growing fame, he had been accepted as a brother. Almost.
Of course kindness had always been there and he usually filled the amphitheaters like few other singers. In the city the elders competed to host him for their lavish banquets. But something wasn't realyl matching in the picture. More and more he felt he was missing a detail, a relevant one. A sense of strangeness, of unintended implicit withheld whispers, games of looks that he could not completely understand. Now, thinking about it, he was almost certain that they sent him on mission more and more often just to keep him out of the game. Could it be just his paranoia? The problem is that weeks ago he had found that note on the ground, slipped by the tunic of Balaen-Dar, the head of the Bard's Council. The note repainted with a tremulous hand "today it's green syrup No. 5". Very strange.
At first he had shrugged, but then in his mind of minstrel, trained to the art of memoriseing every detail, many things had joined together .. and he discovered that they matched like puzzle pieces.
Everything spoke to him about a syrup. The hidden bottle, spreading from the folds of the tunic of the elder during the festival of a thousand voices. The strangely stunned look of Malyeth, her favorite maid, when he told her she needed a syrup to soothe his vocal cords. What did the meanders of that harmonious and luxuriant city hide? As he was walked toward the pneumatic tubes he promised himself he would find it out.

Also this week, I will run 3 rounds of this contest: mon/tue/wed. All the results of this week will be out on Monday 12th March, 11 pm, UTC +1 (i.e. California is UTC -8).
And now, dear friends, it's time to drink your special syrup and let the journey begin!