I finally finished the entirety of Fleabag.
I am not in tears but it gave me some satisfaction for certain characters and just downright heartache and pain for others.
YES, there will be spoilers so be warned.
Before I started watching, I was so curious as to how Phoebe Waller-Bridge (who plays Fleabag) and her crew end up shining at the Emmys this year.
As I watched the show, I found myself laughing and crying. Wow, I knew an Arsehole Guy! How curious.
We learn that yes, Fleabag is indeed a fleabag, instead of telling someone that she didn't want to be engaged to him, she pulls a "prank" that involves dressing up like a robber with a knife.
I wouldn't do that... I think?
However, we meet so many characters who aren't necessarily good people. Martin is absolutely trash. Godmother is a passive aggressive bitch. Harry is absolutely emotionally abusive (yeah, it doesn't matter if he sobs over everything, serial killers sob too).
Like, don't get mad at me, Hot Priest isn't an angel either. The entirety of the "Kneel" scene is basically predatory, please don't let people in power do this to you! (You are welcome to use scenes like this in a roleplay setting, however... ;) )
I think the few characters I'd say are on a better alignment would be Belinda Friers (who made a good decision to NOT play with Fleabag's heart), Claire (who would do anything for Fleabag, even if they fought) and Dad (who despite not knowing how to handle his daughters and end up marrying their Godmother, he just wants the best for his girls).
The distinct difference between Fleabag and I (aside from gender) is that she gets way more sex than I do. Way more. Like 99.5%? It might be 99.9%, I'm not slutshaming, I swear.
The way the series ended is not only heartwarming but extremely devastating as well.
Dad and Godmother marry, despite him being aware that she's quite a nasty person, at least she could take care of him, from the day Fleabag's mother died to possibly the day he dies.
Claire finally leaves Martin, she was even willing to do a demeaning action just to tell him to get out of her life. Now she's going to work in Finland and be with Finnish Klare, I mean, who knows if they'd stay together but you know that's not why she's leaving Martin.
Lastly, Fleabag and Hot Priest conclude their relationship and their story. They're in love. They know this. And it's really not because they had sex once. However, we know he's married to God first, that's what his role is. He found God and it's his first love. So they'll still know each other, maybe even see each other. And while love doesn't always mean marriage and kids, Fleabag will never be his main love.
It's stories like this where you're like, "This doesn't need a 3rd season." It's heartbreaking, maybe some of you have met someone that you love and they love you back but the stars don't align and you cannot be with them and grow old with them.
I guess that's life for you.
I am in that point of my life where I've been with several people, slept with a couple. Yes, like Fleabag, family is always there. But what she said to her friend Boo was so real, that she lost her love for and from her mother after her death, where does that love go to now? Boo was that one friend that she gave her love to, yet she screwed that up. Then there's Harry, who she never gave that love to. And finally, the Priest, the one person she passed it on to can't really give back that amount of love she has for him.
That ending just reminds me of that loneliness. It hurts. Love sucks.
But you know your family is there, even if they're preoccupied with their own love lives.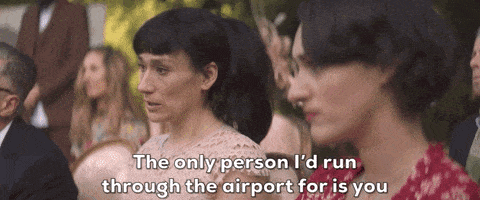 You're not alone but you still feel so so so alone.
I honestly don't know how to end this. Because I do wonder where Fleabag is going with this herself. That's fiction for you, John Green says that while fanfiction is okay, the actual canon is over when the book or books end. Fleabag is over and that's the end of her story.
My story is still ongoing and I have to live with that.