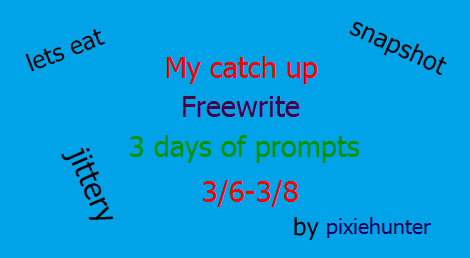 @jeanlucsr came back to the cafe after he and his clan were done looking at books.
Dude, why the heck are you so jittery? I mean your hands are shaking like you had caffeine overload. You know @fitinfun would have your head if you had an energy drink.
Yeah well you'd be shaking too if someone was shoving a camera in your face to take snapshots.
"Oh dang. Sorry man. Who was the fool doing that?"
"@freewritehouse. They wanted proof that I actually read books!"
"Oh that is messed up. Here sit down. Lets eat and see if we can get you to calm down. Does @mariannewest know they were doing that to you?"
@jeanlucsr looks at me and asks if I was blonde. "Of course she knows! She trained them!"