Some people don't handle retirement well. My neighbor, age 78, says she feels rather useless these days, without a job to go to. She lives with her granddaughter's family, and they don't want her to do very much around the house. So she has too much time on her hands. My husband retired in 2016, and I think he really misses the human interaction. He doesn't think he misses it, but I would say he needs it. Even the introvert-iest introvert needs to be around other people now and then. He is turning into a hermit. His job didn't require him to constantly be around other people, just a little bit, and it was enough for him. And it gave him something else to think about besides himself and his own problems. Now he doesn't have any new thoughts or ideas or conversations to mull over, because he just hides at home all the time. That doesn't seem healthy to me.
Although I have a teaching degree, I have been a homemaker much of my adult life. It is a full time job, especially since I also spent 20 years home-schooling our three children. I suppose that was a career of sorts, but it isn't one from which a person officially retires. A homemaker never gets to retire, because shopping, dishes, laundry, cleaning, and cooking go on forever.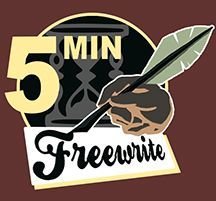 Thanks again to @mariannewest for the daily freewrite prompts!