The man who had stalked him must be insane. There was no possible reason for anyone to stalk him. Of all the boring, middle-aged men you could pick out of the phonebook, he had to be one of the least likely to ever do anything interesting.
The reams of notebooks told a different story though. Stacks and stacks of them, detailing David's every move. Why anyone would want to record what he ate at Five Guy's was beyond him, but there it was neatly written out with a blue ballpoint pen. His stalker must have been right there with David because there was a crumpled receipt taped next to his handwritten observations.
David closed the book and shook his head. Next to him, his wife clutched his arm tighter and said, "We should get out of here."
Laura was right. Everything about this made his stomach ache. He wished he'd never found out about this guy. He couldn't think why this dude's landlord had called David instead of the cops to try and locate a next of kin. It had to be immediately obvious David wasn't friends with him but was being stalked by him.
But something kept him there, reaching for another notebook. He flipped through it, stopping on a printed out picture of his wife. He started to read and then turned to her in shock.
"You met him?"
She was looking down at the page as well, her brow furrowed.
"I guess so… I had no idea though."
David flipped back one page and scanned it. "This was that day we went to Prospect Park. Why did you go back by yourself?"
She grew pale. Her voice had a harsh note in it. "It was some money I lost under the bridge…"
She trailed off, her eyes focused down on the page.
"And?" David asked testily.
"And I went back for it. That's when I met him, I guess."
"So you met a strange man and never said anything to me? He writes like he knows you," David said, stabbing at the page for emphasis.
"Well he would if he was stalking you! I had no idea he was doing this," exclaimed Laura, throwing up her free arm and glaring at David. "He seemed like a nice guy. A little lonely maybe, but nice."
David bit his tongue to keep from answering back. What she said made sense and his feelings of betrayal were no doubt unreasonable. It wasn't as if his crazy stalker could be counted on as a reliable narrator. But that logic didn't assuage his urge to keep questioning her, it only helped him to push it aside for now.
"Sorry. I'm sorry, Laura. Maybe we should get out of here," he said.
They left together, carefully locking the door. David pocketed the key and smiled grimly at Laura. "I suppose it's an adventure. A story to tell the kids one day."
She smiled back weakly.
"Yeah, sure."
---
Laura wanted to call the police. David agreed, but a larger part of him wanted another chance to go through those notebooks, this time alone. He didn't tell her that, only that he would take care of it.
The next day he left work early, giving an excuse about urgent medical tests. He knew Laura would ask him about calling the police when she got home, so his time was limited.
It wasn't until he was at the subway station that he realized he didn't have the address. He'd thought it would be ingrained in his memory, but everything outside of his stalker's apartment was fuzzy. All he could clearly recall were the piles of notebooks and the photographs of his life that lined the walls.
He left the station and walked around anyway, hoping something familiar would jog his memory.
Laura kept far behind as she trailed him. She soon realized he wasn't headed towards the apartment, but wandering aimlessly. She drew even further back, relieved that she had more time to formulate a plan in case he did go back and learn the full truth.
One thing was clear though, she'd have to call in someone new as soon as possible.
---
This was inspired by this weekend's three #freewrite prompts. Read other people's takes here.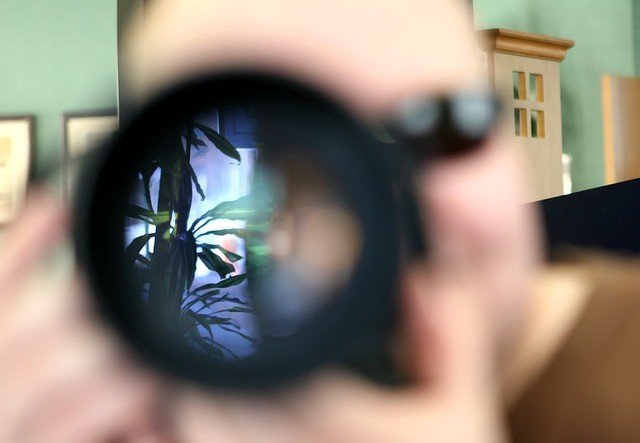 Image by Robert-Owen-Wahl.