For those of you I haven't converted yet, this may make you a believer!
Here I am, talking about salads over here again-- just trying to change lunches, 1 bunch of spinach at a time! 😘
---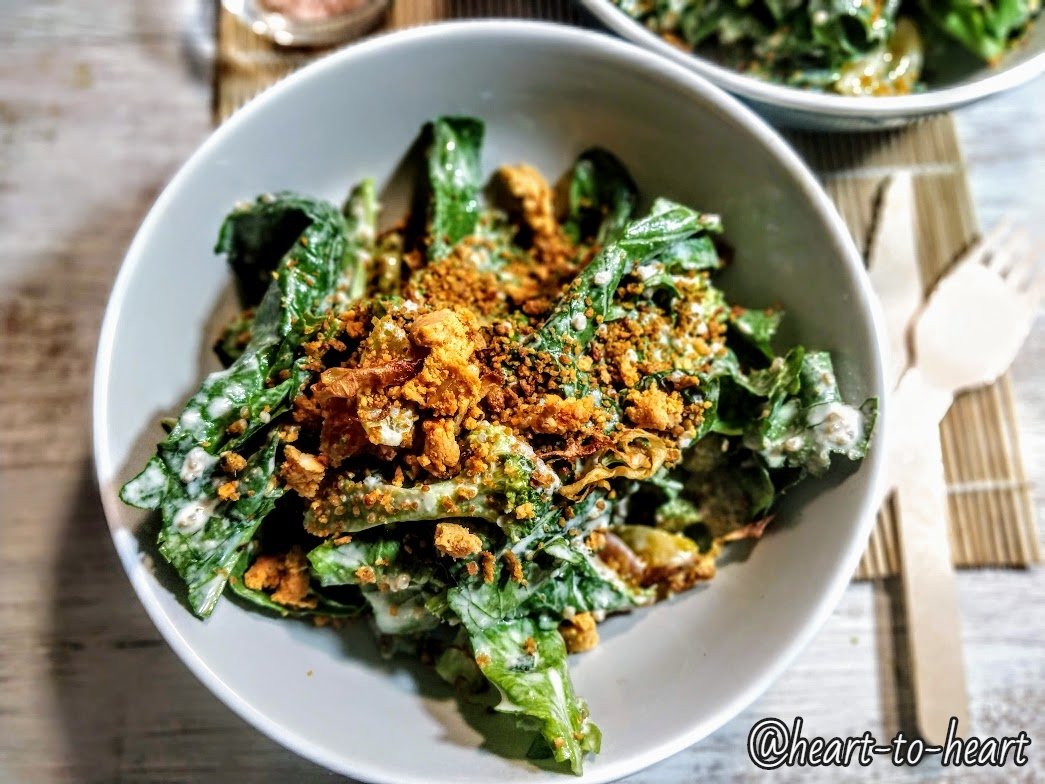 ---
I love having a big delicious bowl of goodies to keep me going all day and what better way to do so than a salad? Not just any salad though-- a super yummy, creamy, flavorful one!
🌱 This is that salad and it's here for @lenasveganliving's #fruitsandveggiesmonday! 🌱
I noticed a few years ago that if I eat too heavy during the day, I tend to get tired and unmotivated as my body uses a lot of resources to break down all that food.
There's many reasons as to why that slump may have occurred but what I found for myself is that changing what I ate during the day, gave me a huge edge on my energy levels and overall productivity!
And so began the lunchtime salads!
Here's the thing(s)--
They're easy to bring along (portable)
They're customizable
They're a great way to get nutrients and vitamins in
They're easy to make
They're a perfect base to "add onto" so if you're hungry, just add other things into the bowl!
I've mentioned this before but I believe the first thing is what base you use! For me, that is not some gross, wilty iceburg lettuce! I LOVE spinach so in order for me to get super into my salad, I start with that.
What's your favorite green?
Start there and add onto it! It's a work of art and it can be a lot of fun creating new flavors and textures to keep it exciting!
Here's the way to make this easy, go-to of mine to give you some inspiration!
Spinach & Quinoa Bathing in Tahini Salad
---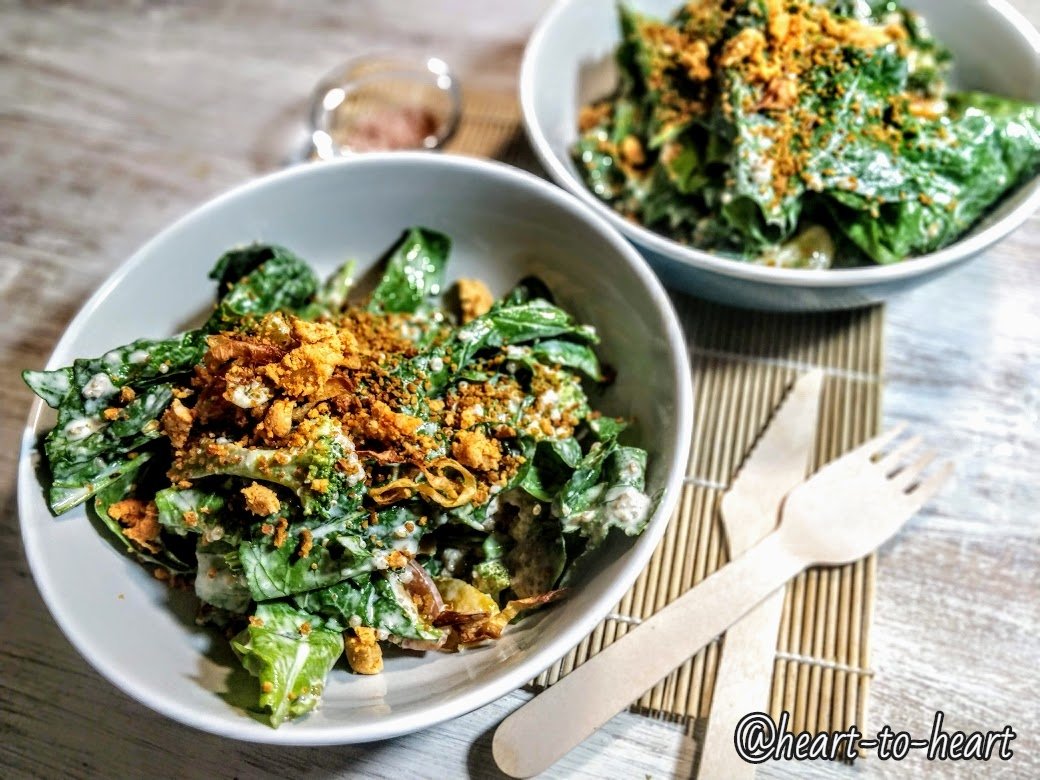 ---
What You Need: (Makes 4 portions)
A bunch of spinach
1 1/2 cups cherry tomatoes
2 cups steamed broccoli
½ cup tahini
1 lemon (juice)
1 tsp pink Himalayan sea salt
1 cup quinoa (cooked)
½ cup toasted cauliflower crouton dust
1 tbsp vegan cheeze
Optional:
1 cup chickpea flour
1 tsp of your favorite spices
1 tsp pink Himalayan sea salt
1-2 tbsp plant based mylk
---
What To Do:
---
Cook the quinoa
Gently steam the broccoli so it's a little less crunchy (or you can eat it raw if you prefer)
Chop up the spinach and cherry tomatoes and toss them in a big bowl
In another bowl, mix together the lemon juice, tahini and sea salt until you get the desired consistency of the dressing. (Add a bit of water if you want it to be more runny!)
Add in the broccoli and quinoa
Coat everything in the dressing and top with the "crouton dust" and vegan cheeze if you want!
Optional:
"Crouton dust"
I designed this as a gluten free accent to salads and it's yummy!
Mix together some chickpea flour, some of your favorite spices (I like to use cumin or paprika), some sea salt and a tiny bit of plant based mylk.
On an oiled baking tray, lay it out and bake it for about 15 minutes at 350'C
Sprinkle it on everything!
---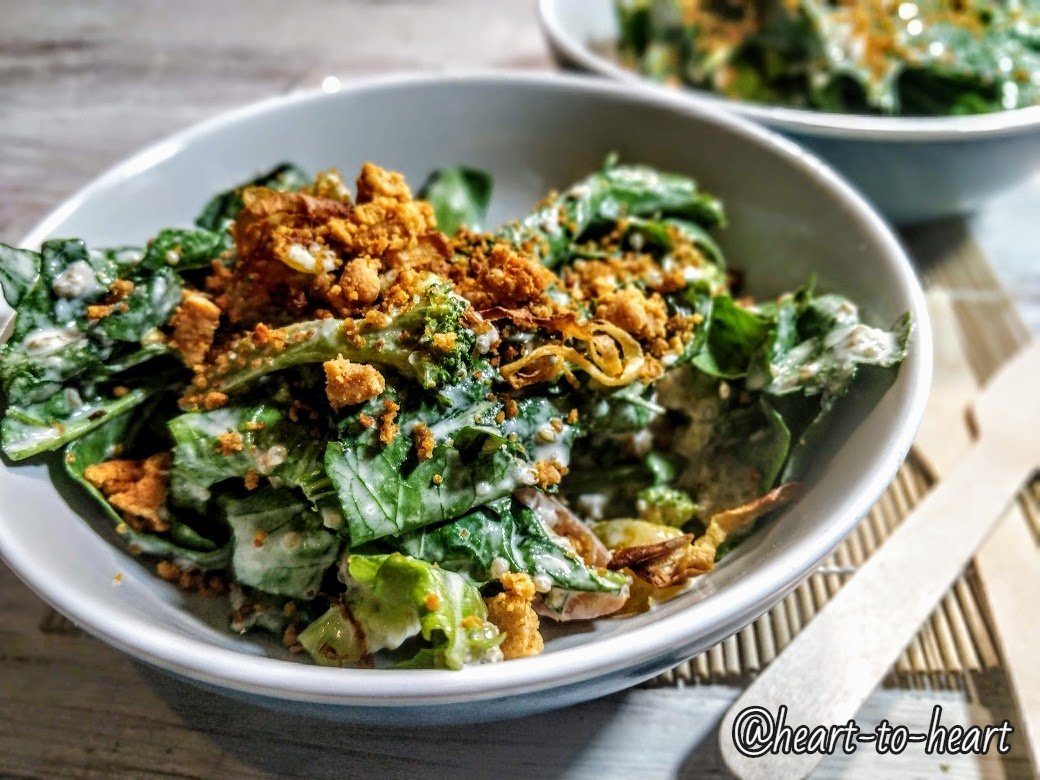 ---
---

I wish you yummy in your tummy!
Love and Light ✨
Cece 😘🧙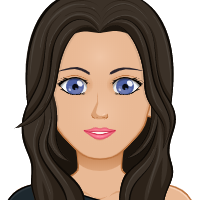 What did you miss from me? Here's what I've been up to lately:
Unsuspecting Cabbage Deliciousness
Pesto Impresso
Oriental Tacos
Delicious Treat You Right Granola
Communication 101 (for Angry Lions)
Breakfast Cupcakes
I-N-D-E-P-E-N-D-E-N-T Bread
Spaghetti Vibes Salad
Rainbow Rice
Mas-A-Better-Man-Curry
Unsuspecting Veggie Drool Inducer
Thai Squoodles
Handheld Avos
Pumpkin Spice "Latte" Nibbles
Jicama Hash Mash Bash
Rad Rainbow Coleslaw! (Rainbows are ALWAYS DELICIOUS!)
Something Like Ratatouille
Not Your Plain Ol' Veggie Tray