Hola Friends!
I know, I know, it's not Friday so you may be asking yourself "what in the heck is Pura doing on a Monday?" You guessed it, it's #fruitsandveggiesmonday and I've come out to play. This is long over due so thanks to @plantstoplanks and @lenasveganliving for having me.
A couple of weeks ago I bought some local, strange looking produce from the store. For those of you who don't know, I'm in Costa Rica where there are lots of local fruit and veggies that I haven't worked with before, let alone tried. I decided to live on the edge and get a few things to experiment with.
I kept seeing this big round dark green pumpkin shaped looking vegetable and decided that it was the winner. I took her home pondering what I could do with her and taaadaaaaa… out came this creation…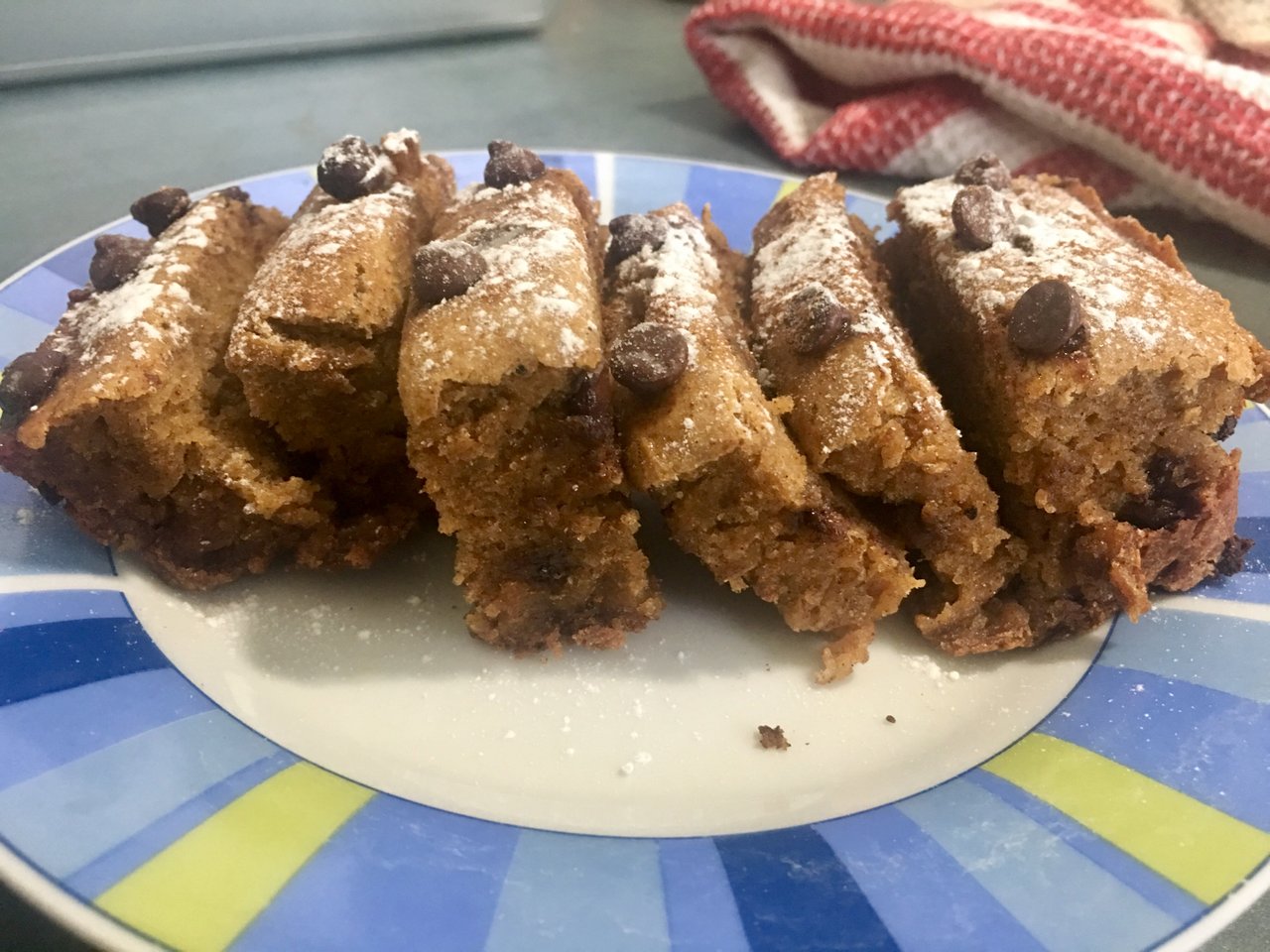 Chocolate Chip Ayote Bread
It's Ayote not chayote and yes it's a squash. At first I figured I could make some yummy fries like I would out of a butternut (is it okay to shorten butternut squash?) but upon further discussion with a local I was quickly informed that that was a silly idea. Apparently this particular squash is used for a sweet cream dessert native to Nicaragua. My Ayote expert said the consistency was all wrong for fries so I had to think again about what to create.
Not long into this thinking process I came up with making a pumpkin Ayote Bread. Have I mentioned it's not only vegan but also gluten free and refined sugar free. The chocolate chips are even sugar free, which is a tough feet to accomplish in Costa Rica where you're lucky to find chili powder in a store. Anyway, it worked like a charm.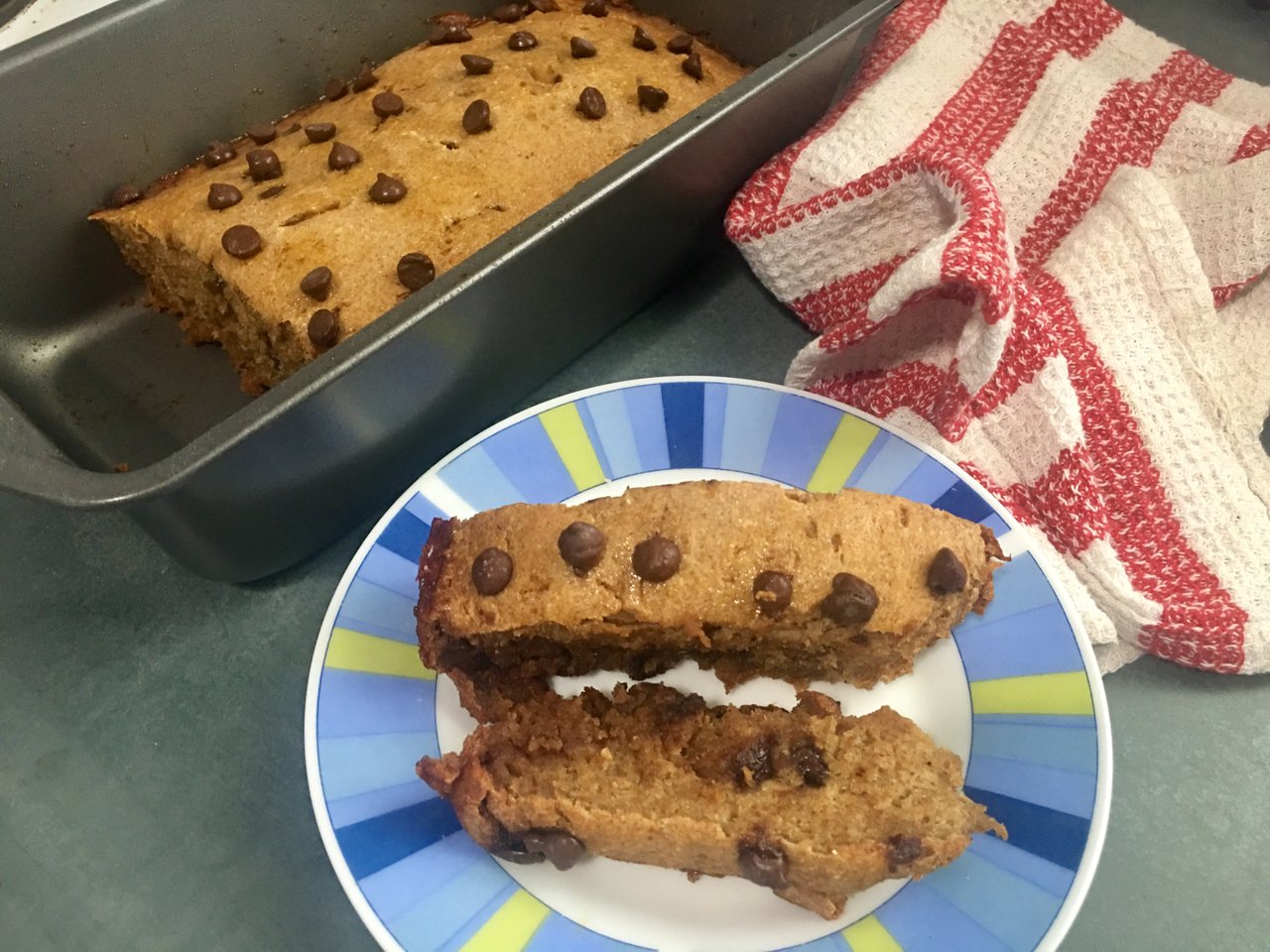 This all came about because a good friend of mine @cicisaja reminded me of all the veggies I still had to discover here and I proudly showed her this…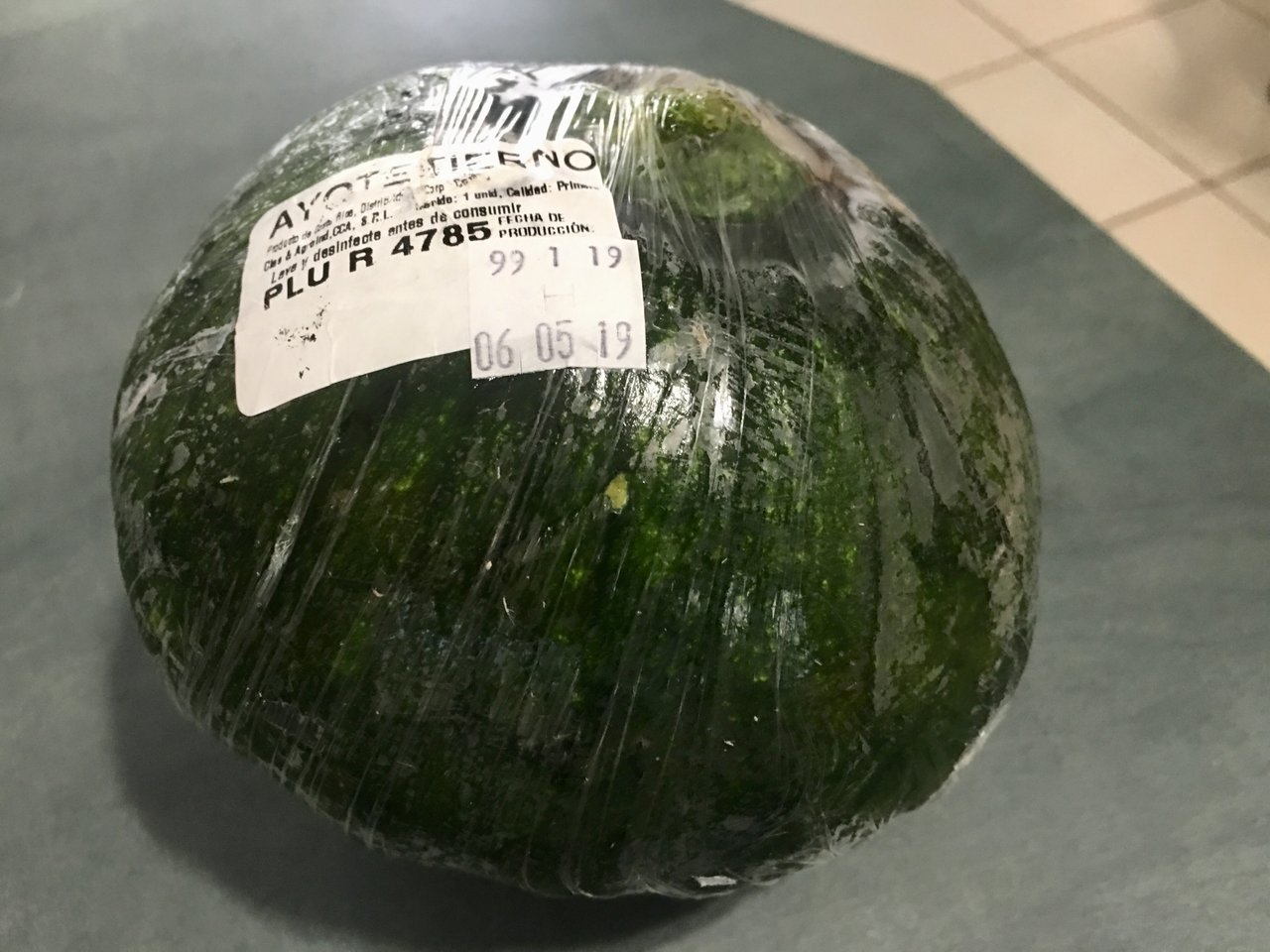 … at the time I had no idea what I was going to do with it. Thanks "C" for always exposing me to wonderfully different tropical Fruits and Veggies- you rock! Go ahead, google "Ayote recipes" and see what you find. They will all be a sweet soup or cream dessert recipe so I'm happy to add this little number to the repertoire.
Ingredients
1.75 Cups gluten free flour
1.25 Cups Ayote (puréed)
1/3 Cup almond milk (or coconut milk)
2 Tsp baking powder
1/2 Tsp baking soda
1 Tbsp cinnamon
1/2 Tsp pink salt
1/3 Cup coconut oil
2 Tsp vanilla extract
1/4 Cup agave
1/4 Cup pineapple juice
Sugar free chocolate chips to taste (the more the merrier 😉)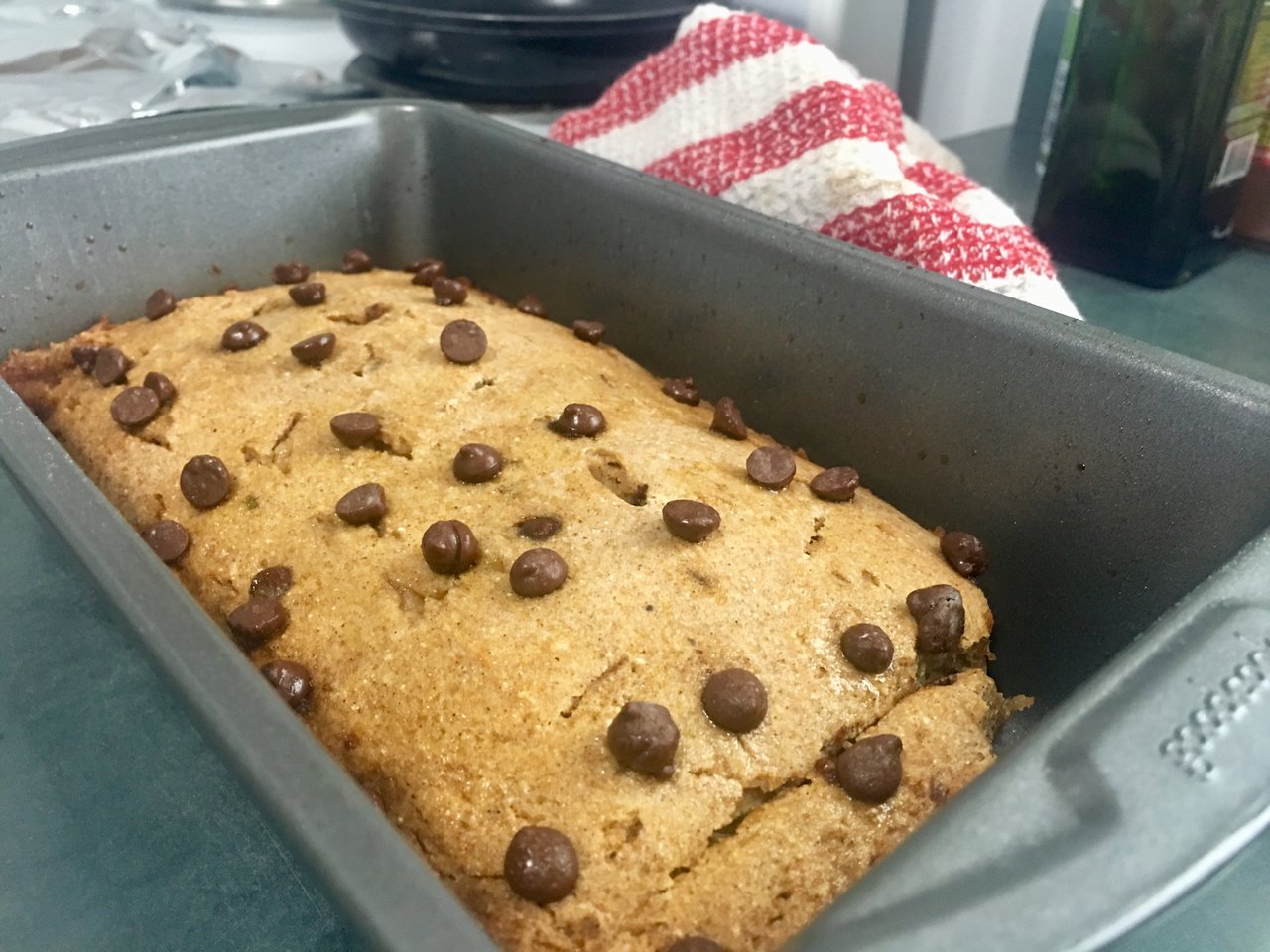 Set your oven to 350 F and unwrap that green pumpkin (I don't know why they insist on wasting plastic by wrapping the produce here, maybe it helps to preserve the fruit. Wait, isn't that what the thick and shiny skin is for? 🤔 I'll have to investigate this further at a later time… ), and cut in half like you would a small pumpkin.
Scoop out all the seeds (like a pumpkin) and spray olive oil on a cookie sheet. Place the Ayote halves face down on the pan then drizzle a little olive oil over their back side.
Use tin foil to make a semi tent covering the Ayote pieces. Place in the oven for 35-45 minutes or until a fork can easily penetrate the skin.
Now you want to wait a bit until the squash cools before ravaging the skin off and steem burning your fingers while incessantly chanting obscenities making your husband question your sanity, or you can just go for it and see what happens 🤷🏼‍♀️.
Place the freshly peeled pieces into your food processor and process until smooth. Set aside…
In another bowl mix all of the dry ingredients then set aside. In yet another bowl, mix all of your wet ingredients including the Ayote purée. Go ahead and taste the mixture to see if it's sweet enough for you and if not add a little more agave or pineapple juice. I wanted this bread to be less sweet and more mild so as to not feel guilty while scarfing it down for breakfast. It really didn't matter though because it never even made it through the day 🤦🏼‍♀️.
Combine the two bowls, careful not to over mix and pour into a greased bread pan. Use a knife, spatula, or other device to smooth and even the batter then sprinkle with additional chocolate chips (sugar free guilt free) and place in the oven for 35-45 minutes.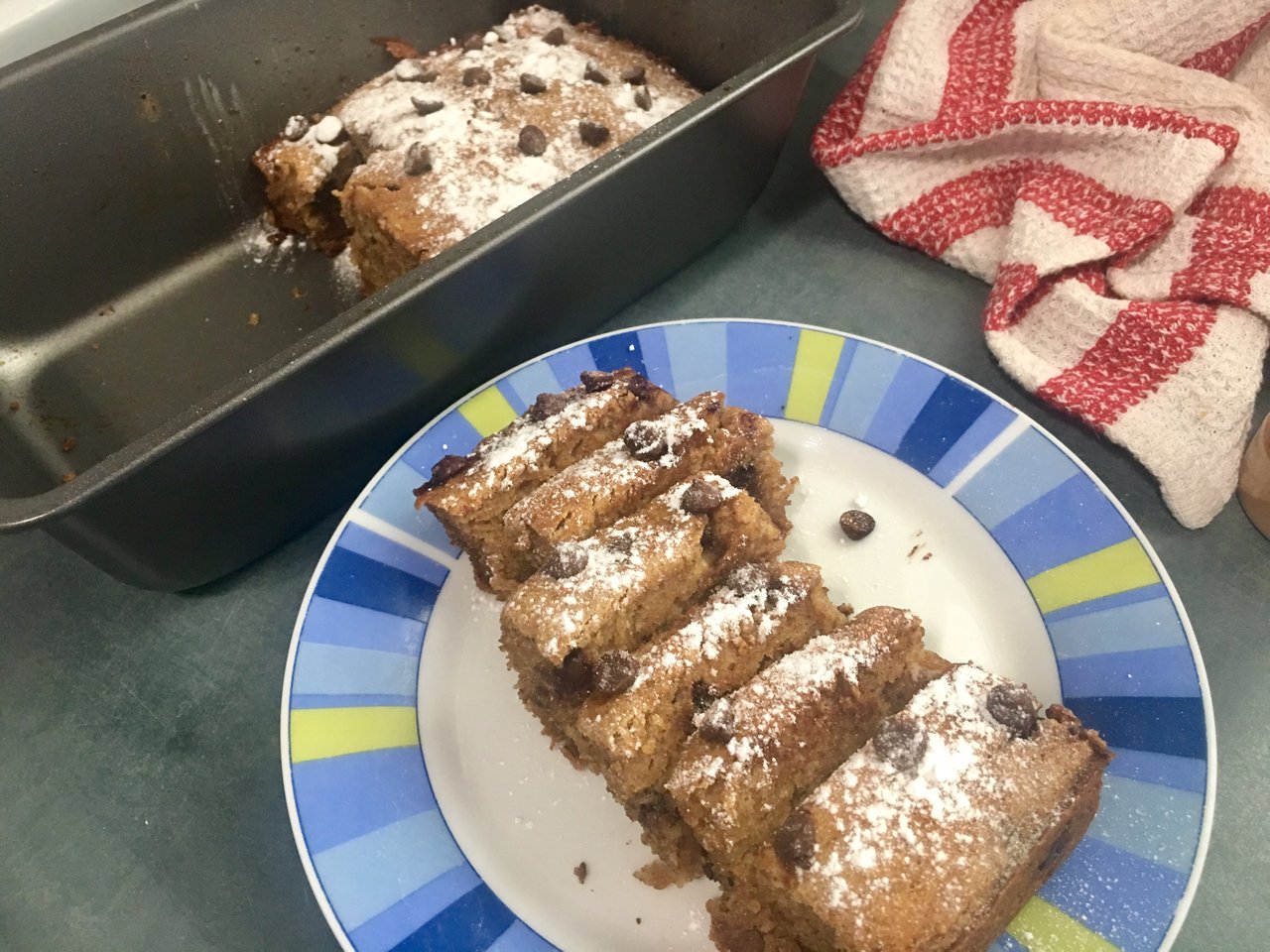 Pull out and slice up a third to bring to the local that inspired the dish. I dusted the bread in powdered sugar only to make it look nice for our neighbors.
@dandays and I fully intended on eating this over the course of a few days but lost our discipline in the yumminess. There's a reason both of us have gained 10 pounds in a couple months… don't worry we are working it off now, it just takes a little longer to lose these days.
Told ya @plantstoplanks that I'd be over this week… I'm off now to finish laundry and record this weeks new recipe. My producer is looking at me like "hurry it up". Haha
Thanks for reading and Pura Vida ✌️