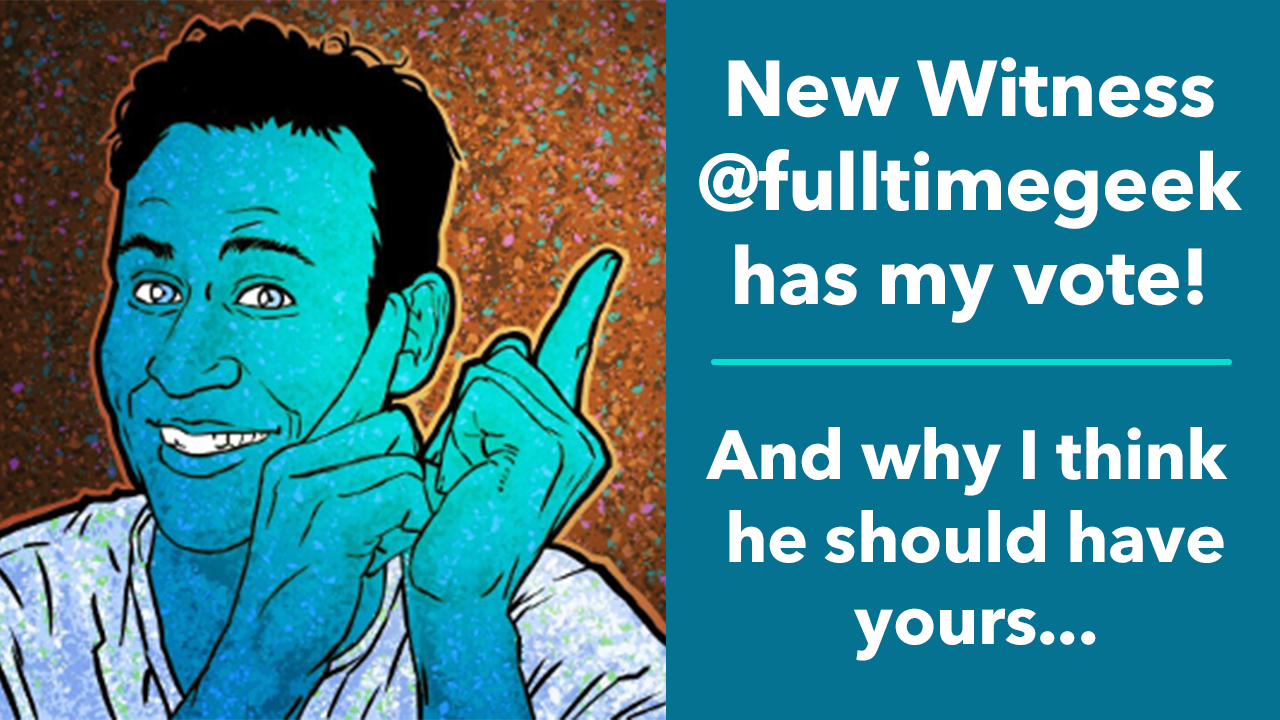 @fulltimegeek Witness Has My Full Support
It's not like me to recommend a witness I think you should vote for. In fact, I don't think I've ever outright made a post saying, "Hey, you should check this guy out and vote for his witness!"
But not everybody is @fulltimegeek either...
Recently picking up the moniker "The Minnow's Witness", @fulltimegeek has been selflessly rewarding users on the Steem blockchain for the last few months (if not longer) by sending out upvotes via his hundreds of FullTimeBot accounts. The bots randomly reward content creators on the "blessed list" who produce regular content and engage with their following. This is not a "paid for" service; it's merely a charitable contribution to the blockchain and its users. Needless to say, it's created minnows out of plankton, and dolphins out of minnows. I'm lucky enough to be on the receiving end of his bots' generosity.
For the last two years @fulltimegeek has been studying the blockchain, getting to know the Steem Community, and developing his skills as a programmer so that he can build (and deliver) high-end applications that connect directly with Steem. I can only imagine the things he's going to create for the community, especially now that he is a witness!
Like I said, it's not unheard of, but it's certainly uncommon, for me to recommend a witness. There are a lot of great witnesses out there producing blocks for the Steem blockchain, so what makes @fulltimegeek different?
Not to say that other witnesses don't have the community at heart, or that they aren't doing things to help along the "little guys" out there, but @fulltimegeek has shown in many ways his eagerness to make Steem(it) a better place for all. He's also running 4 servers (witness, seed, and full RPC node if I'm not mistaken) which shows some serious dedication to the network (and his projects).
At a minimum, check him out. And if you have some extra witness votes, throw one his way. It's a great way to support the blockchain and all of its users... big or small. He's got my full support, and I love the guy so much, I felt obligated to share the great news that he's running for witness!