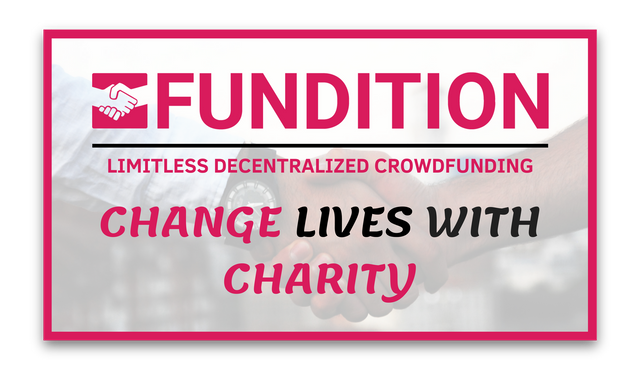 source
Introduction
Crowdfunding has been in existence for long. In fact, it precedes the Internet for many years. Online, crowdfunding existence has been long. But the existence of Fundition.io tends to take crowdfunding to the greatest level by decentralizing it on a steem blockchain.
"I identified it as an intervention project."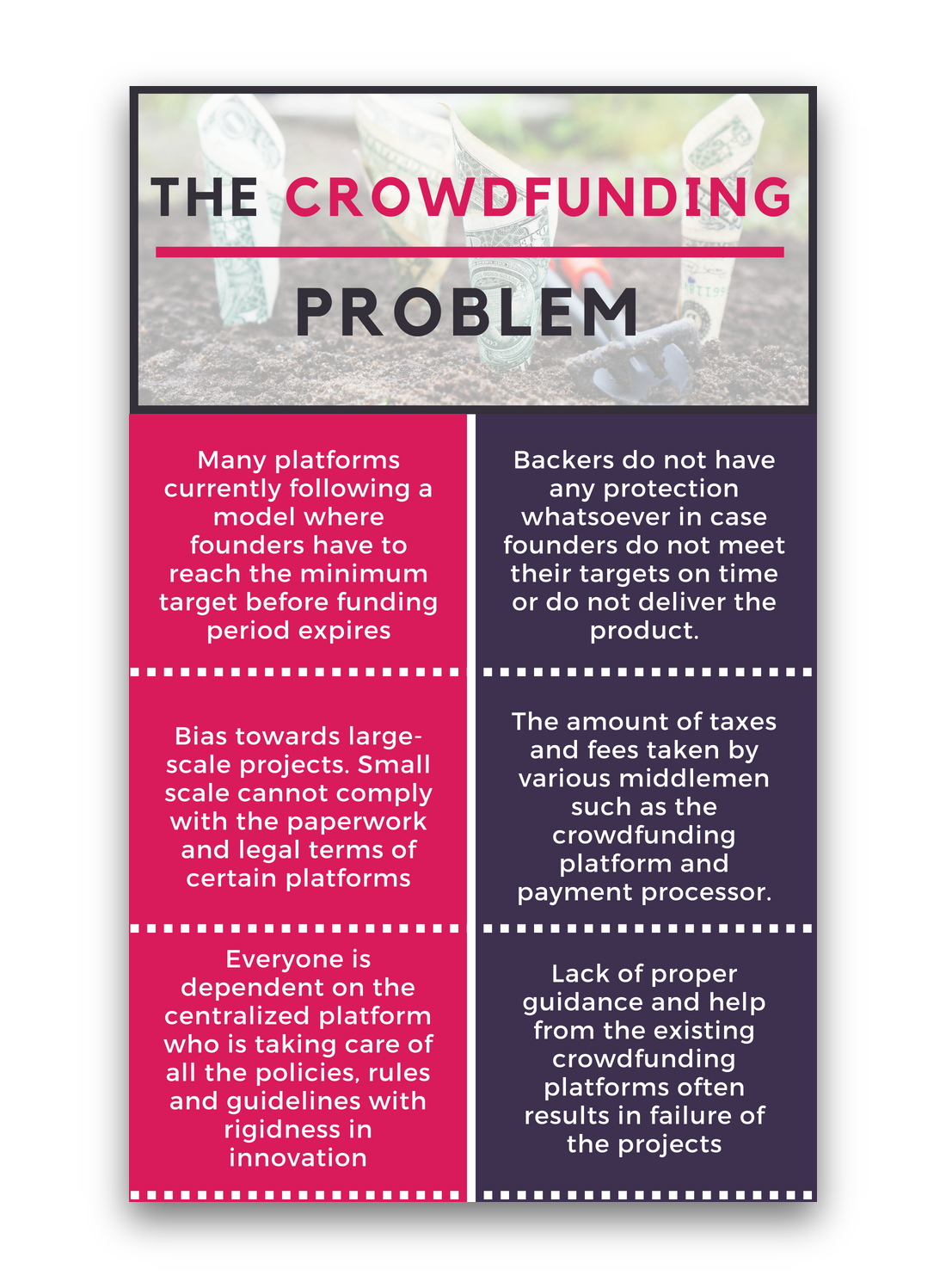 Image Source
Fundition.io is a next-generation, decentralized, peer-to-peer crowdfunding and collaboration platform, built on the Steem blockchain. Our aim is to replace old centralized models (such as Kickstarter, Indiegogo, Patreon, or GoFundMe), and offer a way for individuals and organizations to either fundraise for, or give to meaningful projects.
SOME BASIC FACTS ABOUT FUNDITION.
Our mission at Fundition is to disrupt traditional crowdfunding models for the benefit of all stakeholders, leading to a larger number of inventive projects that will impact the world in meaningful ways.
Fundition is created as the fast means to raise funds with no fees beforehand. Raising such a project through the online platform can be a valuable form of marketing and result in attracting media attention. Alternatively, funding a project requires getting a bank loan and as well need some kind of procedures. You need to show up your credit score, offer a collateral, third party as a guarantor and will have to repay back in a certain period of time.
fundition.io is one of the most exciting projects built on steem blockchain that aim towards the betterment of society at large.
WHAT YOU SHOULD KNOW ABOUT FUNDITION.
Due to its reliability, immutability, and superior data architecture, blockchain technology is already becoming ubiquitous across all sectors. However, blockchain is extremely complex for non-technical individuals. Fundition is a decentralized crowdfunding platform that will allow mainstream users (without knowledge of blockchain or cryptocurrency) to begin using blockchain-anchored technology to acquire, give, and receive cryptocurrency tokens, towards the support of founders, without any fees. That user (either founder or backer) can choose to never learn about blockchain or cryptocurrency, simply following instructions for converting their earnings to fiat, or they can choose to learn (as part of the platform) how to speak about and employ this cutting edge technology in novel ways.
As a project owner, detailed your project and be sure its an impactful project that touches community which will motivate the bakers and collaborators to support your project either by donating or contributing an idea to your proposed project.
ADVANTAGES OF FUNDITION OVER OTHER PLATFORMS
No middleman dividing Founders (or Collaborators) from Backers - A totally free way to support Founders' projects - No fees for Founders (with a complimentary Steem account) vs. 5-15% fees on other platforms - No fees for Backers (with a complimentary Steem account) vs. 3+% fees on other platforms - Investing in HeartPower will give ongoing support to Founders over an extended period (until rescinded)
Fundition supports charity.
Fundition supports Sustainability projects
Fundition support impactful projects.
PROCEDURES OF SUBMITTING YOUR PROJECT.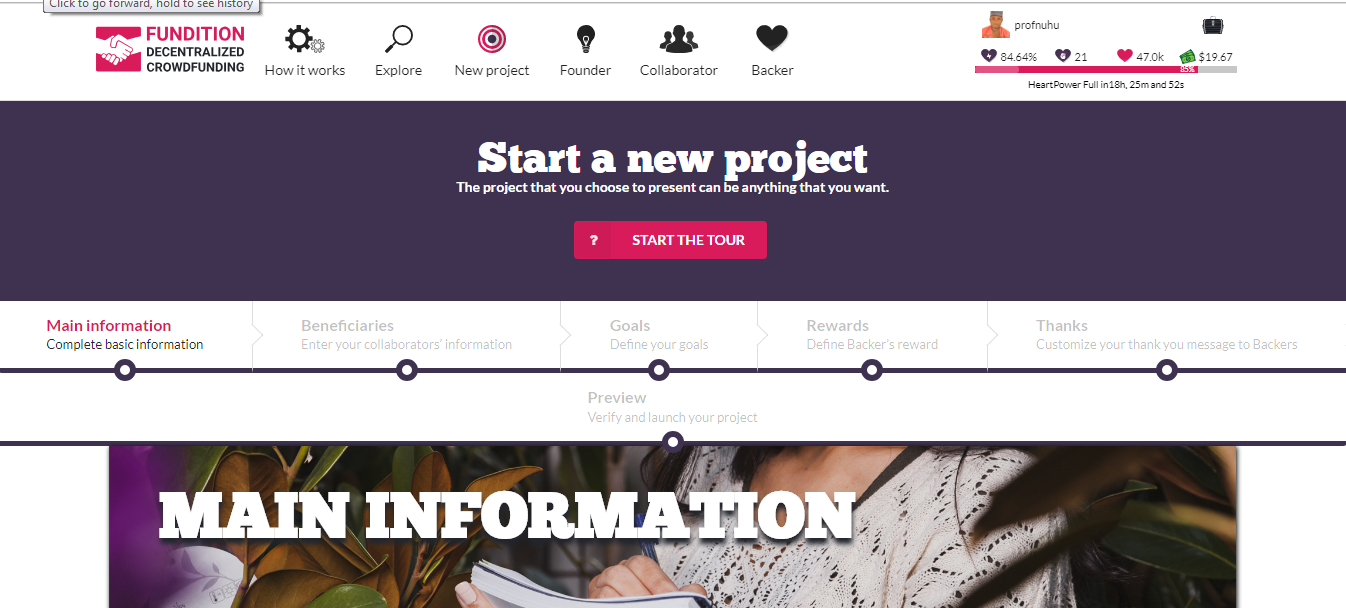 START A NEW PROJECT
This section requires the project owner to provide a detailed description of the project.
BENEFICIARIES
This section contains the list of beneficiaries of the project. You can add multiple beneficiaries who will get the designated percentage of the funds received through the campaign. One can support Fundition by setting as one of the beneficiaries. You can even accept collaborators who can add their update/support to the project through the content. The little button on the top right corner of the window with two shaking hands will tell if the project accepts updates from Collaborators.
DONATE
Through this section, you can directly donate to the project. Once you select the amount, you will get multiple options to choose from. One can donate through their STEEM Wallet or by transferring other cryptos. There is an option to donate through Paypal and other channels which am sure will be included in the future.
COMMENTS
In this segment, you can find comments made on the Fundition Campaign. This will add more value and gives you more idea of your initiatives.
BACKERS
This section contains the list of the backers basically the people who upvote the updates of the project and also the list of people who directly donated to the project using the fundition platform.
CONCLUSION
Much appreciation goes to the initiator of the project @hightouch and the entire team who are working tirelessly to keep the good work going to the great level.
To achieve great results, engaging through crowdfunding collaboration is the best channel.
Please visit the following: to learn more about Fundition,
https://fundition.io
info@fundition.org
https://discordapp.com/invite/ys7Nv7m
https://busy.org/@fundition
https://steemit.com/@fundition
https://www.facebook.com/funditionofficial
https://twitter.com/funditionio
https://www.youtube.com/channel/UCaTNHseUn7uNsM7MmtArORg
https://www.instagram.com/funditionofficial/
Github Repository
ArafAli/fundition
Github link
https://github.com/profnuhu