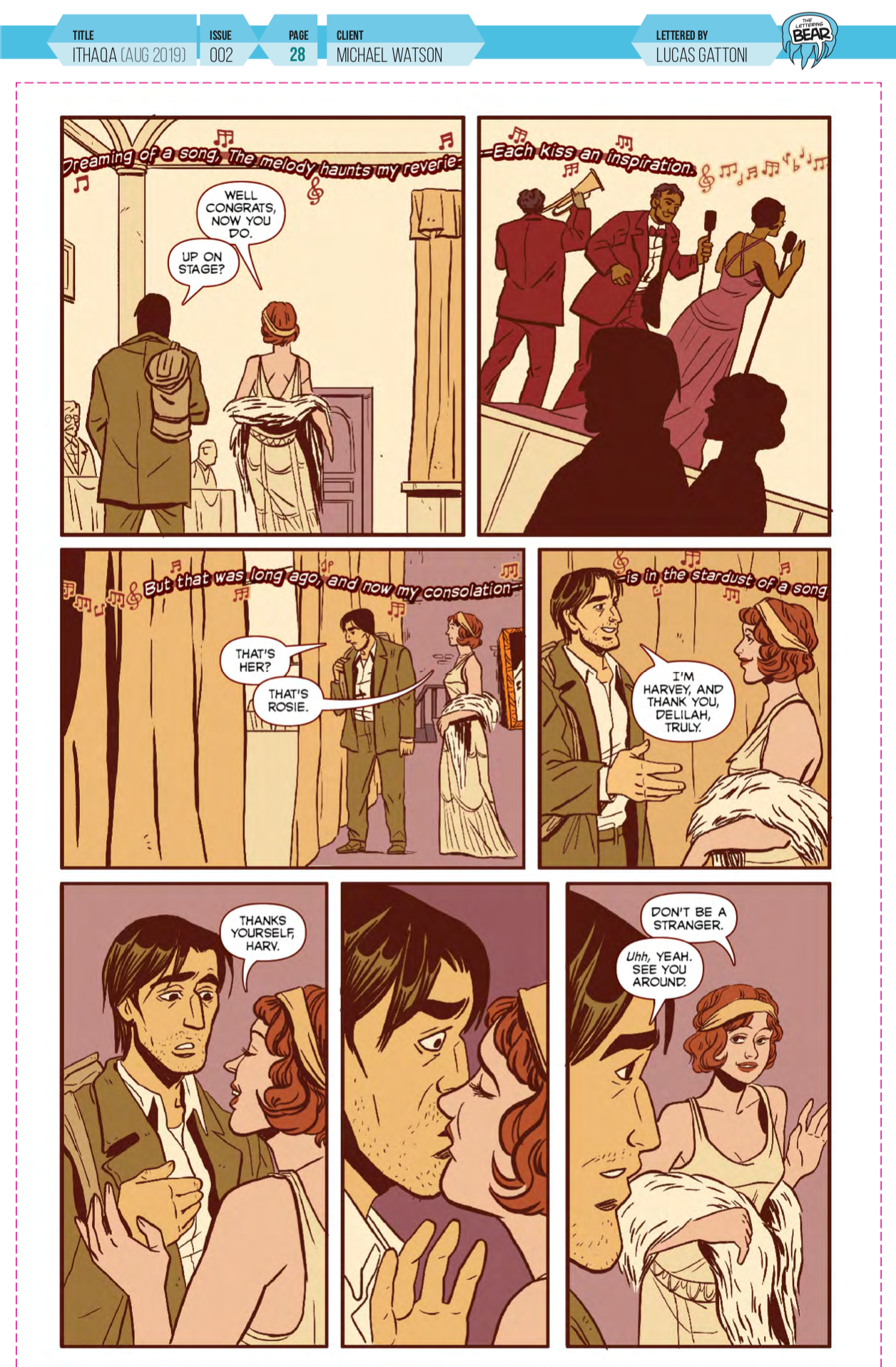 We're only one page away from revealing our most magically gifted investigator, Rosie! I've mentioned this before, so I'm sorry for repeating myself if you've been following us for ages, but Rosie is extremely adept at dreaming sideways.
So much so that on this page she's singing a song called "Stardust" by Hoagy Carmichael - except this comic takes place in 1921 and that song wasn't written until 1929! How can this be?!
It's simple! Since Spacetime isn't actually structured in a linear flow (like a river that goes upstream to downstream) and is actually more akin to a deck of cards dropped on the floor. Yes it has an order, numbers go up, but all the cards are just on the floor at the same time in the same space, bumping up against each other. You can check out a video I made below that goes into greater detail...
When Rosie dreams sideways, she dreams about other versions of herself in parallel realities, some are in her past, present, or future. So when Rosie dreams about a song she really likes, she wakes up, writes it down, and sings it years before it actually comes out!
Buy the comic!
https://www.ithaqacomic.com/buy-the-comic
Please check out our Fundition page - you can score exclusive rewards by contributing steem!
https://fundition.io/#!/@drwatson/zim8j667e/backers
Issue 3 Leaderboard:
@Fundition Contribution: $ 293.55 + a $9.99 direct contribution
Council of Five:
@kommienezuspadt - $19.18
@ocdb - $8.13
@smjn - $7.32
@katharsisdrill - $6.48
@Veryspider - $0.17 +$4.50 direct contribution = $4.67
@bryan-imhoff - $4.61
We have currently raised $311.93 towards our goal of $2,000, which puts us at 15.60% of our goal. When we get to 25% of our goal, we will unveil our next prize!
You can read all of "Ithaqa" Issue 1 here on steemit!
https://steemit.com/art/@drwatson/full-issue-1-of-ithaqa-comic
If you have any friends or family who might be interested in a Lovecraftian horror comic, please send them to our website to sign up for some free pages! https://www.ithaqacomic.com/contact-us/
Additionally, If you're new to this comic I strongly recommend you check out our instagram, as I'm currently uploading pages every day.
Instagram: https://www.instagram.com/ithaqacomic/
Theresa Chiechi's (The Artist @la-fumettista) website is here: http://www.theresachiechi.com/
Lucas Gattoni's (The Letterer/Logo Designer) website is here: http://bit.ly/LG_Lettering
Sign up to buy the comic on our website: https://www.ithaqacomic.com/
FB: https://www.facebook.com/pg/IthaqaComic/about/?ref=page_internal
Twitter: @IthaqaComic