Dear Steemians,
This is the 52nd update post for the Fundition.io project I have created with regards to the fundraising for flood relief activities in the form of the donations to the Chief Minister's Distress Relief Fund in the South Indian State of Kerala.
Updates for today:
The mismatched data of people who have lost their houses during the flood is delaying the disbursement of INR 4 Lakh Rupees to the people who lost their houses. Kerala government is taking actions to get correct data in order to release the funds to genuine people who lost the houses.
About 15 of the 99 looms of handloom weavers society in Kerala are functioning back after the flood hit Kerala 2 months back. Handloom industry is one of the well established industry in South Indian states of Tamil Nadu and Kerala.
Updates on Donations and Support:

As the support from @fundition, @fulltimegeek and his bots and other Steemians continues on these series of updates the goal is getting nearer to us.

Just in case, you have spare witness votes and haven't voted @fulltimegeek as Witness, I would recommend to give a Witness vote to him for the support he is giving to many people like me.

The total amount including all donations and upvote supports stands at 1135$ 1199$ out of the designated goal of 1500$ and the details are available in below screenshot.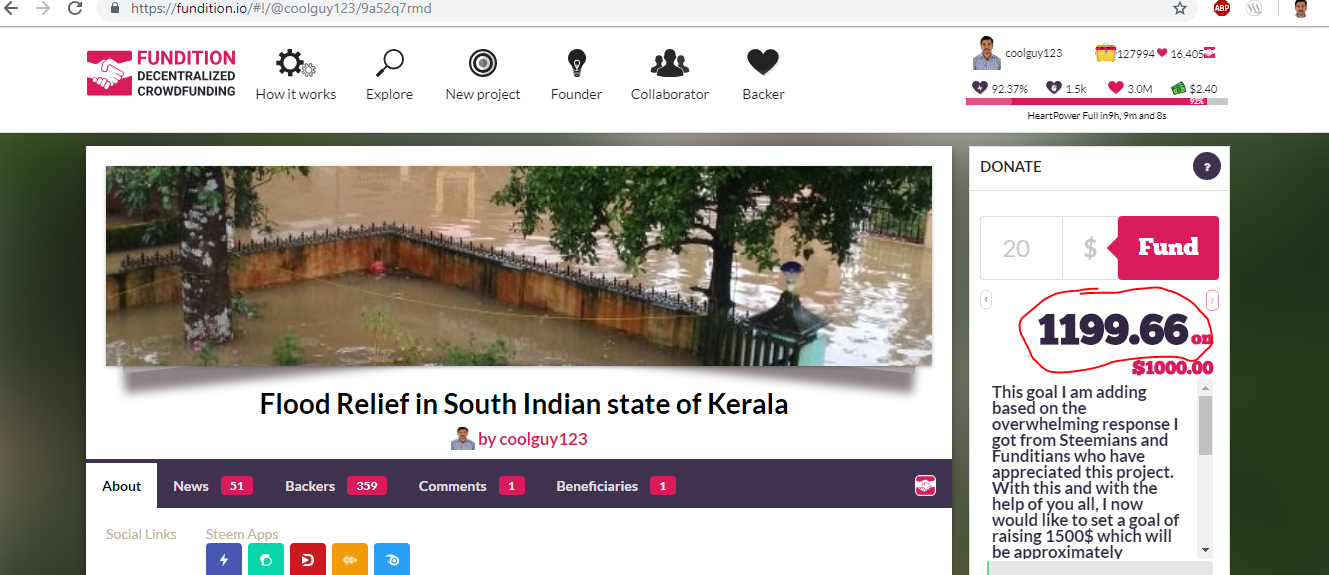 Thanks to @fundition on Steemit and @givens including @black-man on Whaleshares.io who are the main supporters of this project along with many Steemians who have supported either with donations and upvote support.

Thanks for the votes, comments and resteems.
I am a proud member and supporter of below communities:

Do you use eSteem?
eSteem is a Mobile📱& PC💻 app. for Steem with great features. Also, you get Incentives posting through eSteem apps.
eSteem Spotlight; eSteem provides rewards for it top users in Leader Board with most Posts, Comments and Highest Earners.
---