Welcome to the FIRST MONDAY of 2019! We had so many wonderful Mondays last years and we will work on creating amazing ones in this year too. For our first one in this year, we will present you a lovely project by
@globalschool
called
"Support steem blockchain awareness and education"
. This project is about blockchain education and is doing wonders for spreading knowledge about our beloved platform. We are sure you are going to love it!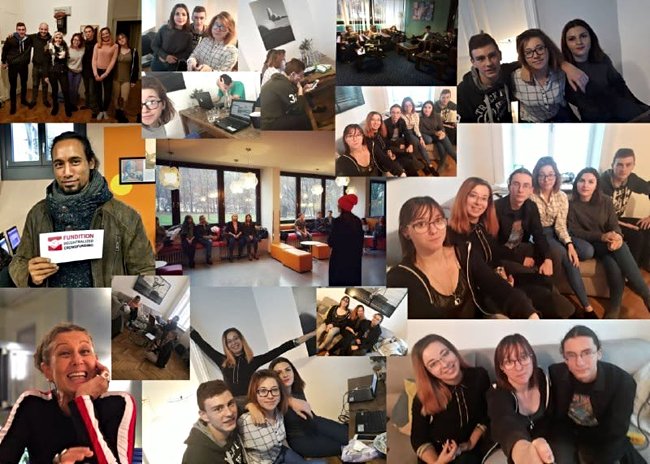 Original photo is owned by @globalschool
Global School was founded as Open School in 2015 in Vienna, Austria and has ever since then been actively providing network learning, crypto education, multicultural heritage, crowd intelligence & new media literacy via online and offline platforms. They have both students and mentors from all around the world.
The project itself offers blockchain & crypto awareness and education through tailored training programs in New Media & Social Innovation for youth, citizens, organizations, SMEs, administrations, policymakers, financiers, creatives and entrepreneurs.
They do this by delivering a set of tools, platforms, influence content such as
@dtube
videos through
@steemonboarding
and competences to trainees. This enables people to design and implement social innovation and document their experience on the
#steem
#blockchain
.


This is one of those huge and unbelievable projects that deserves all your love and attention. Their students learn about crypto-currencies and the
#blockchain
#technology
, report the co-learning activities using new media tools and collaborate with local and remote mentors. Artists, creatives, and entrepreneurs receive a lovely amount of support and their co-creation is wonderfully empowered through crypto-education. They create an account on the very first day, write an introduction post and afterward produce quality content related to their passions and interests. They also engage with supportive communities such as
#steemit-austria
,
@austroboost
,
@steem-munich
,
@fundition
,
@tasteem
,
@artisteem
,
@travelfeed
,
@cleanplanet
,
@steemitworldmap
,
#openmic
,
@limesoda
,
@com-lab
,
@steemworldtrash
,
@steembay
,
@ccommons.art
and many more.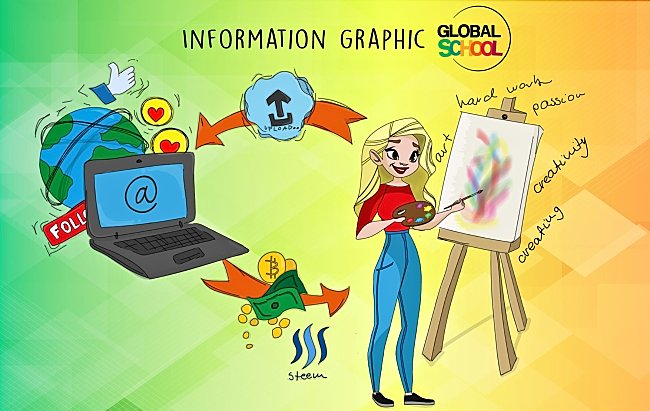 Original photo is owned by @globalschool
Here are some of the things that students do when they start:
One of the great ways for students to practice and improve their English skills is publishing their daily report with all the activities they have done so far.
When students leave the program, they are encouraged to continue sharing their work and motivated to show their achievements to their school, teachers and friends just as they are to invite their contacts and friends to steem blockchain. Some of them even decided to become remote mentors and support the newcomers via the @ccommons.art server on discord and on telegram.


Funds for this project have been so far gathered by the volunteers who have been spending more than 500,00€ per month from their pocket just to take in charge the minimum resources and equipment. Your help is needed so this project can continue doing such amazing work and provide necessary education about steem blockchain.
Here are the resources needed:
Students + mentors healthy lunch - 150€/day
3 x cultural evenining per cycle - 500€/month
Transportation for volunteers - 18€/day
Server and domain costs - 50€/month
Drawing material - 100,00€/month
Mobile internet - 50,00€/month
Photo equipement - 100,00€/month
Computers - 300,00€/month
Space and charges - 1500,00€/month
The total amount of funding goals will be achieved in small steps from one Global School cycle to the next and the first set goal is 300€ for the drawing material and one cultural evening. The project has more than 170 backers so far and there is still time for you to become one of them.
THERE ARE BACKER REWARDS!
Depending on your level of donation, there are 3 backer rewards you can choose from so open your hearts and donate to receive lovely rewards in return along with a great feeling that you have helped a great project. You can become an active member and cooperate with the talent pool, be displayed at their multi-channel media campaign and even visit Viena and spend two nights in one of their guest houses and participate in their social impact experience during a weekday.

Original photo is owned by @globalschool


We love projects like these, the ones that really are building the future today by educating those who will actually create it. The project has amazing results behind it already and we are sure that there is bright future ahead. Fundition is proud to support Global School and to show you just how incredible they are, we leave you with the video of their presentation at Steemfest 2018 in Krakow, Poland:

Start Building the Future Today with:

Join a community with heart based giving at its core