Have you been promoting your Fundition project on social media? Have you shared it, tweeted about it and have you been collecting those likes, retweets, and screenshots about it? It is time to announce the winner of our second contest period. Are you ready?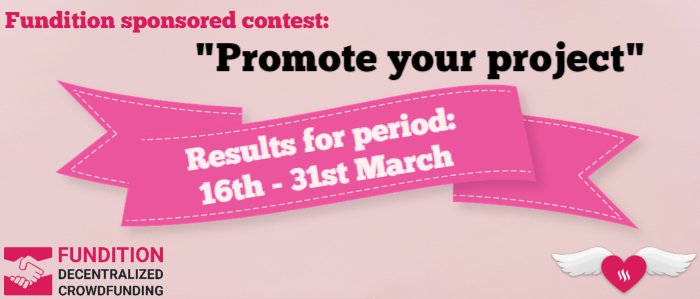 Our third round of the contest will start soon (very very very soon) so get ready to participate. All you have to do is follow some rules.
LIST OF RULES:
Promote your Fundition project outside steem with shares, events, articles, posts, tweets etc. and collect evidence about it (links, screenshots...)
Gather data about likes, reshares, retweets, comments, and any other responses you get
Take our test about your crowdfunding knowledge for extra points
Write a post entry for this contest that will include all your activity, evidence about it and your overall promotional activity in those two weeks. Tell us what you did, where, how, when, and how often.
Put your post entry in our discord channel called Contest entries


When you think about it, this is the easiest contest there is. You have to do, what you normally do, take care of your project promotion. We have talked about it many times before, marketing is important and just creating the project is not enough for its success. You NEED to promote it and tell people about it. We had amazing entries in this round of the contest and it was challenging to pick the winners, they were very close to each other.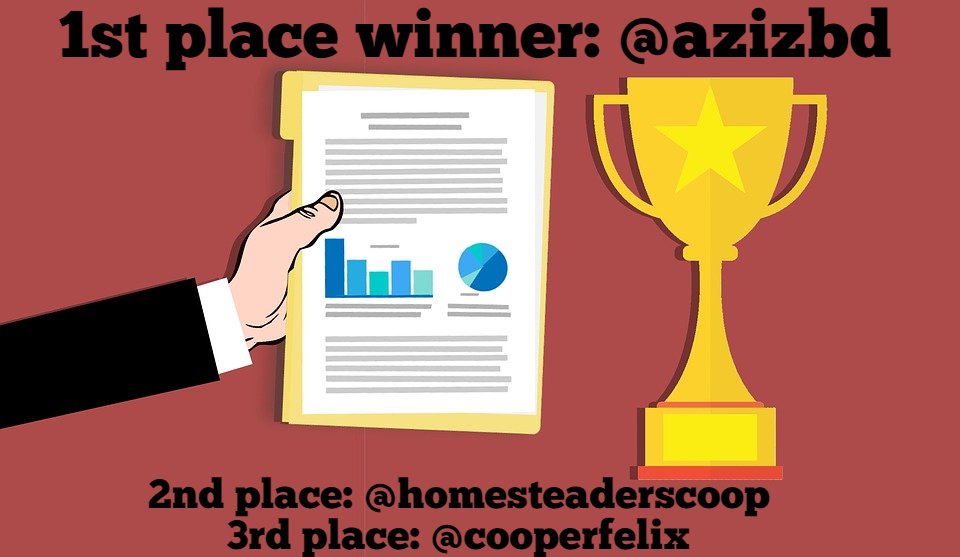 CCO image, Pixabay, author: mohamed_hassan, adapted
1st place: Promoting crowdfunding projects out of steemit- Fundition Contest
2nd place: Promoting our Fundition Crowdfunding Campaign - Fundition Contest Entry
3rd place: THE CF M PROJECT FUNDITION CONTEST ENTRY PROMOTING OUR CROWDFUNDING CAMPAIGN
We invite you to check those entries and see how it needs to be done. Kudos to all 3 winners, they did a really good job on promoting their project outside steem. The prize, as promised, is a 100%, 50%, and 25% upvote from Fundition so we kindly ask
@azizbd
,
@homesteaderscoop
, and
@cooperfelix
to comment on this post so those comments may receive upvotes. Since you also won the bragging rights, be sure that your comment includes the following:
"We have won the X place!"
where you will substitute X with 1st, 2nd or 3rd.


We are sure that you want the best for your project and that you appreciate all the help you can get. Consider joining our next round of this contest and participating in something that you already need to do anyway. The announcement of our next round will come sooner than you think so stay sharp. Good luck!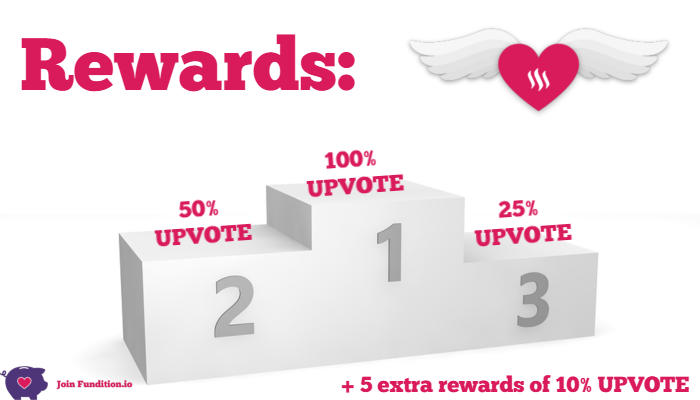 Start Building the Future Today with:

Join a community with heart based giving at its core