Through everyone's support, @scholarsph is now able to sponsor our 5th student.
We'd like to take this chance to express our gratitude to all of our supporters, most especially to @fundition and @adollaraday. You all made this possible!
You will get to know more about our new scholar in our next post. For now, in the spirit of transparency, we'd like to talk about our selection process.
First Step: Student's Application

All Filipino tertiary or college-level students, currently residing anywhere in the Philippines, are welcome to apply for @scholarsph support. Selected students would receive a $20~ monthly stipend for the entire school year.
Students, you can start the application by filling up this google form.
At the moment, we only have three more students who are shortlisted and are waiting to be included in the program.
Second Step: Committee Review and Deliberation

Once the application is received, the entire @scholarsph team would assess the information provided by the students. The panel would rate each application according to perceived financial need and earnestness of student to finish their studies. The highest-rated applicant would be the priority candidate once the project is capable of supporting another student.
The current scholarship committee is composed of three main members and is supported by five other moderators from @tagalogtrail's curation arm. This group of dependable people facilitates all @scholarsph operations and core decisions.
Third Step: Student Interview and Further Verification

After the potential new scholar is selected, one of the @scholarsph team members would reach out to the student to meet up with them and conduct an interview. The primary goal of the interview is to get to know more about the student and witness firsthand why the student is deserving of the support.
As much as possible, a person-to-person interview is preferred. While there has been no precedent yet, we plan to do online interviews for students who are not easily reachable in person. For our first Steemian student, @ligarayk, it was a bit convenient to validate most of his information by simply reviewing his previous blogs about his school activities, and by reaching out to him on Discord.
Post-Selection: Monthly Allowance Awarding and Updates
One @scholarsph team member would serve as the key person when it comes to distributing allowance, monitoring and getting monthly updates from the student. The students are encouraged to talk to us about what they do at school. Thus far, they were very open on how they spend their allowance and their activities, as seen on these updates:
Carlo's thesis project about their artsy shoe business prototype
Myke and Mark's recent food exhibit at their school
Sponsored students would receive P1000 or roughly $20 for every month of the school year. For students who'll join the program a bit late in the year, they would be initially given two months worth of stipend meant for the upcoming and previous months.
If you'd like to know more about joining the program, just leave a message in the comments section or reach out to @tpkidkai#1650, @jazzhero#3183 or @chinitacharmer#3757 on Discord.
---
For those who would like to support our project, you can:
Upvote @scholarsph blogs. We also encourage you to add @scholarsph on your SteemAuto.com fanbase to enable auto-upvote to our blogs. Rest assured that we won't be draining your voting power since our planned posting would only be 1x-3x a week.
Transfer Steem or SBD amounts to @scholarsph Steem account. All funds will be distributed to the students including accumulated Steem Power.
Pledge a monthly support of any amount for any sponsored student. Pledgers will have the option to choose any potential scholar from the shortlist.
---
Our Current Funds
We'd like to squeeze in our October mid-month financial report on this post too. Thus far, these are the total funds generated from upvotes and donations.
* Expected amounts after completing power down.
| Currency | Amount |
| --- | --- |
| SBD | 71.73 |
| STEEM | 140.929* |
| SP | 110.505* |
| PHP | 3132 |
---
💖 Our deepest gratitude to our biggest sponsors 💖
💖 And to everyone who donated and upvoted 💖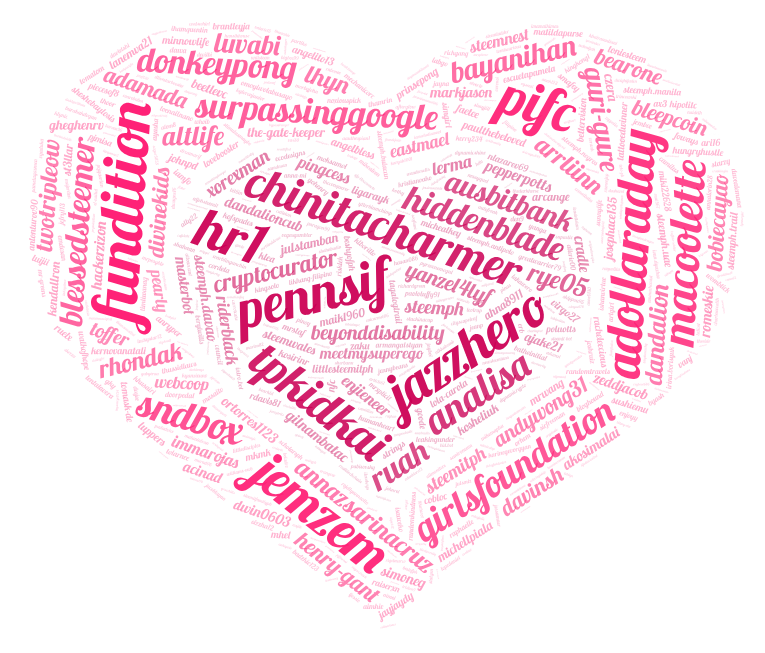 This post was written by @jazzhero.

You can view our Fundition project page on the Fundition site.

Thank you and Mabuhay!