Ok, this is kind of stupid but soooo funny, so I must tell you about it...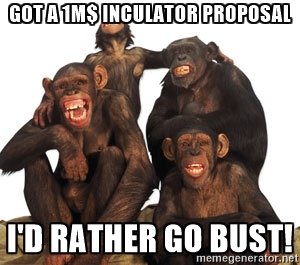 Today I learned that Inculator is a trendy new word referring to incubator+accelerator - a new type of startup helper. This is a great concept, and you find lots of inspiring articles around about inculators, e.g.  
http://www.investors.com/news/management/managing-for-success/inculators-a-new-trend-for-startups/
https://www.devex.com/news/what-s-an-inculator-and-what-makes-one-successful-87059
Ok, so what's wrong with inculators??? Why is that funny?
Well...before telling you, let me take a quote from one of the articles above:
 "I'd start by saying that there's a huge number of inculators being created around the world and maybe there's a bit of an oversupply of them and it's going to be important for both entrepreneurs and funders to focus on the ones that are performing the best". 
I read this, and then laugh hysterically.
Do you want to know why I laugh? It's a bit embarrassing...
Ok, listen now....
In Italian, French (and probably spanish and Portuguese, although I'm not sure) "inculator" sounds like "he who is performing an anal penetration", to state it politely....
Now, read the quote above again, lol!
Bottomline: if you run an inculator, be advised that Latin entrepreneurs may be very cautious in evaluating your proposals, lol!