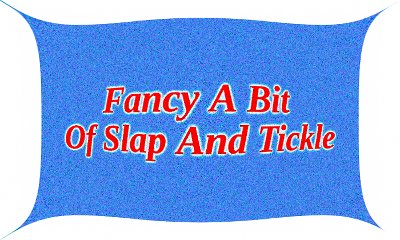 I'm not sure if it is normal in Britain to wake up to random dudes tickling your toes, but this almost never happens in the US. Also, I couldn't even do anything about it, because I was naked, hiding my modesty under the covers.
I know this might sound strange, but I've heard that this is even a problem for the Queen. About twenty years ago, some random dude strolled into her bedroom, but, luckily, she was out of the country when it happened, or maybe that is just what the press wants us to believe.
I mean, if you ignore all the British propaganda, no one really knows what happened in the Queen's bedroom that night. Also, since most crimes are never reported, we have no way of actually knowing how many times this has happened. And seriously, how is the security so slack that homeless people can end up in the Queen's bedroom without anyone knowing?
Although, I know exactly why our security was breached, Sarah let a workman into the house to fix our boiler.
At first, everything seemed somewhat normal: some startled British guy said, "Oh! Someone's sleeping in here; I'll be out of you way in just a moment." I made no response, because sleep seemed way more important than that guy, but that didn't stop him from continuing to jabber on about God-only-knows.
Then, I felt it, a tickling sensation and I immediately realized that my toes must be out of the covers, hanging off the bed, but why the hell was he tickling them while talking about radiators? I began listening intently to all the household creeks, to try to gauge where Sarah was, but then I realized that she was downstairs, so, it was just me and Chester-the-toe-molester in that dark, cold bedroom.
"Maybe he just brushed up against them to get to the radiator, but why does he keep brushing up against them?" I thought to myself while trying to go to my happy place.
Then out of nowhere, I woke up again to that same tickling sensation and I realized that maybe an hour had passed and he said, "I just gotta come in here a few more times to flush the system."
I began to wonder if hot water and a warm, cozy house was really worth all this toe-play, but then I realized the sad truth: it was definitely worth it and I'm not above prostituting my poor toes.
So, what does that say about me? Am I slowly dropping all my American values and becoming British?
I don't know. All I now for sure is that we've got heat now and in the next few days I might have a foot infection, but I guess that is why they set up the NHS.
British-people-problems am I right?