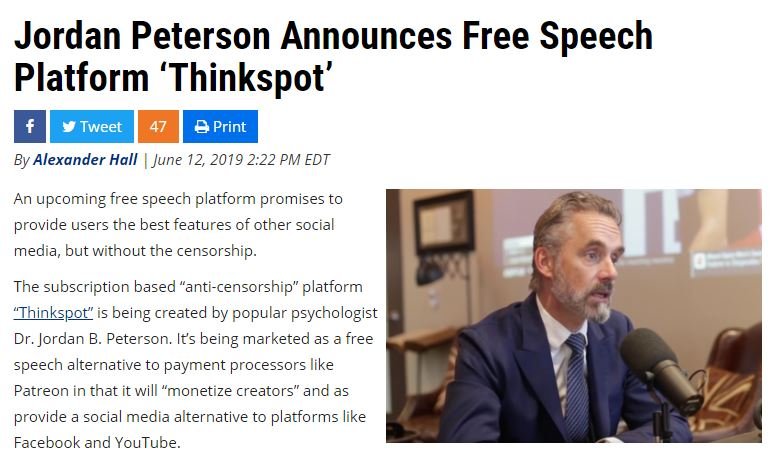 thinkspot is a collaborative community where individuals can explore and exchange ideas in a thoughtful and respectful manner. The platform is an intellectual playground for censorship-free discourse. https://www.ts.today/
---
"The only other major rule on comments he mentioned was that they need to be thoughtful. Rather than suggesting that some opinions are "off limits," Peterson said they will have a minimum required length so one has to put thought into what they write."
"If minimum comment length is 50 words, you're gonna have to put a little thought into it," Peterson said. "Even if you're being a troll, you'll be a quasi-witty troll."
All comments on the website will have a voting feature "and if your ratio of upvotes to downvotes falls below 50/50 then your comments will be hidden, people will still be able to see them, if they click, but you'll disappear." He later added a caveat saying that was still being mulled over and that "We don't know if 50/50 is right."
The platform, with its subscription-based service, will also directly subsidize content creators."
---
https://www.newsbusters.org/blogs/techwatch/alexander-hall/2019/06/12/jordan-peterson-announces-free-speech-platform-thinkspot