As I was talking about referrals in a previous post, I was looking through some older Bitcoin sites I used to frequent and build some referrals on, sites such as Primedice, Genesis-Mining, etc. I was reminded of this one player back from 2013 that visited the famous site at the time just-dice, currently using the cryptocurrency Clams instead of Bitcoin due to regulations.
I managed to find a youtube video of it and just had to share, it was really unbelievable being there as an investor and watching it all play out. To give you a quick understanding of the numbers, the one up to the left is the total amount of Bitcoin invested in the site which allowed you to be the "House". The percentage is the sites current profit, followed by amount of bets, total Bitcoin wagered since it's been up and its current profit in BTC. On the row below it shows the users investment and current profit, due to the current player being a huge whale and betting really high bets (the max bets is displayed as "max profit: 480 btc") you can see his investment update in real time.
Notice how most of his bets are 200 Bitcoin at a time, sometimes between a few seconds from each other and the biggest bet he makes there is of 300 BTC currently valued at $2 million.
The site and many others like it were really revolutionary in itself as they offered one of the lowest house-edges possible in Casinos, 1% and being provably fair. Meaning that every bet could be mathematically confirmed that neither the site owner nor the gambler knew the outcome of the next bet, letting players change the seed that randomizes it whenever they wanted if they felt their luck was running out.
---
Another imfamous gambler by the name of "fuckit" is known to have lost the biggest bet in one click on just-dice. If I remember the backstory correctly, he started out with 100 BTC he had mined but had lost the private key to the wallet, having come to terms with having lost those coins he suddenly found it some time later and decided to give it a roll.
Instead of playing the 49.5% odds to double your amount at the time, he decided to choose a bigger percentage bet such as 96% meaning that there was only a 4% chance for him to lose on the next bet but he would also only gain a 4% minus house-edge profit on each bet.
He had a good run with the starting amount of Bitcoin, but as any other Casino; your luck won't last forever. As we can see from the screenshot, user @bayareacoins tried to warn him but to no avail before this happened: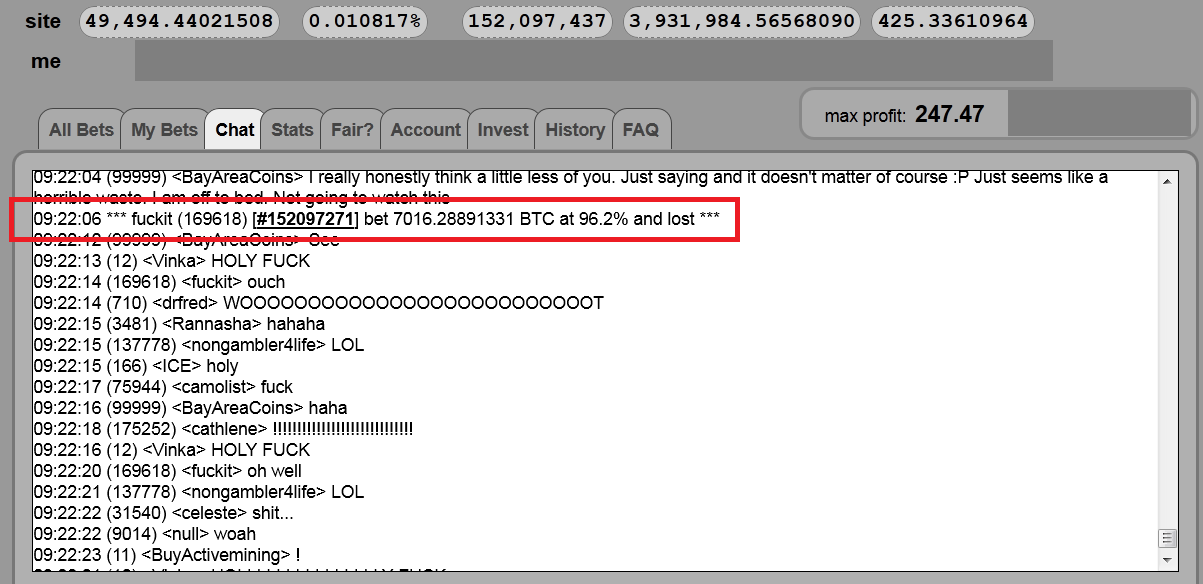 What's more surprising than losing 7016 BTC in one bet, currently valued at $47 million is his reaction in the chat to it with just an "ouch" and "oh well".
Bear in mind that between September and October when the video and screenshot occurred the price of Bitcoin was hovering between $100 and $200.
---