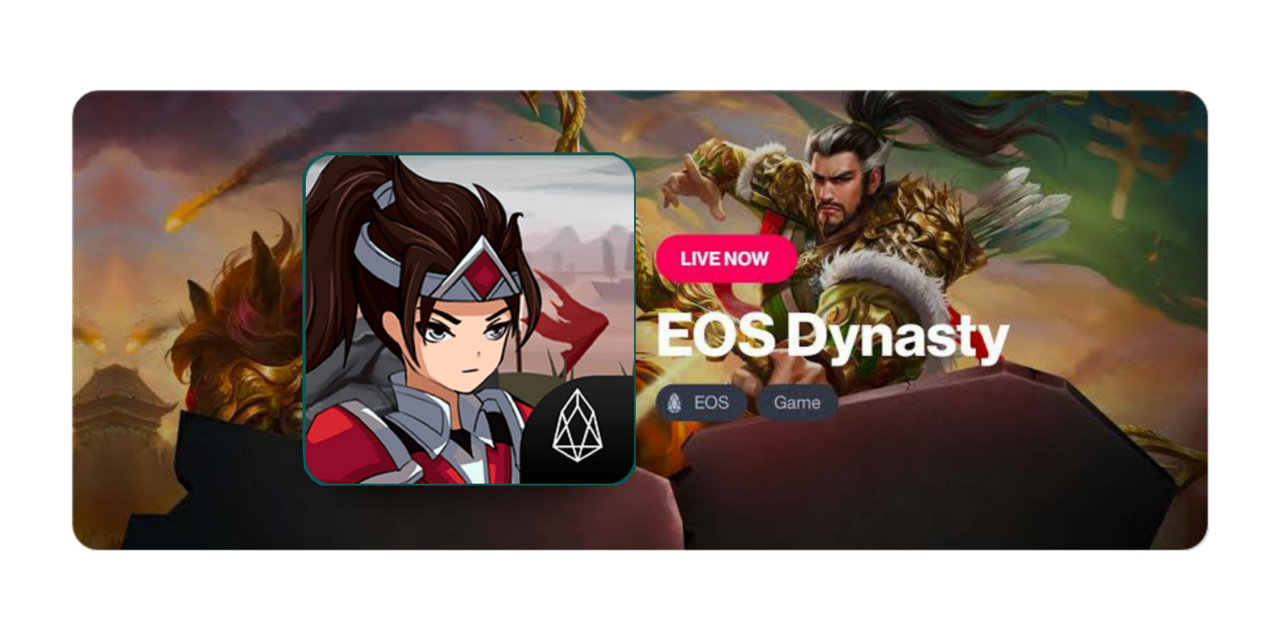 image by website | edited by me
The growth of the EOS Blockchain is increasingly becoming when they create various types of games. Games become a two-way that is very good for the growth of their community, life is inseparable from the game, besides being an investment space, the platform changes dramatically into a place of entertainment that makes people spend their time with things that are challenging and exciting. Games cannot be separated in human life, in fact there are a number of games that have now become the most dominant e-sports in the community.
Whatever it is, the game always has its devotees. People like it because they look challenging and exciting when the players can complete the mission until it's finished and get points. The most interesting adoption is when the game is put together with investment. So, people will not only waste their time playing it, but can also take advantage of transactions.
When I went through Stateofthedapps which featured categories for games, I found quite a lot of EOS Dgame there. Some of the very popular EOS games are EOS knights, EOS DOTA, Xpet and EOS Dynansty. If we ask EOS Blockchain users, of course they are very popular with the game. When viewed from the graph since it was released, EOS knights is the most popular since then which has daily active players reaching around 3000-4500 more.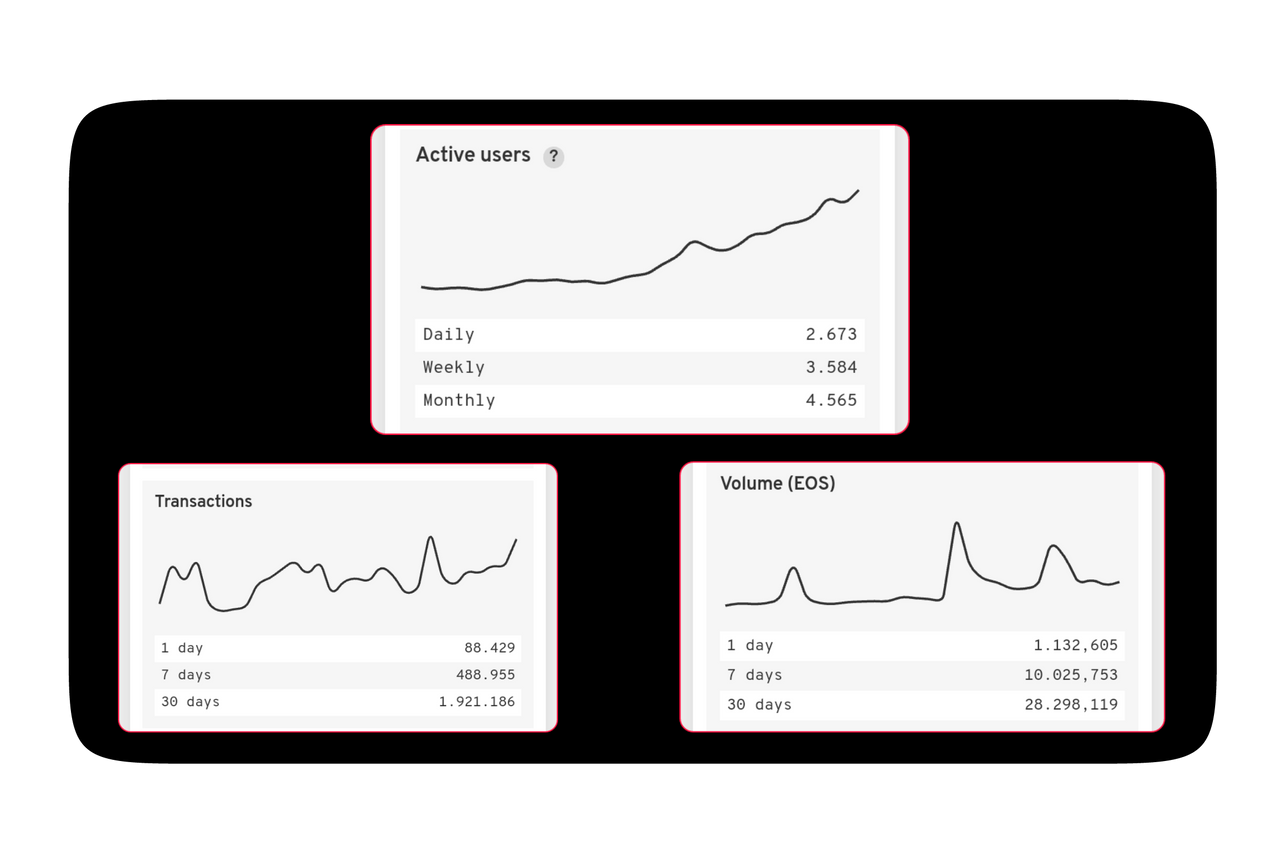 image screenshot by State Of The Dapps | edited by me
Meanwhile, within a period of EOS knights the presence of competitors which will slowly allow them to get rid of EOS dgame. In its growth we will also see how the EOS dynasty processes transactions up to a value of $ 80 K during the week, while the EOS knights process transactions around $ 10 K within a week. Time has noted that they have placed transactions on that number and have happened in a few months ago.
On one hand I am of the view that EOS dynasty might have a pretty good investment opportunity. From a number of games will also allow users to transact to buy various types of property. It also allows users to offer their assets to other users interactively face to face. Such an offer and exchange of assets will certainly provide investment opportunities that are quite daunting. Just imagine, when you can buy your property and weapons of war weapons and at any time you can offer it back to other users at an exchange rate that might be profitable.
In appearance the EOS dynasty almost resembles EOS knights. The game that brings you to feel the war in the kingdom of mandarin. Great people with ninja characters that are quite fun to play. In plain view we might say that this EOS dynasty is a copy of EOS knights. This may not be immediately our verdict spontaneously, maybe or those who have collaborated to develop the game. Or also do not rule out the possibility that this is the activity of artists who have stolen in a very gentle way.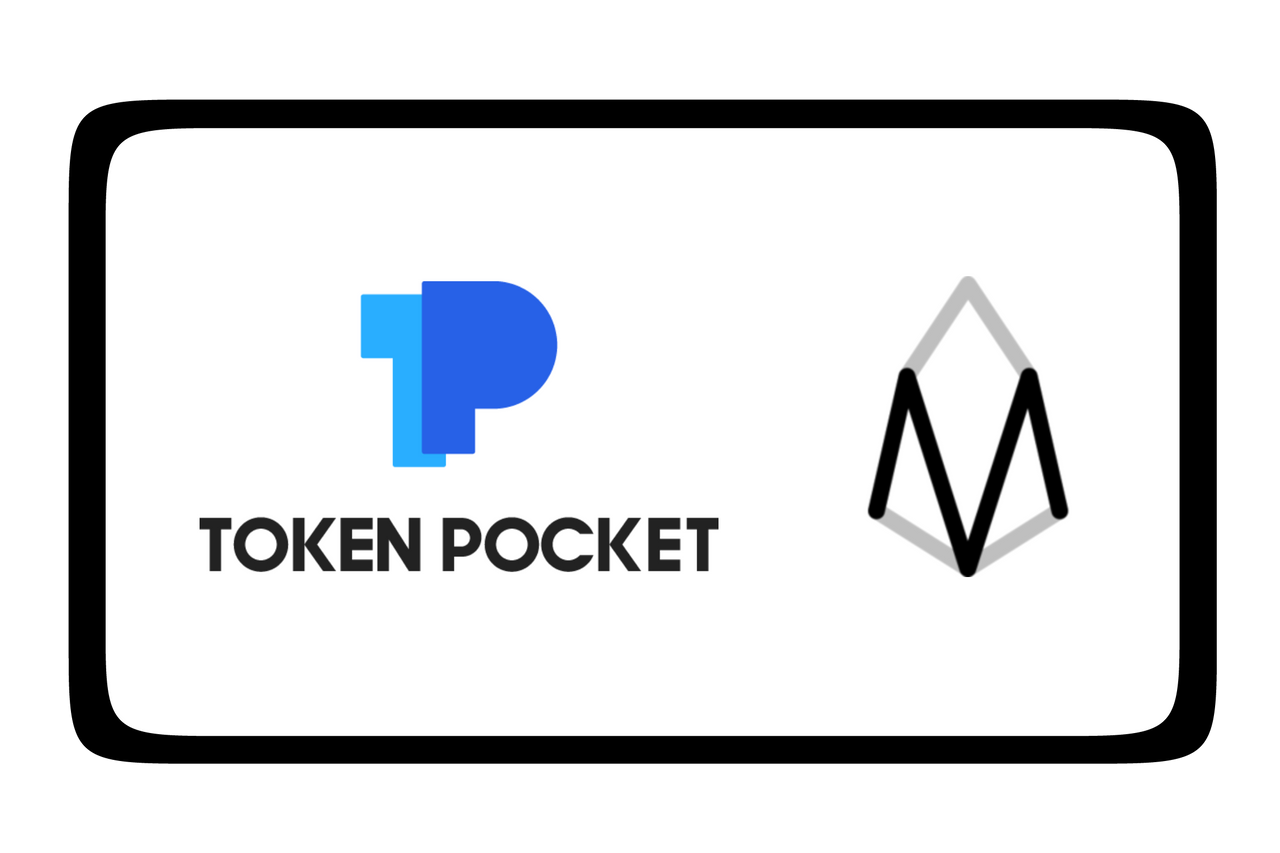 image created by me
Interested to installing EOS Dynasty
Seeing a design that is quite similar to the EOS knights of course makes me even more curious about this game. I immediately browsed their official website and was interested reading on whitepaper. The important thing to know is that EOS dynasty is a game that can only be played mobile. This is certainly different from EOS knights which can be played via a PC. Maybe that is the way they can attract more mobile users. Because indeed, the majority of individuals certainly have a mobile device that makes them able to play the EOS dynasty game in Kanpanpun and anywhere.
Even though it can only be played through a mobile device, its compatible design gives users complete control so that we can experience a quite exciting and challenging adventure. However, to install this application requires several stages. This is the initial drawback they have by requiring you to have a mobile EOS wallet. Installing the EOS dyansty game requires you to first have a TokenPocket or Meet.One wallet. As I know, TokenPocket and Meet.One are one of the purses currently supported to get access to Dgame EOS Dynasty.
Although it looks a little busy you to get access to this game, but investment opportunities that are quite fun certainly will not stop your interest. Specifically this game is not available on Google Play and Apple Store. So, the only way is to install TokenPocket first. TokenPocket and Meet.One are mobile wallets that support the EOS blockchain. This cellular wallet can be found on Google Play and Apple Store.
To activate your wallet spend some amount of money that can be paid through PayPal. Maybe there will be a hindrance for some people. However, there is no other choice, or you will lose this game. This game you can download on their official website. They provide file.apk for Android and file.plist for iOS and that is the only way to be able to download games.
Integration of EOS dynasty and TokenPocket
Make sure your mobile device is connected to the Internet network. After everything is ready, you have a TokenPocket wallet and have installed EOS dynasty, next you only need to integrate the two. In this case, the integration process of the two runs in a fairly easy way, enter each code requested and pair it to get your account on EOS dynasty. It looks like you are processing an EOS wallet and integrating it into other EOS DApps. For example, like entering your wallet code and pairing it with DAAP KARMA.
The question that may arise is, how do I update the EOS dynasty application? If at any time your application gets the notification requested to renew the application. So do it the same way you did it the first time. Just have to download it back on their official site, it's quite easy.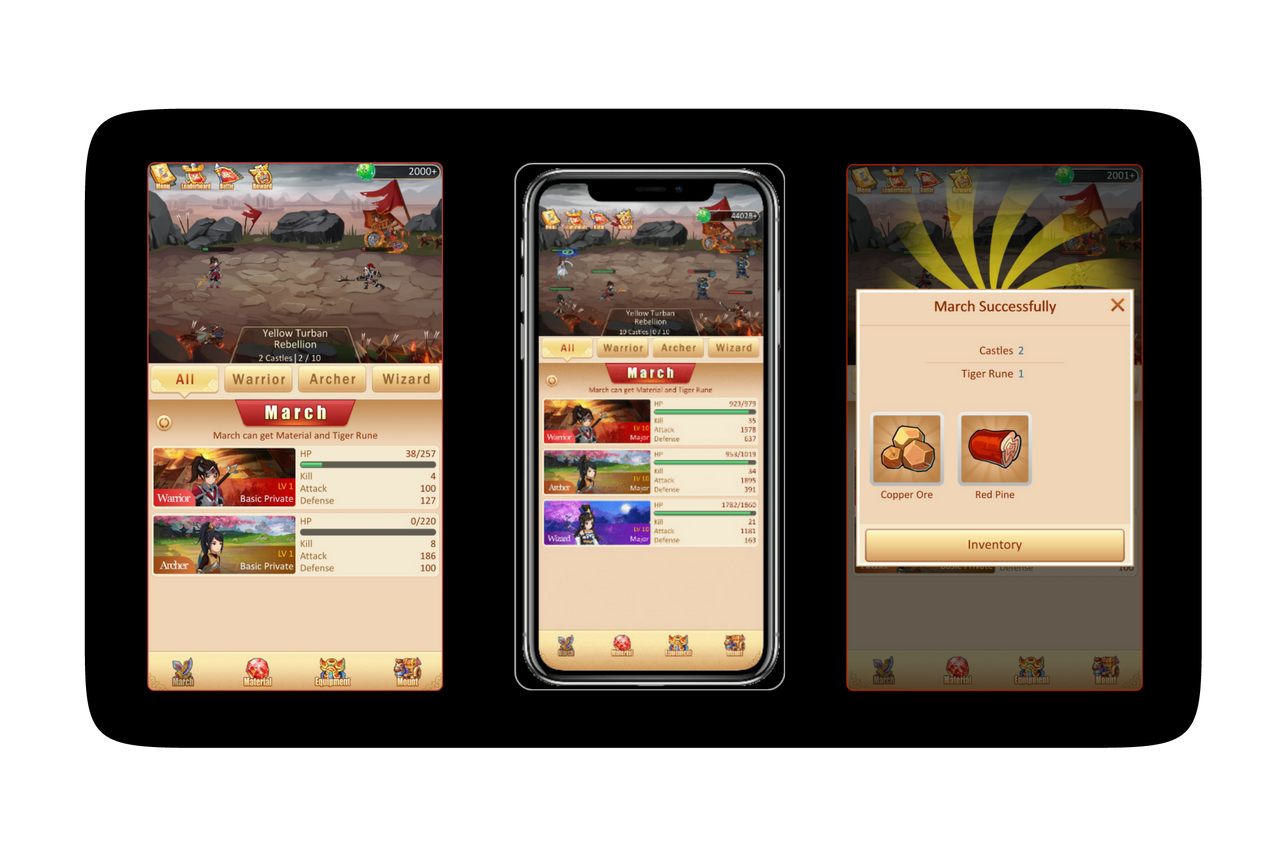 image screenshot & edited by me
Ways That Are Almost The Same As EOS Kninghts, To Get Started
Traced to this stage, you will be surprised to find that this game is very exact with EOS knights. The art of war design is quite fun, combined with nuances typical of China. EOS Dynasty is a Chinese product, it might be difficult to understand the guidelines in Chinese. It is possible that you need to translate from the main languages ​​available into your language.
Maybe if you have played EOS knights, you will know how to start this game. I myself felt confused at first. Because this game is similar to EOS kninghts, so I decided to find a way to start the game. Specifically, I did not find a complete guide to EOS dynasty, fortunately the explanation of EOS knights helped a little.
To start playing, you must have at least one soldier. You can choose the character of the player / soldier with different styles, it's up to how your interest for this type of soldier. The most unique character is a wizard, yes appearance and style of play. In addition, if you are interested in collecting other soldiers, archers may be reliable. Buying means that you need to spend some amount of money.
To get a soldier you need to spend around 0.1 EOS for the purchase of the first soldier. Costs will continue to rise to buy second, third and fourth warriors. The fees charged for the second soldier are 0.2 and 0.4 for the third / fourth soldier. At least you need to cost around 1.1 EOS to be able to collect all four soldiers. After you collect soldiers, you can start wars and fight enemies.
The mission that must be solved from the EOS dynasty game
After you successfully buy a number of soldiers, they will work for you. Every game certainly has a mission that must be completed, as well as this game. You must fight as many of your enemies as possible. Make a war strategy that you master, change how to play if you fail to kill the enemy.
Set strategy and form to be able to defeat the enemy. The aim of this game is to conquer the castle as much as possible. Spend as many enemies as possible to be able to conquer the castle. If you have a strong war strategy, the enemy will be easily defeated. Take advantage of the unique characteristics and ways of playing that each of your soldiers has. Some soldiers can be placed to attack or some others can become a barrier.
At this stage the more exciting, when you can bring down as many castles as possible, the stronger the enemy will be. This stage will be quite fun when you can have a larger number of items. Chances are you will collect more weapons and points.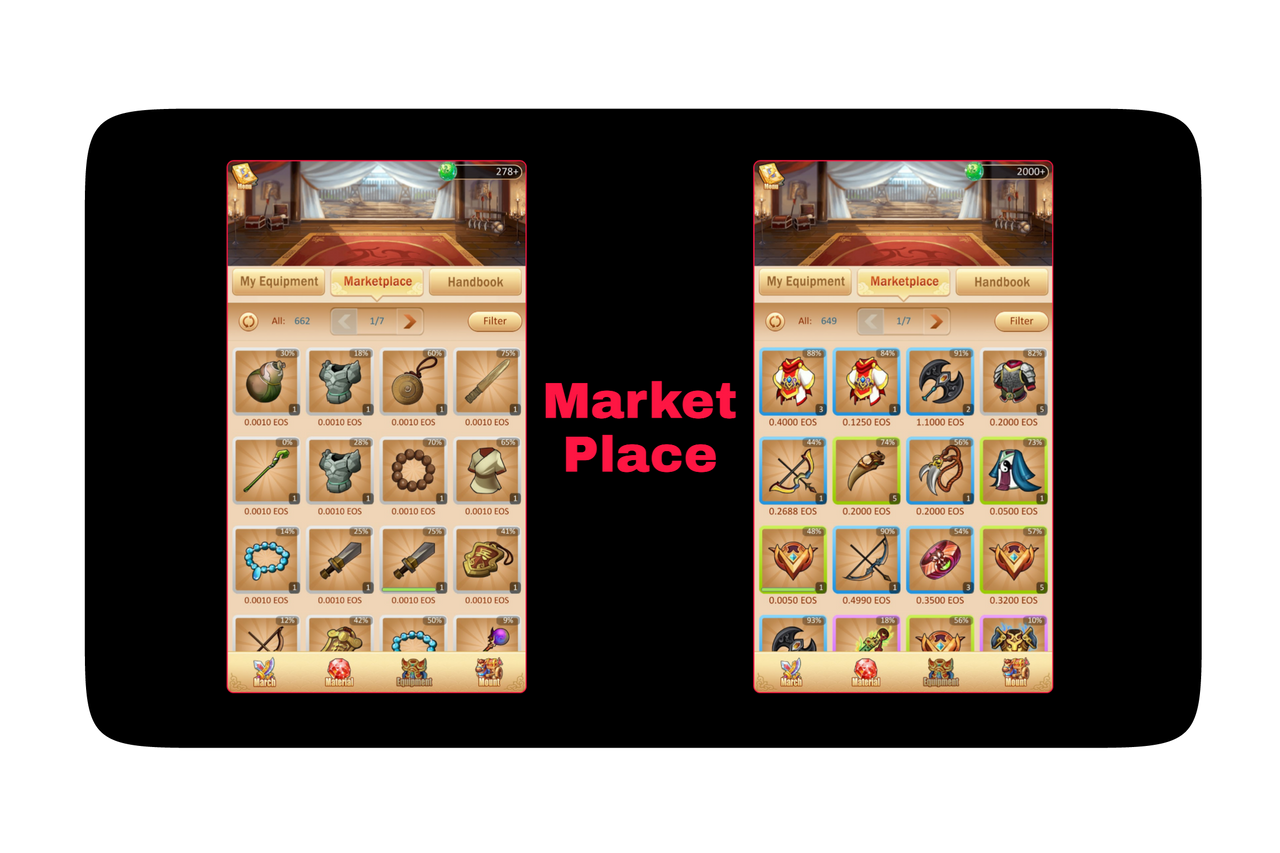 image screenshot & edited by me
Buy Products in the Market
If you want a more extensive collection of equipment such as uniforms and war equipment, you can find them in the market section. In the market you can find more needs. The price is relatively cheap, calculated from the value of 0.001 EOS for products that are easily found. However, some products are available in small quantities, the more demand the more scarce the product and it will have an impact on the purchase value.
In the initial stages, it would be better for me to spend more money to buy equipment because it would be very profitable when facing an enemy. However, not all items can be purchased, some equipment requires you to be at a certain level. According to calculations there are more than about 100 types of equipment offered. Some of them have specifics for the range of attributes, levels, and minimal availability.
For example, when you want to collect Sandalwood Bows, this can be owned since level 1 and with different characteristics for each type of war. Each level, you will be able to collect more weapons, accessories, armor and become stronger.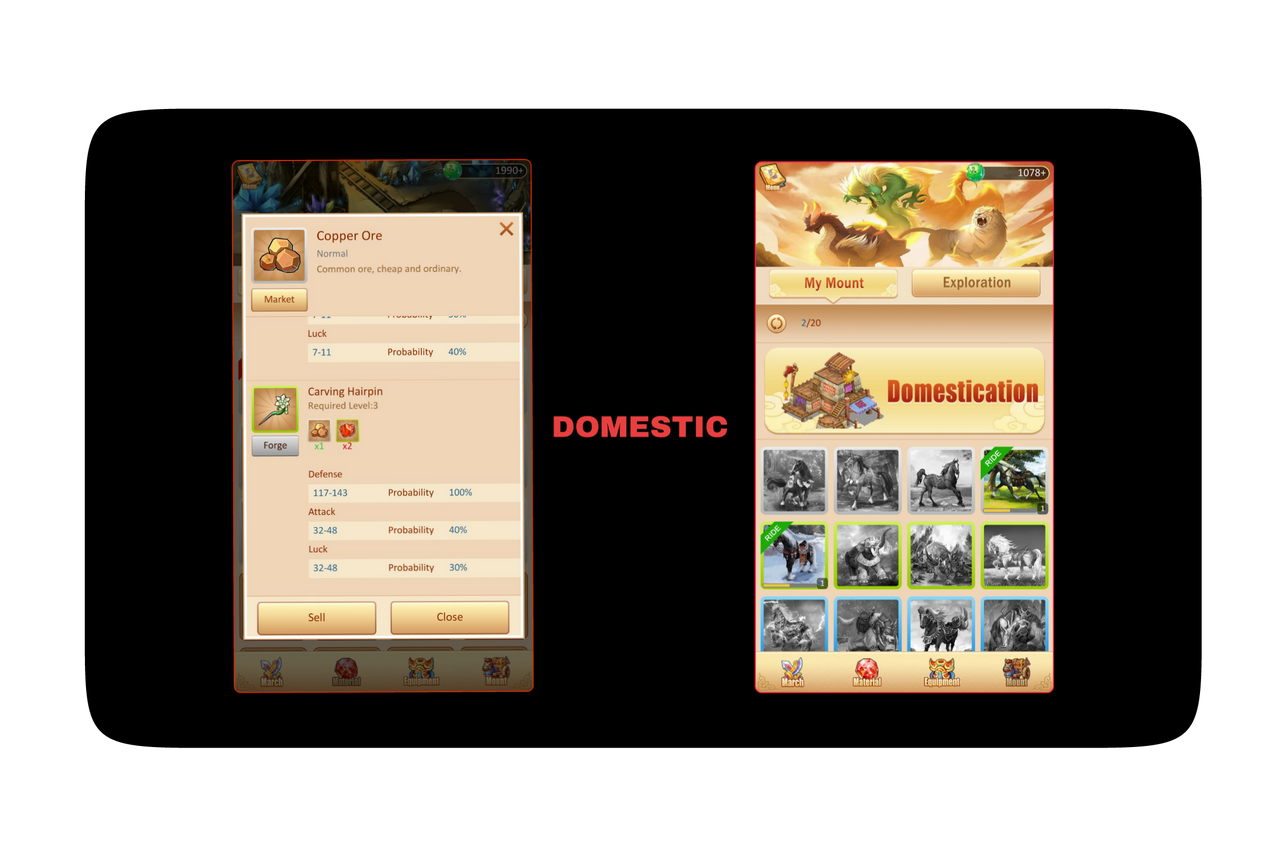 image screenshot & edited by me
Games and TKT Investments
Your soldier is a valuable asset you have. The more equipment collections the stronger the warrior. The wiser to manage war strategy the easier it is for you to be able to conquer enemies. Your soldier has a list of experiences when you kill enemies. The more castles you conquer, the easier it will be for you to find loot. Soldiers have attack points, defense points, and HP that will determine how much you can take looted goods until the end of the game.
Soldiers will continue to fight until they die. You can see the booty in the "march" section. In other cases, Mounts are also very intended to make your pajurit stronger. The less mounts the more the booty is worth. To be able to use many products, you need to renew a backpack at a cost of around 0.1 EOS so that you will have a backpack that can be loaded with a number of equipment.
The good side of this game is not only about exciting adventures, but how it can bring in investment. Instead of getting game services as entertainment, you can bet a number of points and get EOS easily. EOS Dynasty has its own token called the Three Kingdoms Tokens (TKT) which are distributed as much as 1 billion. Of all the tokens, only 70% is distributed in the game, 10% is for referrals, 10% is for game promotion, 5% is intensive for the development team, and 5% is distributed pre-sales.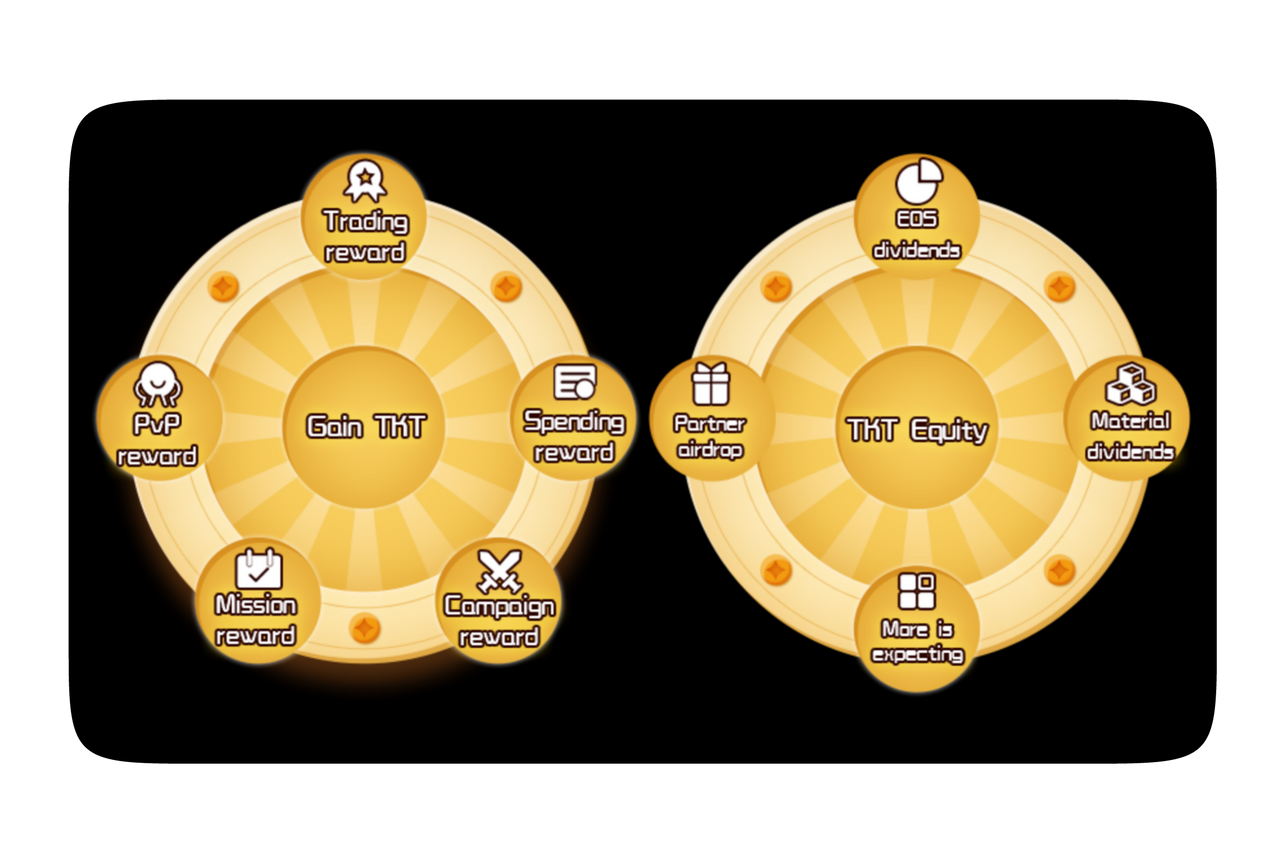 image by website | edited by me
Get TKT
According to the whitepaper, TKT will be given when you spend the product in the market. Every 1 EOS you spend, you will receive 50 TKT. I haven't got it yet because I haven't hijacked anything. If you ever get this, tell me how much total TKT you get for purchases that cost 1 EOS. The TKT you receive will be sent to your TokenPocket wallet and you can use it to return to spend goods at the market or you may choose to risk it.
Risking TKT will get you a passive EOS prize, at least 20% of the game profits will be distributed proportionally to all TKT holders at stake. The more TKTs at stake the more EOS will be earned. This is a pretty tempting business strategy. Prize collection will be more stable, as the popularity of the game increases.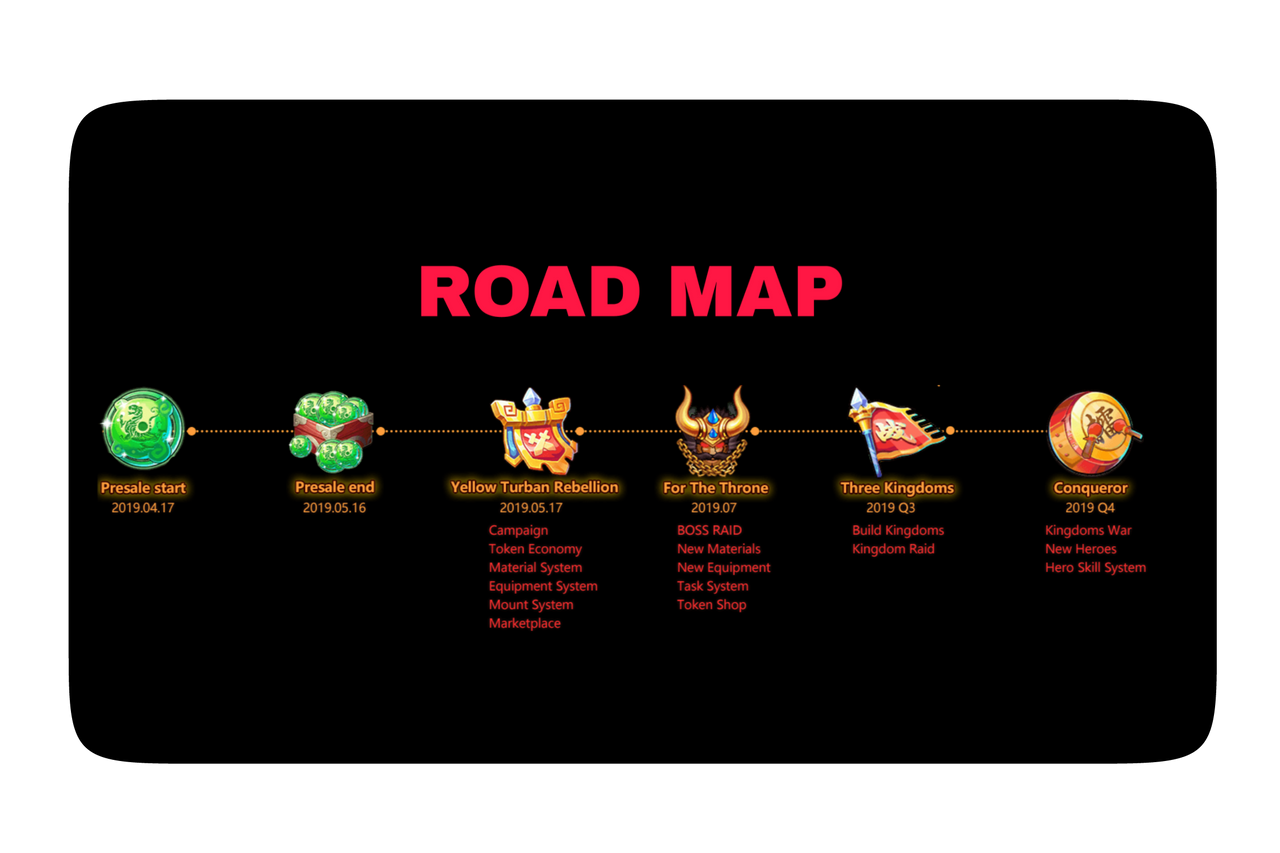 image by website | edited by me
Conclusions
EOS dynasty is EOS dgame which can be said to be similar to EOS knights. EOS Dynasty is the first RPG and PvP game on the blockchain. Nevertheless, each has advantages and disadvantages. On one hand, EOS knights is quite beneficial because it can be played with a PC. While EOS Dyansty can be fully played through mobile devices. This governance system is certainly created to reach the market and attract interested people. EOS dynasty is a Chinese buata game, a trade war between China and America might be one reason why this game is not available on the App Store and Play Store. Instead of not sharing their income with these services.
Because as is known to bring your products to the App Store and Play Store, that means you will share about 30% of your income with them. Registering EOS Knight requires you to first have a TokenPocket or Meet.One wallet. This is also a quite unique strategy to market the TKT tokem. EOS dynasty is not just about games, but how projects reward you by rewarding them for contributing to their projects.
TKT rewards obtained from the purchase of products in the market can be risked, calculated as an easy step to return your capital that has been spent to buy some equipment, weapons, and accessories in the market. This game has quite unique governance, the more product demand, the greater the TKT exchange rate and this will have an impact on the basis of the EOS blockchain. EOS Dynasty is not just a game, but also an investment adventure that is quite fun.
For More Information :
Disclaimer
This post and the information contained herein is not intended as a source of credit advice or analysis in connection with the material presented, and the information and / or documents contained on this website do not constitute investment advice.