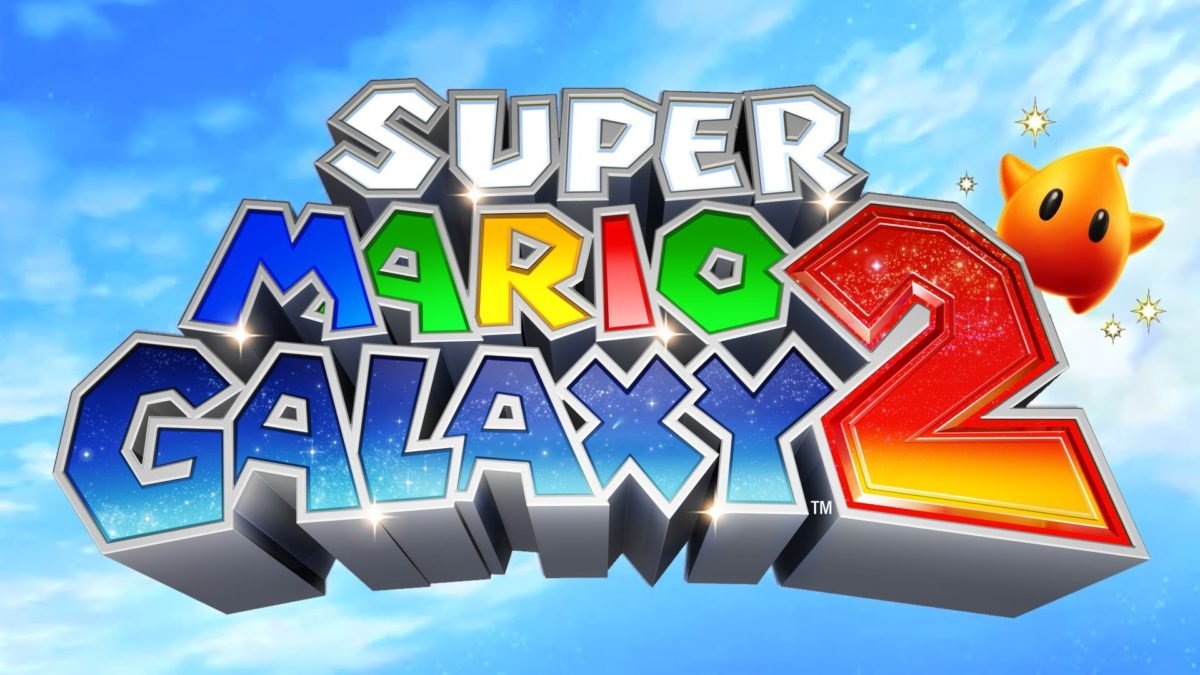 Hey Steemit!
OSTs make up the majority of the music I listen to, and they're so underrated I just had to share them! Feel free to listen while reading. 😊
One my favourite Let's Players on YouTube, Chuggaaconroy, is finally doing a playthrough of Super Mario Galaxy 2 and I'm so happy! The first series of his that I watched was Super Luigi Galaxy (an alternate version of the first game, Super Mario Galaxy) about 9 years ago! When Galaxy 2 came out (and I played it) it was awesome and I couldn't wait for the day he'd finally do an LP of it. And now he is! Yay! 😄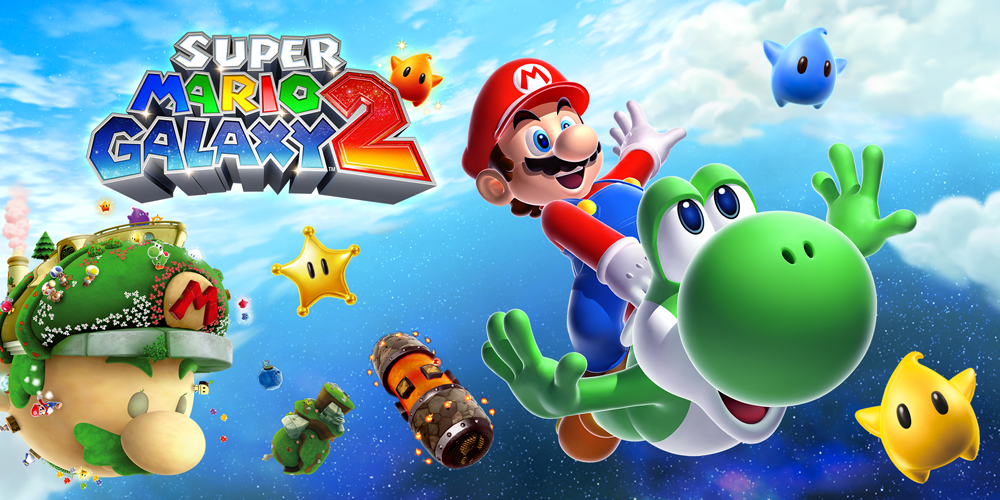 Source: vistapointe.net
Anyway, if you didn't own a Wii back in the day, or you've just never seen this game before, Super Mario Galaxy 2 is a 3D platformer developed and published by Nintendo for the Wii. It was first announced at E3 2009 and is the sequel to 2007's Super Mario Galaxy. It was released worldwide in 2010. The story follows Mario as he pursues the Koopa King, Bowser, into outer space, where he has imprisoned Princess Peach and taken control of the universe using Power Stars and Grand Stars. Mario must travel across various galaxies to recover the Power Stars in order to travel to the center of the universe and rescue Princess Peach.
Upon release, Super Mario Galaxy 2 was met with widespread critical acclaim, and is regarded by many to be one of the greatest video games of all time, and is one of the best-selling games on the Wii with over seven million copies sold worldwide.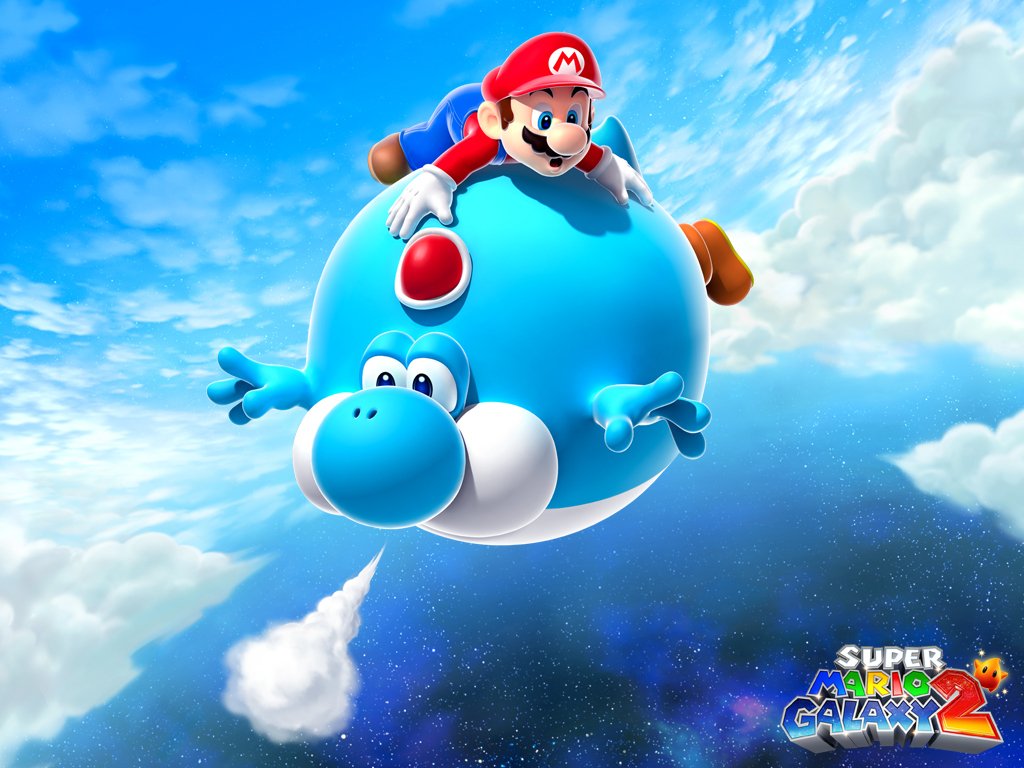 Source: moddb.com
I absolutely loved the Galaxy games; the graphics, the mechanics, the soundtrack. In fact, Galaxy 1 was the first 3D Mario game that I ever completed 100% (since the Wii was the first console I ever owned)! When I saw the cover of Galaxy 2 I was soo excited to play with Yoshi! There's so many other different power-ups in this game that it feels totally different from Galaxy 1. It really was a sequel done right, and it definitely deserves to be one of the top games on the Wii.
Anyway, since the last 2 songs were pretty upbeat and fast-paced, I thought we'd slow down and chill with this song from Cosmic Cove Galaxy!
This is one of my favourite songs from Galaxy 2; it's just so tranquil and peaceful, and the level itself is beyond beautiful!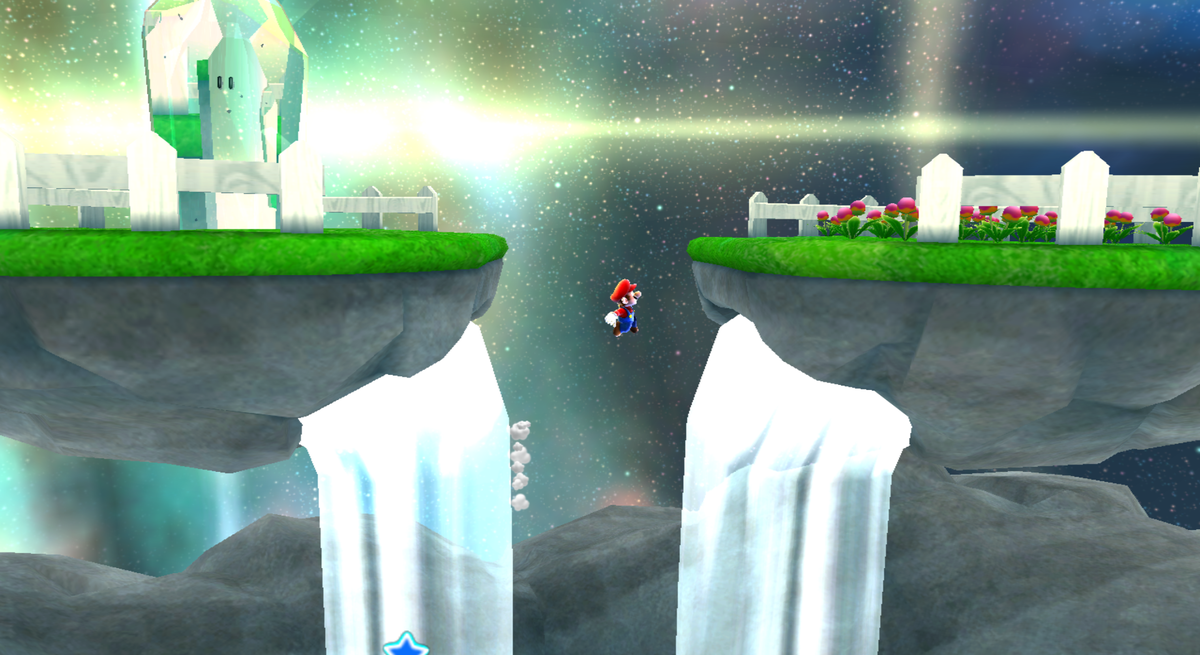 Source: mariowiki.com
In this stage, the galaxy is mostly made of water, until you pound a switch and turn the surface into ice!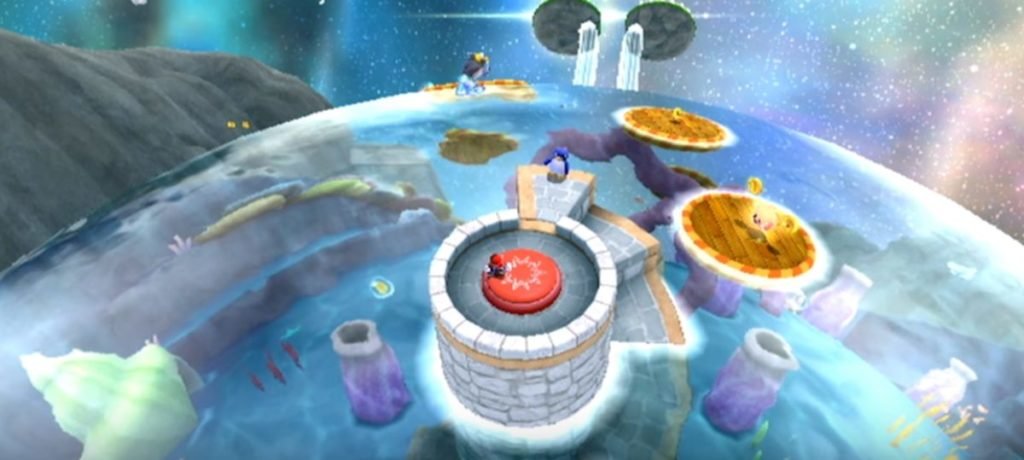 I don't usually like water levels, and ice levels are often even worse, but Cosmic Cove is an exception. This song makes me want to lie back and relax, and just float on the surface of the water. The movement doesn't feel sluggish or slow, in fact it's quite the opposite. Ice skating as Mario is so smooth, and this song does wonders in making you feel like you're gliding across the ice.
I think the harp paired with the piano with the light synth in the background really helps to create that feeling of weightlessness. I can't really identify that instrument creating the high-pitched whistley-sounding tune in the second melody but it definitely conveys the feeling of being in space.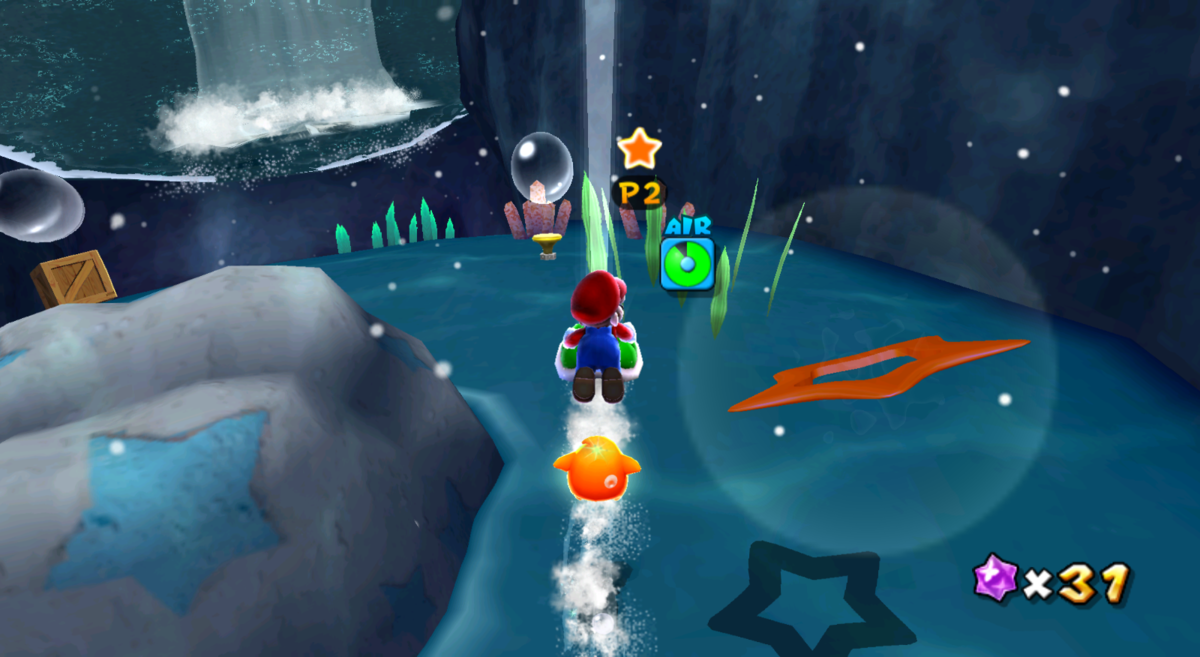 Source: mariowiki.com
When I first played this stage I didn't want it to end; I would just skate around on the ice, enjoying the music and the scenery. After reading the comments for this song I realised I'm not the only one! I remember listening to this song a lot whenever I couldn't sleep because it's just so relaxing. Something about the harp continuously playing in that gentle sequence just puts me in a meditative state.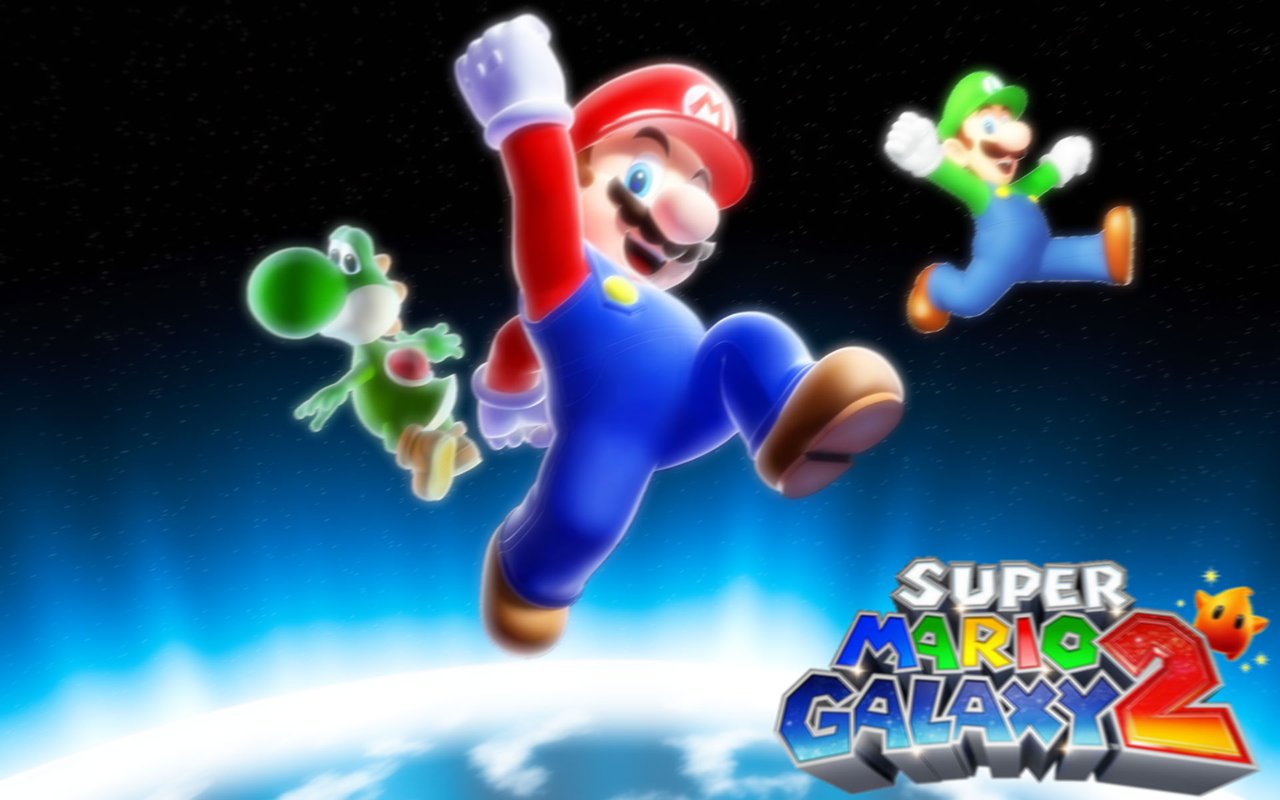 Source: sfwallpaper,com
The composer for this song (as well as many others in Galaxy 2) was Mahito Yokota, who collaborated with Koji Kondo and Ryo Nagamatsu for the soundtrack. As with Galaxy 1, they used a symphony orchestra and the variety of songs is incredible! Most of them are pretty upbeat and loud, fitting for the grandeur of an orchestra, but then there's some hidden gems like this song that's quiet and peaceful. They did an amazing job on the OST, and it's one of the reasons why I love Galaxy 2 so much.
Thanks for reading!

To find out more about me, check out my intro post here!
---
Posted from my blog with SteemPress : http://tacocat.steemblogs.club/2019/11/08/ost-of-the-day-37-super-mario-galaxy-2-cosmic-cove/
---
Check out my previous post in this series!
OST of the Day #36: Phoenix Wright: Trials & Tribulations - Pursuit ‍⚖️