Hi there, folks! I just wanted to drop a quick reminder that I will be attending Protospiel, Indianapolis this coming weekend. If you are someone interested in games or game design, and live within driving distance of Indianapolis, I would highly recommend it as a very cost effective way of getting your games playtested. It's even fun to attend as a game player and not a designer. Let's dig into the details.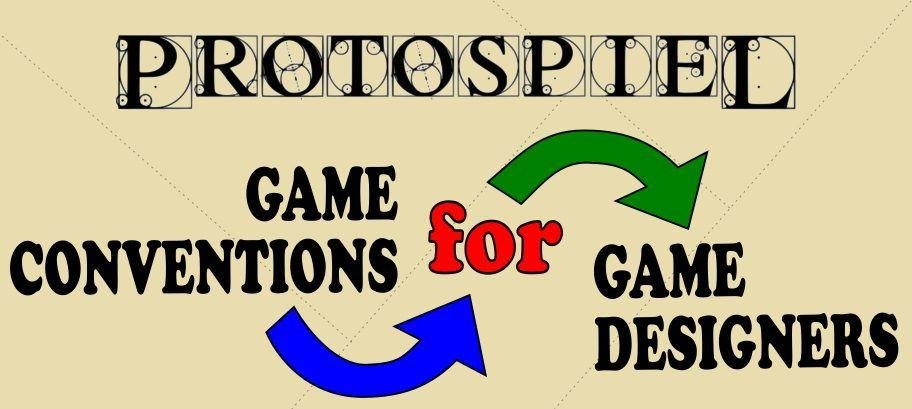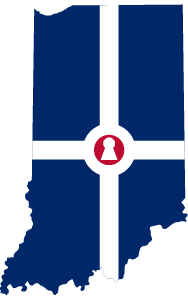 What is Protospiel?
For a more in depth article, please see my complete article on Protospiel here on Steemit!
For a TL;DR - Protospiel is a sort of a franchise of game design conventions held primarily in the midwestern United States, with some exceptions. While other conventions are primarily aimed towards game players, Protospiel is primarily marketed for designers. Basically, it's a "maker fair" for game designers jamming on the art of game design the whole weekend. It is intended for prototypes that have not yet been published, in order to make them better.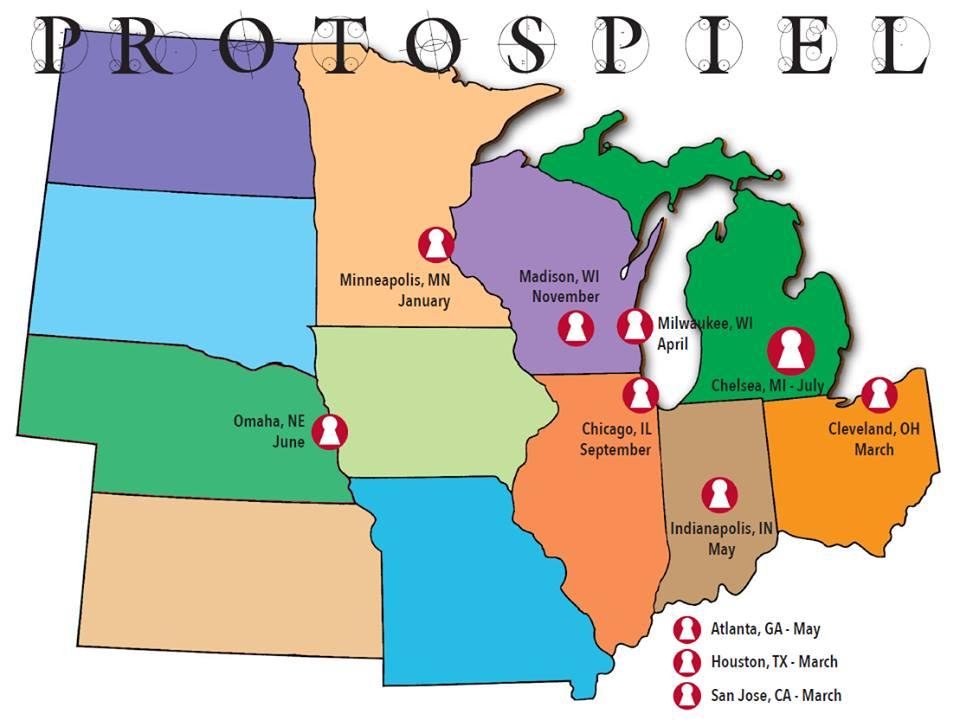 Can a game designer just jet-set around the country attending Protospiels every couple of weeks? Well... the thought has crossed my mind!
What would I expect to see at Protospiel?
If you come to one of these, you will probably be in attendance with a few dozen other game designers and playtesters. Basically, one designer will pull out a game for the others to try, then another. After every game, and often during the game, the designer will take feedback and advice from the players. Once one closes down somewhere, another game will open up.
In the spirit of good Karma, we try to reciprocate as many player-hours in as we do designer-hours out. So, if I bring a one-hour game to the table with four players as a designer, I try to play back into the system four hours of player time with other designers. (It doesn't necessarily have to be with the same people that played yours, but that's nice!) Thus, for every day of the convention, I would expect to have my game hit the table a time or two, and to play about 6-10 other games each day.
I am bringing my brand-new game themed on "crime fighting in 80s movies". I'm lovingly drawing it on half-index cards for the proper "prototype" look. That being said, The Game Crafter will be there, showing off their bits, and bringing professionally printed print-on-demand prototypes through their service. So expect everything from my crappy prototype, to beautiful works of art, and everything in between!
Will there be publishers and vendors there?
Yes. Protospiel Indy is expecting some prominent publishers and other businesses attending this year's event.
Cool, but how do I get them to play my game and make me an overnight millionaire?
Well... Please note that the publishers are there for the same reason that you are. They have their own games to bring to the table for testing. That being said, they will be playing other people's games in the spirit of good Karma that I mentioned above.
While I have seen very occasional offers made at these events, that's very rare, and not the intended purpose of the event. It's not a pitch session to present your lovely perfect game. It's a chance to get your game improved. (And occasionally shredded to pieces and rebuilt.) What you will get from the publishers is excellent advice on how to what publishers are looking for, what companies would be looking for your game, and friendly industry contacts. All of those are extremely valuable in the games industry!
Also note: I've been playing and publishing games for many years, and I don't personally know any millionaires in the game industry. I do know a few lucky people that have been made "Hundredaires" however. If you put in many hours in the games industry, it's possible you could be a lucky hundredaire like them! The point is, there are a rare few that can do games to scrabble out a living. My current advice, sent through time-travel courier back to my former self in 1995: I wouldn't set your expectations too high with the game industry, buddy! Also, get into magic earlier. Plus, buy stock in Google in about 5 years.
In Summary
Thanks for reading! I hope to give a full report on Protospiel Indy next week: what I played, what I did, and how well my new game did.
Credits