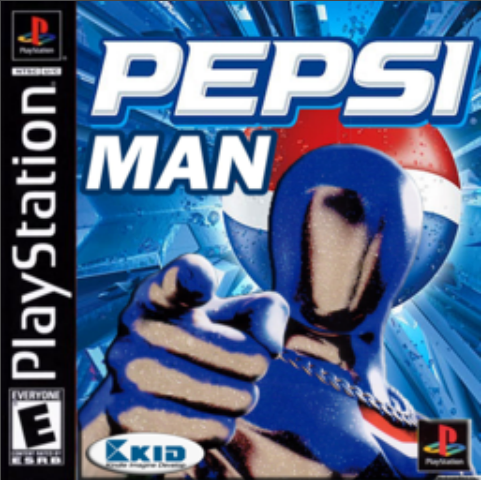 Dam dam
Da da dam, dam
Da da dam, dam
Da da dam, dam
Pepsimaaaan!
Not sure what did this game have to do with some carbonated soft drink product, but this was one of the best, and the funniest experience I ever had in video game. This game is, really, a joke. And I didn't mean it in a bad way. If you've played Pepsiman before I'm sure you get what I'm saying.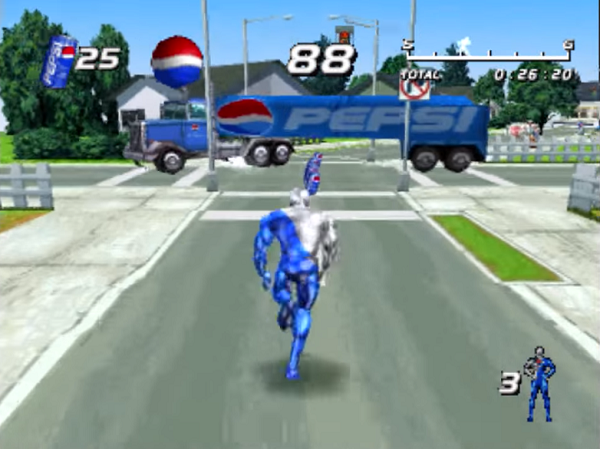 Pepsi run
As a kid, this game's hilarious slapstick manner never failed to make me laugh even after I played it over and over again. Sometimes I paused the game for 15 minutes or so because I was literally rolling on the floor. I wonder if people who played it deliberately bump into people or stuff at some point just because it's funny.
My most memorable ROFL moment is whenever I make Pepsiman bump into literally everything, pedestrian, vehicles, trip over something, etc. The animations makes Pepsiman looked like a clumsy idiot. Back in the day the hardest level in video games in general for little me was when you had to play in inverted control in third-person perspective. Can't remember in which games this mechanic can be found, but Pepsiman is one of them.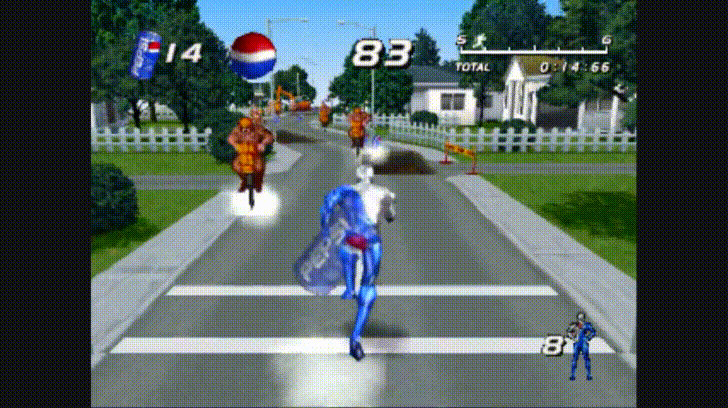 Pepsi bump
There's an epic "BAAM!"-sort of sound effect when Pepsiman hit something as if it was cool. This game is where you can find a misfit SFX to be acceptable because it's funny. Back in the day at least.
---
There's one scene when Pepsiman was posing in front of his Pepsi fans, then he got ran over by a Pepsi truck that sent him fly towards a giant Pepsi replica, causing it to fell off from its Pepsi billboard, then Pepsiman need to run from the giant rolling Pepsi or he will be crushed by a Pepsi.
That moment when you say a word repeatedly and that word starts to look like there's something wrong with it.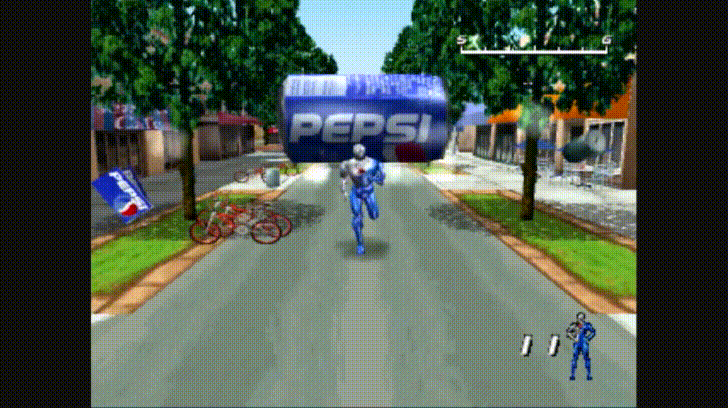 Pepsi chase
When the stage started, the game caught me off guard with the camera position that was in front of the character instead of behind him, with the control that didn't adjust to the camera position which makes the player had to quickly get the grip of the inverted control. My brain had a difficult time to sync quickly with the "Right is left. Left is right." control. And later there were a couple of this kind of levels again.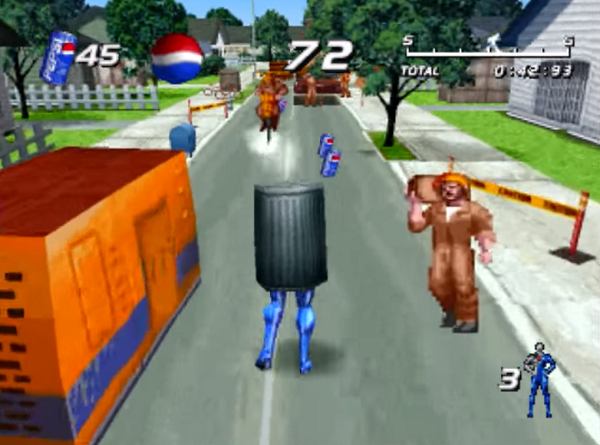 Pepsi bin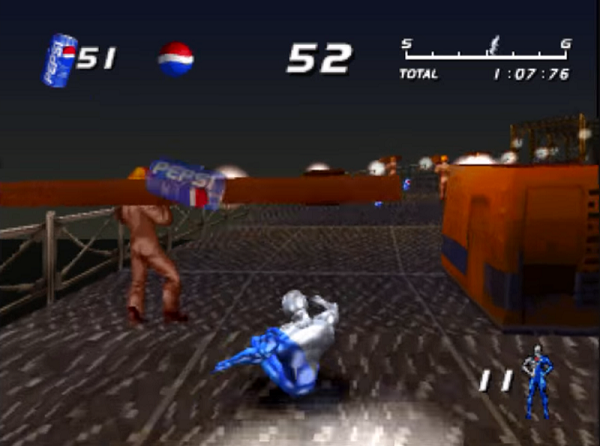 Pepsi slide
---
It was a pretty fun challenge. For a game like... what, Temple Run(?), where your character keep running non-stop and the main control for the player is only around moving left and right, jump, and slide, it slightly adds to the variety of the gameplay, or just for the lolz. Such as a part where Pepsiman skateboarding, got a trash can stuck on his body, or riding a barrel which, again, in slapstick manner. 
It was funny back in the day, but I wonder if I'd still laugh until my stomach hurts over this silly mascot today. I've got a better idea; How about Pepsiman remaster? Pepsiman remaster it is! Anyway, thanks for stopping by, Steemian!

---
Previous Posts:
---
Images credit: Cover, Gameplay 
---
DISCLAIMER: All artworks in this post (except for the cited ones) are belongs to me and I don't allow you, your partner, your cassowary, or your waifu to use them without my consent. Think I'm a smug? Fine by me. Happened before. Hate it if it happen again.