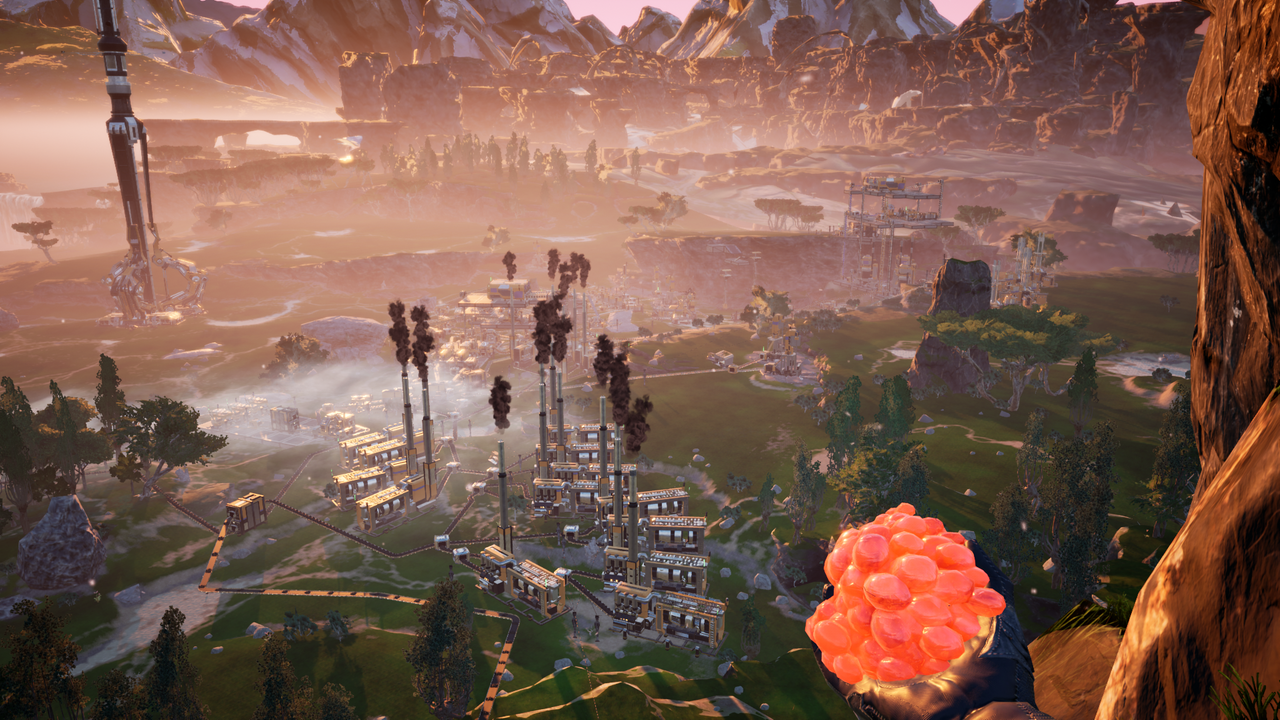 I am a very, very big fan of this niche genre that is the "construction and management simulation", factorio pioneered the genre and I thought that was the last game we would ever see like this.
If you don't know about it I suggest that you read my previous article (it was literally my third post on steem so bear with me)
Factorio is amazing it's the kind of game that you buy on a Sunday afternoon thinking you'll play an hour or two to check it out. After clicking play, you blink
AAand it's 6 am, you look outside to see the sun slowly rising and you realize that you're supposed to be at work in two hours. You will have a hard day at work, first because you slept two hours, second because you'll spend every second of it thinking about what you'll do tonight on your next factory.
A few months back (13 of march 2019) a game was released that takes the same principles but applies it in 3d (factorio is in third person 2d).
So being the fan that I am, I tried it out, a friend warned me that the game was extremely bugged and that he played for 35 hours and then his save got corrupted, had to start over from scratch and this happened twice so he basically said "fuck this I'm never playing this shit game ever again". Needless to say I was apprehensive when I booted the game.
The early game sucks
To progress in the game you have to unlock "tiers" which will unlock buildings and such. Think of it as research. You have to spend various materials to progress. And as you progress it asks you for more and more "high tier" things.
For instance tier 1 asks you for 10 iron rods which is just crafted with iron ore that you have to melt (already three steps), then you need reinforced iron plates which are a mixture of iron plates (crafted with iron) and iron rods. So for one iron plate you have a ton of iron ore that you have to melt into iron and then convert in good parts in iron plates and iron rods and then you'll be able to make one.
This game really makes you appreciate the simple things that factorio does. One big example is being able to craft anywhere while you do other things, click on one item and the game automatically queues the sub-items necessary for the craft. In satisfactory you want 5 reinforced iron plates, it will suck, because you have to take a ton of iron minerals with you, you never know if you have enough so you do a lot of back and forth between the crafting station (where you can craft) and the place where you mine iron.
Roughly an hour and a half in I was still forced to do most things by hand. It was beyond frustrating. I almost felt like quitting because it felt like "do everything by hand simulator" not an automation simulation like factorio.
Basically to completely automate stuff you need three things : an automated miner, conveyor belts and a factory/smelter to make items. Those are like the CORE of this genre this is why it is available by default when you start a game of factorio but for some reason you have to play about an hour and a half of satisfactory to unlock those and finally be able to do things correctly.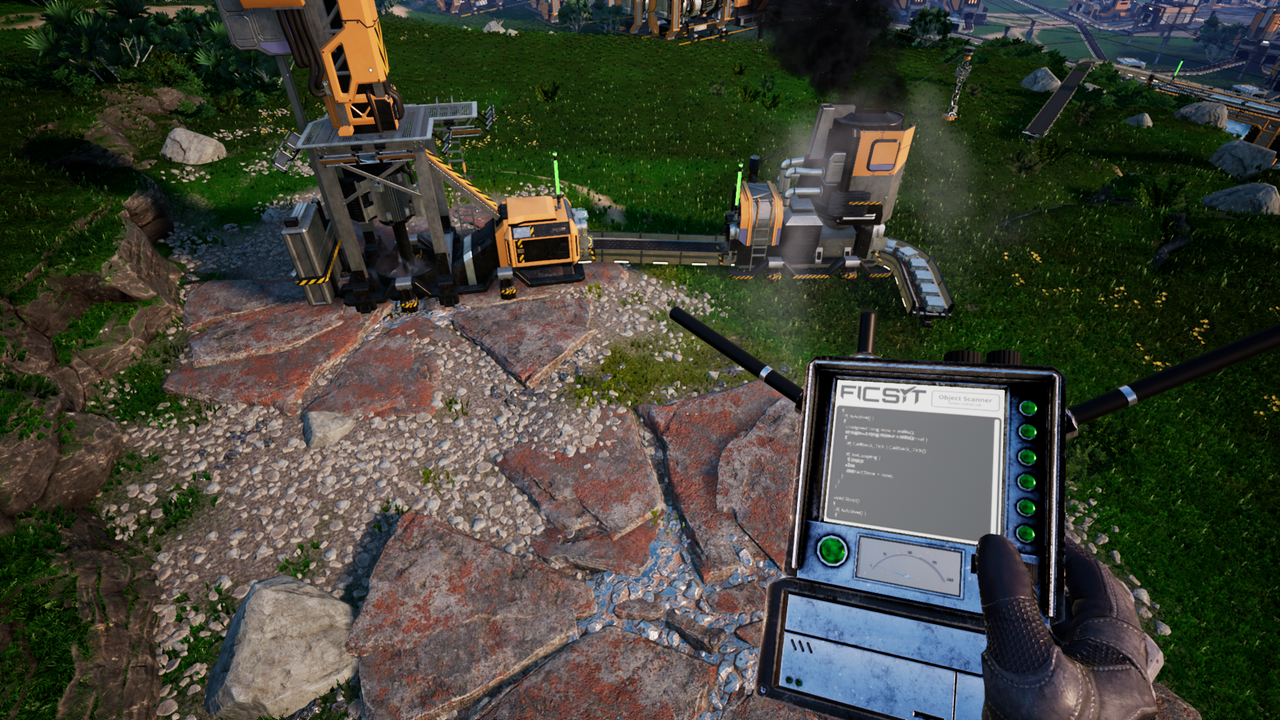 Simple setup with the miner to the left, mining iron that feeds iron to the smelter in the middle and outputs iron bars.
At this point my view of the game was pretty set :
The 3d is pretty but doesn't really add any benefit
the devs don't understand the genre of the game are trying to make
Factorio is even better than what I thought
It gets better and better
But I was dead wrong ! (not on the third point though) when I played past this awful early game and then I finally got the game I wanted to play.
You automate stuff, you craft more and more advanced items, you realize you need a new factory to feed your other factory you make it, you realize you don't have enough ore so you make a new miner but all that takes too much power so you make a new power reactor etc etc.
The problem with the first person 3S view is that everything is huge, in factorio you can zoom out a lot to get an overview of your factory and build accordingly, and conveyor belts snap really easily so you can build a lot of things in minimal space. In satisfactory you always have things right in your face and even though you can build lookout towers that allows you to go up and build things from a higher perspective, it quickly ends up like trying to paint with a brush at the end of a stick : it's hard to be precise.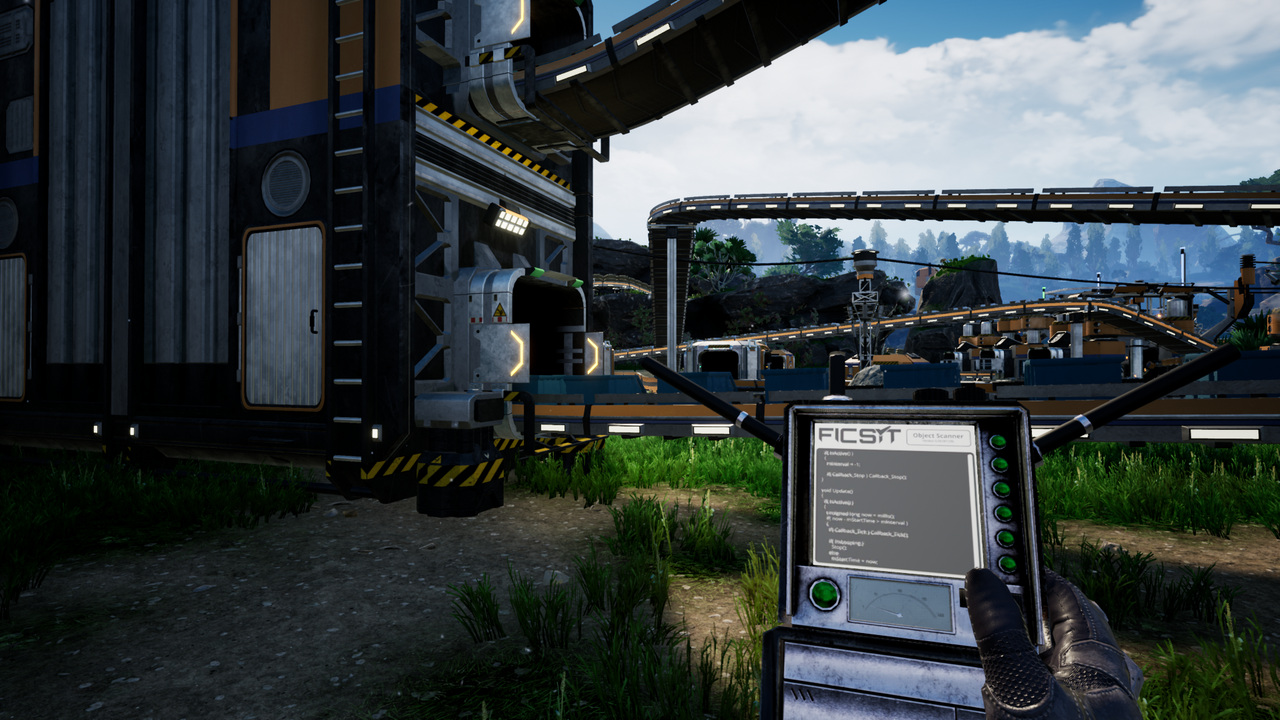 Speaking of precision, since conveyor belts can't do sharp turn in a tight space you very often end up building your factory and when it's time to connect everything you find out that you can't connect things as you wanted so you essentially have to move everything a few centimeters and do trial and error until it works. It's not that big of a deal, once you learn that this is a limitation you make everything kinda far apart so that the conveyor belts won't have issues because it dislikes the sharp angle. But afterwards when you look at your factory you can't help but feel like this isn't "perfectly optimized". And when you want to expand if you didn't plan ahead on space it'll be a lot of troubles.
On the 3d aspect, being a Factorio player I spent a big amount of time building mostly on the ground without exploiting the fact you can build using height. Big mistake.
This really brings a whole new way of building where you create towers where each level builds a more and more advanced item and you feed the raw materials at the bottom of your tower. It's really cool when you have a completed tower and you can look at it later on. (less cool when you fall from it and die though).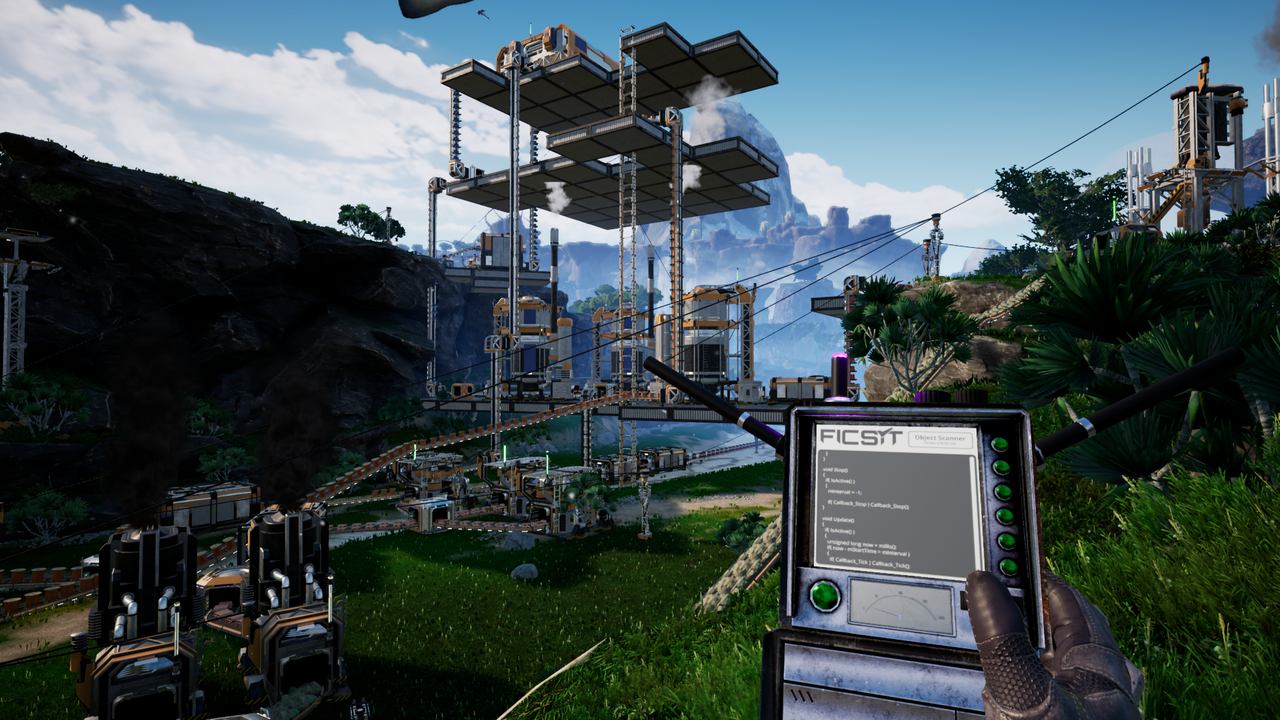 One thing that is very different between the two games are the enemies, in Factorio it's a constant threat that you have to protect against which adds a real difficulty in the game (can't extend there, too many enemies) in satisfactory it's only a mild issue when you explore.
In conclusion satisfactory is not as good as Factorio , but it's definitely different and keep in mind that it's a game that is in early access and new content is being added fairly often so I have high hopes for it. If you want to spend the 30 euros to buy it on the epic games store go for it, it's worth every penny.
The game definitely gave me the "can't sleep, must optimize" feel during those 25 hours that I played until I finished it. Not that you really "finish" such a game because there is always things you can do but I had no more goals and I figured I'd better get back to work IRL.
Steem on !