Introduction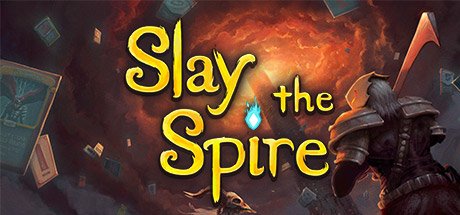 So this game has consumed much of my game time over the last few weeks, its great for playing while you surf the web in the background or need to multi task. The game is also very challenging and requires multiple runs to get to grips with the games mechanics and the tactics needed to be successful. The 3 main characters all provide a unique play style and challenge that keep you trying new combinations. But like all over games requiring "runs" much of the success of your quest will rely on RNG and making choices based on risk/reward.

My Winning Deck and Relics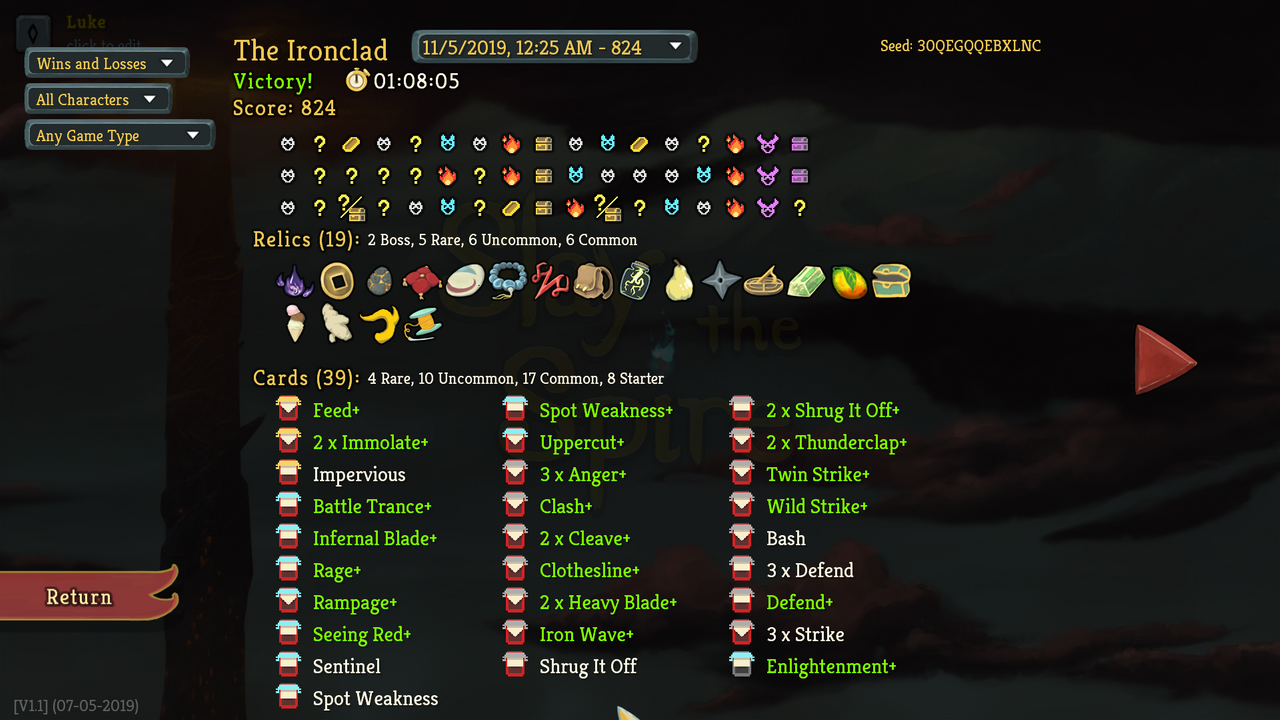 The Relics
So my first successful run came after about 20 hours of play, which shows either how challenging this game is or how casual my gaming skills are! Above you can see the victory taking me just over an hour to complete. This was my last run before bed so I wasn't concentrating to hard but the RNG fell my way quite strongly with relics. Here are some of the important relics picked up at random points along my quest up the spire.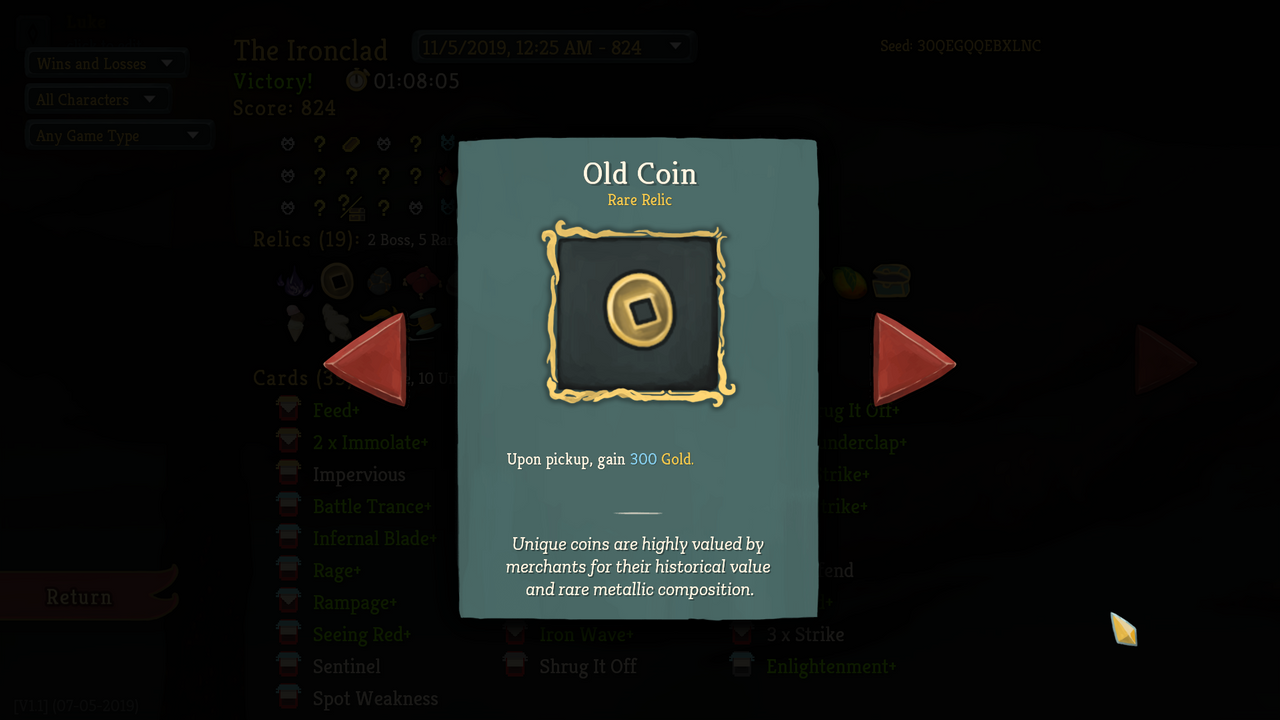 One of the early breaks I had was picking up this relic that gave me 300 gold. This allowed me to make good purchases when visiting shops during my run. This is a vital element in the game as it allows you to purchase potions, relics and cards. Some of these cards come also at a discounted rate which means you can really boost your deck with a well timed visit to a merchant during your run.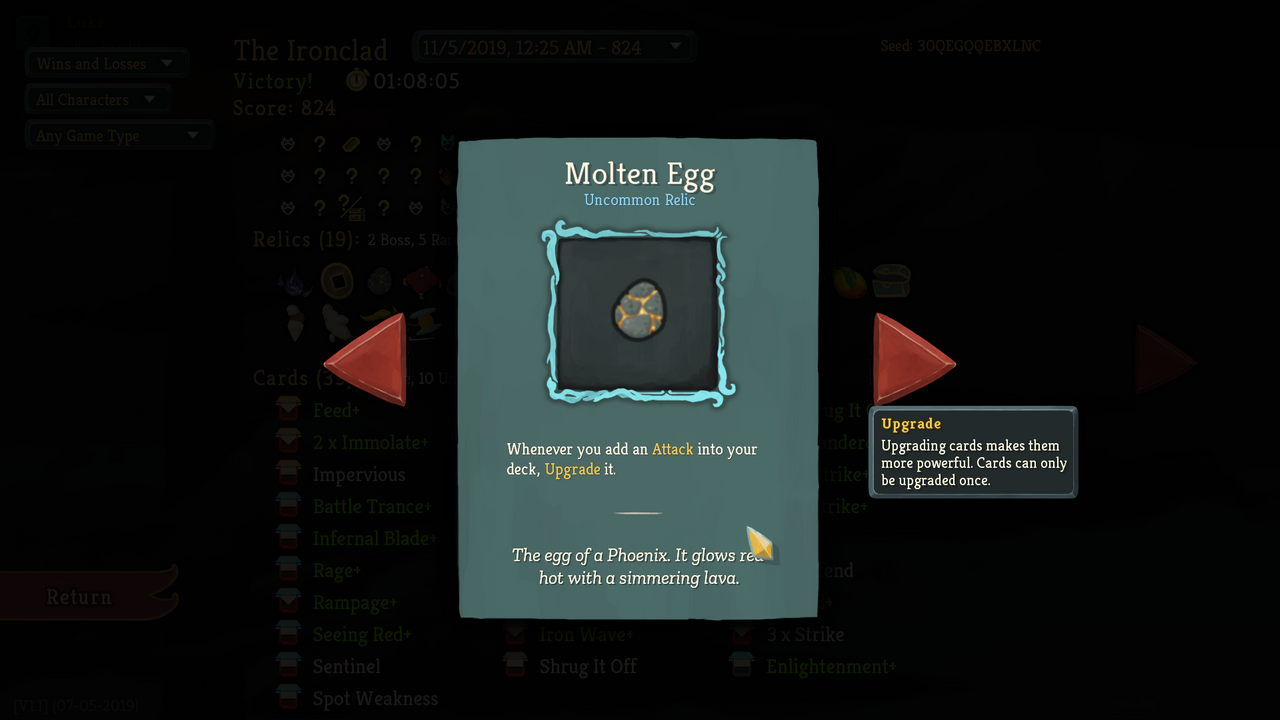 I do believe though that the most important relic I picked up early on was the Molten Egg. I has decided early on to go for a high damage deck at the risk of picking up less block cards. This would leave me more open to damage but also allow me to deal out masses of attack power myself. This tactic was further reinforced by the Molten Egg which meant every time I picked up an attack card it was upgraded. As the run developed this allowed me to wipe creatures out fairly quickly and effectively. This in turn allowed me to take less damage as the creatures did not hang about to long. Apart from one other run this was the most damage I had dealt in a deck so far.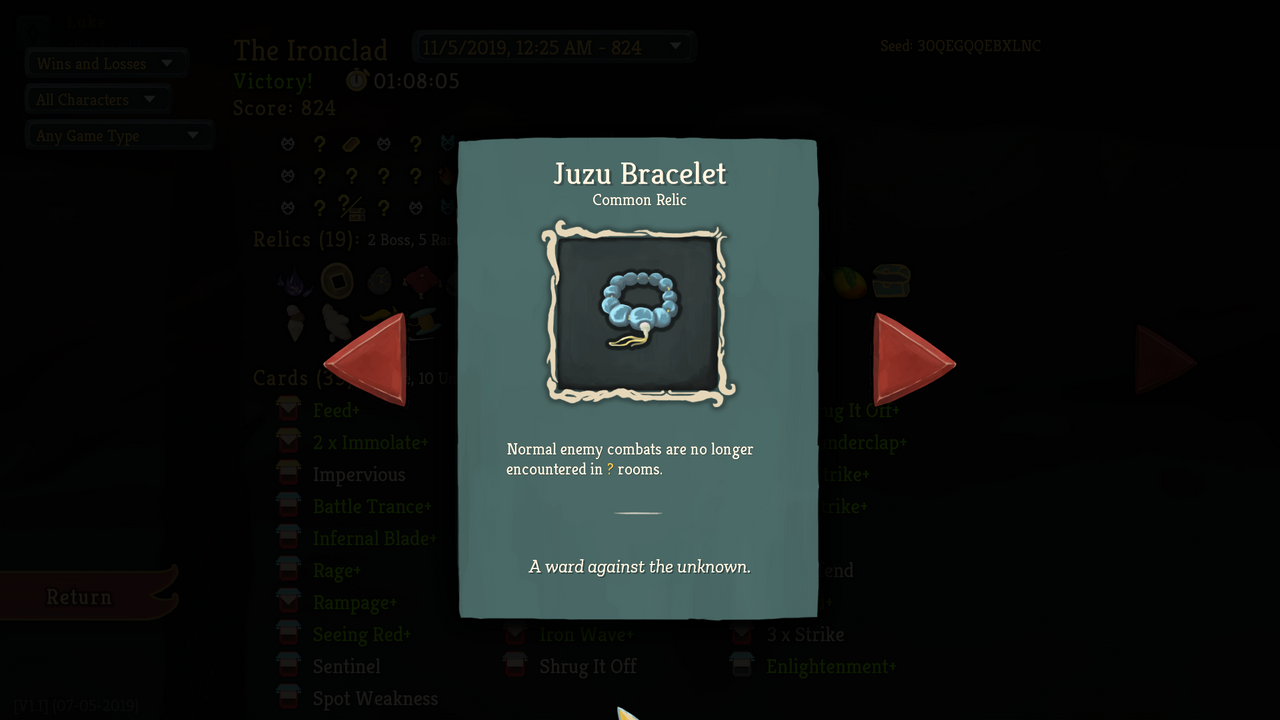 I didn't rate the Juzu Bracelet when I first picked it up! OK it would allow me to avoid enemies....so what? Well as it turned out this gave me a number of positive relics instead of fighting low level creatures which would have chipped away at my overall health. I would definitely go for this relic again if it came up in another run. An undervalued gem if you like to ride the RNG train.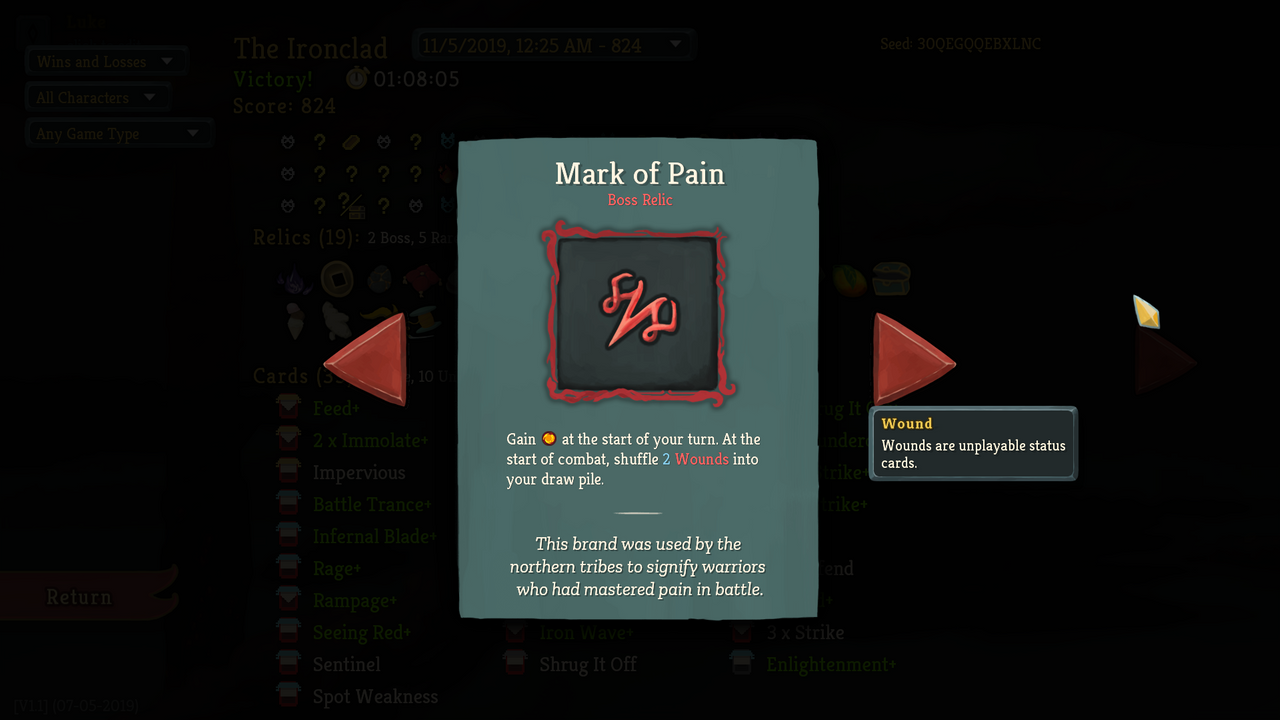 This relic picked up at an early boss fight gave me the extra power needed to play more cards early on in a combat round. I knew this was key to winning fights in the long run so I decided to select it after the first boss win. Despite it having wounds as a negative it gave me more firepower to deal with critters! I felt that the extra energy far outweighed the negative effects of the wounds being placed in my deck.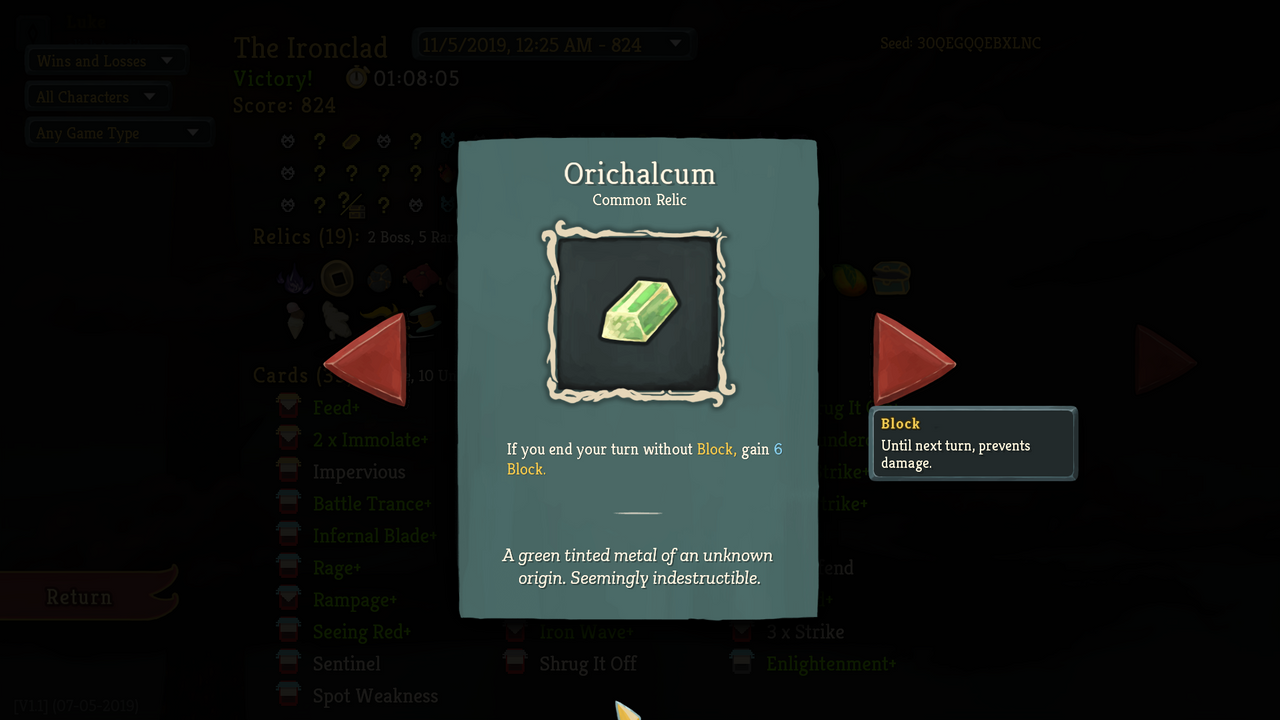 Always a favourite of mine the Orichalcum allows you to attack every round and still have 6 block to protect against the enemy attack. This isn't a lot of block but takes the edge off damage to your HP and coupled with an upgraded burning blood means that my character could recover 10 HP post combat. In combat where i took no damage it meant that my character could recover sufficiently for future fights. It is also important to note that I picked up a couple of relics that raised my max HP to 100.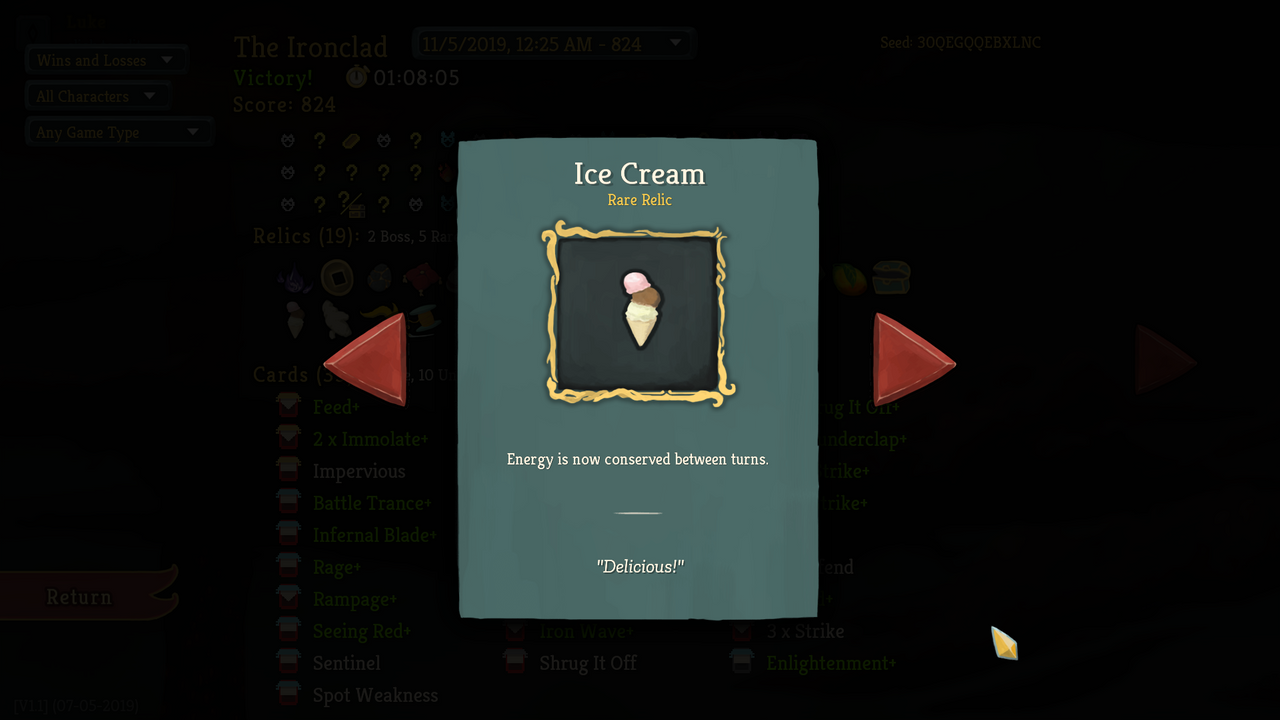 The Ice Cream is an amazing relic that allows you to keep your energy as you move from round to round. This allows you to leave any useless cards and spend the extra energy in the next round. This was particularly useful in dealing with boss fights where timing is crucial.

The Cards
The main part of the game is focused around your card collection which grows as you progress up the spire and beat enemies. You normally (depending on relics you have) get to choose from 3 cards at the end of every fight. This is then added to your deck for future combat. The pick up of certain cards can change the dynamic of your deck so you have to be careful how you construct your pack. Here are the highlights from my winning deck!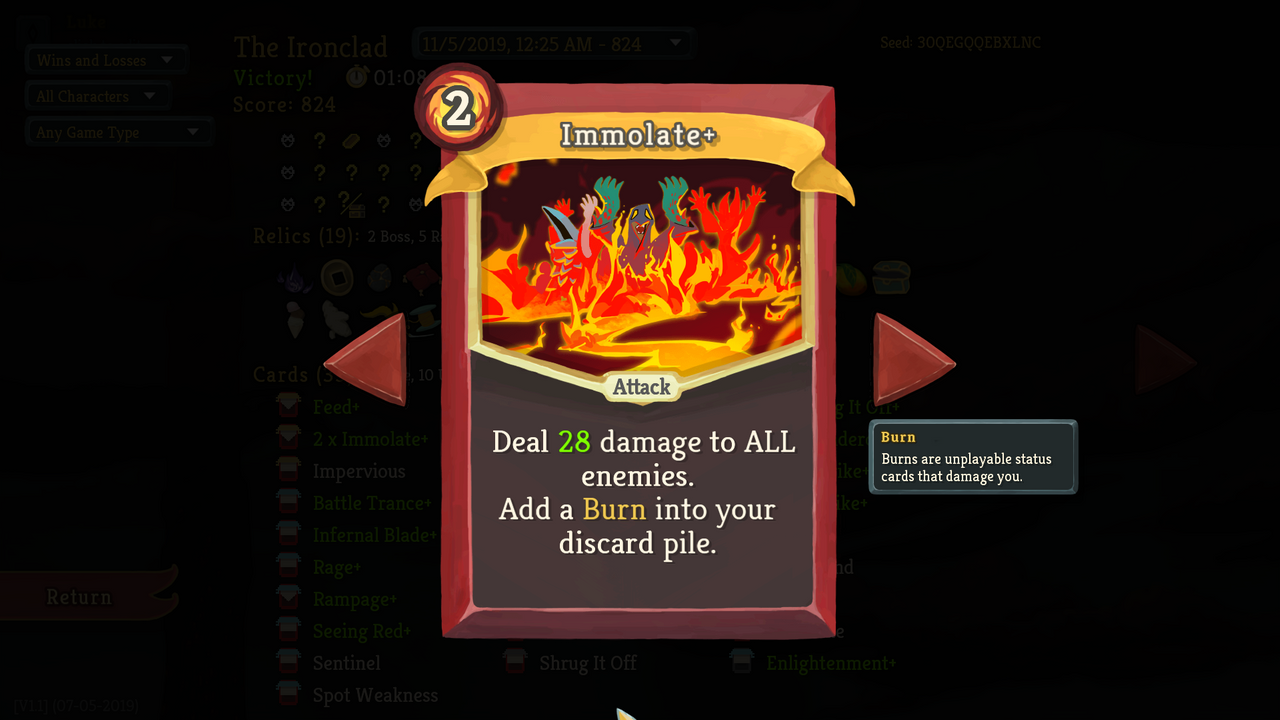 Immolate gave me firepower at the expense of some damage along the way to my character in the form of a burn card added to my deck. The fact that it was also excellent at crowd control allowed me to control enemy mobs very successfully. I would not hesitate to pick this card up in future! The fact I had two of them in the deck consistently allowed me to deal massive damage (when paired with strength cards that boosted my attack power).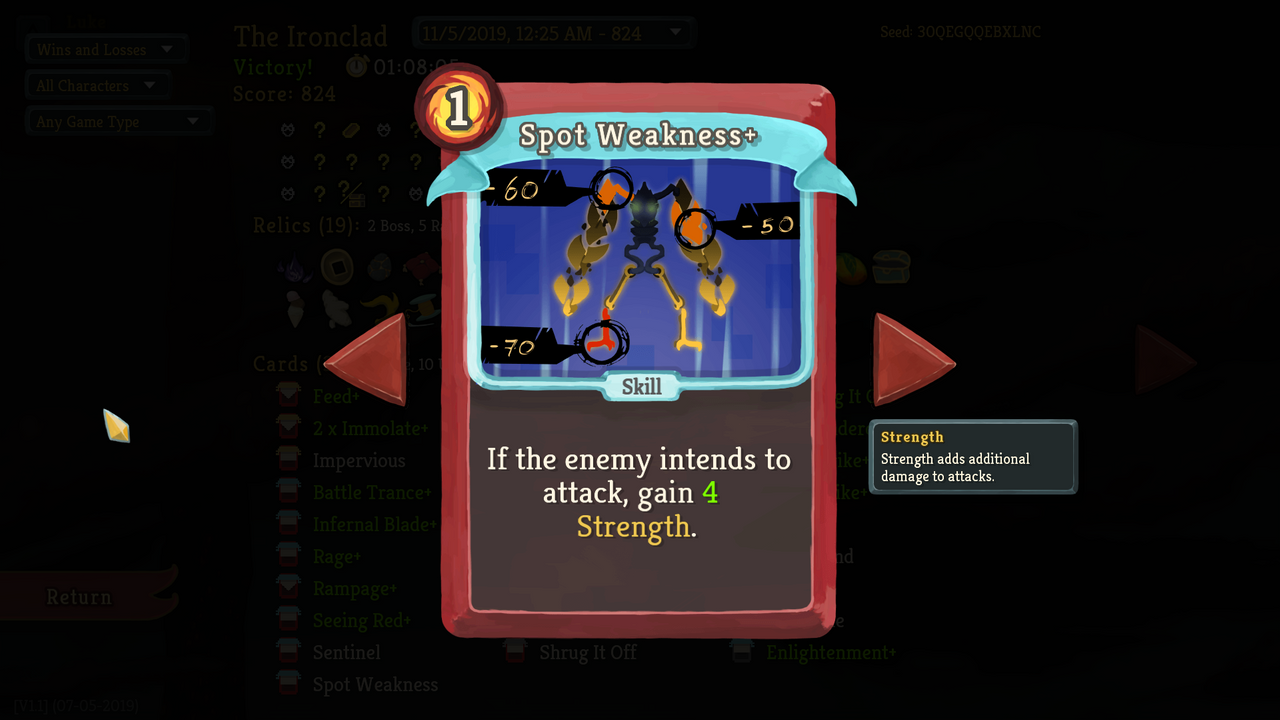 My deck was a little light on strength cards so this card allowed me to increase the power of my attacks at important times. Coupled with Immolate this allowed me to deal massive damage to multiple targets. Especially important as you take on bosses that have multiple minions with them.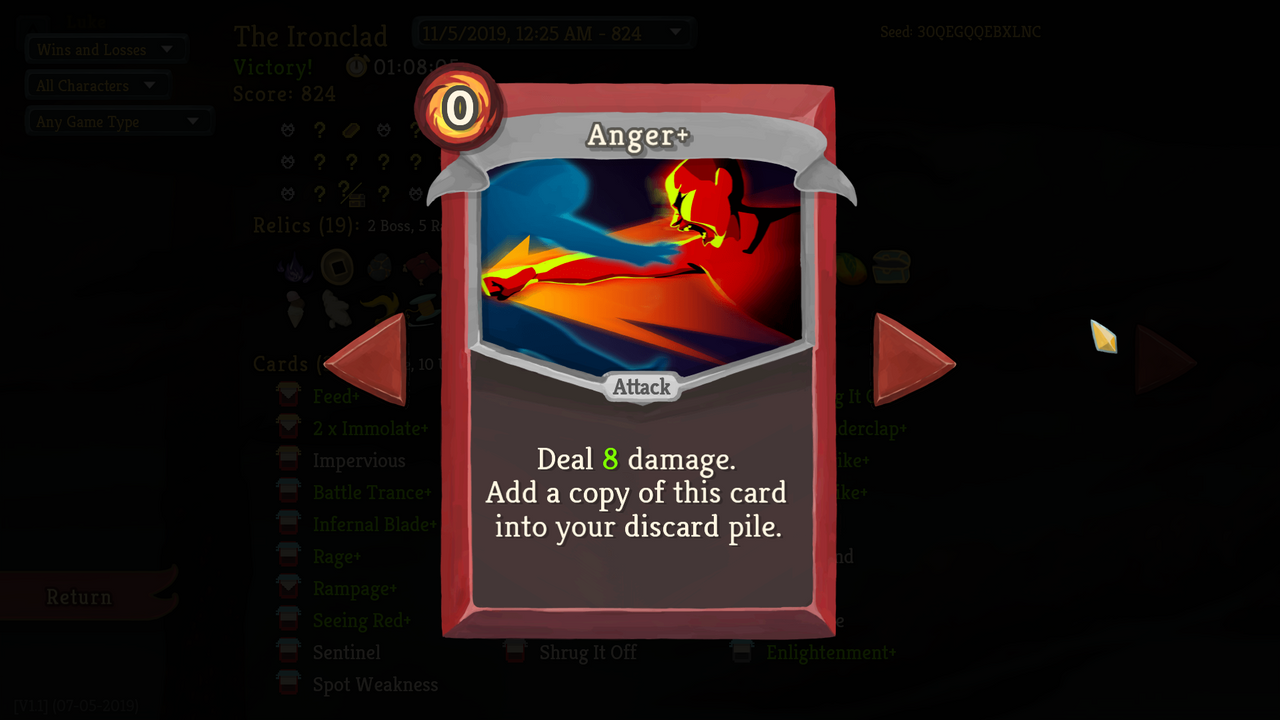 Anger is a card I always pick up, it allows for constant damage at no cost to energy. The card duplicates as it reshuffles allowing for more and more damage the longer the battle goes on. One of my favourite cards to utilise in every run due to its outlay of no energy and synergy with strength buffs.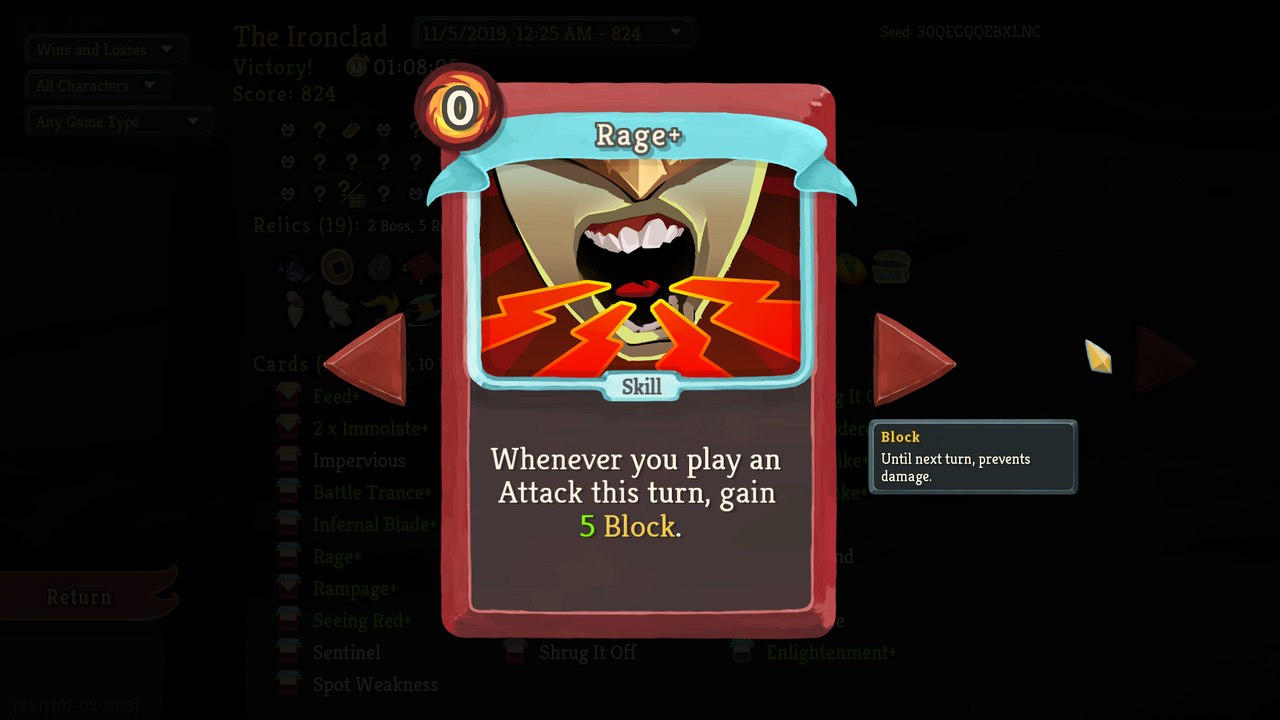 Rage was vital for the added protection to my character. As my deck was very attack orientated I was often left open to large amounts of damage during the enemy turn. As I tended to deal 3-4 attacks each round this left me with some significant blocking power at the right times (mostly). A card I would consider important for future attack orientated runs despite its reliance on having it in your hand at the right times.

So there we have it! I decided to only highlight some of the important relics and cards so I can discuss more cards in future posts. I do plan to have more victories as I ascend the spire once more and will keep you updated on the relics and cards used.
Lrev