With the recent boom in eos gambling dapps, due to high dividend payouts and early mining rewards, It seems like a new EOS Gambling Dapp is coming out everyday. This makes it very hard for new apps to stand out from the crowd.
But one that seems to be on the rise, and with very good reason, is FastECO, or Fast win, with their Dice Based Game, Fast Hero!
At the core you are playing a dice game, pick a number to roll below and if the number rolled is less than your pick, you win, but FastWin doesn't stop there…
So what's so different about FastHero, why is it not just another dice game.. well to start just take a look at the graphic game play they recently updated.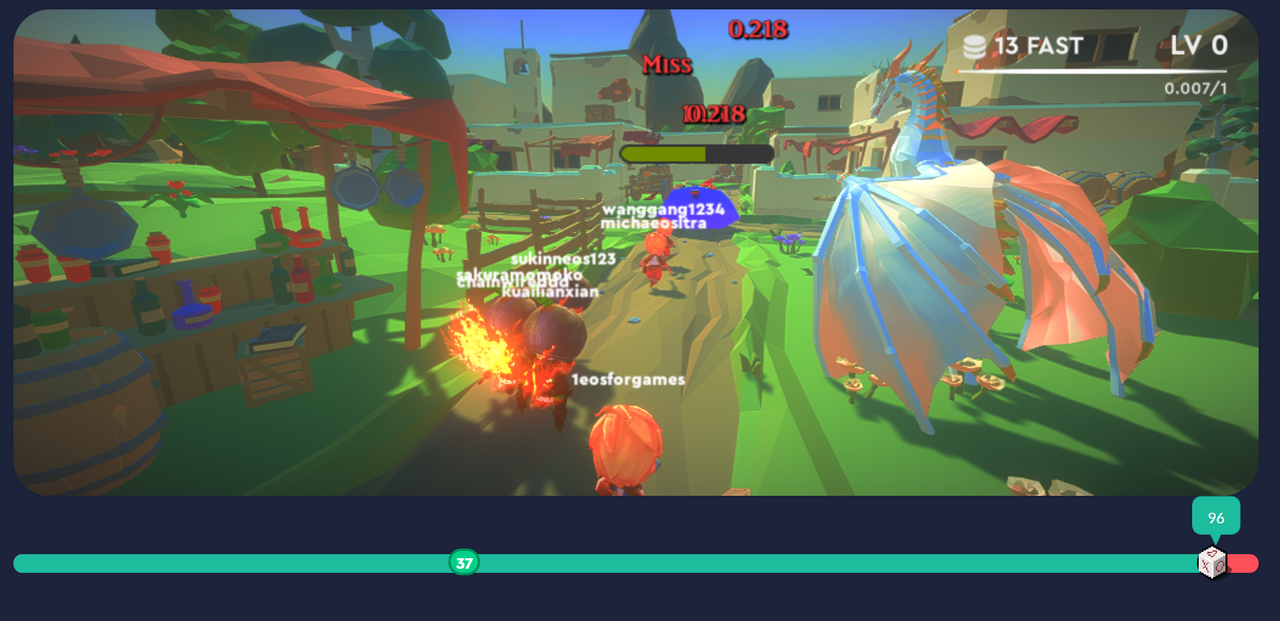 Now you might be asking yourself, what's going on here (image Above), so let me elaborate.
Think of this like an move based game, where all players are attacking he same 'boss'. When you roll the dice you can inflict damage on the Boss, and earn Damage points, EOS and FAST Tokens (Dividend Tokens), all at the same time!
If you manage to kill the BOSS though, you also earn Kill Points and SLIEMT Tokens, which can be traded on exchange or used to upgrade your character, earning more damage points per go, increasing your chances of killing the bosses and earning more tokens.
As you play, your Level also increases, improving your character and chance of winning the Kill points each time.
Not only that, but there are two Leader boards for you to compete in.
One based on your damage points, to win a share of 4500 EOS every 24 hours!
Damage Rank :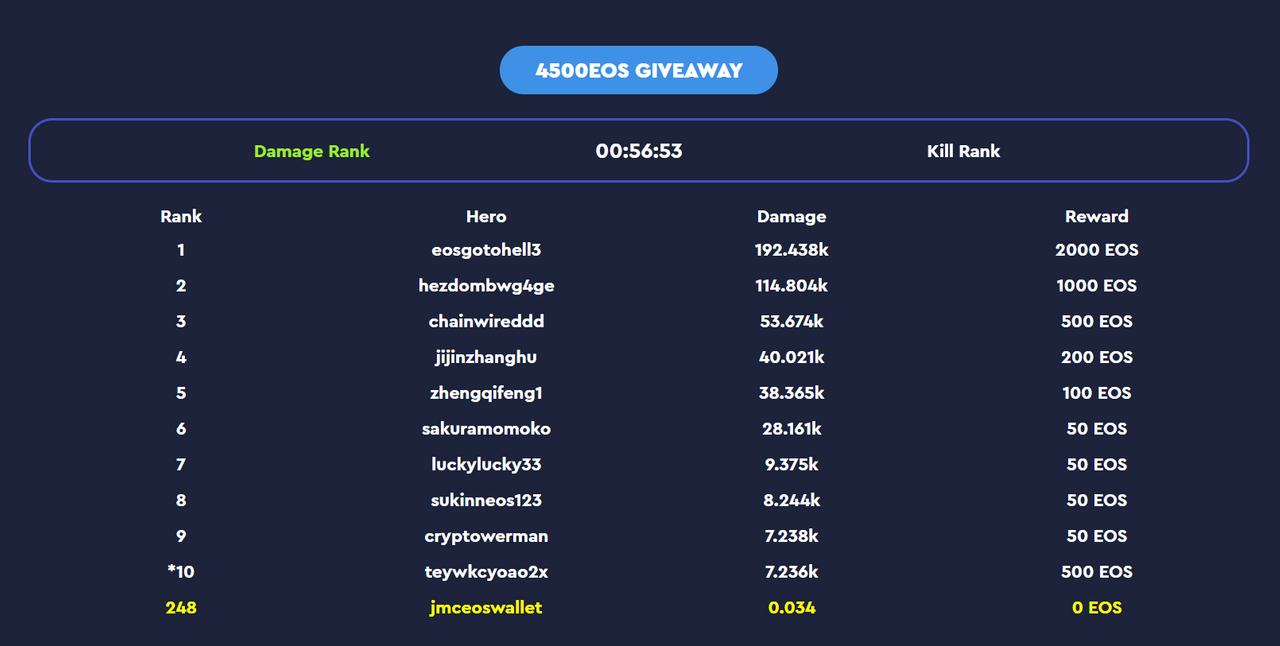 Another based on your Kill points to win a share of 1750 SLIEMT Tokens.
Kill Rank :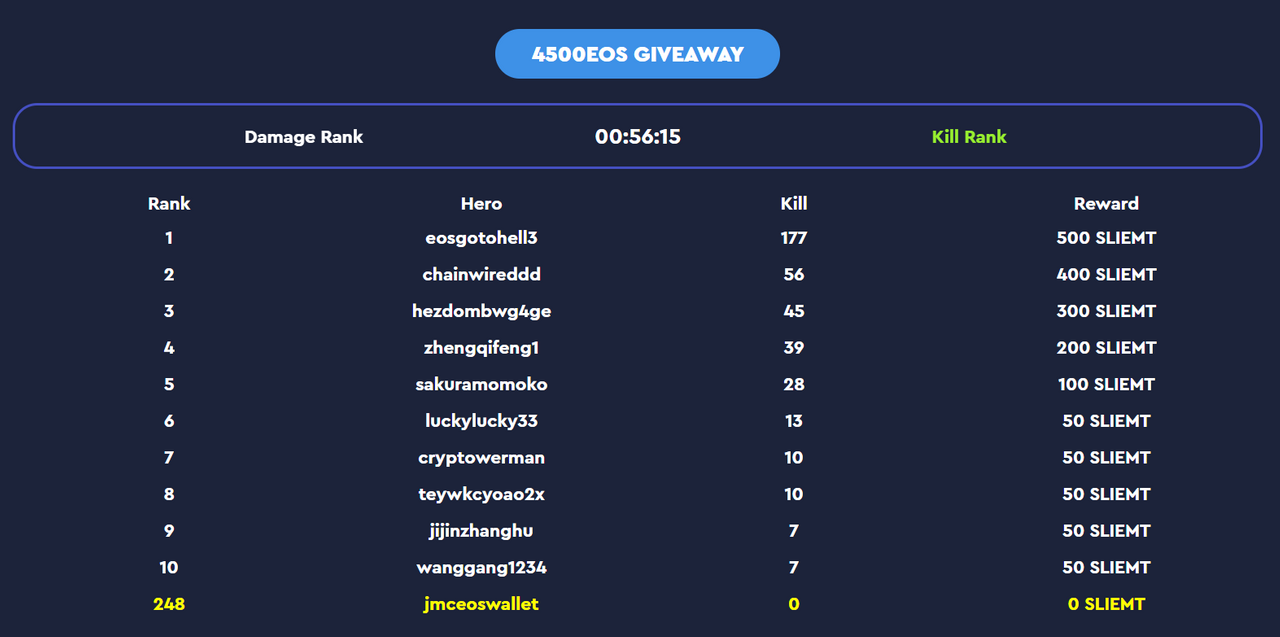 In my opinion, by gamifying the original, mostly boring, dice game, and giving players the potential to upgrade their characters, compete with other players and making it a much more visual and interactive experience, they will no doubt retain users for a much longer period of time.
But it doesn't stop there… another great benefit that comes with the game is that you can collect dividends every hour, by staking your mined FAST Tokens (You can also purchase fast tokens on exchanges if you do not wish to play and mine them)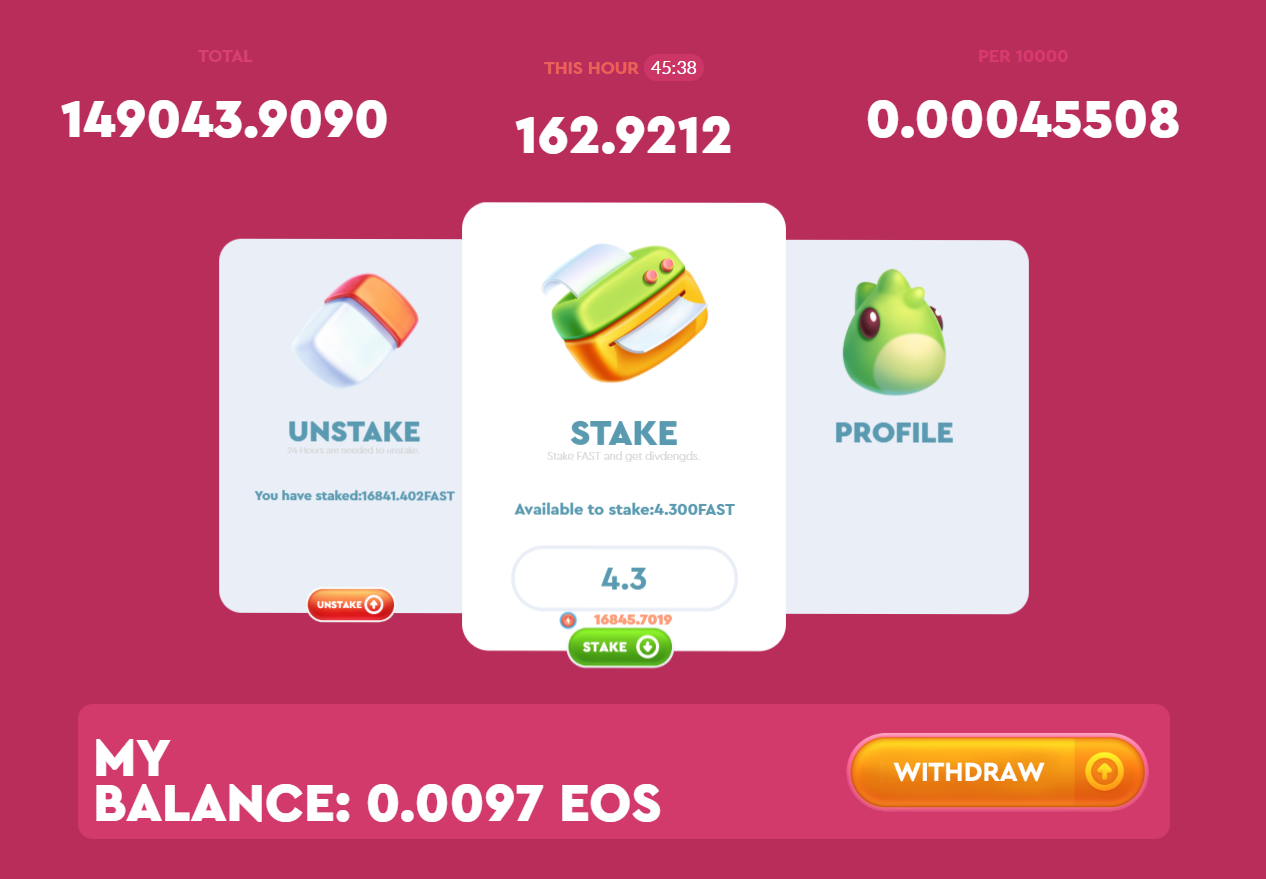 I personally think this is different enough from other gambling sites, that it will in fact stand out from the rest. They already have better incentives, interactive game play display, and up-gradable characters, so who knows whats to come next. I for one will be keeping a close eye of the project.
If you want to see the game in action yourself then you can check it out here – fastwin.io
Thanks for reading, if you enjoyed this article or found it helpful then your review is greatly appreciated. Also make sure to follow me here on Steemit for more content like this, and maybe check out some of my other articles. Alternatively you can follow me on Twitter – Click Here
If you have any Questions or want to let me know your opinion on FastHero, then drop a comment below and i'll get back to you.