Have you ever played a tabletop game and thought, I could do better than this!? You may have even sat down with some ideas, and maybe even put together a prototype. Designing games is fun, but it's also hard work. Fortunately, there are communities that can assist you with designing a game.
For the last ten years I have been part of a game design community called Protospiel. I'm seriously addicted, so I thought I'd reach out and spread some of the joy.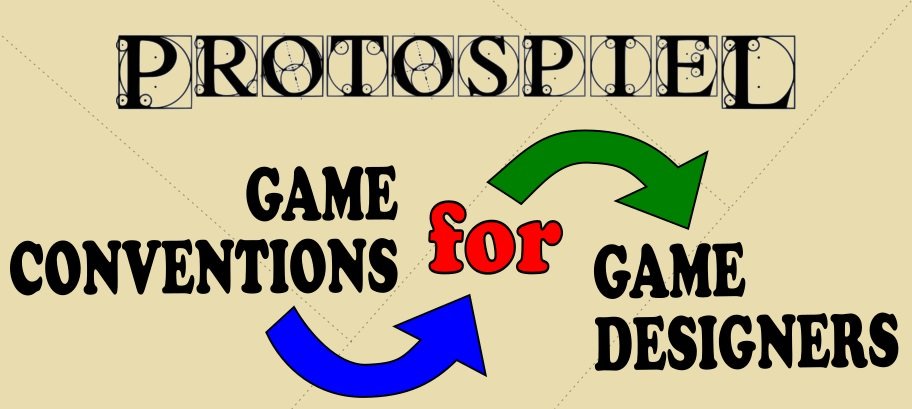 What is game design?
A game is more than an idea. Games need rules to establish how the players should play and win. The tabletop game designer envisions how the rules, components, and players interact, and puts that vision in a form that can be easily understood by the players. A good game designer will often act as a technical writer, director, mathematician, statistician, and user interface designer. Game design is a delicate dance between the written arts, visual arts, and cold, hard math. After all of that, the game still has to be fun.
Yet, this is not the whole story. Humans are fallible creatures. Sometimes one player will interpret rules one way, and another player will interpret them another way. My good pal Carl Klutzke said, "Imagine that you're writing a computer program. Imagine that when the computer begins to execute each statement, there's a 10% chance it ignores the statement and proceeds without it. That's what board game rule writing is like."
One of the most humbling events a game designer can go through is a "blind playtest," where you give the game to a group that has not played before. The designer sits back and watches silently while the players interpret the rules on their own, sometimes to shockingly unexpected results. While painful for the designer, this process is vital for discovering where the rules need to be more clear.
What is a Protospiel?
Protospiel is a series of board game designer conventions which have appeared across North America. The original event took place in 2001. It was designed as a not-for-profit gathering of tabletop game designers who tried to elevate the art of game design. The idea spread, and the Protospiel "brand" has franchised out with permission of the originators under a set of rules. As a result, there are about twelve per year at different cities in the US and Canada, at my last count. If you like designing tabletop games like I do, you can probably find one, and it could even be nearby!
What is a Protospiel like?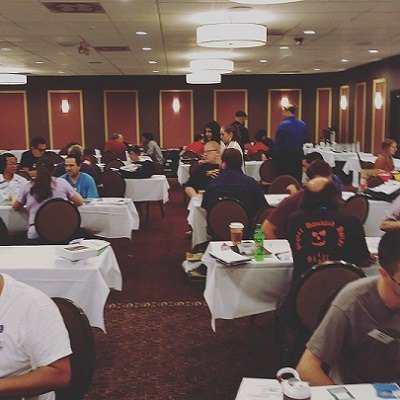 (Photo: Protospiel Chicago, 2017)
.
A Protospiel convention usually takes place at a hotel conference center over a weekend. At a traditional game convention, or a game design event like "Unpub," you are likely to expose your game to game players. While that sort of feedback is valuable, a Protospiel will give you a chance to play primarily with designers. Designers will give very specific feedback on game mechanisms, salability of games, rules advice, and so on. Unlike normal players, designers tend to find what buttons to push to try to see if your game is breakable. It isn't done to be malicious, but instead as a tool to help clean up your rules.
The idea is to get your game design to the table, and to play others' game designs. For each full day of the convention, I usually expect my game to be played once or twice, with a detailed critique session to follow. To be honest, I sometimes get more out of playing other people's great games than playing my own. There's some seriously smart people at these meetings! Expect amazing gems, and a few duds—even a couple of gems and duds brought by me. It's helpful to see the cutting edge of game design, and you'll almost certainly play one or more amazing games during a typical weekend.
Will there be publishers there?
Although it's not the primary focus of a Protospiel, sometimes I have seen publishers scouting for new designs. I would not try to make an extra effort to push your design in front of them or harass them, though. Publishers usually have the same goals that you do—to get feedback on their games. Treat them with respect, and you may get benefits other than a signed contract, like friendly connections in the game industry and expert advice.
Is my game developed enough? Is it beautiful enough?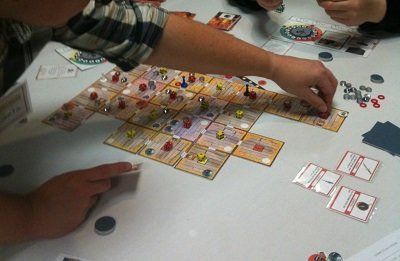 (Photo: Prototype of "
Dead Men Tell No Tales
" at Protospiel Milwaukee, now published by Minion Games.)
.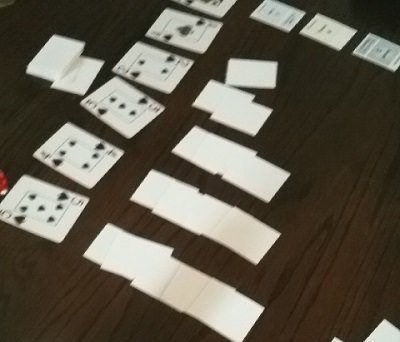 (Photo: "Ugly" early prototype of my own
Company of Thieves
game at Protospiel, using half index cards and playing cards.)
.
You will see games in every stage of development at a Protospiel, from scraps of paper, to beautiful models, to printed cardstock, to everything in between. You might even see people getting inspired at the event itself, and start making a new game right there. Don't be afraid to bring a game to the table, polished or not. That's what the weekend is for.
I've seen beautifully crafted games at Protospiels. And beautiful prototypes do tend to attract more attention. But don't make a prototype so pretty that you can't bring yourself to mark it up. Sharpie marker edits on game cards and pieces during a prototyping weekend are badges of honor, rather than stains. They are signs that you game has been played, and you've taken the advice of other designers back to the drawing board and made edits during that weekend. Sometimes edits are made live during a playtesting session.
I've seen some prototypes brought to a Protospiel that have meticulously sculpted parts, professionally printed cards, and everything finalized except for the final publication. Sadly, those are sometimes the games that need the most work. Don't spend too much time on a prototype, because odds are, things will change. To quote my good pal and Protospiel veteran, Kevin Nunn, "The uglier, the better." If you resist changing a game element because you've spent too much time on it, you may want to reconsider why you brought it for playtesting in the first place. You're not there to validate or sell your game; you're there to make it awesome.
Will someone steal my game idea?
Game ideas are cheap. Mine are cheap. Yours are too. Implementation of rules is difficult, expensive, and takes a lot of effort. All designers have their own pet projects buzzing in their heads, and the last thing they need is your idea.
Personally, I love when I can "riff" game design with another designer. I often feed ideas about game design to other designers at these sorts of events. It's a great feeling, playing a published game down the line. I like looking at a game on my shelf or a store shelf and thinking, I helped make this.
Upcoming Protospiels for 2018
Here are some upcoming Protospiel events, which is probably not an exhaustive list: (You may find others at http://protospiel.org and https://tabletop.events/conventions)
| Name | Date |
| --- | --- |
| Protospiel Cleveland, Ohio | March 9-11, 2018 |
| Protospiel San Jose, California | March 9-11, 2018 |
| Protospiel Mini St. Paul, Minnesota | March 10 |
| Protospiel Houston, Texas | March 16-18, 2018 |
| Protospiel Milwaukee, Wisconsin | April 13-15 |
| Protospiel Indianapolis, Indiana* | May 4-6 |
| Protospiel Atlanta, Georgia | May 4-6 |
| Protospiel Chelsea, Michigan* | July 13-15 |
| Protospiel Calgary, Alberta | September 1-2 |
| Protospiel Chicago, Illinois | September 21-23 |
| Protospiel Madison, Wisconsin | November 29-December 2 |
* Chat me up at Protospiels Indianapolis and Chelsea! I'll playtest your game.
Conclusion
Feedback to any creative process is valuable. If your creative energy is dedicated to tabletop game design, you owe it to yourself to participate in one of the best game design communities on the planet. Make plans to go to a Protospiel!
Helpful links
Credits
Logo used by permission
Header otherwise designed by author
Protospiel photos taken by author
Special thanks to user @Nobyeni, @AnikeKirsten, and others from @TheWritersBlock for editing advice.
Logos below of the Freelancer's Guild and The STEEM Engine Initiative owned by the respective groups.