Imagine our ancient hominin ancestor, Paranthropus boisei, foraging for food over 1.5 million years ago in East Africa.
With 5-6 hours a day allocated to food acquisition, a sweet and fatty nutrient dense rhizome found at the base of a sedge that provided 80% of the required caloric intake in 2-3 hours would have been a sought after staple.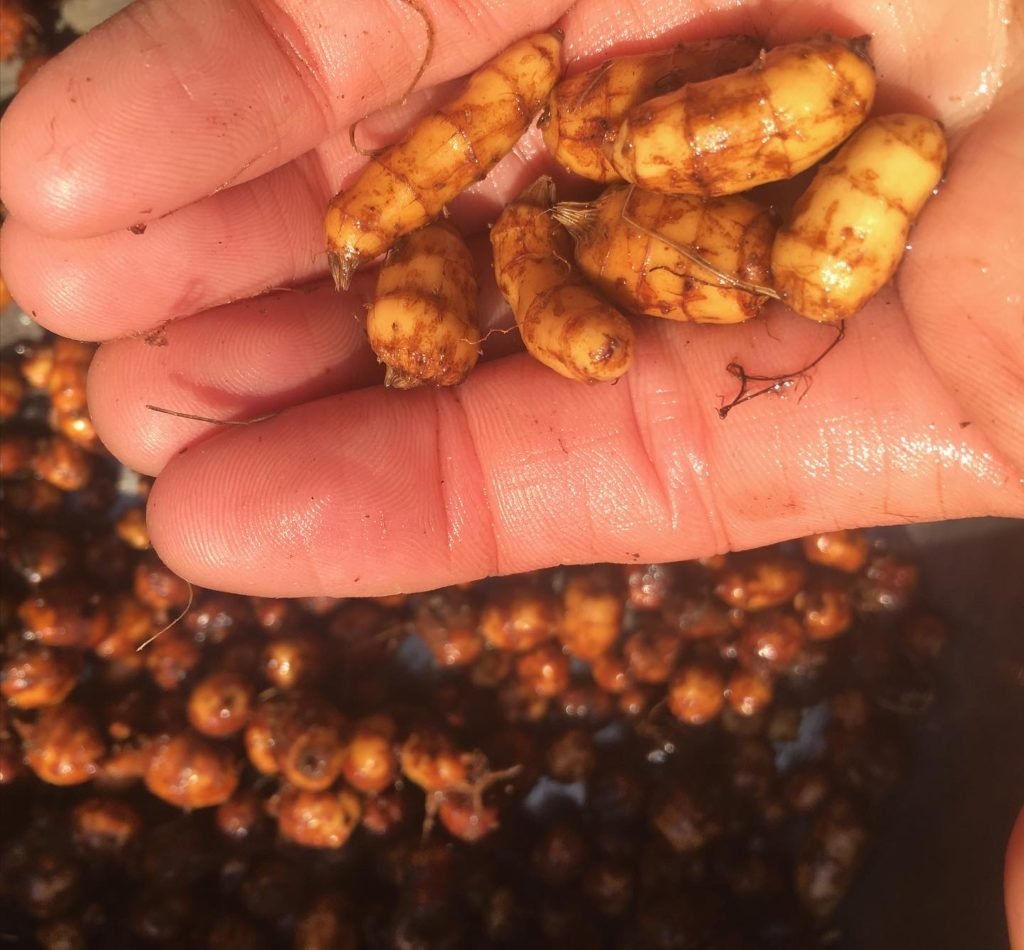 Tigernut aka Chufa in the author's hand after harvest
Fast forward many generations…
Baboons in this same region of Africa are known to seek out this widespread starchy tuber that now grows worldwide.
Chufa prefers a moist habitat but can survive droughty periods as well. Being a pernicious plant (having been burdened with the label of [gasp!] an invasive species), it provides nutritional tubers for humans and wildlife throughout its now greatly expanded range. In fact, it's currently planted even for wildlife forage.
Due to its opportunistic growth habits, it has become a choice crop for domestic hog, wild turkeys and humans alike.
On an ecological level this means more life giving food with less fuss. This sedge has much to offer those curious or hungry enough to dig up these tubers.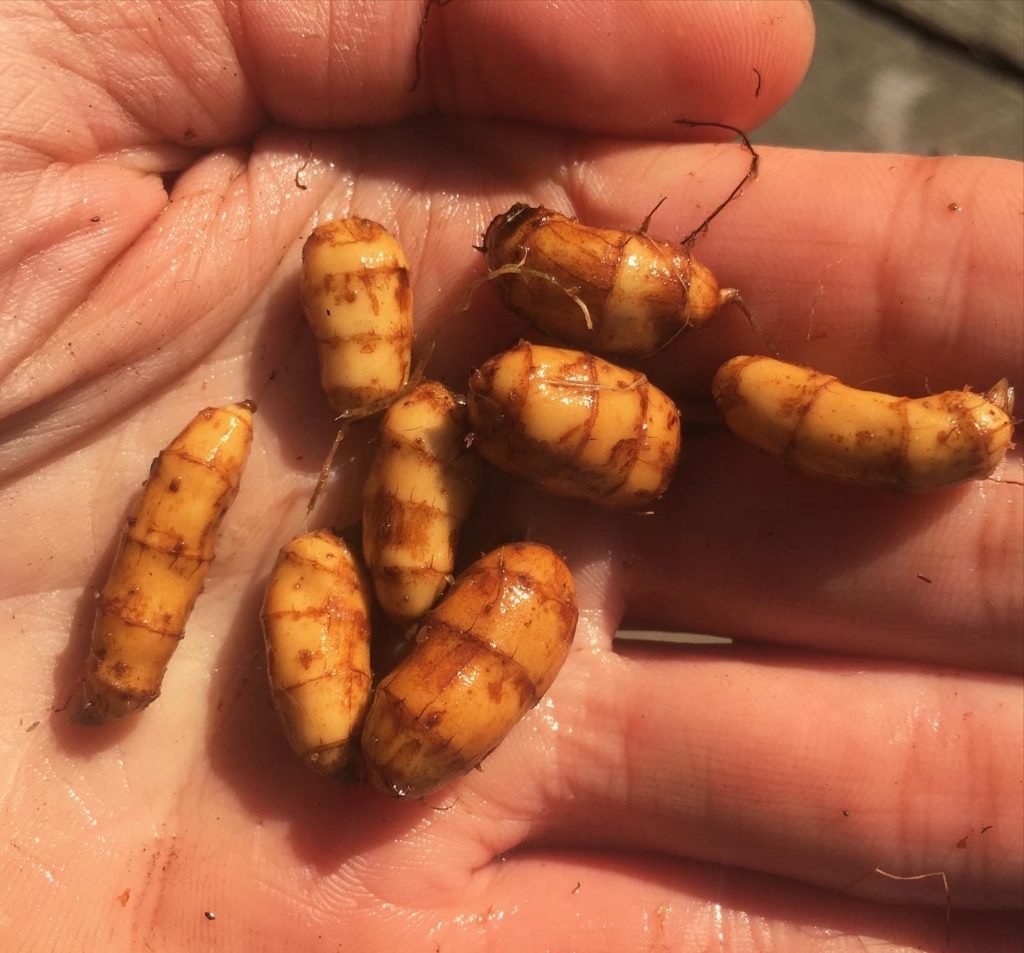 They are called tigernut for the characteristic stripes on the sides of the raw tuber.
Our hominin ancestors were instinctually drawn to this food for good reason.
Life giving and sustaining sources of dense nutrition were (and are) highly valued.
It's not only very connected to eat a plant known to have provided sustenance for our ancestors, but like many ancestral foods the tubers at the base of Cyperus esculentus are considered a superfood.
In the nutritional territory what stands out for chufa is the abundance of resistant starch- its mineral content (high in phosphorus, magnesium and potassium) and the presence of oleic acid (the heart healthy monounsaturated fat also found in olives and avocados.)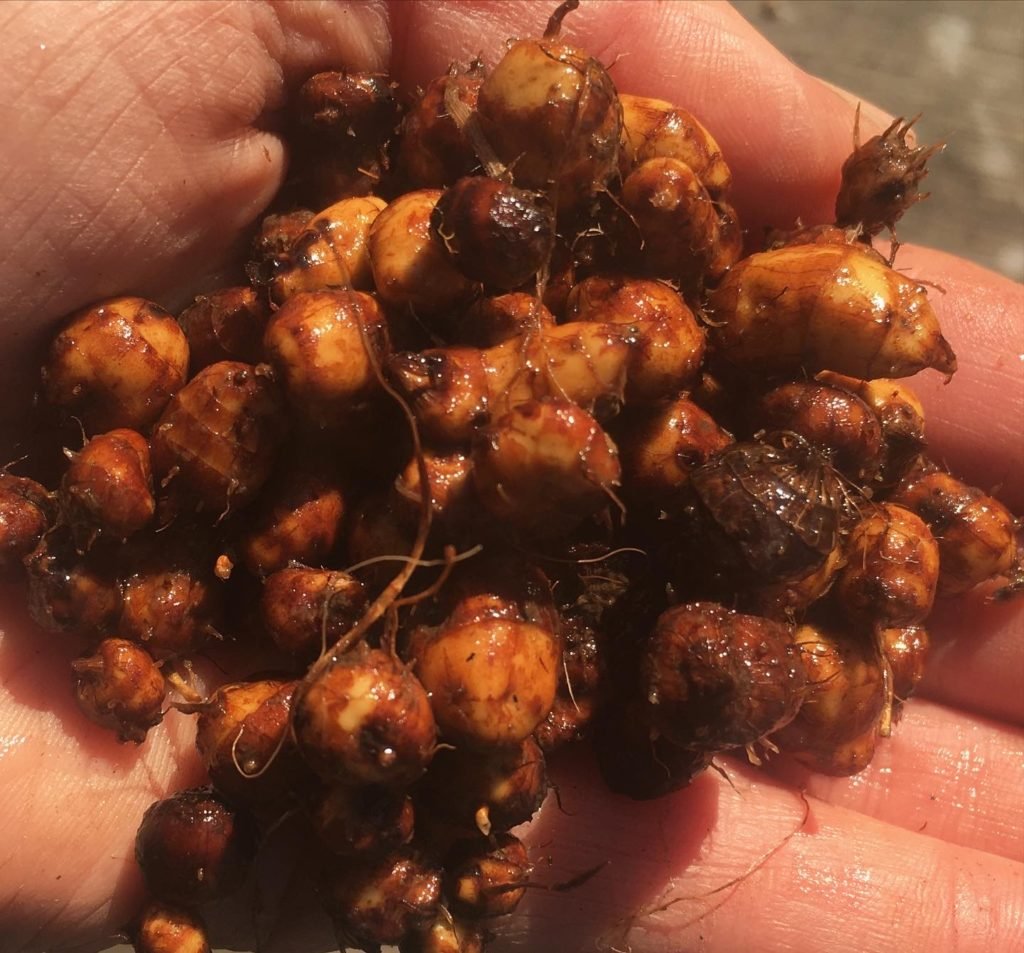 Resistant starches (aka fiber) are complex carbohydrates that persist throughout the digestive process and add a crucial element to the diet. In other words, it is food for the microbial community that keeps our systems going and supports our immunity.
These are also referred to as prebiotics as they provide the favorable conditions to promote probiotic colonies of bacteria.
These starches also help reduce blood sugar spikes and add to the feeling of fullness, showing promise for those seeking to lose weight.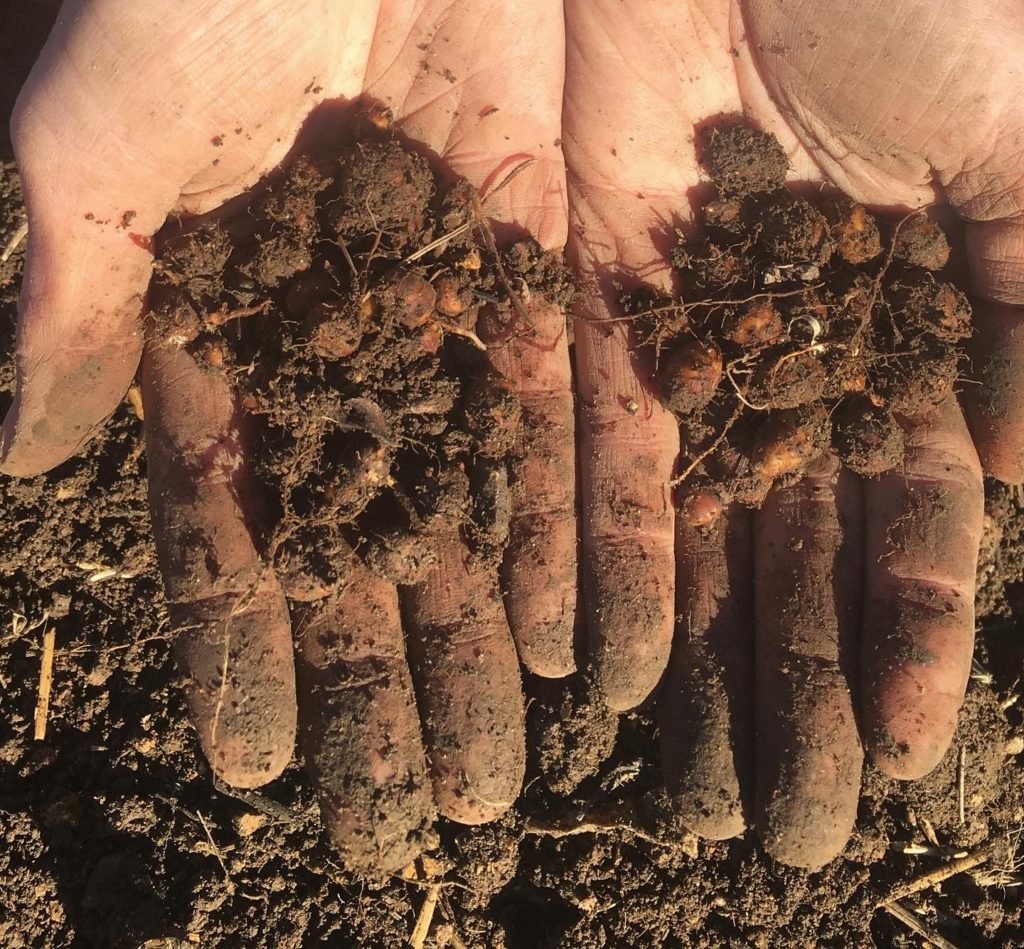 Chufa immediately after harvest from the bases of the sedge.
Given the nutritional profile of these tubers, there is no doubt to their benefit in our diet.
Combined with their ease of growing and sweet taste, it's a no-brainer in the perennial landscape.
In a water garden, marshy spot or otherwise moist area, chufa is a perfect crop. Through growing this hardy tuber we are not only connecting with our evolutionary past, we are celebrating the rich abundance of goodness found within the base roots of an unassuming sedge.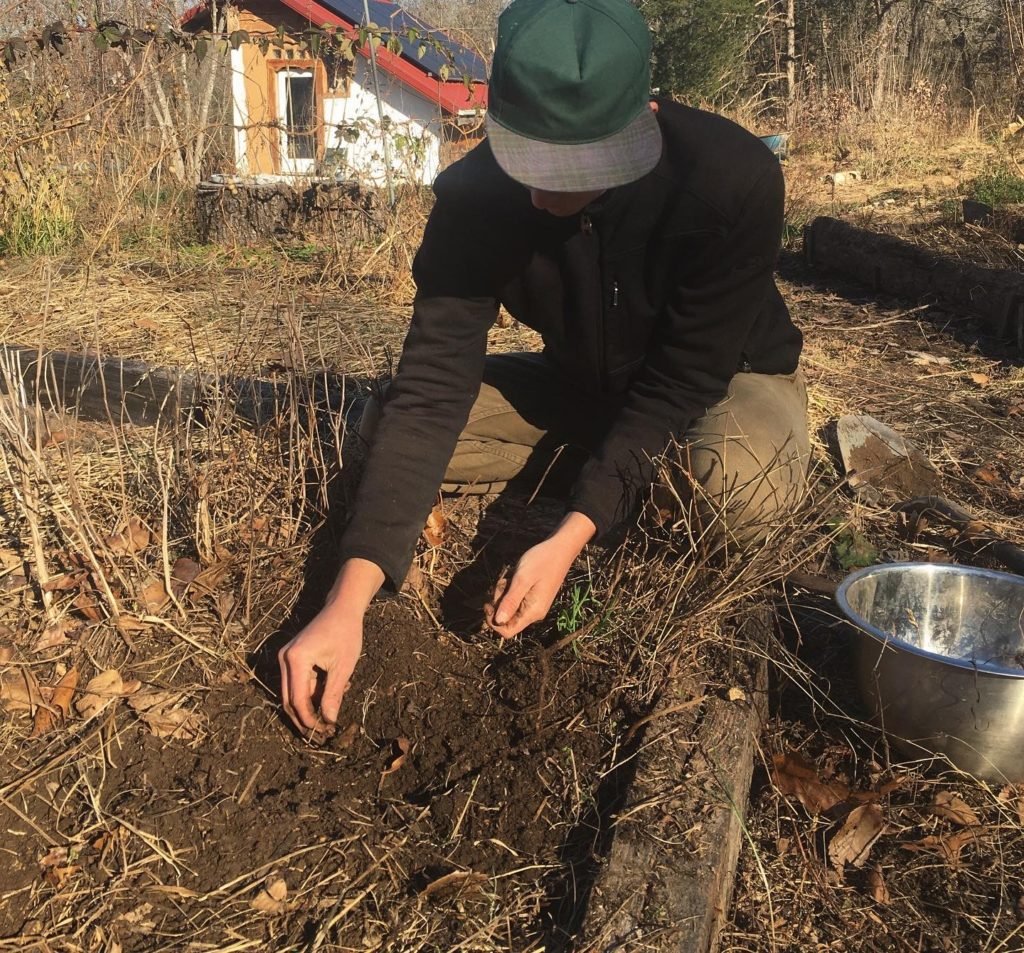 References:
---
Posted from my blog with SteemPress : http://www.ozarkmountainjewel.com/2019/11/15/ancient-nuts-underground/
---