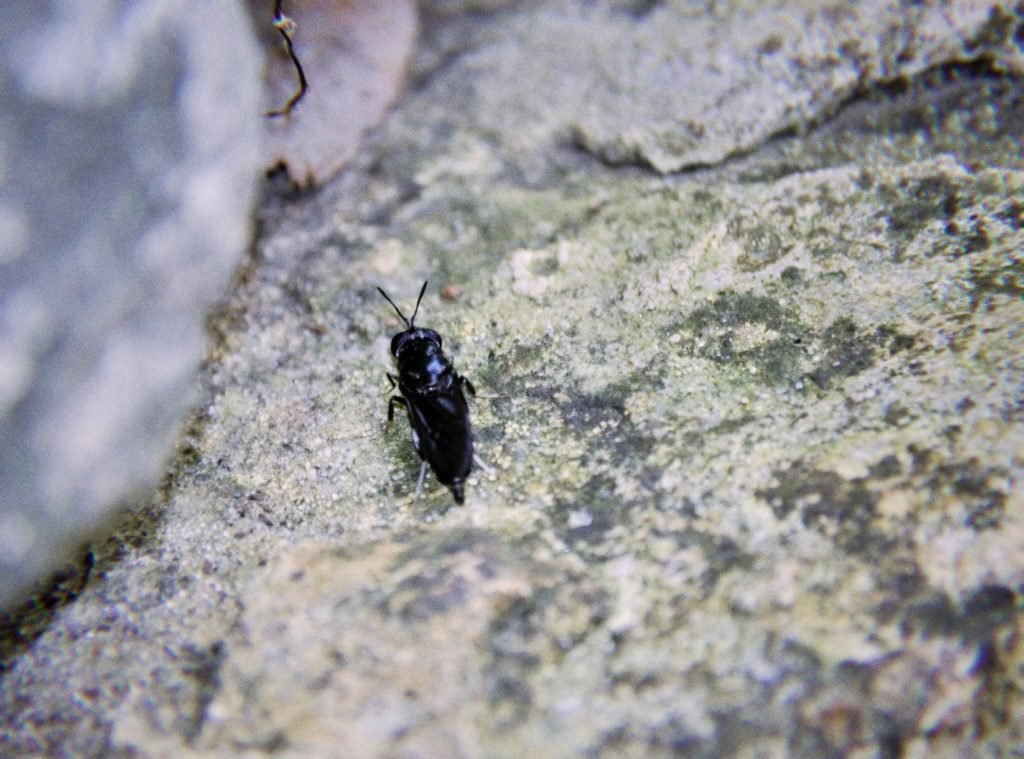 Adult Soldier Fly resting at the edge of the composting toilet after laying her eggs.
It used to be I only dwelled in fields of wildflowers at the peak of summertime, stopping by the garden on the way home with fresh vegetables colorful and crisp. I dipped in pristine waters, cooling hot moist skin after hilly forest rambles, pack full of juicy berries. Seed starting in early spring, mulching garlic beds in fall. A kaleidoscope of summer feelings, hopeful and bright.
Yet this is only one step in the dance.
Winter can often be a barren time, one we associate with darkness, shivering cold, lack of green growth, lack of sun. The life cycle slows here and we hardly notice anything reaching for the sun, for the sun isn't as potent and all encompassing during winter. High tunnel greens grow at a snail's pace. Instead, most growth happens within and it burns with the heat of stored sun inside of wood stoves.
Now I not only grasp what is lush and ripe in summer, I dance with the fecundity of winter as well. Interior soul journeys, but also adventures with matter. Winter holds so much more than I ever realized. For it is winter, when the life cycle slows down, that is most conducive for activities on the edge. Transformation of matter slows and in these times, is most easy to work with.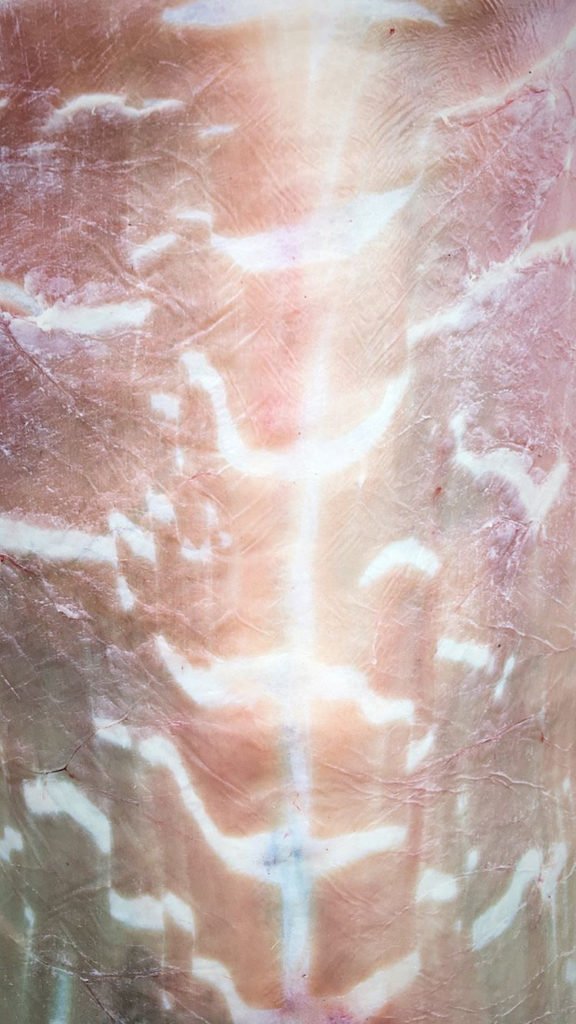 Spinal pattern on a freshly skinned buck.
For example, fall comes and deer all over the Ozarks are taken by hunters. Meat is ushered into freezers, into soup pots, grills, dried into jerky and ground with pork fat for delicious easy meals all year long. A nice rack is perhaps saved, but what of the hide, the hocks, the little dancing toes?
A step in the dance of life
Playing with matter
Interrupting death
Delaying decomposition
Stepping stones toward Rebirth
This year I've been teaching myself how to tan hides. Fleshing, bucking, de-graining, neutralizing, softening.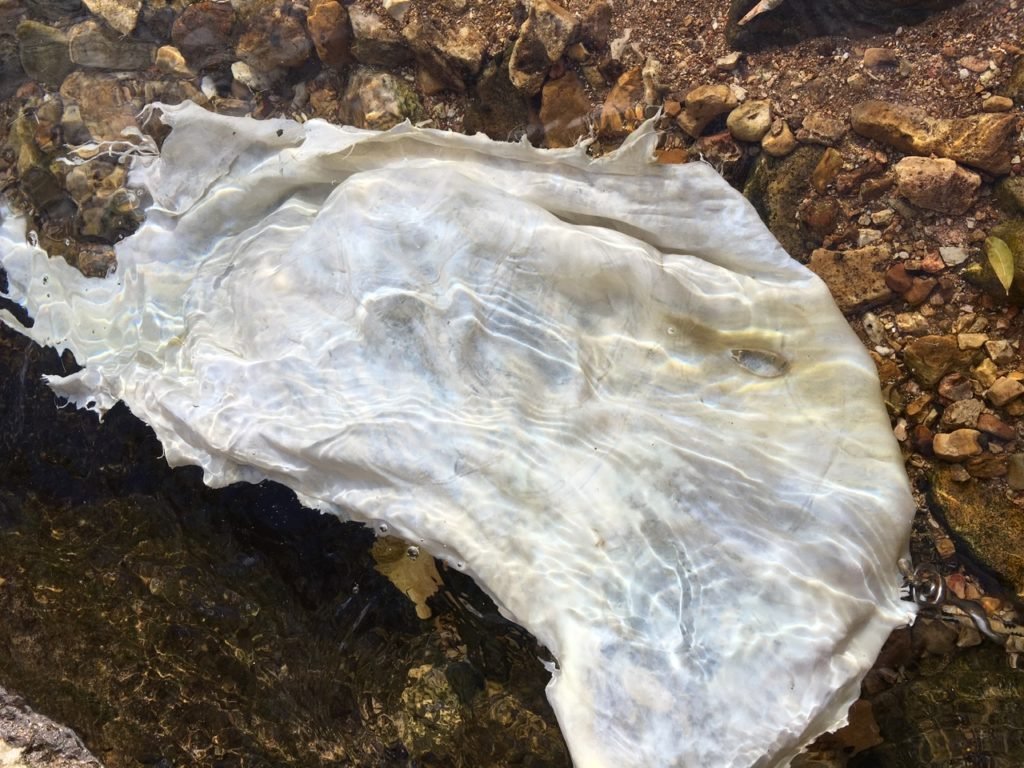 Deer hide neutralizing Ph in the fresh waters of our creek.
A handsy affair, a timeless process// Can't not be tactile and making-shoulders-sore the next day. Scratch that - make it definitely going to feel it the next day.
There is a decomposition delay in the edge between the sweet hide fresh off a deer to sour green hair slipping holes of rot smell you cannot believe. Quite a space indeed as matter is transformed into something of extraordinary value and strength. Tanning hides into buckskin is a human-making activity, a self actualizing step forgotten in modern times. A step up from making tools from inert objects, sway a vulnerable flesh coat away from the edge of decomposition.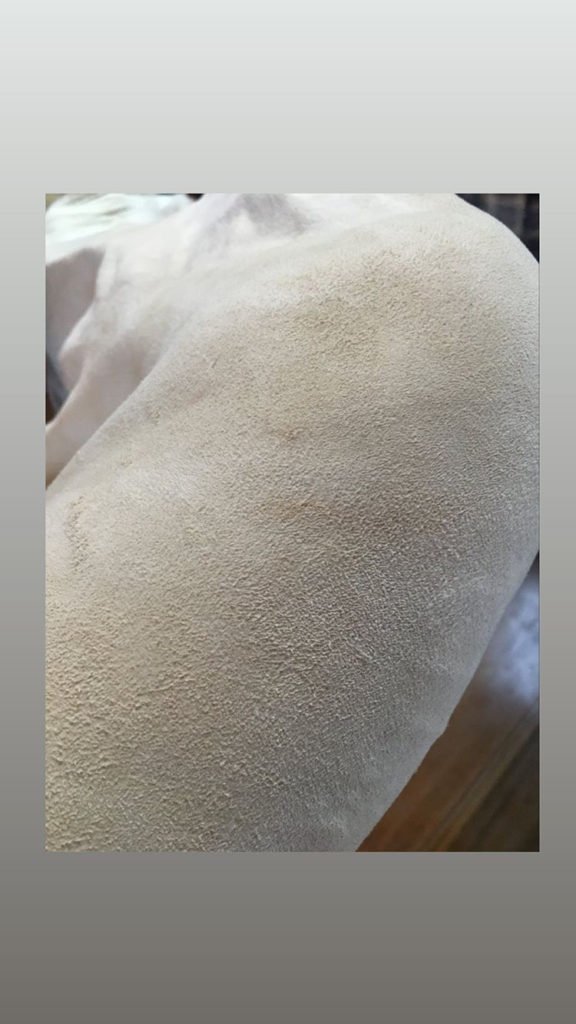 Deer hide during the softening stage.
Connected earth-based living hinges on this sway
Take poop
Yesterday we did our annual digging out of the compost cave in one of the stone bays of the humanure toilet. Letting it sit for a year, getting eaten by untold microbes, worms & soldier flies, within a year's time we've safely, easily, completely hands-off taken a waste product and turned it into a fertile resource for the farm.
This is far cry from pooping in water, channeling it away from your home in tubes, your poop in a mosh pit with everyone else's poop as it is "purified" through chemical admixtures, and then sent back via a tube to your sink.
Our poop never leaves our home, but it also doesn't sit with stank spreading bad vibes around the countryside. Shortly after it drops, it it is sprinkled with another decomposing matter, an off shoot of the milling yard, sawdust. Here with the soldier flies, worms and microbes, poop is transformed in a non-smelly way into a valuable resource reminiscent of the forest floor.
Its highest potential as humanure is realized through symbiotic relationship with those-who-work-at-the-edges. In winter, when growth slows, we cart it around and spread it at the base of fruit trees and understory shrubs of our food forests.
A circle unbroken. We work with a multitude of nearly invisible beings, the angels of Rebirth who live in our composting toilet.
What is gross about death is not these steps, for they are decomposition swayed, they are rebirth envisioned and acted on. Death is usually only gross when it hasn't been given the proper setting. A rotting carcass is repulsive for maybe a day or two in bad heat, but there are so many decomposers lying in wait to take the matter across the bardo.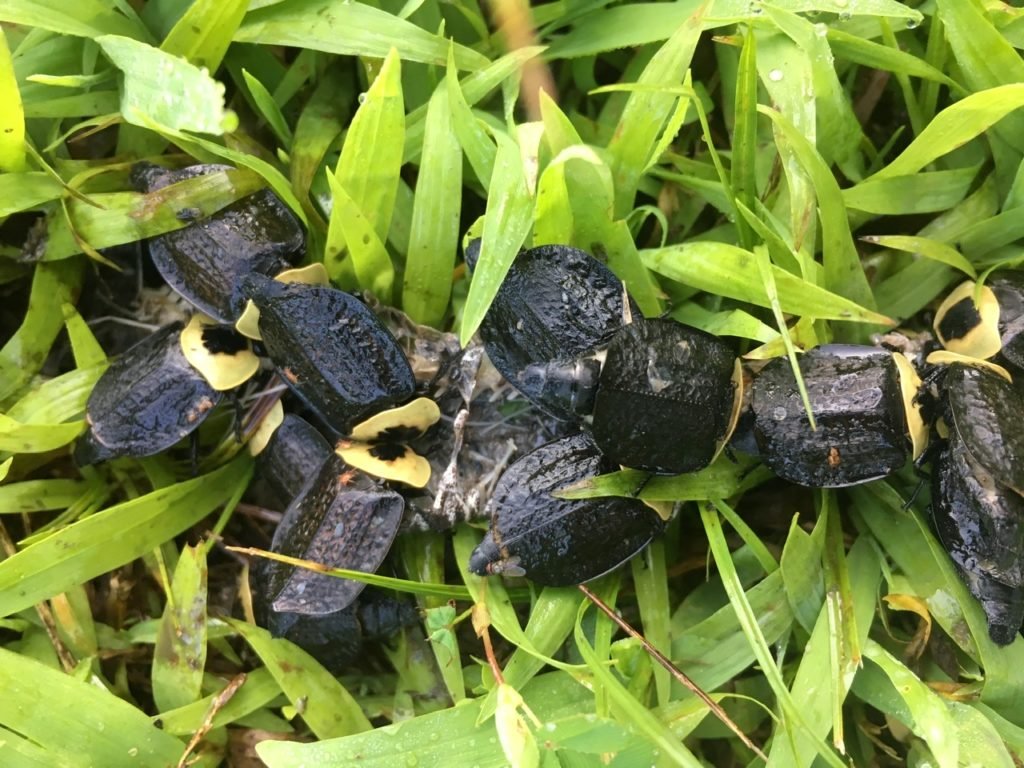 Carrion beetles transforming a Copperhead
Who can say when one thing changes into another? The decomposers make it a swift transition from one form to the next. Soon enough, blood and guts, bone and brain disappear or turn into frass & soil.
When I interrupt the process of deer skin not turning into rot, but into a supple water resistant fabric, I am swaying the next form of the deer. A garment I wear is a stepping stone along the way to soil and then ... who knows, a thousand fragrant wildflowers swaying in a summer's breeze.
---
Posted from my blog with SteemPress : http://www.ozarkmountainjewel.com/2020/01/03/dancing-with-winters-death/
---