Get Shit Done Contest
What is the Get Shit Done Contest?
Most people have something holding them back, something that if done would have a profound change in their life. A lot of times these things are not difficult but we are afraid to do them because:
We don't know if we can
We are not sure how it will turn out
It is too hard
We are too busy
Uncertainty breeds procrastination
If we are unsure of something, we tend to push it aside. Almost nothing meaningful has been accomplished without dealing with uncertainty and doubt.
I want you to do something that will change your life
It doesn't even have to be big, many times our biggest roadblocks in life can be solved with a day or less of hard work or focus.
This isn't your typical contest, I am not asking you to do something for me, I am asking you to do something for YOU! You are worth it right?
Resteem This Post
Comment below that you are participating
Do something big for yourself
Write an entry post
Post a link to your entry below
What do you have to do?
Find something in your life you have put off but can have a big impact on your life and do it. Not a routine task, something you have struggled to start and have put off because it is stressful, hard, you don't understand how, or you are nervous about and Get that shit done.
It doesn't have to take a long time, but it has to be something that is holding back your success or well being.
You cannot submit something that you "plan" to do in the future, or have already done in the past.
How to submit an entry
Create a new post titled @themarkymark's Get Shit Done Content Entry and describe your task, your progress, and if possible before and after pictures. Explain how the issue impacts your life, any attempts you have tried in the past, how you accomplished it this time, and how do you feel now that it is done.
You must use the tag #getshitdone to be considered.
I will choose an entry that satisfies the above conditions, and I feel is the best accomplishment. I will award the winner 100 Steem for their winning entry.
You can check the official countdown clock for the time remaining.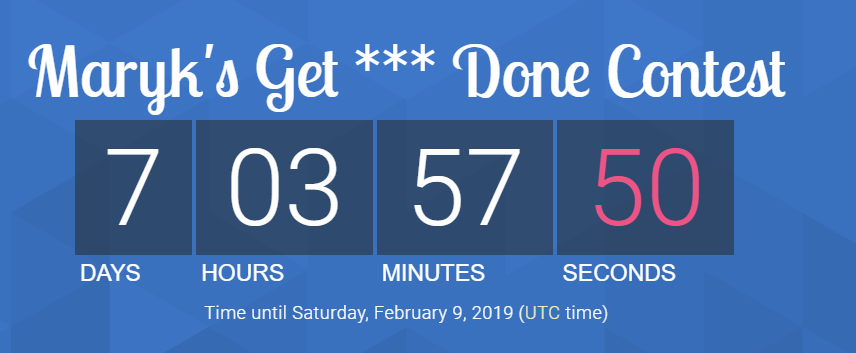 Did you know I provide a free public full node?