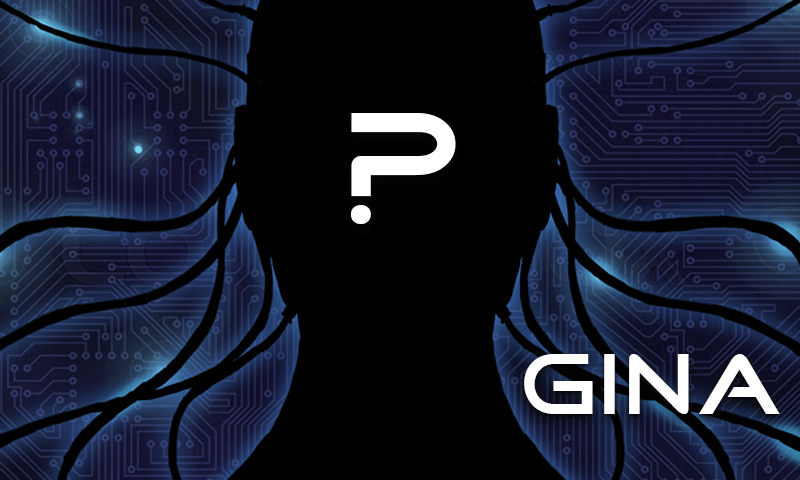 Today is a great day for Steemians across the ecosystem. BuildTeam would like to publicly announce that GINAbot (Gina Instant Notification Alert bot) is now a part of the BuildTeam family of services and is running on our infrastructure.
If you are unfamiliar with GINA, now seems an appropriate time to refresh users on some of the features and capabilities, currently offered by the service. GINA is on (24/7) and is a very unique Steem notification bot.
GINA can perform several functions which primarily revolve around sending notifications about new events on the Steem blockchain. Currently GINAbot communicates this information via the Discord chat app, as it's available for any platform (Android, iOS, Windows, Linux, etc.)
GINAbot currently has the ability to notify users about the following events:
* Preferred platform - Choose where your links point to
* Comments
* Followers, Unfollowers, Mutes
* Mentions
* Word Watch (mention of custom text in comments/posts)
* Resteems
* New post from any author, or any tag
* Blacklist users, tags
* Upvotes, Downvotes, Cancelling of votes
* Money transfer - in or out
* Delegation - incoming, outgoing, returning of delegation
* Curation and Author Rewards - can be scheduled (weekly, monthly)

And some more for witnesses:
* Producer reward - can be scheduled like curation rewards
* Witness votes - approver and receiver
* Shows vote weight needed to advance to next position
* Missed blocks - with up to 15 seconds latency
* Node Recovery - after missed block(s)
* Price Feed - set custom timer to know when your node skipped an update

BuildTeam is excited to help take the GINAbot project to the next level over the next few months. Our most immediate goal is to bolt it onto our current microservices infrastructure, providing expanded functionality and stability for GINA's users.
GINAbot notifications are the perfect companion for MinnowBooster, including communications that assist with the Delegation Leasing Market and vote selling management; such as Delegation Returned, Renewed Lease and undelegate notifications, in addition to notifications on daily lease payouts in Steem, daily Minnowbooster SBD payouts as well as Minnowbooster balance withdrawls.
Here's an example of GINA notifying users of a change in delegation status:

GINA also notifies you if a lease is renewed:
Here's an example of GINA notifying users about recent payments received from MinnowBooster: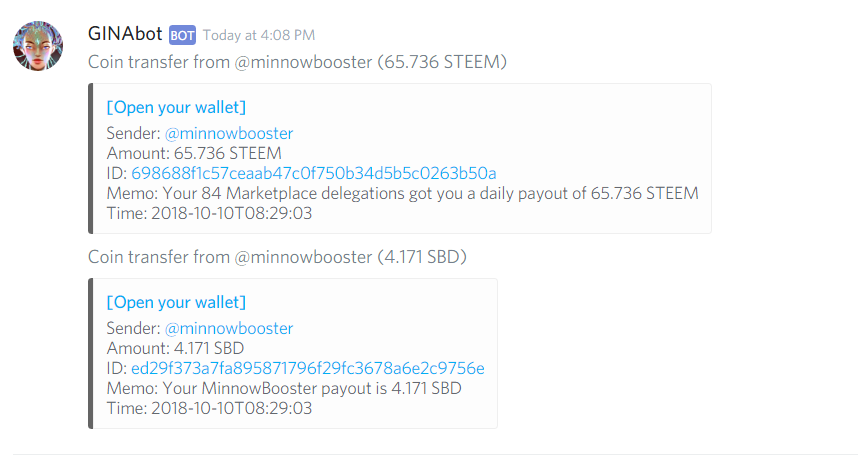 Changelog
Fixed vote value calculations
The vote value calculation method wasn't reliable, it often showed an incorrect amount. Moreover, after HF20 the function was still calculating with 7 days recharge time. It is all fixed now!
Updated power command for HF20 (..power steem_name)
If you don't have other way, you can ask GINA to let you know about your current Voting Mana and Resource Credit levels and estimated recharge times. Example:
Power of @kamikaze:
--- Steem Power ---
61816.420 SP
(own: 1438.755 + received: 60377.665 - delegated: 0.000)
--- Voting power ---
max MANA: 124.519t
MANA now: 80.196t
percent: 64.40%
full: 1 days, 18:43:11
--- Resource credit ---
max MANA: 124.531t
MANA now: 124.672t
percent: 100.00%
full: 00:00:00
Better, more reliable, edited post filtering with Redis
Seeing repeated notifications when someone updates a post/command (11% of total content traffic) is annoying, edited post filter was implemented since the beginning of the service but now it is improved and less reliant on RPC nodes but uses a Redis cache instead.
What's new?
New server with awesome specs
Thanks to BuildTeam, the new server is huge, more space to grow and fast as hell! Just a comparison: GINA has spent more than one day offline which resulted around 40,000 blocks backlog. The old server would need to process those for around 30-40 hours, the new server did the job in just under 7 hours!
Access to new private RPC node
Since the first day of GINA's public debut, one big issue was the RPC nodes. As the notifications contain as many details as possible, each notification requires lots of extra data which comes with the operation. Users could see many errors when nodes weren't available or just too busy to serve GINA's 4.5 million+ calls every day. The new BuildTeam private node is very stable and is geolocated close to GINA's server, so it is extremely fast as well.
New Communications Channel
New user registration is now being done on the BuildTeam Discord server at https://discord.buildteam.io and most of the familiar GINA feature request and support channels have been replicated, where you will still be greeted by GINA's talented lead developer, @neander-squirrel who is now part of the BuildTeam!
---
GINAbot is an amazing service which has a lot of potential to help users manage and stay up to date with their day-to-day activities and interactions on the Steem blockchain. Visit https://discord.buildteam.io and add GINA to your life today!
Follow this blog and stay tuned for an upcoming reveal of GINA's fresh new look!
---

| Visit our website for more! | Subsribe to our YouTube Channel |
| --- | --- |
| | |
Set it up today and contribute to building a better tomorrow!


( Want an easier way? Use our SteemConnect proxy link! )


Get support and connect with us and other BuildTeam fans!



---
This is a @steemvoter subscription payment post. Thank you to Steemvoter customers for allowing us to use your Steem accounts to upvote this post by virtue of your free subscription to the Steemvoter.com bot service. @steemvoter is proudly a @buildteam subsidiary and sister project to @ginabot, @steemsports and @minnowbooster.